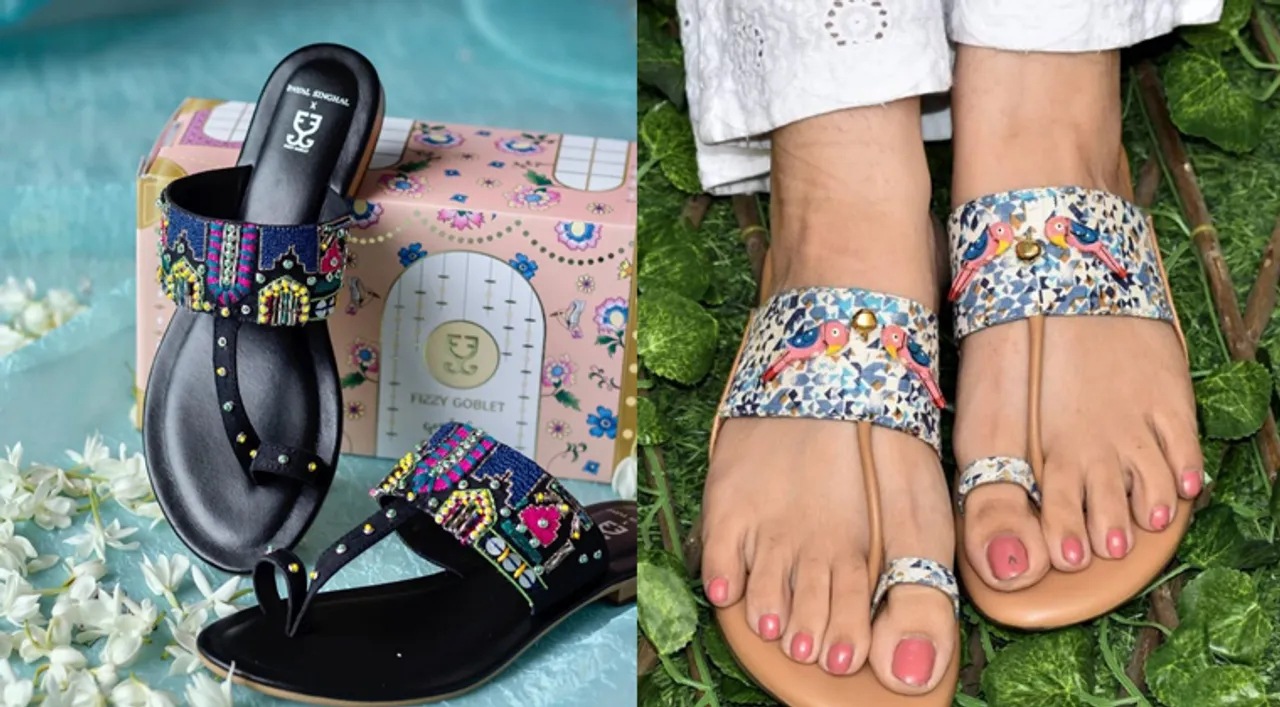 Did you know the first thing a person generally notices in others is their footwear? Yes, that's true! Shoes do tell a lot about the person. To make sure you pair the right footwear with your clothes, and still look trendy, we curated a list of Kolhapuri Chappal brands for you to style your traditional outfits. Everything you need is right here, so read on and know more. Men, we've got you covered too. Many of these stores sell Kolhapuri Chappal for men as well, so hurry up and choose your favorite!
1. The Madras Trunk
Add glamour to your simple traditional outfits by wearing these hand-crafted chappals from The Madras Trunk. They offer a collection so wide, you might want to buy everything!
Shop from Here
2. FizzyGoblet
Kolhapuri inspired Flats with a twist! Incredibly cushioned, these Fizzy Kolhapuri chappals are versatile wear and give a 'top of the world' vibe! Cool, isn't it?
Shop from Here
3. Jaypore
Be it a wedding function, or a business party, adorn your feet with these pair of beauty from Jaypore, and get ready in style.
Shop from Here
4. Mochi Shoes and Accessories
Ditch the same old footwear and try these colorful Kolhapuri Chappals from Mochi Shoes and Accessories to give your style a new look.
Shop from Here
5. Kolhapuri Chappal.Com
Add elegance to any outfit with these chappals from Kolhapuri Chappal. Com. Why wear the same old boring footwear, when you can get ready in style every day?
Shop from Here
6. Vhaan
The spotlight's on you when you walk with these modern yet traditional Kolhapuri from Vhaan. We just can't get enough of them.
Shop from Here
7. Jivaana
Elevate a simple look with these comfortable and quirky chappals from Jivaana.
Shop from Here
8. Chokhaa
We are loving these customized Kolhapuri chappals from Chokha. They are funky, comfortable to wear and gives your outfit a cool vibe.
Shop from Here
9. Bows N Buckles
Drop-in at Bows N Buckles for that perfect Kolhapuri Chappals for all occasions, and get your pretty pair.
Shop from Here
10. Chappers
With blue, nothing goes wrong, and if that's from Chappers, there's no doubt.
Shop from Here
11. The MariGold Story
If you are looking for fancy handmade Kolhapuri Chappals, the MariGold Story can be your elegant pick.
Shop from Here
12. Kolhapuri Chappal House (KCH)
This Kolhapuri store is in business since 1982, and now they are online too. They have a beautiful range of collections for both men and women, and definitely a must-try.
Shop from Here
13. Aprajita Toor
Aprajita Toor presents a twist to the Kolhapuri chappals! Give your heels a traditional look, and rock the outfit.
Shop from Here
14. Shru Soles
Try out these intricate phulkari work in these beautiful colors to adorn your feet. We just can't get enough of these Kolhapuri Chappals!
Shop from Here
15. The Miss Designer Collection
These quirky Kolhapuri flats from The Miss Designer Collection is exactly what you need to add that extra oomph to your traditional outfit.
Shop from Here
For more such stories follow Local Samosa on Facebook, Instagram, Twitter, and Telegram.