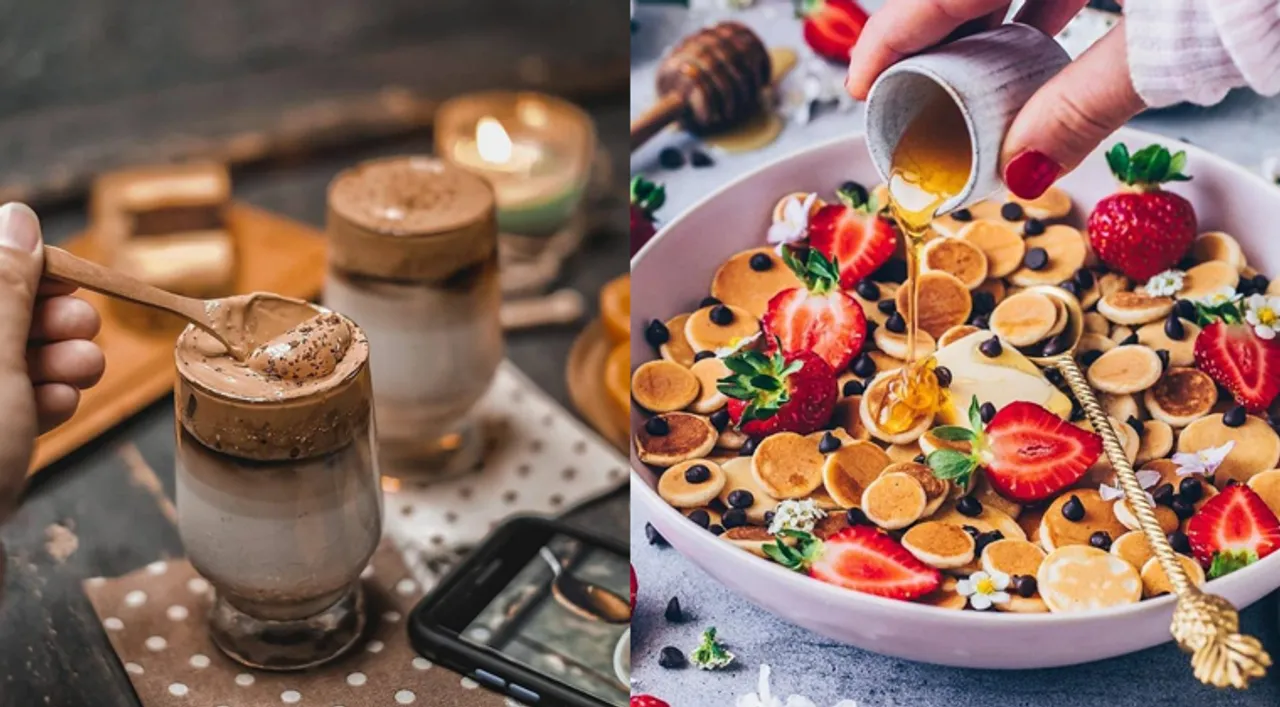 Owing to the current situation we are stuck in, the inner chef in us has returned. From experimenting viral food trends in Lockdown to inventing some innovative recipes, we have done it all. Talking about food trends in Lockdown, there have been some delicious creations that broke the internet. Read on to know more about these food trends, and how to make them, if you haven't tried it yet!
1. Keep whipping for the perfect 'Dalgona Coffee'
Admit it, we have all tried our hands on this food trend. Dalgona Coffee went viral at the start of the lockdown, and it seemed like everyone had a task to solve. All you need to make this cup of coffee perfection is a coffee powder, sugar, and hot water. Now, all you got to do is whip till you get a creamy mix, and pour it over the milk. And, voila! Your 'feti hui coffee' aka Dalgona Coffee is ready to serve.
Recipe: ">Dalgona Coffee
2. 2 Minutes 'Mug Cake' for all your sweet cravings!
With lockdown all over the world, getting a cake or a pastry seems next to impossible! But is it? Naah. Food lovers have come with a quick and easy solution. Mug Cakes. Follow a simple recipe and in 2 minutes satiate those cake cravings. Cool, isn't it? From the list of food trends in Lockdown, this one seems to have a piece of our heart!
Recipe: &t=3s">Mug Cake
3. Healthy and Tasty? 'Pancake Cereal' it is!
Pancake? Or cereals? What to have for breakfast? Why choose when you can have both! Yes, that's right! Thanks to lockdown, we now have a variety of food recipes to try out, Pancake Cereals being one of them. Prepare your mini pancakes, serve them with fruits and a dressing of your choice, and tada, your healthy and yummy breakfast is ready.
Recipe: ">Pancake Cereal
4. Don't worry about the extra calories, 'Banana Bread' is at the rescue.
Lockdown or no lockdown, one shouldn't miss their favorite food, and we have taken care of that! No more missing your favorite bakeries' bread, here's an easy solution. Make the banana bread at home, might as well add some of your chosen ingredients, and enjoy! One thing's for sure, Banana Bread feeds the hungry and removes the grumpy! It's the best way to use overripe bananas.
Recipe: ">Banana Bread
5. Burn your midnight hunger cravings with 'Maggi Omelet'.
Maggi has been our go-to food item for ages now! Here's a time for some twist. Make your Maggi a little more like an omelet and a lot cheesier. Satiate your midnight hunger craving or have it as a breakfast, it's just perfect at all times.
Recipe: ">Maggi Omelet
6. Taste the biscuit of Caffeine, taste the 'Coffee Bean Biscuit'.
From Dalgona Coffee to Coffee Bean Biscuit, coffee seems to have a found a place in our homes this lockdown. Coffee bean biscuits are our regular biscuits in coffee flavor. These small biscuits are a treat to our taste buds, and honestly, we are loving it! Have you tried it yet?
Recipe: ">Coffee Bean Biscuit
7. Treat your taste buds with this easy-to-make 'Mug Mac-N-Cheese'.
Hungry and confused about what to make? Well, don't be anymore. We have an easy-to-make Mug Mac and Cheese ready for your rescue. Mix all the ingredients in a cup and put then put that cup in a microwave/oven, and voila! You are all set to treat your taste buds with an instant mac and cheese.
Recipe: ">Mug Mac-N-Cheese
Which are your favorite viral food trends in lockdown?
For more such stories follow Local Samosa on Facebook, Instagram, Twitter, and Telegram.