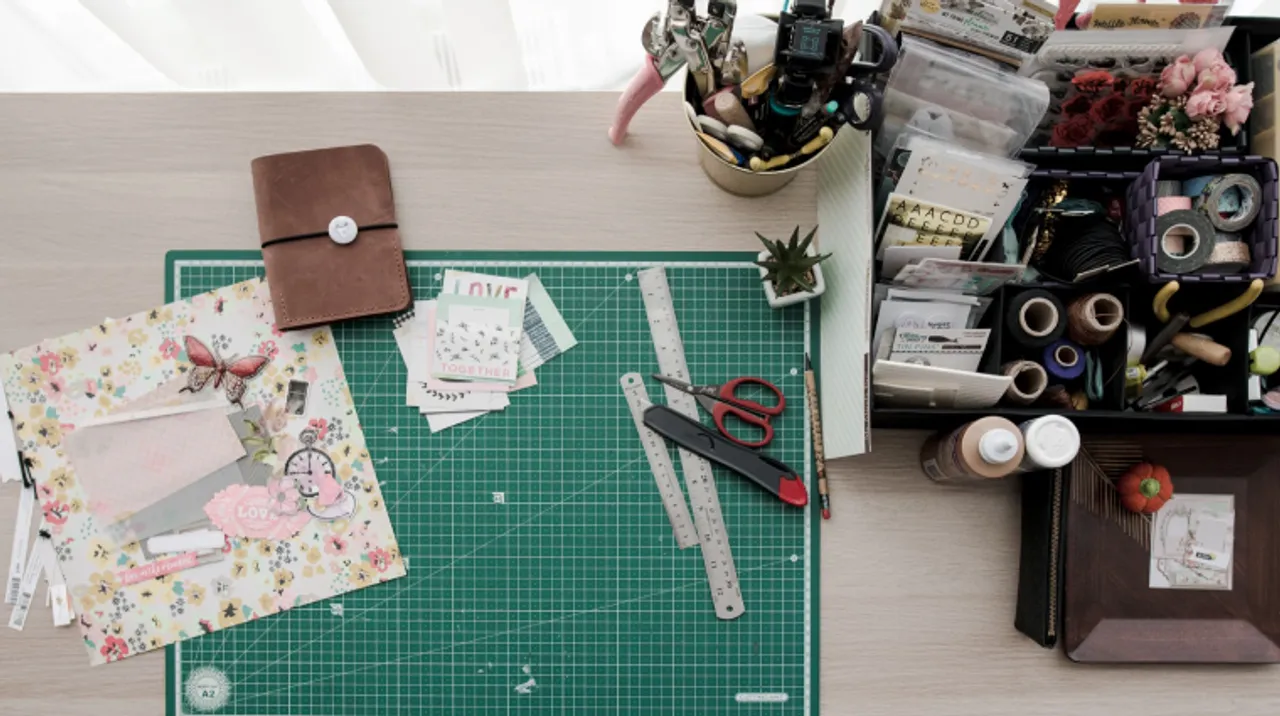 In these months of lockdown, we have explored our culinary skills (ready for Masterchef aren't we?), learned the basics of jhadoo-poocha, and have had enough virtual house parties with our friends. And by now, either you've settled in your new lifestyle or struggling to keep yourselves entertained. If you fall into the latter category, we found a way to cheer you up. Check out these craft Instagrammers creating beautiful artwork from papers and learn to create something similar.
huesofmemories
Love greeting cards and have a habit of sending one to your friends and family for every occasion? Then this page is for you. From simple watercolour cards to more stunning cards with 3D elements. Crafter Swati Gupta also teaches some fun stamping techniques. Check out how easily she made this cute card.
white_musk_crafts
If you've ever been a fan of clay, then is page is perfect for you. Crafter Akanksha not only shares adorable pictures of her creations but also gives sneak peek into her process. And if you're looking for full-fledged tutorials, then check out her YouTube.
crafts2dio
Want to try out some DIY experiment with things at home? Well, Shobha Mohata has got your back. From tastefully decorated glass bottles to amazing 3D art on a cookie tin, she can easily inspire the creative soul in you. Check out how she transforms a plastic bottle into a stunning decor.
s_handmade_cards
If you're wowed by those pop-up cards with photos and gifts inside, then you are sure to be blown away by Shairy creations. Her feed is filled with gorgeous cards and boxes, perfect for all kinds of celebrations. Here she teaches you the secret behind a box card. Check it out.
aadhiz.creations
If you're someone who would scroll through beautiful crafts on Pinterest, then craft Instagrammers Aadhira is sure to pique your interest. Not only is her feed Pinterest perfect, but it's also filled with a random burst of inspiration to keep you going. Want to learn how to make an explosion box like this? Then check out her YouTube channel.
Nirvana.creations
Another amazing craft Instagrammers, you will find everything from album box disguised as a greeting card, heart explosion box as well as cute little paper clips. Keep an eye on her stories for tutorials, and in the meantime check out her YouTube channel.
rangkaari_creation
Master of beautiful frames and gorgeous quilling, Simranjeet Kaur has not only been posting her beautiful creation but also teaching at workshops. If you are looking to make something easy, then check out her tutorial on making bookmarks.
craftsmart_by_muskan
Another talented crafter on Instagram, she not only creates beautiful crafts but also helps you get your hands on some of the amazing materials. From cards to gift boxes, she can make it all. Check this mini-album tutorial and get one for yourself.
For more such stories follow Local Samosa on Facebook and Instagram