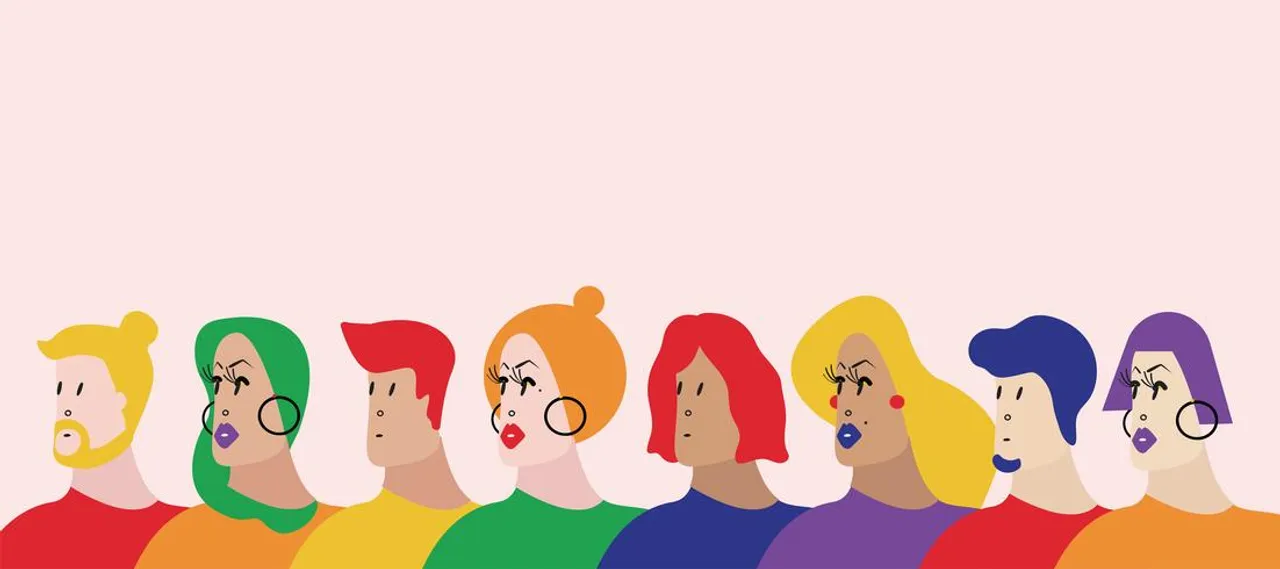 Art is all about communication and leaving an indelible mark on people. Indian illustrators and artists are working on Queer Art fight to empower the LGBTQ community who are often forced by society to adhere to the societal norms and not allowing them to accept themselves. These prominent Indian artists and illustrators are consciously putting their thoughts out on 'pride' through their illustrations, becoming an intersection for art, identity, and culture.
1. Param
What distinguishes Param's illustration style is the colors oozing out of his work. His art is a combination of intensely bright colors and mellow pastels. He utilizes his illustrations to brings out his thoughts supporting the community, accompanied by his strong words. Param's illustrations are home to acceptance, love, energy, and color.
2. Priya Dali
Priya is an art director at Gaysi Family. She identifies herself as queer and explores this aspect of her life through her work. She brings love to the lives of LGBTQ+ Indians via the work she does. Her bright colorful work is sure to splash your dull life with a spectrum of colors.
3. Opashona Ghosh
Opanshona believes in sharing her personal stories from her work. She uses the aspect of sexual fantasy and provides a visual experience of gender and sexuality, that can be seen in her work 'KIN.' Living in a society where one can't openly talk about their desires, Ghosh's work speaks otherwise. She fully supports the LGBTQ+ community through her varied display of work.
4. Harmeet Rahal
Blazing colors pop out of Harmeet's feed, especially the pink. He ventured into creating some impactful artwork for Gaysi Family and Levi's. Harmeet has done 100% justice to the campaign #PROUDTOBEMORE, and his illustration is screaming pride a lot more. It is an amalgamation of thoughts, details, and colors. The pride month illustration for Queergarh is equally rousing and startling.
5. Veer Misra
Veer Misra creates some extremely gripping digital paintings. The paintings are an A1 depiction of the queer experiences, fantasies, and their choice of life. A balance of soothing earthy tones and bright colors can be seen in his art. He believes in not speaking through his words but depicting through his illustrations.
6. Anwesh Sahoo
The Effeminare fearlessly takes on all the prejudices on Instagram. He draws his opinion on all the issues queer. The artwork is extremely inspiring and leaves you thinking of a parallel universe filled with love beyond measures and no space for judgment.
7. Priyanka Paul
The artwhoring is a complete package. She shakes people off their feet with not just her powerful illustrations, but her words too. Paul's confidence and acceptance of being queer, makes her work 1000 times stronger and relatable. Her illustrations speak volumes about self-love and celebrating yourself. Looking at her illustrations, it seems like she has a magic wand. Details and colors loom out of her work effortlessly.
8. Parth Pawar
Pawar's work talks about gender fluidity. A believer that the body does not define gender and one can wear whatever they want to. With his art, his words also provide power to people to accept who they are. When we asked him the thoughts behind his work he said " My thoughts behind my work is to create safe space for each and every queer individual. I try to create art that spreads awareness regarding the struggles of queer people, body positivity, mental health, and other social issues." He/They get inspiration for his work from every queer kid who experienced poor mental health while growing up and some artists in the LGBTQAI+ community. The main motive behind the art is to educate people about social issues and let them know that one should love themselves regardless of their gender and sexuality.
9. Sonaksha
Sonaksha's artwork is focused on social justice. Under the umbrella of social justice, she talks about queer inclusivity as well. Her artwork 'The future is queer' speaks so much for itself. She dreams of a world where there is no queerphobia. The colorful artwork with a well-built message is surely a small step towards change.
10. Farah Ahmad
Fufu_Panda recently illustrated for Gaysi family for Pride Month. The illustration is beautifully presented. The rainbow flag stands out with the shades of purple. The two posters 'Love is Love' and 'Rainbow with a fist', are enough to send the message across.
11. Amruta Patil
Amruta recently did a beautiful series of illustrations of women kissing women. The series is all about love. The design is basic yet beautiful and sends across the message powerfully. It is a special series for the Pride Month.
12. Arzoo Naqvi
The inspiration behind Arzoo's work, she said is "Queer people. Myself." She draws what she wants to talk about, challenging the cis heteronormative society. Arzoo has some great work up on her feed full of different color palettes. When we asked Arzoo, how important it is for her to voice her opinion? She replied "One a scale from 1 to 10, 100," We think that is enough for you to know the importance the issue holds. Arzoo is one of the phenomenal Indian illustrators making an impact by working on Queer art with solid backing up by her words.
Indian illustrators and artists working on Queer Art have indeed made some phenomenal pieces of art. Do you agree?
For more such stories follow Local Samosa on Facebook, Instagram, Twitter, and Telegram.