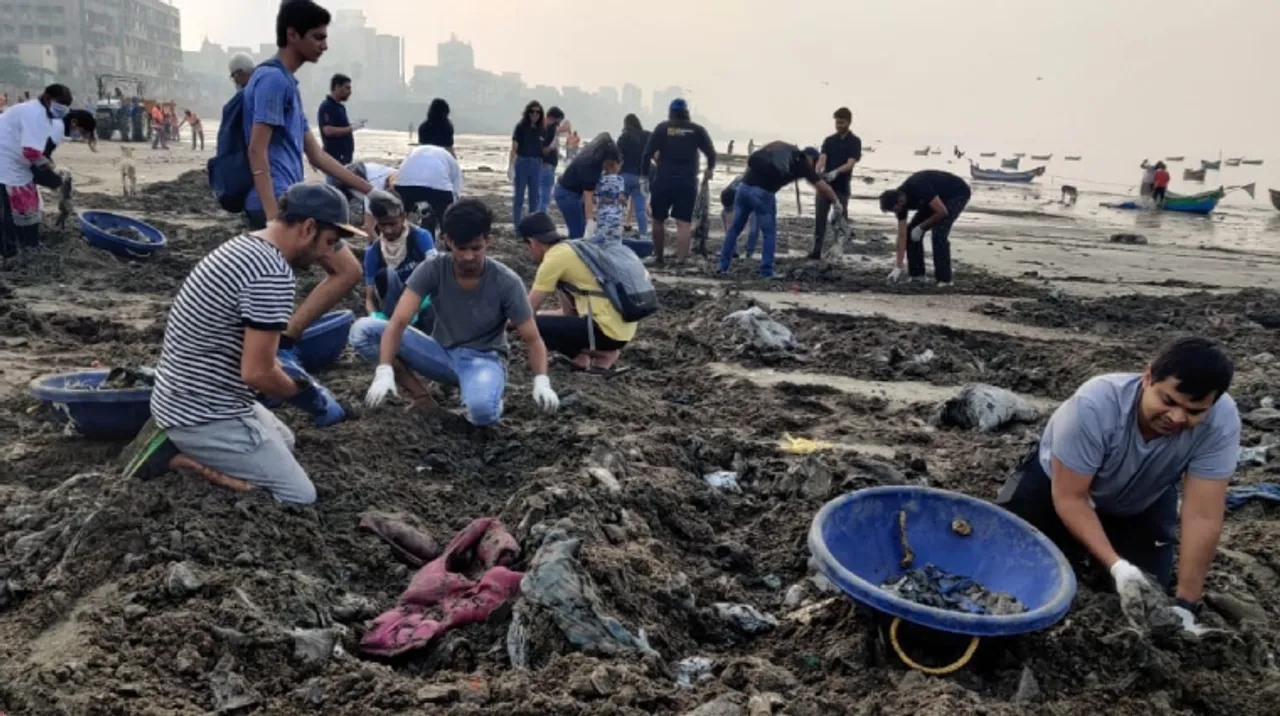 Mumbai is blessed to have a huge coastline. Stretching across 149 km, this coastline houses several beaches with beautiful scenic views. But thanks to our actions, most of these beaches are littered with garbage. And you can't even think of dunking your feet in the sea. Thanks to all the plastic and garbage floating around. During heavy rains and high tide, we are used to seeing videos of garbage being thrown on the land from the sea. Yes, we are talking about the Marine Drive video. But thankfully, we have more than a few good samaritans, who are not only cleaning the beaches but also gathering volunteers to help them with the drive. Meet the faces behind the most impactful beach cleanups in Mumbai.
Afroz Shah
We cannot talk about beach clean up without mentioning the person who started it all. Spearheading the largest beach clean up in the world, Afroz and his team of volunteers changed the face of the Versova beach. What started with two individuals picking up a small amount of trash became a big movement when people joined in. Within two months of starting the cleanup drive, Afroz managed to gather 300 plus volunteers. And in five months, the team cleaned up 5,000 metric tons of trash from the beach. And the picture posted by Afroz speaks volumes of the work done.
Chinu Kwatra
While Afroz took on the Versova beach, Chinu decided to clean up the Dadar beach, which is one of the most littered beaches after Ganpati Visarjan. Initially, for Chinu, it was supposed to be a one-day activity. "On Day 01 of Beach Cleanup - 3rd Sept 2017, after seeing the beach I released its not one-day thing. The beach was full of Broken idols and layers of Plastic. More of a Dumping ground. Hence I decided to go ahead with the Cleanup," says Chinu. He later formed a group named Beach Warriors to keep the cleanup talk going. 
Since then, Chinu and his team of volunteers have worked on seven beaches in the city and managed to clean 2200 tons of waste. This was one of the biggest beach cleanups in Mumbai.  "It's just a beautiful feeling which cant be expressed by words. I get numb, eyes and heart are full of Love and Pride," he says.
Indranil Sengupta and Rabia Tewari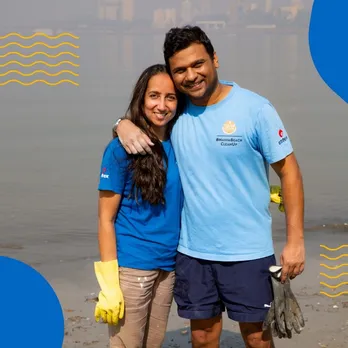 2017 was the year of beach clean-ups, and that's also when Indranil Sengupta and Rabia Tewari started with their mission. Under the banner of Mahim Beach Clean Up, they got to work on the beach they realized was crying for help. "There was no sand visible on the beach at that time, and no one was cleaning it because its a low profile beach," says Indranil. Making the most of social media, Indranil and Rabia posted their journey of weekly clean up. This helped them to gather the support of 100-150 volunteers every weekend. The cleanup drive that went on for 2.5 years has managed to remove 1000 tons of garbage from the beach.  
But the battle is not won yet. "The main source of garbage is the Mithi River, which meets the Sea at Mahim. There is no filtration system at the confluence of Mithi and the Sea, so all the garbage gets directly dumped into the Sea. Mahim Beach is the first beach to get all that garbage," says Rabia. The two have been in talks with the authorities and trying their best to fix the problem of beach cleanups in Mumbai.
Zsuzsanna Salda and Lisbon Ferrao
For anyone visiting Mumbai, they would have Chowpaty and Juhu beach on their bucket list, whereas Vasai beach sees no mention at all. But that doesn't mean the locals don't care about it. Vasai residents Zsuzsanna Salda and Libson Ferrao started their beach clean up mission three years back when they started to take their kids to the beach. "My husband grew up here and remembers Vasai beaches to be pristine when he was young. But when our children were playing, they started to pick up all the trash to play with, as they were attracted to the bright plastic colours," says Zsuzsanna. 
Then onwards, every time Zsuzsanna took a trip to the beach, she carried a couple of garbage bags to pick up trash and dispose it on the way home. After continuing this for a few months and with a little help from Media, they managed to get some volunteers to help them out. The weekly beach clean-ups are still ongoing, Zsuzsanna feels there's a lack of proper disposal system. She says, "The biggest challenge is, and we have not found any solution for it yet is, that ideally, we would love all of the trash we collect disposed and recycled properly. As of now it only goes to landfills."
For more such stories follow Local Samosa on Facebook and Instagram