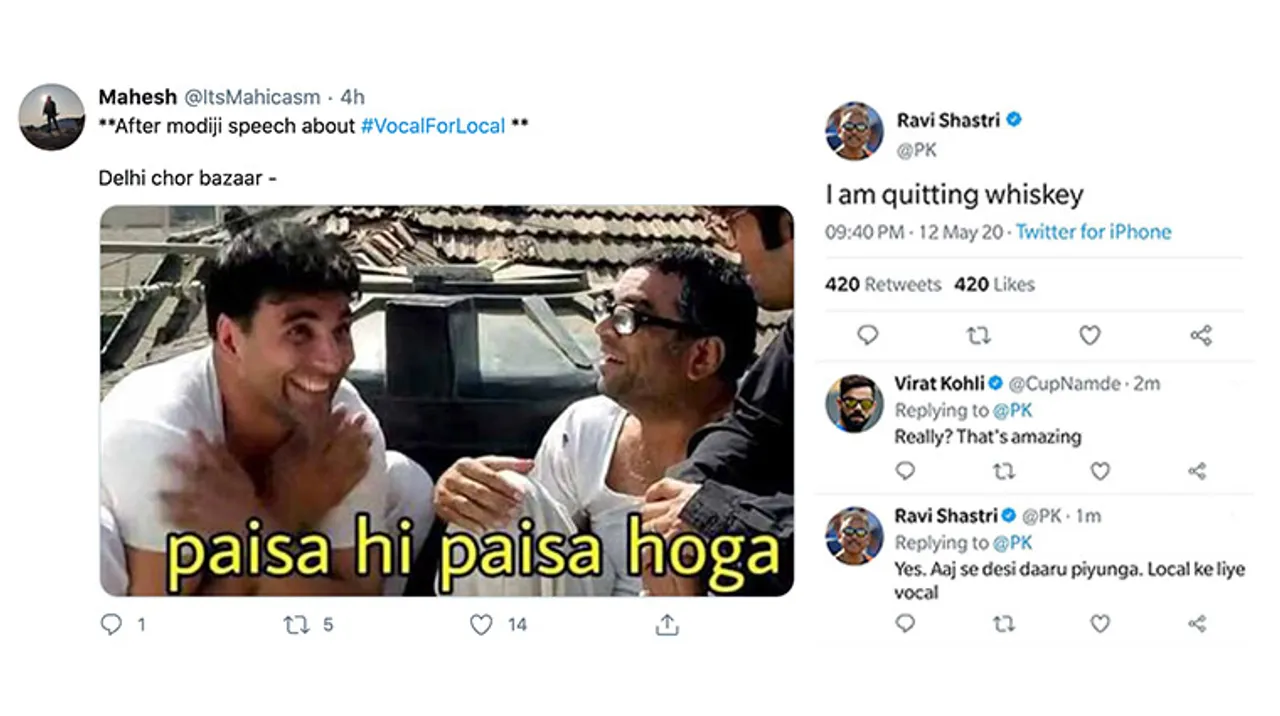 Every time there's an announcement of PM Modi coming live on TV at 8 pm, anticipation sets in (no, we are not over the demonetization announcement yet). And whereas, for the previous some live speeches, Modi Ji left us with some tasks. Although, this time he left us with a hashtag, which was turned to memes, thanks to the Twitterattis, and this hashtag is quite close to Local Samosa. During the speech, PM Modi did talk about Atmanirbharta, we were more impressed by another catchphrase - Vocal For Local. Here are some of the hilarious memes and tweets on the same.
1. Vocal For Local ft. Hera Pheri
**After modiji speech about #VocalForLocal **

Delhi chor bazaar - pic.twitter.com/QBJCpE7WZE

— Mahesh (@ItsMahicasm) May 13, 2020
2. Samsung to Satsang
Brands After Vocal for Local and Atmanirbhar Bharat ???????#VocalForLocal #AtmaNirbharBharatAbhiyan #IndiaFightsCorona pic.twitter.com/Y8a1LlCbpX

— Ashish Malkar (@ashishmalkar24) May 13, 2020
3. Just what the doctor ordered
REAL #VocalForLocal IS @RaviShastriOfc ???? pic.twitter.com/gECDn5CCTD

— Manish Acharya (@manishacharya00) May 13, 2020
4. Even Poo is going Local
Nibbis heading towards sarojini nagar after modiji's speech: #VocalForLocal pic.twitter.com/pwmXEJn4q8

— ? (@diya_dashiwal) May 13, 2020
5. Dalgona what?
Like ♥️ for Coffee

RT ? for Kaapi#VocalForLocal #SelfReliantIndia pic.twitter.com/7ALFHShoAg

— ColorMeRosé? (@PranaliPancholi) May 13, 2020
6. Now it's time for some garba
Modi ji - #VocalForLocal
Local business person in India? pic.twitter.com/CtK4jOgPIi

— Riya (@jhampakjhum) May 12, 2020
7. Circuit knows what's up
PMModi said AatmanirbharBharat

Indirectly he said stop using overseas products...

More indirectly he said....Stop using TikTok #AatmanirbharBharat#PMModi #vocalforlocal pic.twitter.com/vVO1SHyzP8

— Bineet Pareek (@PareekBineet) May 12, 2020
8. Where did he come from?
Chairman Xi Jingping when he hears Modi's call for #VocalForLocal and #AatmanirbharBharat. pic.twitter.com/An2LXl1wNB

— Dr. SocialDistancing Batman (@Your_Levodopa) May 12, 2020
9. Vocal For Local ft Patanjali
Patanjali employees after #PMModi discussed #VocalForLocal scheme in his speech. pic.twitter.com/fuNky4TIQZ

— Dhyey Patel (@DhyeyPatel21) May 13, 2020
10. Craving vada pav already
When you see people going to McDonald's or KFC instead of vada pav wale bhaiya#VocalForLocal pic.twitter.com/pTfMBdUQaP

— Roma prajapati (@prajapatiroma) May 12, 2020
For more such stories follow Local Samosa on Facebook and Instagram