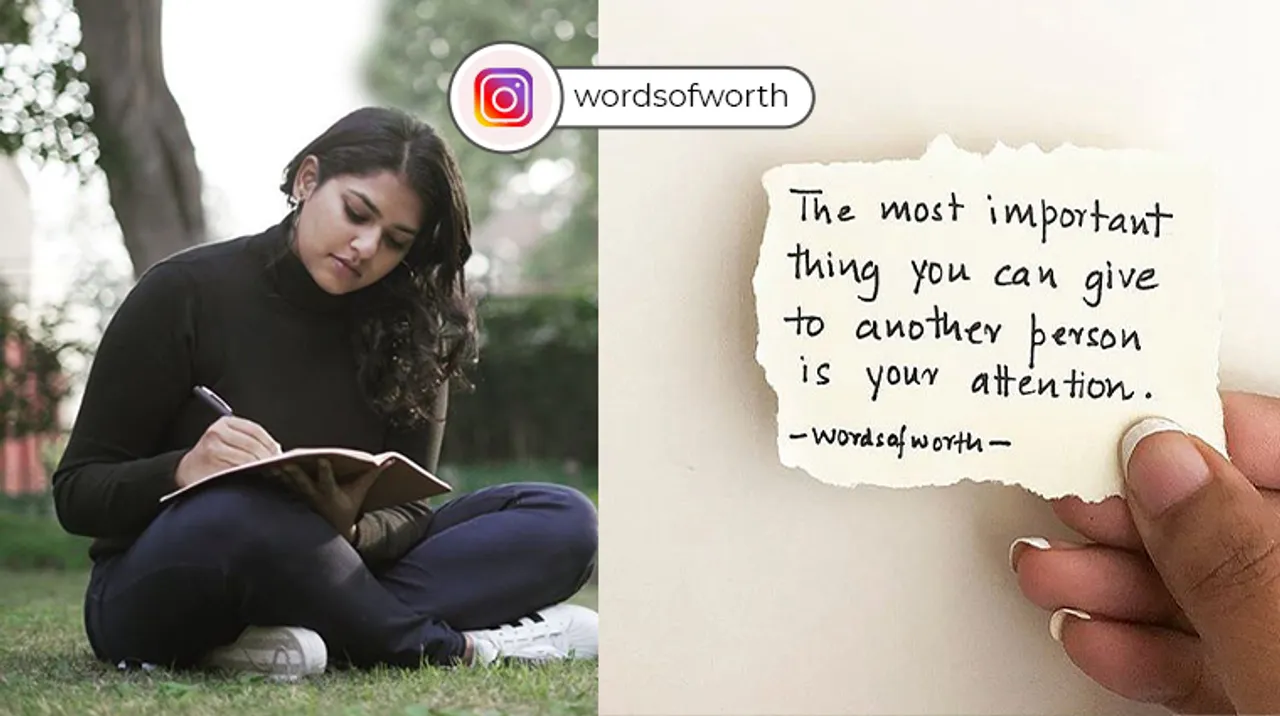 Words, Poems, Feelings! Aren't these what we all find comfort in? And,  Tuheena Raj from New Delhi is a master in weaving words so beautifully, you'll definitely fall in love with her poetry.
Banker turned marketing professional, an all-time hustler Tuheena manages her work life and passion like a boss. Apprehensive in disclosing the identity on social media she created her Instagram page just out of passion and thus shot to fame with the name Words of Worth. 
In a conversation with Tuheena, let's get to know this wizard of words, a little more!

Bitten by the storytelling bug since childhood, Tuheena was inclined towards writing and exploring stories by reading books.
"As a young girl, you'd find me curled up with a book on most days or sitting with people who'd tell me a tale or two. My love for poetry and writing simmered through my childhood and I finally started writing publicly and sharing my work in 2016 because I wanted to express and find an outlet for things I wanted to say. 'WordsofWorth' began as a passion project when I was in college. Gradually, people found my writing relatable and the audience I was engaging with started to grow."
Her verses will act as the food for the soul, conspired by a few words yet speaks volumes about the depth of the thoughts. Other than expressing herself, Tuheena Raj pens down her opinion on positivity, self-love, and feminism, and with every post, you'll feel closer to her world, or maybe yourself.
Going ahead, Raj would like to voice and educate her audience about mental health, body positivity, handling criticism, growing their personal brand, and writing a gratitude journal. She is also trying to shift to zero waste lifestyle and want to do greater good for the earth and society.
Tuheena takes inspiration from Sarah Kay, Javed Akhtar, Gulzar, Warsan Shire, Vikram Seth, and loves their style and expressions.
Not many know, but Tuheena is more than just Words of Worth, she is classically trained in Odissi dance and Hindustani Classical Vocals as well.
Words of Worth just started as a passion project for Tuheena, is now an identity that has garnered her so much love and affection. And, we kid you not, her aesthetic feed will make you fall in love all over again!
Follow Local Samosa at Facebook, Instagram & Twitter.
Would love to get featured for your work? Reach out to us at abhishansa@localsamosa.com