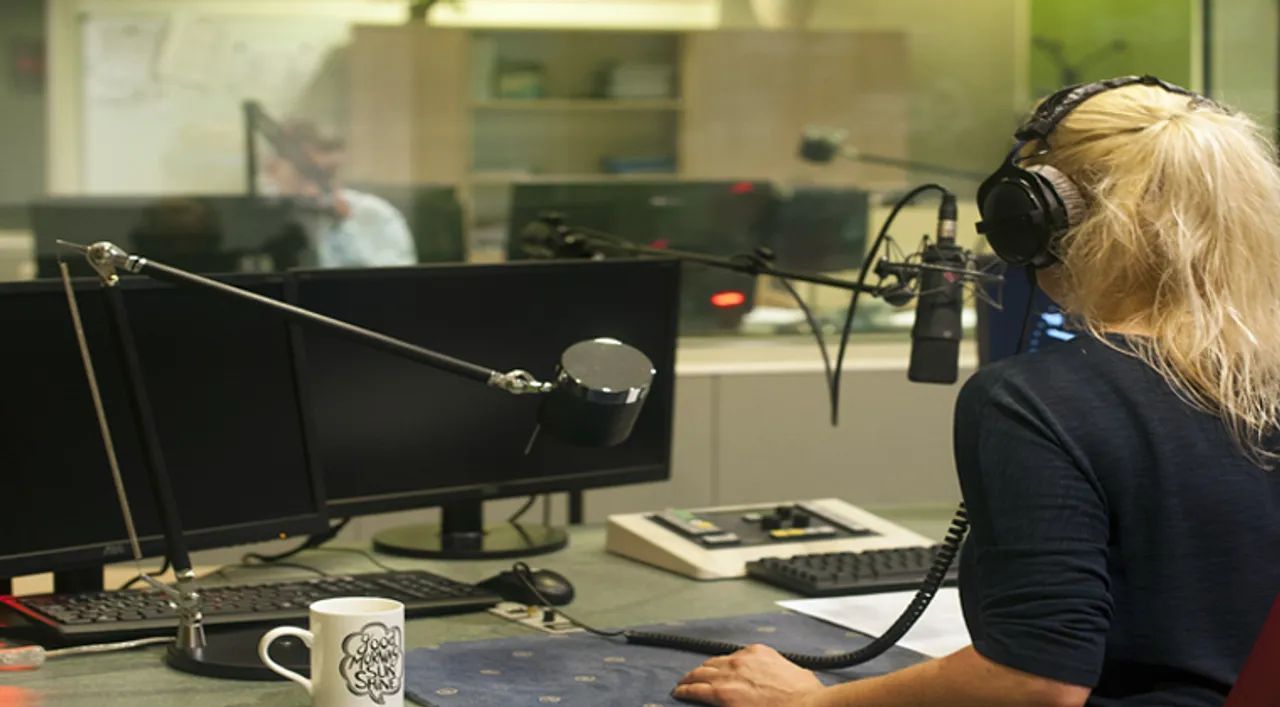 Radio might play in the background, but hey, doesn't it play a significant role in setting our mood? Our mornings feel a little complete, traffic jams a little bearable and destressing us from our deadly day.
Our RJs, the voice behind the magic should get enough and more credit for playing popular latest songs, to hitting us with nostalgia with our forgotten favorite songs, from giving us our morning news, to being our friend who talks to us, listens to us and is a companion in our lonely times. Meet our RJs from Jaipur, who has won every Jaipurites hearts with their voice.
RJ Sudeepta Saha
It all began with an audition in 2006 when radio was entering the second phase. No one knew what private FMs are, and yet I made it through. 5 amongst 2000 people and a salary of 15k for a first-year student, felt like a dream.
It was generally a high being in that young environment except for the moment when my dad passed away just a month before my launch. Nevertheless, I was able to make him proud with every single passing day, and after 4 years into a night show, I decided to change and landed in Jaipur leaving Maa behind in Bhopal. She has always been very supportive, and even today she is my strongest pillar, and since 2010 I have been on-air in Jaipur, though I took a brief break from Radio.
People think we are always messing around, jumping, and having fun, but they never see the preparation that goes behind a show, and the long working hours. People think we just speak for a few minutes, and voila money rushes to account, but that's not how it works.
There is one funny incident, Whilst I was doing my night show in Bhopal, I was giving cricket updates and I was so much into the flow that I actually said Chris Gayle Ji out ho gaye, thankfully, I didn't add Shree to his name. Also, once I cracked a lame joke in that intense show of how Nisar was born after the song Jawaani Janeman Haseen Dilruba, Mile Do Dil Jawaan Nisaar ho Gaya. I guess this joke only made me laugh.
Talking about how I am on and off-air, I am pretty much the same, in fact, my now producer calls me radio ki Ranveer Singh, because I am always charged up. Off-air also I am a professional bodybuilder, so, ya in the gym you can expect me to be RJ Sudeepta.
A few words of wisdom: Always, remember however high you climb in your life, you should always be down to earth, because it is your art that's giving you the fame, the day time will fade, all you will be left behind is how you treated people in your high. Also, always do two things in your life, one that gives money, and one that gives happiness.
RJ Nupur
Well, I am Nupur, Just a girl sitting beside you wearing headphones enjoying music in her own world but still knows what gossips are going around me. So that's why people of Jaipur began to listen to her along with daily music mantra ''Gossip ki Queen 11 se 3 khammaghani Jaipur ayi ayi aayi RJ Nupur'' on Radio city 91.1 FM. I am in this field for 4 years, and you can say that I am a true Piscean girl who had daydreams of winning gifts on Radio along with studies, especially solving math's tricky questions since 9th Class, which slowly become her love, passion, and now, a lively soul.
I always wanted to see myself in an out of the Box category, but since I was very talkative(being honest), an average student in the class and an overexcited child in the home, made me realize, that I am not going to do anything too serious in my career. But still, I gave a shot for Company Secretary Course, but couldn't because of my hard luck, and then I realized, I am made for something else, i.e Radio Jockeying.
There is a lot that an RJ do, music programming, scripting, presenting radio shows, radio advertisements and lending voice to radio advertisements, audio magazines, and documentaries. Today, Radio is one of the biggest industries in India. If you have that right voice and wittiness to engage the listeners then you can also become one of the popular RJs in your town!
As an RJ, as we talk a lot and feel every emotion just in front of our mic, within soundproofs walls of our studios and that simply and positively reflects in our daily life as well. I want to give an example from my personal life when I cook food for me, I have conversations with my Kadhai, Kalchi, Masalas, spoons, and my very favorite Coffee mug as well, and this simply means, we find love and feeling in every object and human. You guys must also try it once, and I bet you'll surely will feel good……..<3
RJ Naini Jain
I started my journey at the age of 17 and now I am 22 years old following my dreams doing what I love the most. I have seen many ups & downs in this journey, but I have never stopped myself to become what I want to be.
When nobody is there to support me my Mumma is always with me in this journey
Kuch pal aate hai har insaan ki life me jab kuch hasil nahi hota, kuch Accha nahi lagta lekin tum haar mat man na kyunki jo tum ho shayad wo aur log banne ki koshish kar rahe ho
Acha lagta hai jab koi batata hai ki Mumbai metro me baitha insaan bhi mera TikTok videos dekh raha tha, and one year before, I started with 85 followers and now, I have 3.5 lac.
Ek cheez jisne mujhe ab tak aage badhaya hai wo hai passion & dedication
My message is very simple, stay real, don't fake, and show some dedication to whatever you are doing
RJ banne ke liye koi special degree nahi chahiye hoti, thoda sa talent, bahut saari mehnat, aur dedication chahiye.
RJ Shonali
RJ Shonali started back in 2013 from Kota, and she came across an opening for radio jockeying. She grabbed the opportunity and joined got to know a radio jockey was required and joined the RJ internship program in My FM. She was on-air for an evening show in Kota for 2 years and now shifted to Jaipur for work.
She is the same, on and off the radio, a talkative person, an extrovert, or a textovert as she likes to be called.
Being a radio jockey is a Tapasya, not everyone who can speak become an RJ. It takes a lot to be an RJ.
Her favorite music depends on her mood, from Arijit's Channa Mere Ya to Hardy Sandhu to Jassi gill, it all depends on her mood.
Her most memorable interview was with Shah rukh khan, Tiger Shroff, and Ananya Pandey.
Rj Shivangi
Shivangi never thought she will be an RJ. But, since her initial college days, she was inclined to the media industry. One day, during a college project related to radio, her teacher appreciated her for her nice voice and writing and encouraged her to do a weekend radio show for her college radio, and fortunately, and that landed her with an internship at Red FM.
Although, she feels she is quite young to give out pieces of advice, but she believes, if you want to do something, first learn to express the things you want to do.
Follow Local Samosa on Facebook and Instagram
Be a part of Jaipur Local Community to explore more!
These RJs from Jaipur are taking the city on a musical ride! So, which station you are tuning in to?