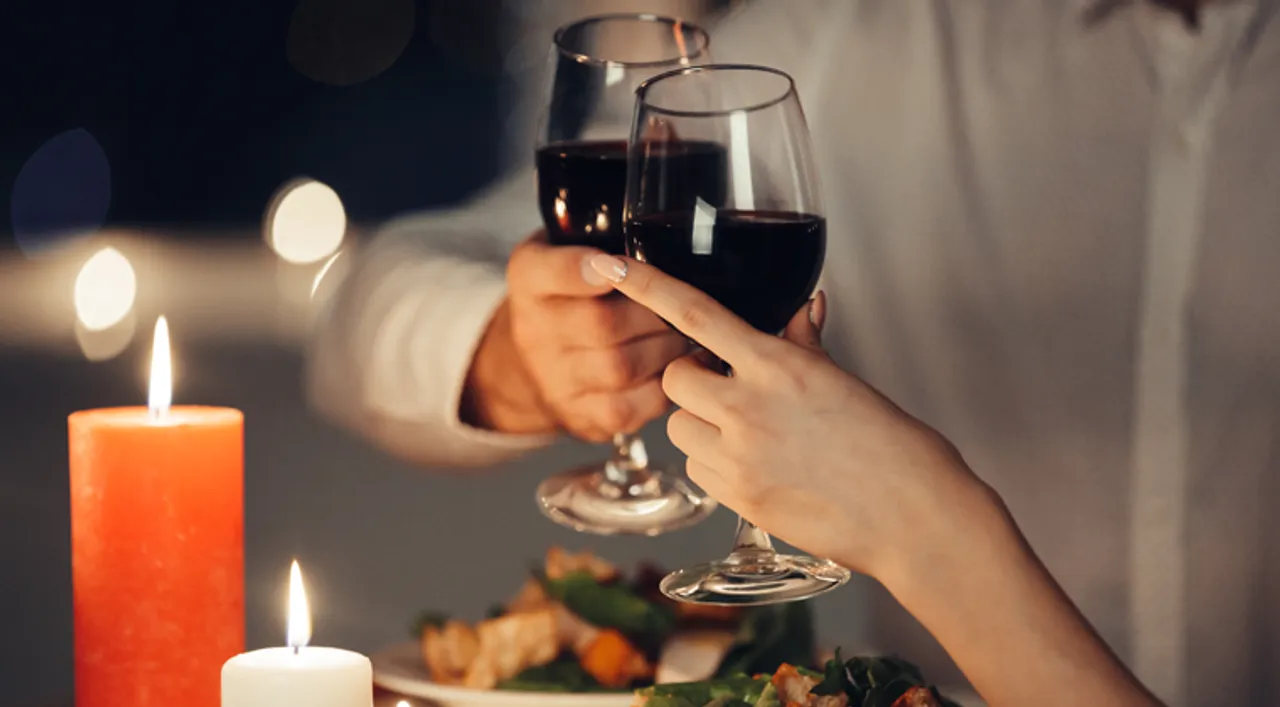 No celebration is complete without food, and neither is Valentine's Day. And this special occasion calls for something more than a regular candlelight dinner. From special cocktails to Aphrodisiac Menu and eye-catching deals, eateries in Mumbai are upping their game with their unique Valentine's Day menu.
Olive Bar & Kitchen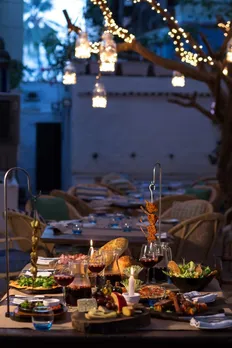 Celebrate the spirit of love with a special cocktail menu at Olive Bar & Kitchen. Sip on concoctions like Beet It, Romeo - a sweet mix of beetroot shrub, gin, ginger, lemon juice, and ginger beer. Next on the list is Hanky Panky - a mix of gin, sweet vermouth, Fernet Branca, and a dash of orange juice. You can also try Watermelon Aphro-Rita and Kentucky Kiss from the menu. Pair your drinks with dishes from a special menu which includes Miso Glazed Eggplant, Veggie Spaghetti, Seared Tuna, and Pan-Seared Scallops to name a few. They also serve vegan dishes. 
Where: Nargis Dutt Rd, Union Park, Khar West
When: 13 & 14 February
Cost: Rs 2000 for two

TYGR
If you have a palate for Thai food, then head to TYGR for some lip-smacking food and that too at an affordable cost. The special Valentine's Day Menu serves authentic Thai dishes, and you can try their Preserved Raw Mango Avocado Salad, Smelted Rice Flour Dumplings Chilli, Sampalok, Crispy Lotus Stem, Distended Chicken Nam Prik Pao, Jaggery Tamarind Smeared Scorched Lamb, and more. You can also enjoy either one of TYGR Special Cocktail, Glass of Brut Wine or Tygr Special Mocktail included in their meal package.
Where: Palladium Mall Pedestrian Walkway, Lower Parel
When: 14 to 16 February
Cost: Rs 2000


Qualia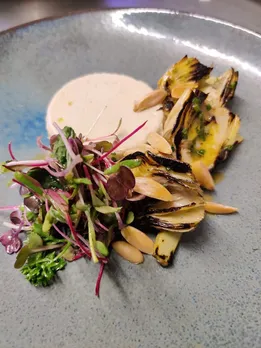 Is your date a picky eater? Chefs at Qualia know your pain, and hence they are letting you customize your three-course meal. Their special Valentine's Day menu comes with an aphrodisiac twist. Pick your favorite from Chestnut Gnocchi, Grilled Artichoke Hearts, or Butter-Poached Lobster. You could also try Crispy Pomegranate-Glazed Lamb Breast and Duck Tartare & Pastrami. End your meal on the sweet note with Strawberry Elderflower Frasier or Millefeuille Pear Caramel Terrine.
Where: Tulsi Pipe Rd
When: 14 February
Cost: Rs 2900 per head
Madeira & Mime

Madeira & Mime's special Valentine menu boasts unique cocktails to celebrate the day of love.
Pick your favorite cocktails from Got a Crush, Rose & Rosemary, Cupid's Mule, Riverside Cosmo, Sunshine, or Melone, among others. So what are you waiting for?
Where: Powai
When: Till 16 February
Cost: Rs 325 onwards
Soufflé Si'l Vous Plaît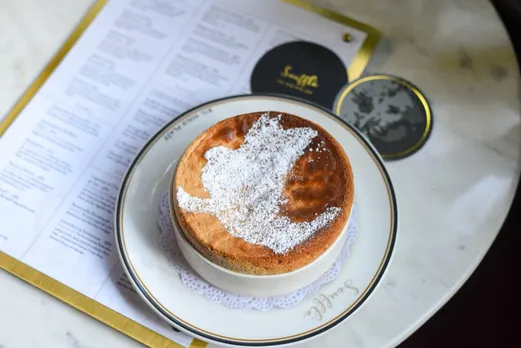 There's nothing more romantic than sitting in a French Bistro and savoring some delectable baked goods. Soufflé Si'l Vous Plaît is bringing France to Mumbai with its beautiful decor and mouth-watering menu. And to celebrate the day of love, they are bringing Strawberry soufflé with molten chocolate, a perfect dessert to celebrate your relationship. Topped with an icing stenciled cherub aka Cupid, it's a perfect dessert to enjoy with your date.
Where: Veer Nariman Road, Churchgate
When: 14 February
Cost: Rs 600
Esora
An ideal location for the foodie couple, Esora's special Valentine's Day menu is a six-course degustation. Indulge in dishes like Roasted Red Pepper With Coconut Milk Soup or Cilantro pistachio pesto shrimp pasta. Furthermore, you can also dig in special Strawberry chocolate cups, Watermelon Carpaccio, English Cheddar Cheese, and Veg Puff Roll. And finally, wash it all down with Red Wine Sangria.
Where: Goregaon East  
When: 14 February
Cost: Rs 1799 onwards
Mondo Fine Dine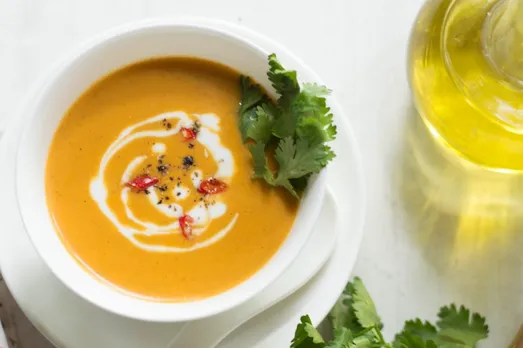 Go old school with candlelight dinner at Mondo Fine Dine and enjoy their lavish spread of the six-course menu. Loaded with everything continental, you'll definitely have more than one favourite dish. The menu contains Watermelon Carpaccio, Roasted Red Pepper With Coconut Milk Soup, English Cheddar Cheese and Veg Puff Roll to name a few.
Where: Dahisar West
When: 13 & 14 February
Cost: Rs 1599 onwards
Poco Loco Tapas & Bar
Taking it a notch higher, Poco Loco Tapas & Bar is celebrating love this entire week. Their five-course set Valentine's day menu combined with a cozy dim-lit atmosphere makes it a perfect set up for a romantic date. Start off with some refreshing cocktails. Take your pick from Tangerina - a vodka-based drink or Rosa de Ginerba – rose-infused gin and tonic. Indulge in dishes like Mushroom Kale Cappucino, Cottage Cheese Chimmichuri, Spinach Croquetas, Patata Bravas, Empanadas de Pollo, Chicken Croquetas, Fish Harissa among others.
Where: SV Rd, Khar West
When: Till February 16
Cost: Rs 1299 onwards
The Hemant Oberoi Restaurant
If you or your date has a taste for finer things in life, then this is the place to be. The Hemant Oberoi Restaurant is hosting an exclusive Valentine's Day menu which blends in perfectly with the luxurious interiors. For lunch, you can Indulge in scrumptious delicacies like Melon and beet ceviche, Smoked salmon mousse hearts, Tortilla pizza, Gazpacho, chia pearls, mango caviar, and Millefeuille of red velvet chocolate among others. Dinner menu brings even more extravagant menu with dishes like Twin heart Ravioli, Love is in the air - a brie, and truffle soufflé, and Coconut and Strawberry Macaroons.
Where:  BKC, Bandra East
When: 14 February
Cost: Rs 3,500 (lunch) and Rs 6500 (dinner) per person

Indigo Deli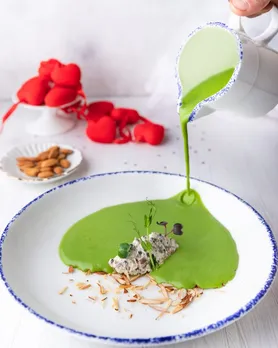 The Valentine's Day menu at Indigo Amore screams extravagance, as it consists of twenty amorous ingredients with the likes of Saffron, Truffle, Avocados, Strawberries, Fig, Red Snapper, Broccoli, Crab, Mustard, Chocolate, Raspberries, Rose and more. Add a french flavour to your date with Crab Bisque with Saffron Aniseed Butter, or dig into Baked Camembert with a Brûléed Fig & Arugula Salad. Sweeten up your tastebuds but exquisite desserts Milk Chocolate & Mascarpone Mousse Cake, Chevre on Slow-Cooked Carrot Halwa among others.
Where: Multiple outlets
When: 14 February,
Cost: Rs 3000 per couple
Shizusan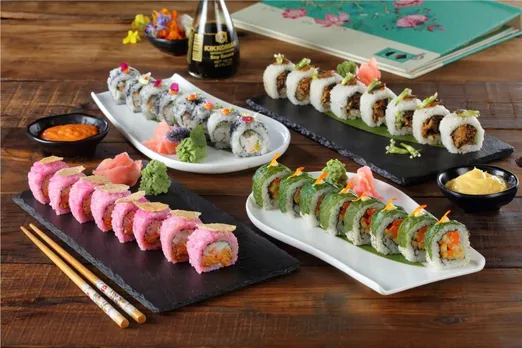 Treat yourself and your lover to a special eight-course meal, encompassing the best the restaurant has to offer. The curated menu includes Soup Shots, Sushi, Dim Sum, Appetizers, Salad, Mains, Staples, and Desserts. Enjoy Pan Asian cuisine in the most romantic setting, with your favourite person across the table.
Where:  Multiple Outlets
When: 14 February
Price: Rs 3199 per couple

SOCIAL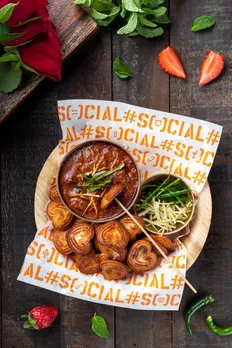 Inspired by the season of love, Social is bringing you dishes approved by Cupid. The menu boasts of unique dishes like Palmy Nihari - Palmiers with pulled nihari; Not Cupid's Chaat - made with Puffed wild rice, strawberries, asparagus tempura, strawberry chili chutney, papdi, spinach & Bhalla; Gulaabo Paratha; A Toast To Better Days and a special Bae-ryani. This is accompanied by a drinks menu with concoctions like Self Love Club, Raspberry Fields Forever, Kill 'Em With Kindness and Sip of Solidarity.
Where:  Multiple Outlets
When: Till 23 February
Price: Rs 1400 onwards, for two
La Lola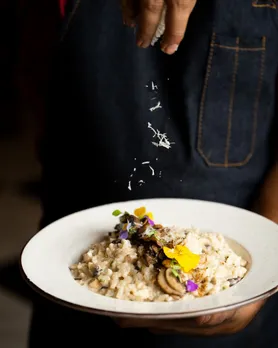 Get a taste of Italian with this special Valentine's Day menu at La Lola. Start off your meal with creamy Chicken and Mushroom risotto or go for Spaghetti Carbonara. For pizza lovers, take a slice of Diavola Pizza. The menu comes with a complimentary drink.
Where: Kamala Mills, Lower Parel
When: Till 16 February
Price: Rs 2500 for two

Chin Chin Chu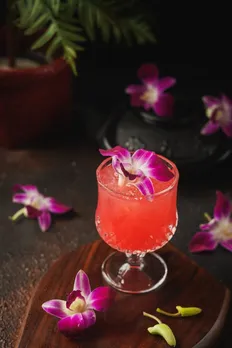 Book a table at Chin Chin Chi on Valentine's eve and enjoy unlimited food at only Rs 399. Enjoy the luxurious interiors, lip-smacking food and spend quality time with your lovely date. Known for its Asian cuisine, the restaurant also boasts a skylight on the upper level, making it a perfect place for a dinner date.
Where: Upper Worli, Lower Parel
When: 13 February, 12.30 onwards
Price: Rs 399 onwards
New York Burrito Company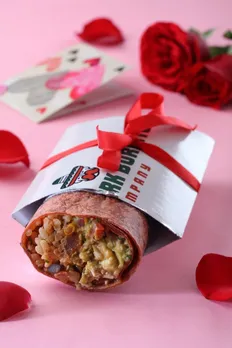 Skip the rose bouquet and surprise your beau with a Burrito Bouquet this time. The New York Burrito Company is bringing a wrap of all things yummy, as you and your date get to choose what goes in the burrito. 
Where: Multiple Locations
When: Till 16 February
Price: Rs 199