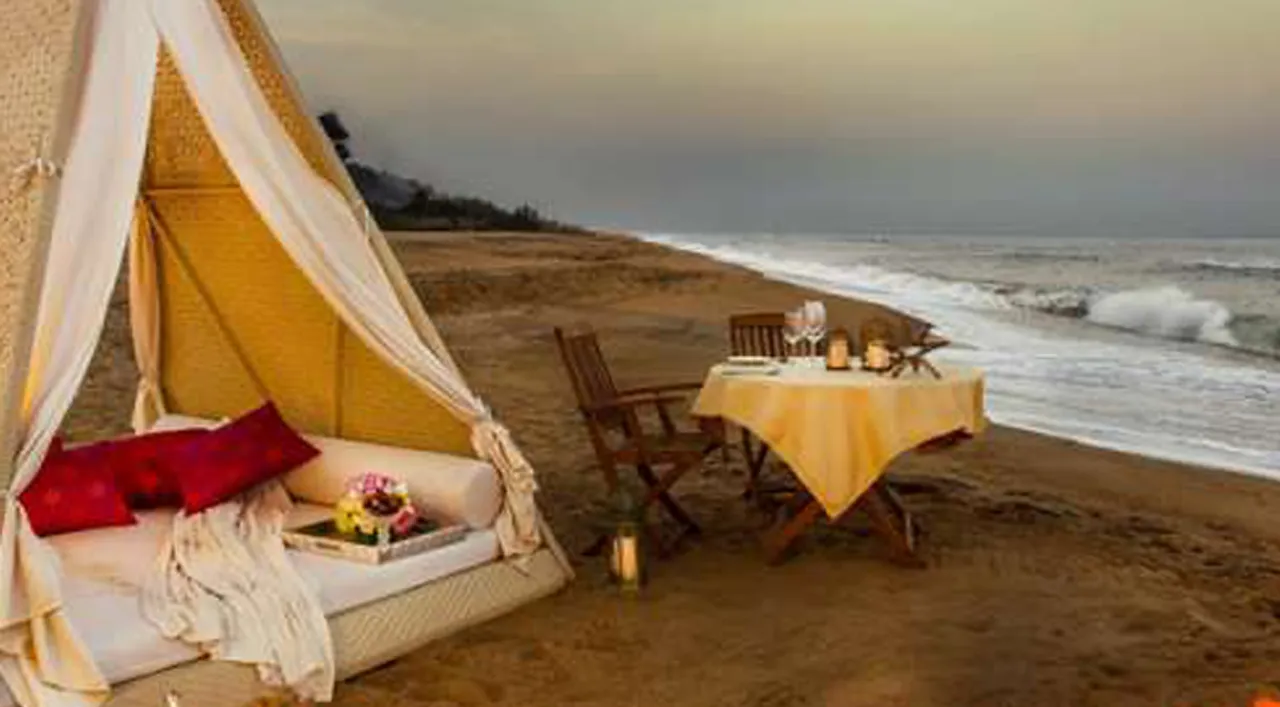 If you and your BAE are amongst those couples, who like to splurge on luxurious romantic getaways to spend some quality time with each other than those cliche Valentine's Day dinner date rituals, then these weekend getaways are what you're looking for!
Valentine's Day falling on a Friday is a blessing in disguise for couples with travel goals, this is the right time to plan a romantic outing, the two of you were craving for, it is the time to take a break from the hustle and bustle of the city and lose yourself in the destination, luxury, and love with these specially curated list of weekend getaways for you and your BAE.
YU Hotel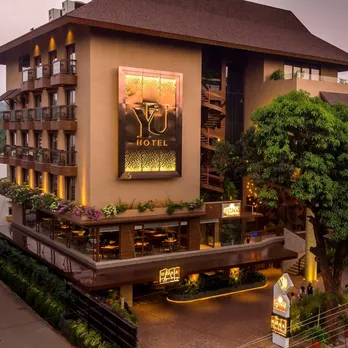 Located on the bustling street of Candolim just a short distance from the famed beaches of Goa, YU Hotel is the latest entrant to the coastal holiday state. If you're a couple that likes to try new things and have outgoing personality traits, this newly launched boutique hotel in Goa deserves a visit. The hotel also launched two of its signature international restaurants, Noaa and Spice Mantraa in India.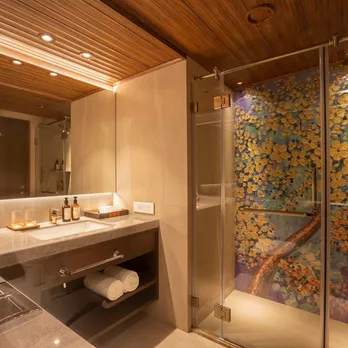 JW Marriott Jaipur Resort & Spa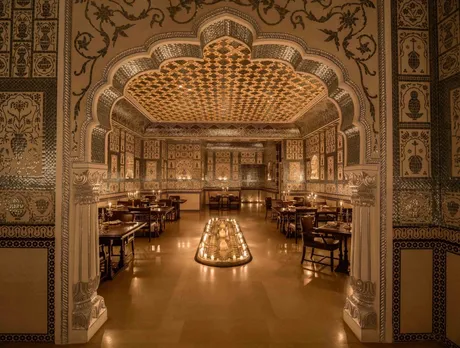 Rajasthan, known to be the 'Land Of Kings' also offers the special Royal Romance for couples on Valentine's Day. Inspired by the beautiful palaces and traditional architecture, JW Marriot Jaipur Resort & Spa is a perfect blend of culture, luxury, and comfort, with the cool breeze of majestic Aravallis increasing the romance quotient if it wasn't already high with their luxury suites or private villas with plunge pools or the exclusive resort spa that is just so perfect.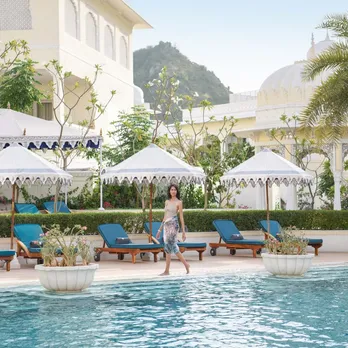 Le Meridien Mahableshwar Resort and Spa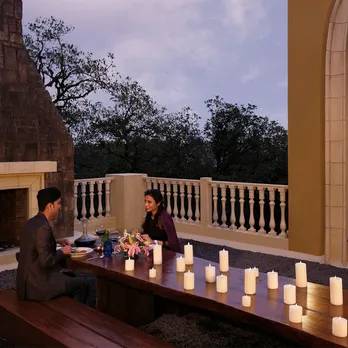 The luxurious hotel is all set to plan your perfect Valentine weekend away from the city in the lap of nature. Dinner at the Woods will have a curated 5-course dinner rustled up for you by your private butler for the evening along with your favourite choice of spirit. Surrounded by forests of the Western Ghats, Le Méridien Mahabaleshwar Resort & Spa sounds like an ideal destination for the cosy winter Valentine and a perfect atmosphere of unhurried relaxation. 
Suryagarh Jaisalmer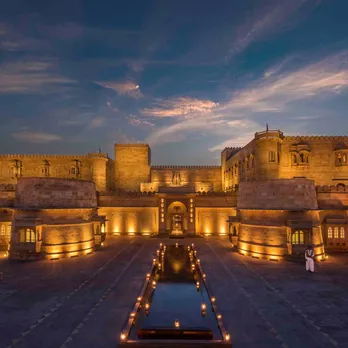 Drawing its sensuality, inspiration, and adventure from the sandy plains of the mighty Thar Desert, Suryagarh will take you back in princely India and in minutes you will fall in love with the grandeur of the place. In the recent past, this beautiful property has become one of the most favorite locations for weekend getaways.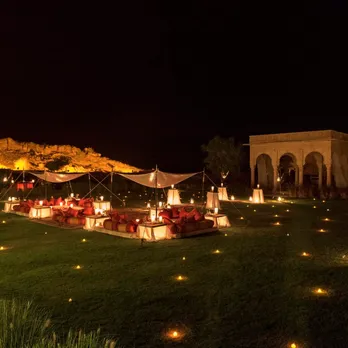 Narendra Bhawan Bikaner
Opulence at its peak, Narendra Bhawan Bikaner is a converted residence of the last Maharaja of Bikaner. The luxury boutique hotel offers some exceptional food experiences like the Sundowners, The Crescent Grill Dinner, and Museum Dinner at the Night Room. These experiences have a romantic element to them, thus making Valentine's weekend even more magical for the couple. Sundowner and dinner at the Darbari are as paradoxical as it may sound, deep in the heartland of the Bikaner desert.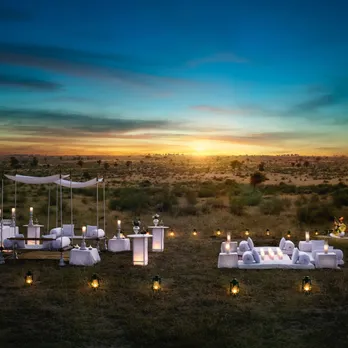 The Deltin Daman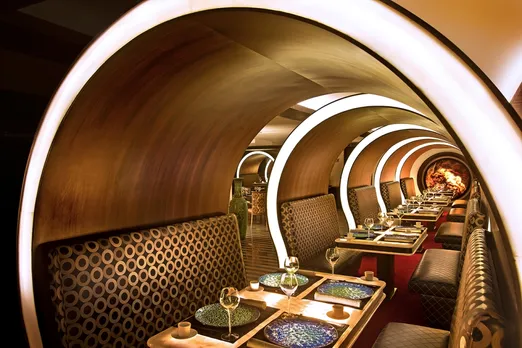 Ideal for a weekend getaway for couples as The Deltin is a world of new experiences and luxury. This opulent 5-star property that has a range of exquisite avenues for romantic couples. From exploring favourite cuisines at The Emperor and The Vegas or unwinding at The Whiskys to sipping wine with your loved one, it will just add the ingredient of romance to your getaway. Relaxing & rejuvenating at the spa and enjoying a swim in one of their pools, the grandest experience with your other half is reassured.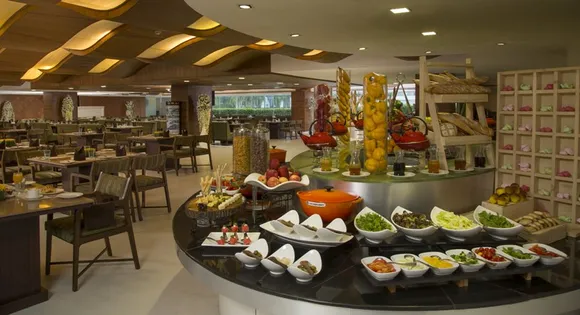 Atmantan Wellness Centre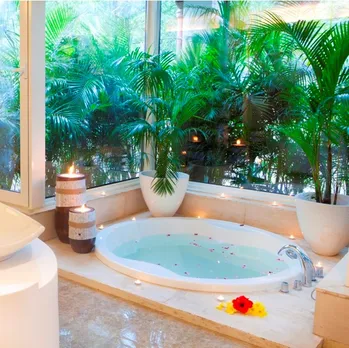 Headed here? Stay tuned to celebrate Valentine's Day with a Wellness spin. The Wellness Center offers a variety of therapy and spa options like - A Digital Detox, Sleep therapy, Aroma Therapy, Hiking or Mindful Walk, Couples workout, Cooking class, and Couples Spa. The best part of it all? You get to experience it all with your partner in romance. This property is tucked in the lush green Sahyadris in Western Ghat.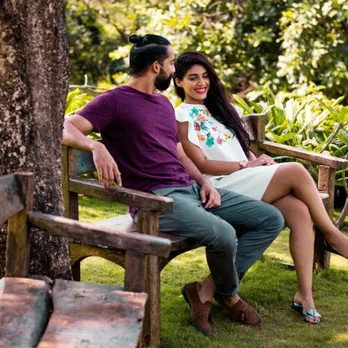 Grand Hyatt Goa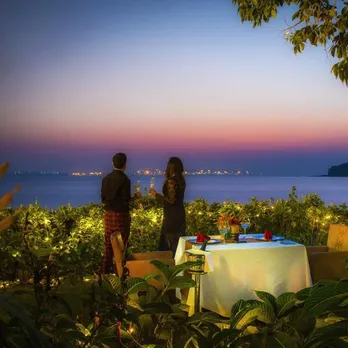 Is Goa on your list? Thinking of the perfect romantic escapade? Well, this enchanting Indo-Portuguese style destination resort and spa will not disappoint you. Every room offers private balconies, suites that have with whirlpools in each of its balconies, and with over 101 experiences to choose from the resort is a state-of-the-art facility transcending you to a world of an ultimate destination. Wall climbing, ropes course, zip line, skycycle, archery, aqua zorbing, and sailing will mark your experience to be ingenious.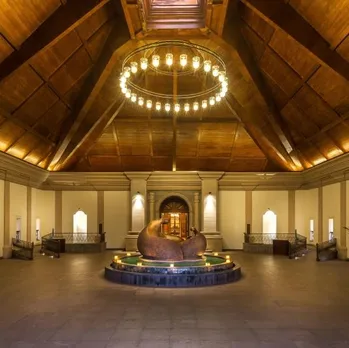 InterContinental Chennai Mahabalipuram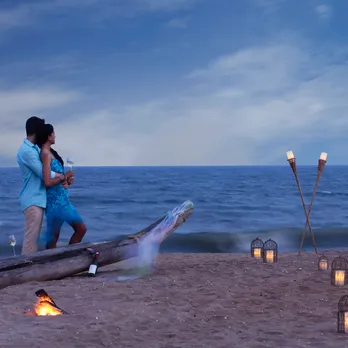 Located an hour away from Chennai, situated on the scenic East Coast Road, this beach-side property is the perfect getaway for a dreamy and relaxing vacay. The picture-perfect setting for a romantic rendezvous will enable you to keep up with #CoupleGoals. Couples get to enjoy the many gastronomic offerings from the award-winning restaurants and stroll across the beach hand-in-hand. For the culturally inclined duos, the resort can arrange for a special trip to the Dakshinchitra museum.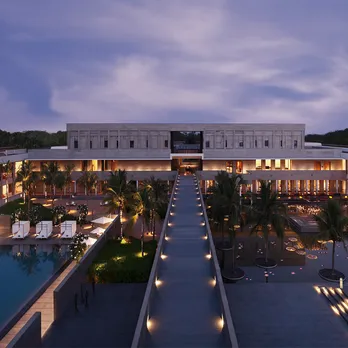 Falcon Tents, Lonavala
If you are not a fan of a resort or hotel and want a getaway destination to make time for the things you love, with the one you love, then SaffronStays' Falcon Tents is a place you should definitely check-in.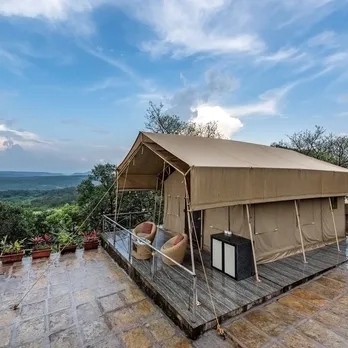 Enveloped in lush green, veg-only tents are one of the most rejuvenating and blissful escape in nature's lap for adventurous couples. The highlight of the glamping experience would be nights as laying under a star-studded sky, barbecue and a blazing bonfire.
Well, if you have any suggestions for weekend getaways to spend your luxurious date, this Valentine's, reach out to us at abhishansa@localsamosa.com.