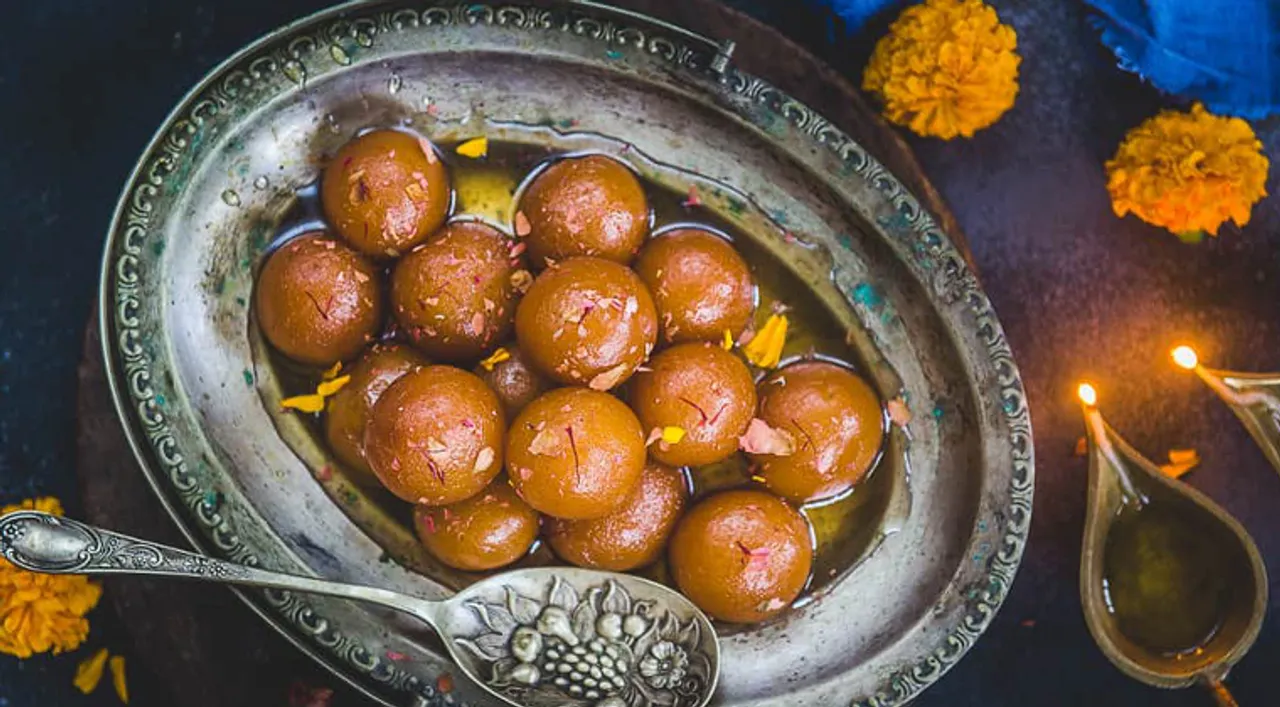 The Festive season has already begun and this is the most treasured time for our blogger Neha Mathur from Whisk Affair, and we are sure everyone loves it as much as her. Bright colorful homes lit up with a lot of lamps and lights, delectable Mithais and oh-so-delicious Indian delicacies served on decorated tables and families & friends getting together to celebrate this auspicious festival, what is not to love about this festival. And believe us she has a pandora of Diwali recipes to serve you on the table.
When we talk about Diwali, the only thing that comes to my mind is Food. In India, every celebration comes with delectable food, with lots of delicious appetizers to be served during house parties or Indian Mithais to be served to our guests. Because no festival is actually a celebration without food, right?
As Diwali is just around the corner, the season of Diwali parties has begun and these parties get even better when there is interesting Food on the table. Family and friends also come to meet and greet you on the occasion of Diwali and these meets become special when the food served is appetising. Well, you want them to remember the festival of Diwali at your house right?
With time several new, healthy and fusion recipes have also been added to the list, but there is nothing like our good old traditional recipes. So here I have some mouthwatering and inviting Indian delicacies for you, that you can include in your Festive meals. 
Malpua
Malpua is a traditional Indian sweet from Rajasthan and Orissa. The pancakes made using flour are soaked in sugar syrup and these are then topped with a creamy rabdi.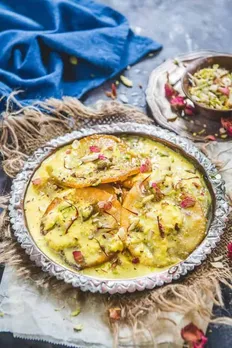 Ingredients:
1 and 1/2 cup Milk Warm
1/2 cup Khoya Grated
1 cup Maida
1 tsp Saunf Coarsely Ground
2 tsp Sugar
1 pinch Salt
1 pinch Baking Powder
Ghee for frying
For Sugar Syrup
1 cup Sugar
1/4 cup Water
2-3 Cardamom Ground
8-10 strands Saffron
Directions:
Add sugar, cardamom, saffron and water in a pan.
Cook till the syrup is of one string consistency.
Keep aside
Mix half of the warm milk and khoya in a bowl.
Mix till khoya is combined.
Add half of the maida and mix to make a smooth paste.
Add the remaining maida and make a smooth paste.
Now add sugar, saunf, salt and baking powder.
Mix well.
Add the remaining milk and mix well.
Keep aside for 10 minutes.
Heat ghee in a shallow pan.
Mix the batter and pour a small ladle full ( approx 2 tbsp ) in the hot ghee. ( The ghee should not be too hot )
Simmer the heat to low and fry the malpua on both the sides till golden brown.
Remove from ghee and dip in the sugar syrup for 2 minutes.
Serve hot as such or with kesar rabdi.
Recipe Notes
Make sure the batter is lump-free and smooth.
The ghee should be very moderately hot. Do not fry the fry the Malpua in very hot ghee otherwise they will be raw from inside.
Try to use a shallow non-stick pan to fry the Malpua.
A good malpua is crispy on the edges and soft in the centre.
The sugar syrup should be hot when we soak the malpua in it.
You can add a mashed banana in the batter. Adding banana in the batter is more of a Bihari and Oriya thing. In UP & Rajasthan,it's not added.
For step by step procedure, Check out the detailed recipe here.
Gulab Jamun
Gulab Jamun is a classic Indian dessert that is enjoyed by everyone. These are delectably sweet balls delicately flavored with rose water and dunked in sugar syrup. This recipe makes the best homemade Gulab Jamun with no errors.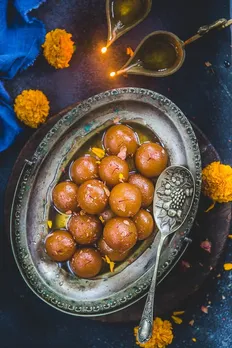 Ingredients:
400 g Khoya
3 tbsp All purpose flour
Oil or Ghee for frying
For Sugar Syrup
1 kg Sugar
500 ml Water
20-25 strands Saffron
2 tsp Cardamom powder
1 tsp Rose water
Almond and Pistachio slivers for garnishing
Directions:
Mash the khoya nicely with the heels of your hands until smooth and grain free.
Add flour slowly and keep mashing until well blended and a smooth dough is formed.
Make small smooth balls from the dough.
Heat oil or ghee in a pan and when the oil is barely hot, add the balls in the oil.
Simmer the heat to medium low and fry the balls till golden brown from both the sides.
Meanwhile heat sugar, water, saffron and cardamom powder in a pan.
Cook on low heat for 10 minutes.
Do not over cook the syrup otherwise the sugar will crystallise.
Add rose water in the ready syrup and mix well.
Add the fried balls in the warm sugar syrup and let them soak the syrup for at least 45 minutes.
Garnish the gulab jamun with almond and pistachio slivers.
Serve cold or warm.
For step by step procedure, Check out the detailed recipe here.
Shahi Tukda
Shahi Tukda or Shahi Toast is a royal dessert straight from the culinary utopia of Hyderabad. Made by deep frying the bread, soaking it in sugar syrup and then drizzling it with thick luscious rabdi, this Hyderabadi delight is one of the best yet easy to make Indian desserts.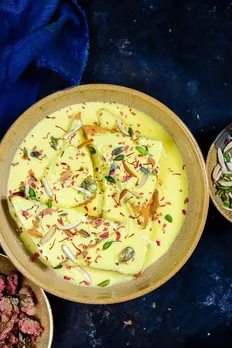 Ingredients:
6 slices White bread slices
Ghee for frying
3/4 + 1/4 cup Sugar
1 cup Water
2-3 pods Cardamom crushed
1 litre Full cream milk
15-20 strands Saffron
1/2 tsp Rose Water
Slivers of almonds and pistachios to garnish
Directions:
Cut the corners of bread slices and cut the slices diagonally.
Heat the ghee and when it is hot, deep fry the bread slices till golden brown.
Remove on a tissue lined plate.
Heat water in a pan and add 1/2 cup of sugar to it.
Add cardamom to the water.
Let it boil for 6-8 minutes.
Remove the pan from heat and keep aside.
Heat milk in a heavy bottom pan.
When it comes to a boil, add saffron and rose water and reduce the heat and let it simmer till it reduce to half.
Keep stirring in between.
Add sugar and thicken it a little more.
Dip bread slices in sugar syrup for 5-10 seconds. ( or more if you like softer version )
Keep them on the serving plate.
Top with the reduced milk.
Garnish with almonds and pistachios slivers.
Serve immediately.
For step by step procedure, Check out the detailed recipe here.
Dahi Vada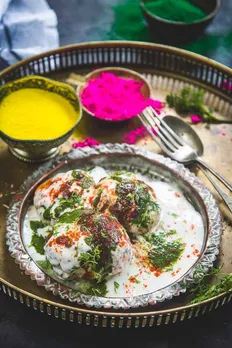 Dahi Vada or Dahi Bara are fried lentil dumplings, topped with curd, variety of chutney and spices. It's a famous Indian Chaat recipes and a very popular street food. Learn to make super soft Punjabi Dahi Bade at home using this Step By Step Recipe.
Ingredients:
For the Vada
1 cup Urad Dal
1 tsp Ginger Chopped
1 tsp Green Chilli Chopped
1 pinch Baking Soda
Oil for frying
For soaking water
1/4 tsp Hing
1 litre Water
1 tsp Salt
For curd
3 cups Curd Whisked
1 tsp Sugar
1/2 tsp Salt
For Topping
1/4 cup Coriander Mint Chutney
1/4 cup Tamarind Chutney
1 tsp Dahi Vada Masala
1/2 tsp Red Chilli Powder
1/2 tsp Roasted Cumin Powder
Salt to taste
2 tbsp Fresh Coriander Chopped
Directions:
For vada
Wash the dal and soak in 3-4 cups of water for 4-5 hours.
Drain the water and add the dal in a blender along with ginger, green chilli and salt.
Blend the dal to make a thick paste. Just add 2-3 tsp of water while grinding the dal.
Use your hands and whisk the dal for 4-5 minutes until it is very light.
Cover the bowl and keep aside for 15 minutes.
Add the baking soda and whisk for another minute.
Take a bowl filled with water and drop small drop of batter in it.
If the batter immediately starts to float on top of the water, the batter is ready.
If not, then whisk it some more.
Heat oil for frying in a pan.
Wet your hands with water and take out small portion of the batter in your palms. Shape it into a flat round vada.
Drop the vada in hot oil. Simmer the heat to medium low and fry all the vadas until they are slightly browned.
Drain on a plate.
Heat the oil once again and when it reaches medium high temperature, add all the vadas in the hot oil and double fry until nicely browned.
For the soaking water
Mix all the ingredients in a bowl and keep aside.
For curd
Whisk the curd with sugar and salt and keep aside
Assembly
Add the fried vada in soaking water and let them soak for 15 minutes.
Press the vada between your palm lightly and arrange them in the serving plate.
Top with whisked curd.
Top with coriander mint chutney and tamarind chutney.
Sprinkle dahi vada masala, red chilli powder, roasted cumin powder, salt and fresh coriander.
Chill for a few hours in refrigerator.
Serve chilled.
For step by step procedure, Check out the detailed recipe here.
Methi Mathri
Methi Mathri is a savory flaky and crispy tea time snack that brings back memories of childhood. They are ideal preparations for the festive season too. Here is how to make Methi Mathri Recipe.
Ingredients:
2 cups Maida/ All purpose flour
1 tsp Sooji/ Semolina
2 tbsp Kasuri Methi
2 tsp Salt
1/2 tsp Ajwain/ Carom seeds
1/4 cups Cooking Oil Plus for frying
Warm water for kneading
Directions:
Add maida, sooji, methi, salt, ajwain and 1/4 cup oil in a bowl.
Mix well with your finger tips.
Add warm water and knead to make a tight dough.
Cover and keep the dough aside for 10 minutes.
Make small balls from the dough and press them tightly between your palms to flatten them.
You can also roll the mathris slightly with a rolling pin. If rolling them to make thin mathri, then prick them with a fork all over.
Heat oil in a heavy bottom pan.
When the oil is hot, add the mathri and simmer the heat.
Do not overload the pan. Fry the mathri in small batches.
Fry the mathris on low heat till lightly golden brown from both the sides.
Increase the heat and fry the methri until nicely browned.
It will take 15-20 minutes to fry one batch.
Remove the fried mathris on a tissue lined plate.
Cool and store in an airtight container for up to 15 days.
Recipe Notes
Always fry the methi mathri on low medium heat otherwise they will not cooked from the centre. Store the mathri in a  container only once they are completely cooled.
For step by step procedure, Check out the detailed recipe here.
The Article is written by Neha Mathur from Whish Affair.
Check out her Instagram account here
Also Read: Top Chefs from Jaipur who are making us love food even more!