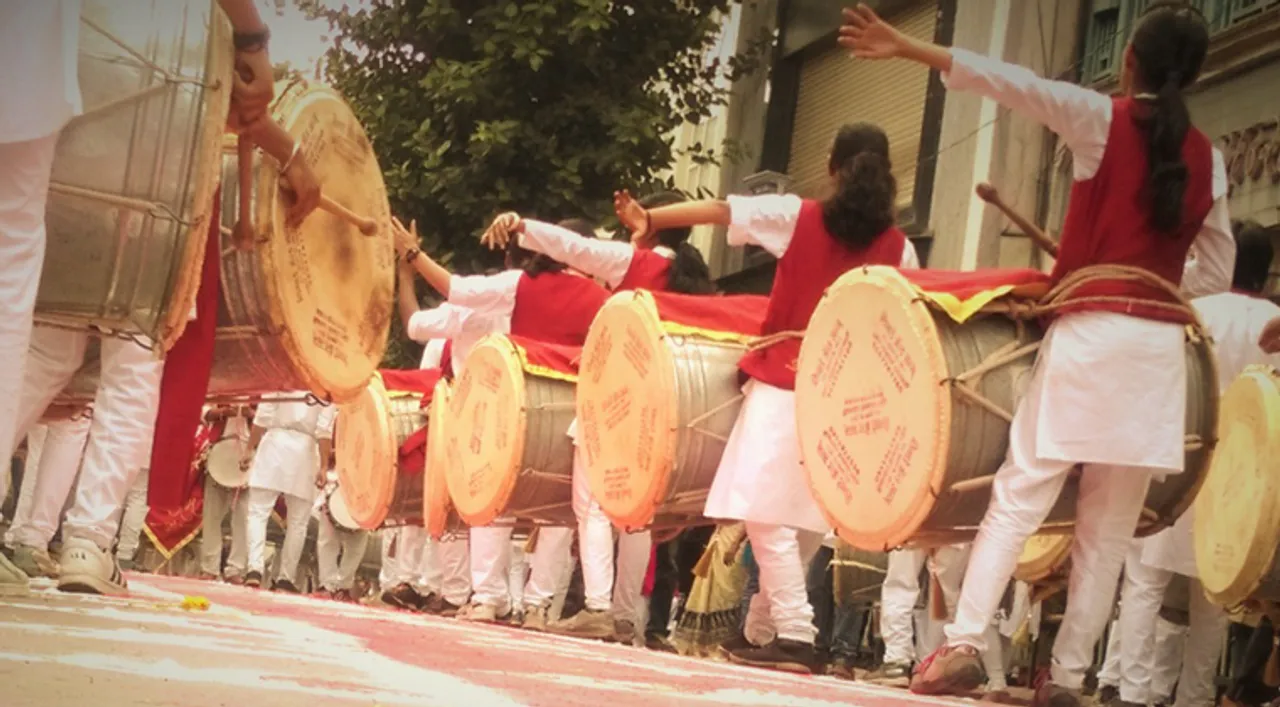 The Ganpati Celebrations begins on 2nd September 2019 and if you are in Pune, then, it is an unwritten rule to enjoy the 10 days long festival with your friends and family over here. We are here to tell you the must-visit places to celebrate Ganpati Festival in Pune
Level of excitement somehow seems to have no bounds!
You must go around the beautifully decorated city with Mandals and stalls set up everywhere.

What adds more to the vibrancy of the celebration are the processions accompanied by Dhol Tasha troops, giving a platform for people to showcase their talent and also an opportunity to restore the charm of dying art, skills and traditions.
This also serves the purpose of inspiring people to take up the skills they are not aware of.
Local communities compete with each other to put up the most impressive Ganesha statue and display. Expect very crowded streets, filled with boisterous devotees, and lots of music.
So, we have a list of places that ace in its festive game and are a must for you to witness :
Shreemanth Dagdusheth Halwai Ganpati Temple
Ask any Punekar about Ganeshotsav and you ought to listen to them talking about celebrations at Dagdusheth. Bejeweled with Gold, the temple proudly embraces the city's most popular Ganpati, one that has been around for more than 125 years. The best part about this temple is that you can see the deity from a far distance on the road.
Where: Ganpati Bhavan, 250, Chhatrapati Shivaji Maharaj Rd, Budhwar Peth, Pune
Kasba Ganpati Mandir
Kasba Ganpati is known as the protector and savior of the city, since its the first of the 'Five Manache' and is located near the historic Shaniwar Wada fort and palace complex at Kasba Peth. During Ganesh Utsav, the mandir is filled with devotees seeking blessings. The pandals set up outside the mandir is around 123 years old and has been consistently put up at the same place every year. It's a huge celebration here.
Where: 159, Kasba Peth Rd, Durvankur Society, Phadke Haud, Kasba Peth, Pune

Tulshi Baug Mandir
Tulshi Baug Ganpati is the 4th Ganesha of honor in Pune. It is located in the middle of the very famous Tulsi Baug market of Pune. The Idol of this mandir is 15 ft tall and has gold as well as silver ornaments on it. The mouse near the idol is made up of silver and the Ganpati steals your heart in first look!
This Mandal is very famous for its decorations and is one of its kind that presents moving tableaus based on mythological stories.
Where: Tulshibaug, Budhwar Peth, Pune
Tambdi Jogeshwari Mandir
Tambdi Jogeshwari Mandal is considered to be extremely unique as the Ganpati here is said to resemble the African elephant and is claimed to have been self-born. Tambdi Jogeshwari is the Second Ganpati of honor. What makes this Mandal special is that you will find maximum participation of women in processions performing stunts like horse riding and sword fights.
Where: 33 A, Budhwar Peth Rd, Budhwar Peth, Pune
Also Read: Let's know a little about Ganpati Bappa we love and celebrate so dearly!
Kesariwada
A small attractive idol of Ganesha is placed at the center of the Mandal with gold plated Ganpati idol at the back with a bronze statue of Lokmanya Tilak. The Mandal organizes shows and speeches of famous people.
Where: 577, न.चिं. केळकर मार्ग, Narayan Peth, Pune

Guruji Talim Mandal
What makes this mandal special is that it was started by Hindi and Muslim families together for the first time in Pune and he is Manaacha Teesra ( 3rd Ganpati of honor).
Where: Kedar Dilip Mane 43, Laxmi Rd, Budhwar Peth, Pune
Akhil Mandai Mandal
The Sharada idol of Ganesha installed in this Mandal was installed 120 years ago and is made of paper pulp and cloth, making it special in its being, Adding to the distinctiveness is the fact that it was installed by the vegetable vendors of Jyotiba Phule Vegetable market. Its a MUST VISIT during the festival.
Where: Budhvar Peth, Mandai, Shukrawar Peth, Phatakwada Society, Mandai, Shukrawar Peth, Pune
These 10 days in Pune are all about positive vibes and happiness that togetherness is capable of bringing. Let the exuberancy flow and make the most of this moment of celebration.
Follow Local Samosa on Facebook and Instagram
Be a part of Pune Local Community to explore more!