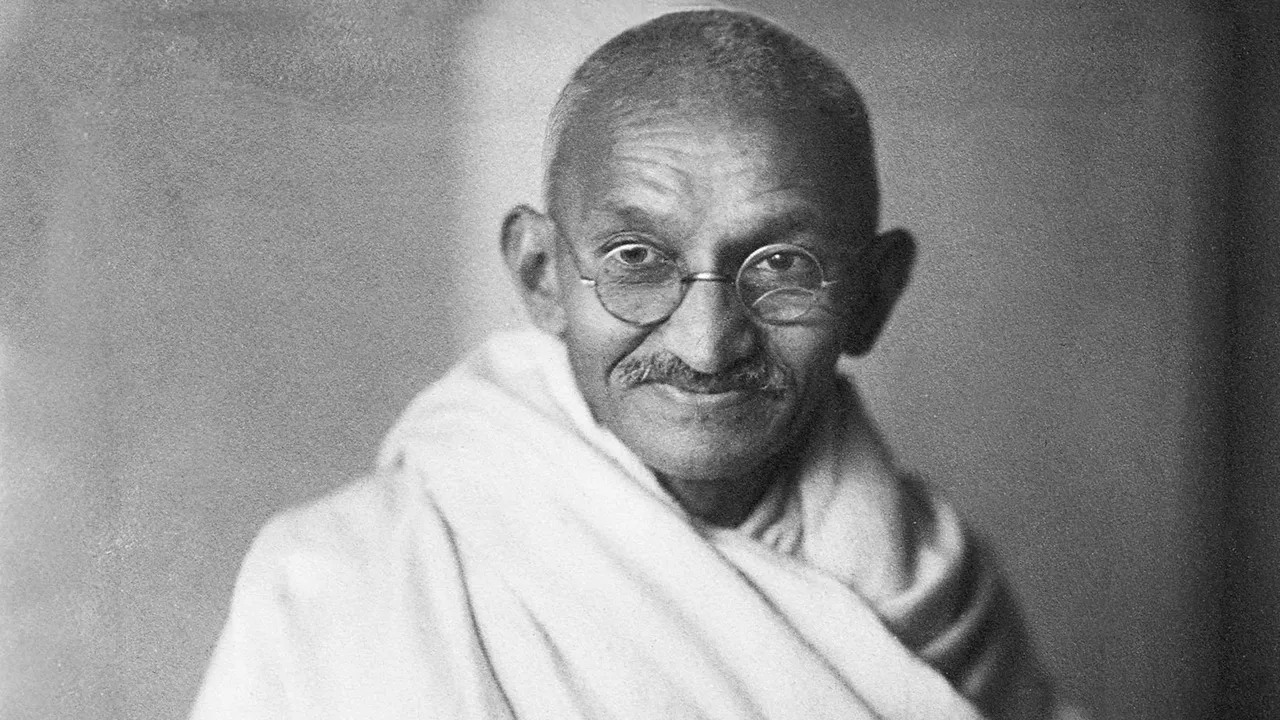 The man to whom we owe our freedom was born on October 2! His life was inspiring and to get a little glimpse of the same, visit these 7 places that pay tribute to Gandhi Ji.
Gandhi Ji, Bapu, and the father of our nation gave his blood, sweat, tears, and his life for freedom. We will always be in debt and there's certainly no way we can pay him back. But we can surely learn more about his inspiring life that was dedicated to his people and our country. These 7 places will remind you about Gandhi Ji as each of them is connected to him in some or the other way. They even have his memorabilia and there's a lot that we all can learn about him by visiting them. 
1. Mani Bhavan, Mumbai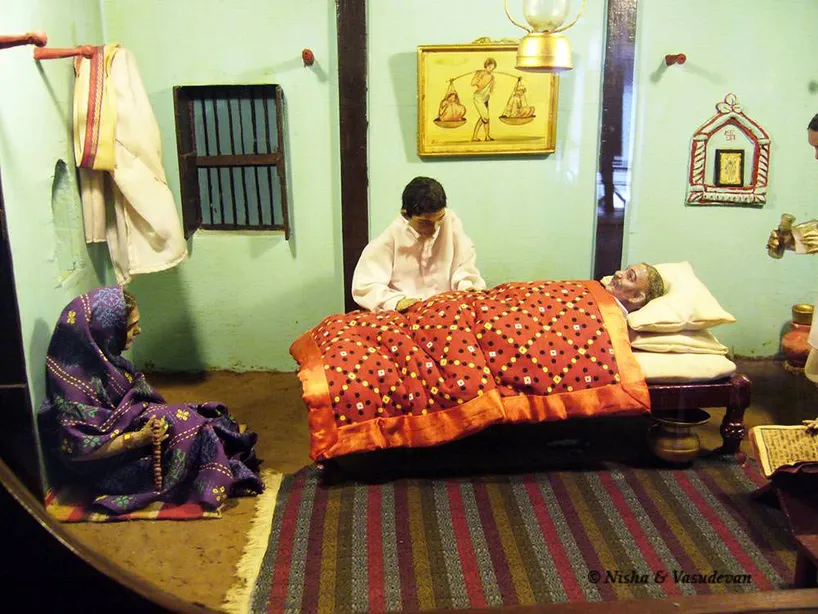 This two-storeyed building on Laburnum Road in Gamdevi, Mumbai was the place where the first phase of the non-violent freedom struggle was launched. Gandhiji was even arrested from his tent on the terrace of Mani Bhavan on the morning of January 4, 1932, the next day. Not just this, he also began spinning the charkha from this place. A miniature museum, photo gallery, and a massive library will tell you a lot about his life. 
Where: Mani Bhavan, 19, Laburnum Rd, Babulnath, Gamdevi, Mumbai.
2. Sabarmati Ashram, Ahmedabad
Among the many residences of Gandhi Ji, Sabarmati Ashram was also the place where major movements like Salt Satyagrah and Dandi March were strategized and launched. The ashram today has the personal memorabilia of Gandhi Ji. It houses a gallery, a shop as well as a museum. You will come across life-sized oil paintings, manuscripts, photographs, books, and even his actual writing desk and spinning wheel here. 
Where: Gandhi Smarak Sangrahalaya, Ashram Rd, Ahmedabad, Gujarat 
3. Kirti Mandir, Gujarat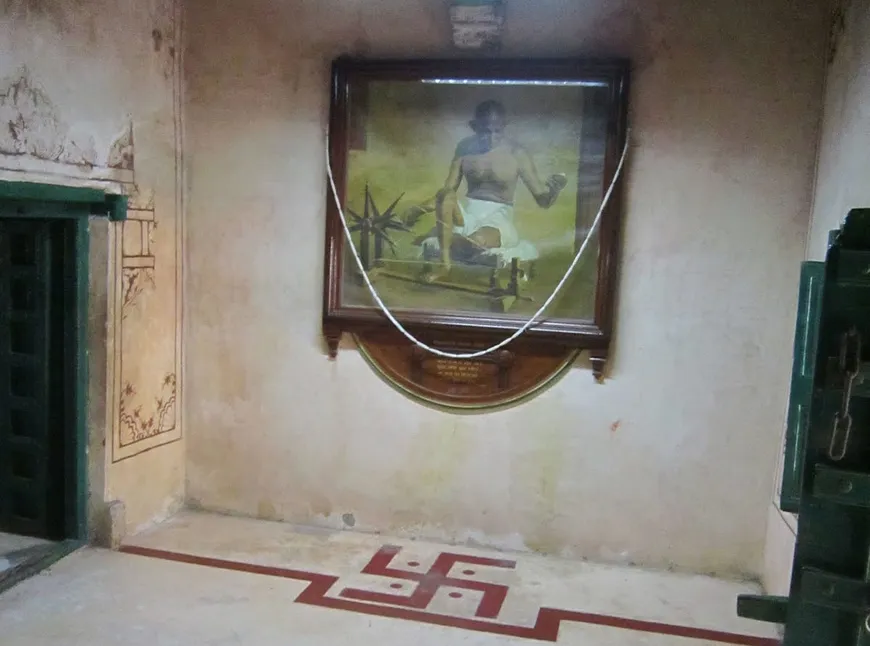 Kirti Mandir is the place where Gandhi Ji was born. It's a three-storey house that will let you witness the exact place where his mother Putlibai had given birth to him and is marked with a Swastik. A wooden staircase will take you to the room where in particular Gandhi Ji used to read. Right behind Kirti Mandir, there's Navi Khadi where Kasturba Gandhi was born. There's another building adjoining Kirti Mandir that houses a library dedicated to Gandhi Ji, a nursery, as well as a prayer hall. 
Where: JJR2+G8X, Kasturba Road, Porbandar, Gujarat.
4. Gandhi Smriti or Birla House, New

Delhi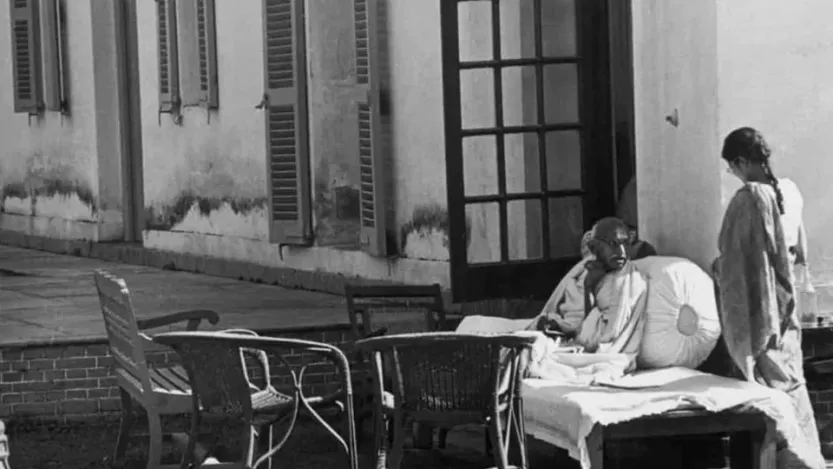 source

This place used to be a 12-bedroom house and was built by Ghanshyamdas Birla in 1928. Since Gandhi ji and Sardar Vallabhbhai Patel were his dear friends, the duo would often visit the building. It was also a place of Gandhi Ji's stay during his last day before his assassination. In 1973, it was renamed as Gandhi Smriti and converted into a museum. There are a number of articles associated with Gandhi Ji including the preserved room where he lived as well as the place on the grounds where he was shot during his nightly public walk.
Where: In front of National Defence College, 5, Tees January Marg, near Birla House, Tees January Road Area, Raj Ghat, New Delhi, Delhi 110001.
5. Aga Khan Palace, Pune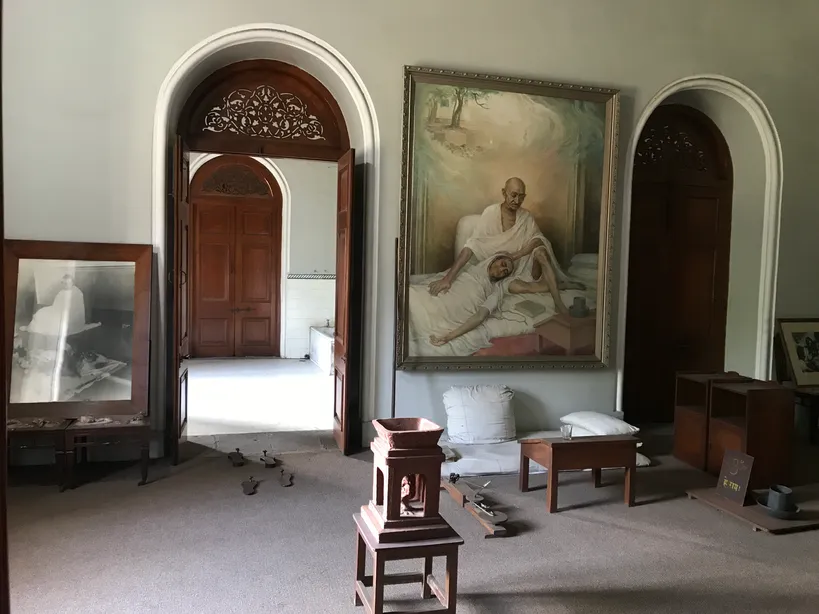 This one served as a prison for Mahatma Gandhi, his wife Kasturba Gandhi, and his secretary Mahadev Desai after the launch of the Quit India Movement. During their period of captivity, unfortunately, Kasturba Gandhi and Mahadev Desai passed away and their samadhis can still be found here. Today, this palace houses a memorial of Gandhi Ji, where his ashes were kept as well as documents and objects relevant to his life. 
Where: Nagar Road, Samrat Ashok Rd, Pune, Maharashtra.
6. Raj Ghat, Delhi 
Gandhi Ji's cremation was done here and later a memorial was built keeping Gandhiji's philosophy and practice of living in mind. The place is surrounded by lush lawns and the structure paying homage to Gandhi Ji has 'Hey Ram' inscribed on it as these were his last words. Today, every Friday a prayer meeting is held in his memory and there's also a collection of memorabilia inside. You will also find 32 models of his iconic charkha as well as his dhoti, a few of his teeth, a walking stick, and even the bullets that were used to assassinate him. 
Where: Mahatma Gandhi Marg, Ring Road, New Delhi, Delhi - 110006.
7. Dandi Kutir, Gujarat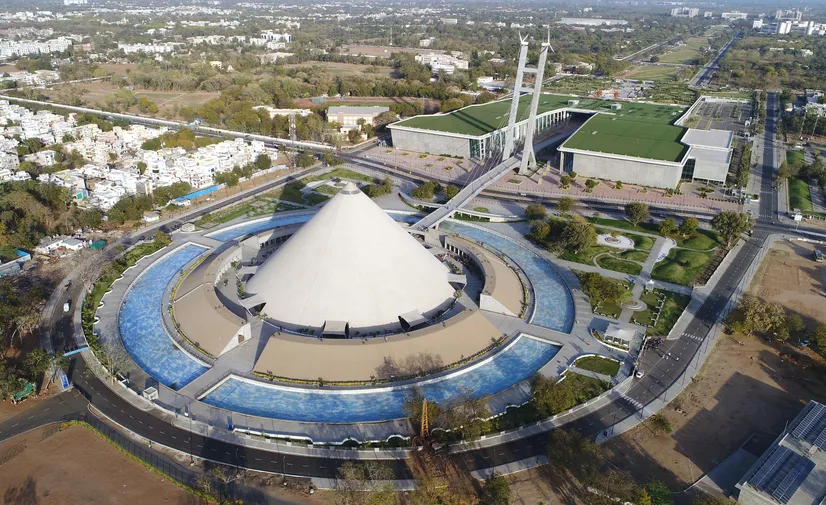 Dandi Kutir is the largest high-tech museum and has a high conical dome that symbolizes a salt heap inspired by Salt Satyagraha. There are three levels of galleries narrating the stories of Gandhi Ji using techniques like 3D Mapping, 360-degree projections, 3D Holograph, LED screens, and Interactive audio that are sure to give you an immersive experience. There's even a restaurant, souvenir shop, library, and bookstore inside this massive structure.  
Where: DANDI KUTIR, Sector 13C, Sector 13, Gandhinagar, Gujarat 382016.