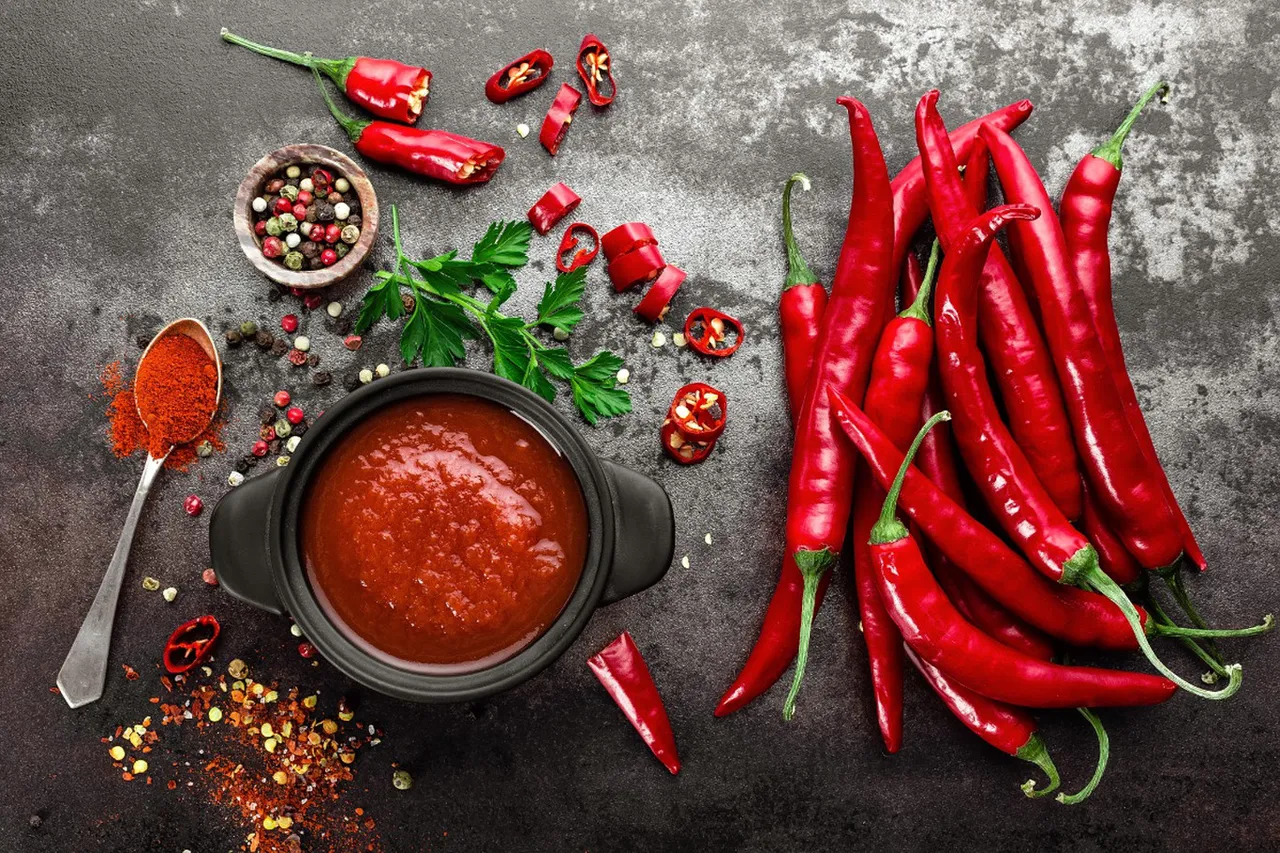 If you are someone who likes to add spice to your meal and want to try some exciting flavours, we have got you covered with condiments from Indian hot sauce brands. 
We Indians are spice lovers and add condiments to any dish we prepare to elevate its taste. Whether it be aachar or just a piece of chilli, spice finds a part in every cuisine. We have curated a list of Indian hot sauce brands for you to try with nachos, a simple roti or any other food item you like. 
1. Kaatil 
Just like the name, Kaatil Sauce is here to slay with its condiments. The brand claims to give you hot sauces that do not make you run for water but give a sense of fulfilment of spice and tanginess after having them. Their sauces are numbered based on the heat level they produce. The No. 4 Sauce with Guntur and Byadgi chillies starts flavourful, slowly teasing your tastebuds, turns sweet, and then ambushes you with lingering heat. The No. 7 Sauce is the spiciest of the lot made with lavangi mirchi giving a heating sensation and slowly disappearing after the initial spice. You can also go for their Hot Ketchup No. 2  made with Sankeshwari mirchi.  
2. Indian Sauce Company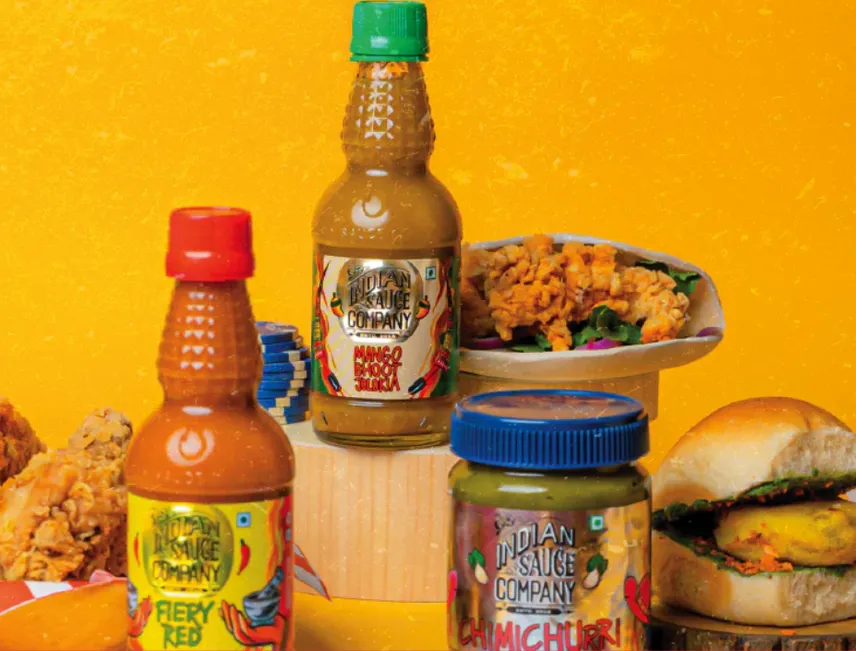 Spice up your food with fruity-flavoured sauces and a vivid range of other condiments from the Indian Sauce Company. You can go for the Hot Peach Sauce if you want to add a peachy flavour with a hint of spiciness. The Mango Bhoot Jolokia made with a fusion of ripe and raw mangoes along with the spiciest chilli pepper - bhoot jolokia is a perfect find for aam lovers. Add a tangy and tropical flavour with the Pineapple Green Chilli Sauce, a hint of sweet, savoury, and umami with the Red Fiery Sauce made primarily with red chilli and garlic and finally, the  Chimchuri which has a blend of various herbs that is not only tasty but vegan free, gluten-free, and preservative free as the brand suggests. 
3. Aamra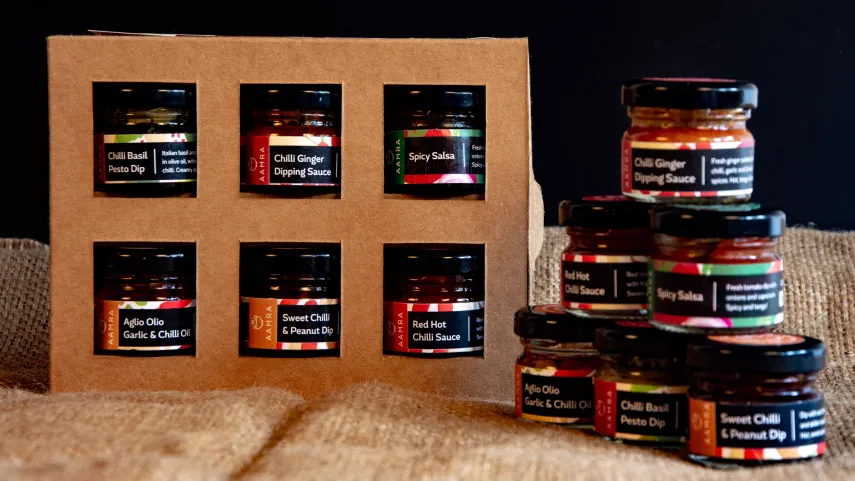 Aamra is another one on the list to add heat to your plates. The Garlic and Oregano Spiced Sauce touches upon the spice of oregano with the smoky flavour of burnt garlic, The Lime and Pepper Spiced Sauce gets its sourness from lime and spiciness from pepper, the Aglio Olio Garlic and Chilli Oil and if you are a bell pepper fan the Roasted Garlic and Bell Pepper Sauce is a must try. Still not found your flavour? No worries they have the Tomato Garlic Basil Pizza and Pasta Sauce, Sweet and Sour Tamarind Sauce and the Sweet Chilli and Peanut Dip on their list for every taste bud. All these products are handmade by the women of Nari Shiksha Kendra.
4. Chilzo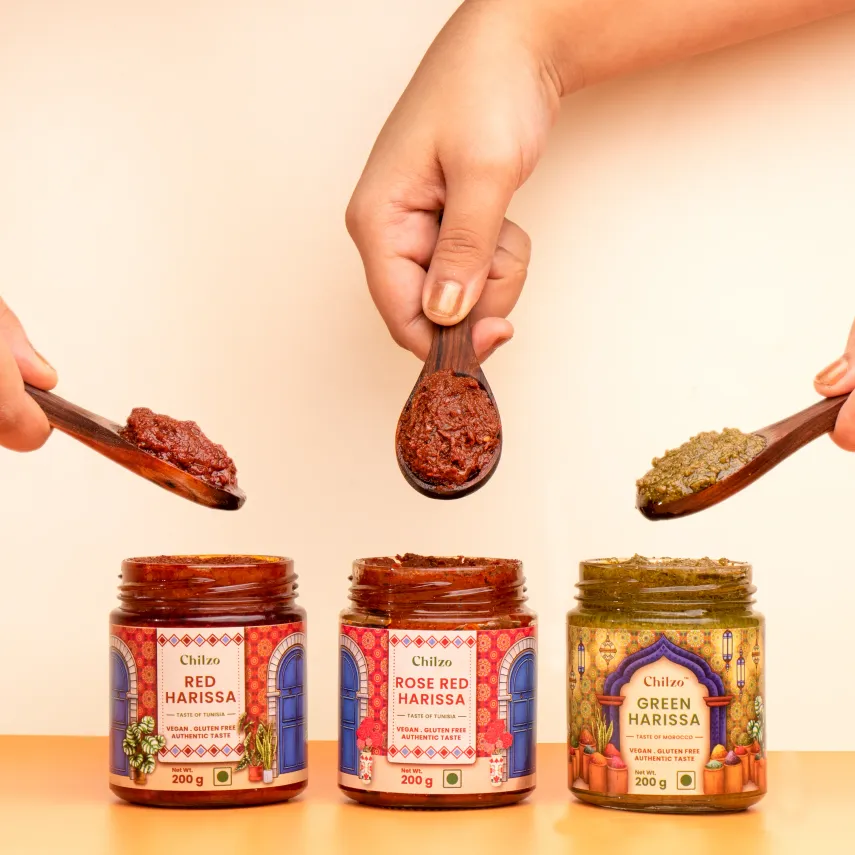 Check out the spice collection of Chilzo made with chillis from around the world. The Red Harissa, born in Tunisia but now a versatile staple in Moroccan kitchens is the first one to the list to add a robust flavour to your meals, following the red is the Green Harissa for a bold and exotic green chilli flavour. The Chilli Oil is the next one to amp up your dining experience and if you still want to experience the burning sensation then Salsa Picante is the sauce to go for. 
5. NE Origin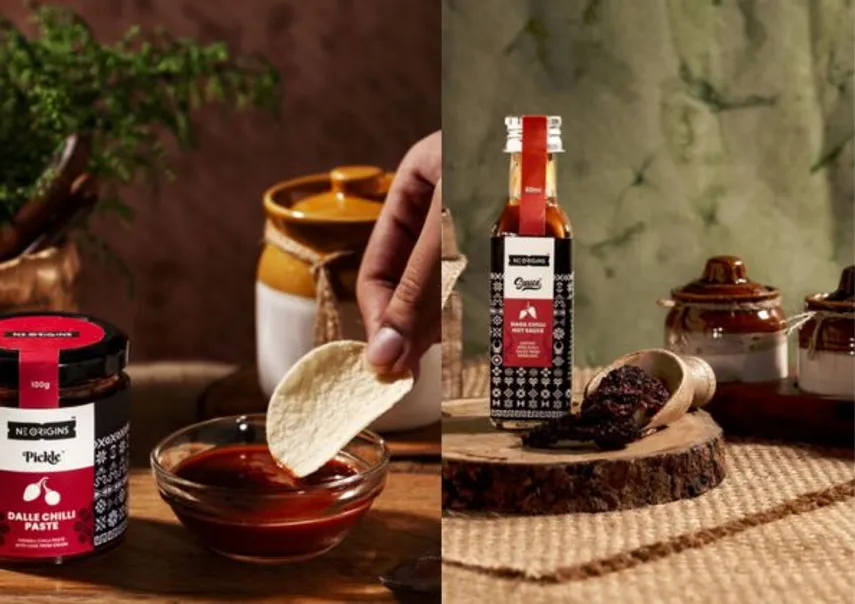 The NE in the name stands for North Eastern Origin, as the brand brings sauces made from the exotic chillis of the North Eastern states of India. The Dalle Chilli in Vinegar and Dalle Chilli Pure Paste are made with Dalle Khursani (Fireball cherry pepper), a special variety of chilli grown in Sikkim. The King Chilli Pickle (Bhoot Jolokia Pickle) from Nagaland, made of the spiciest chilli pepper in the world, is worth tasting. Other products from the state are the Axone King Chilli Pickle, a combination of Naga Chillis and Naga fermented soybean known as Axone, Smoked Chicken Pickle, and Naga King Chilli Hot Sauce. Bamboo Shoot Pickle, a pickle made from bamboo shoots grown in the abundant hills of Manipur, is also worth giving a try.