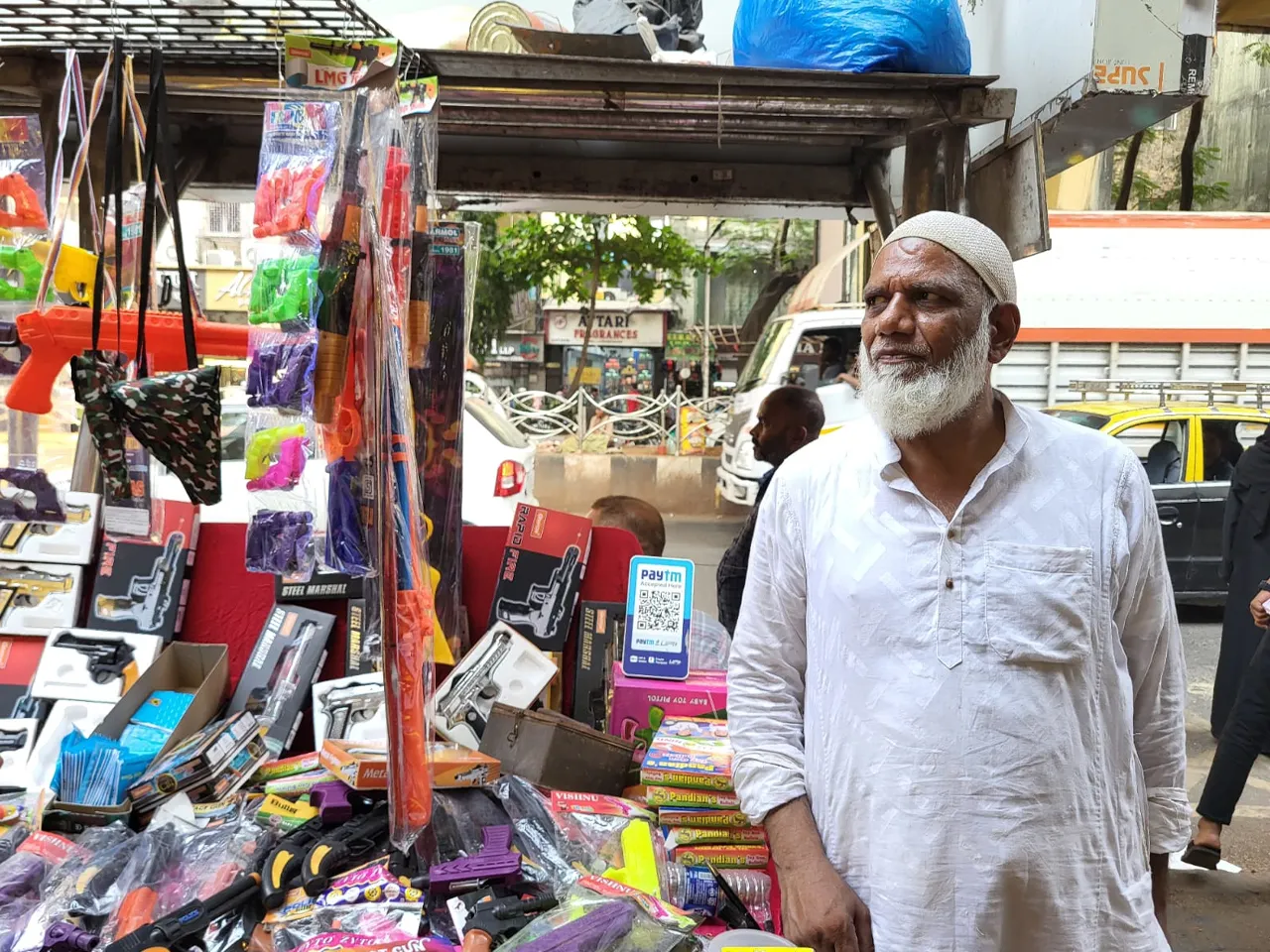 Seeing firecrackers in the sky brings smiles to the faces of underprivileged children, those who, otherwise, can't afford them," says Abdullah Ghia, the director of Essabhai Fireworks, one of the oldest wholesalers and retailers of fireworks in Mumbai. While the national capital of India grapples with "severe" air pollution long before the arrival of the Diwali festival this year, the financial capital is not far behind. It has also been in the limelight for poor air quality over the last two months, prompting the Bombay High Court to announce restrictions on burning firecrackers, limiting the timing to be between 7 p.m. and 10 p.m. and implementing a ban on the transportation of debris from construction sites for a few days.
On the other hand, giants like Essabhai are expecting their sales to soar this season, judging by the number of customers every day. This is evident on 88, Mohammed Ali Road, where a series of retail shops belonging to Essabhai Fireworks attract customers throughout the day.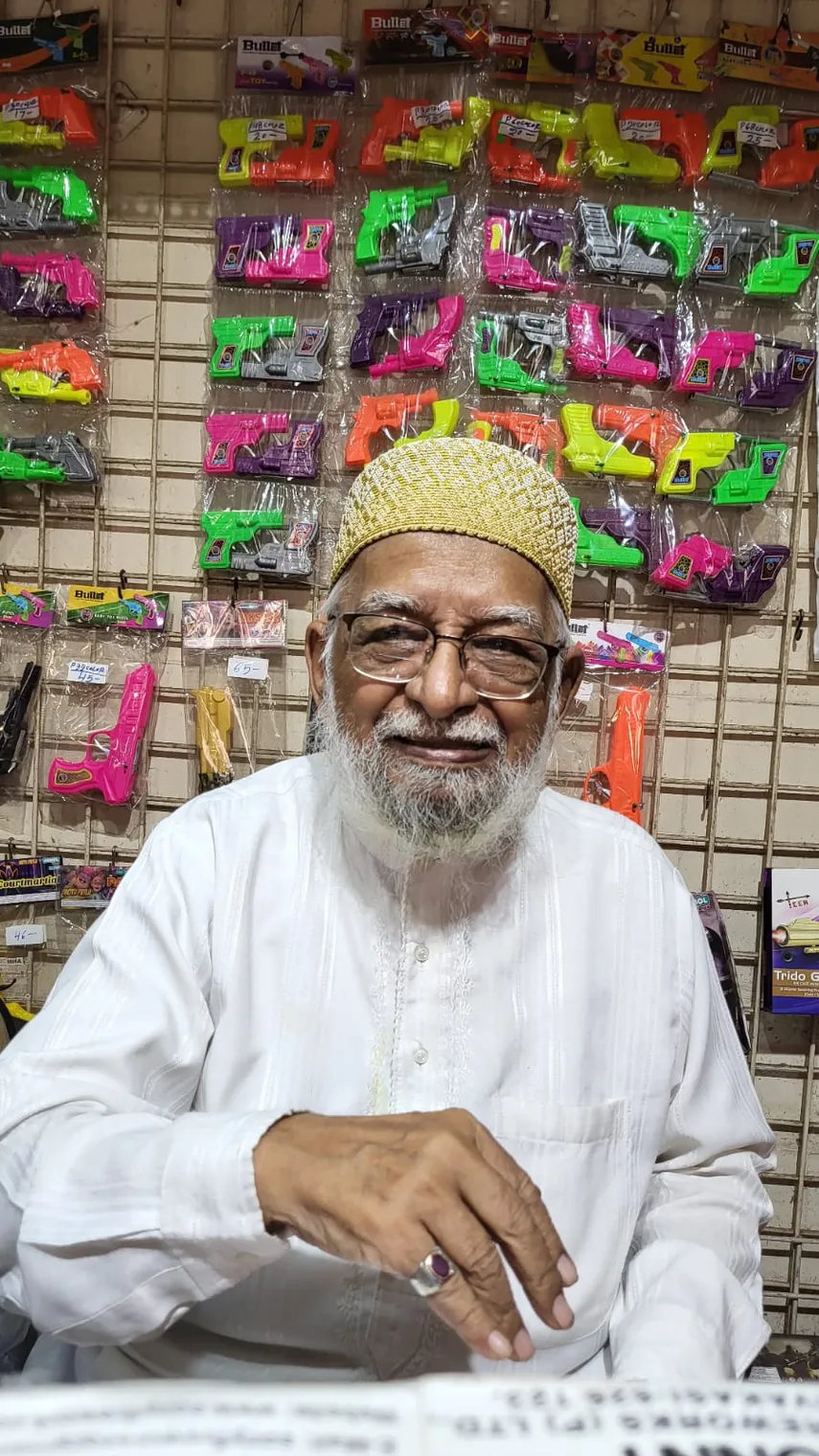 Abdullah Ghia, the director of the Essabhai Fireworks says that firecrackers give happiness to poor kids.
One of the major reasons for Essabhai Fireworks, an establishment existing since 1938, to anticipate good sales this year is based on the high sales recorded the previous year. After a halt of two years due to the Coronavirus-induced lockdown, during which firecrackers were banned in Mumbai, except for items like Sparklers, Flower pots, Whirligigs, or Zameen Chakra, and a few others.
"Even as the purchasing power of the people went down due to the impact of Coronavirus, we did not notice major changes in the number of sales for our business last year, and we are not seeing much impact even this year till now," says Mr. Ghia, who is the third generation in the business. He adds that another reason is their enduring commitment to providing "quality products" to customers for many generations.
Along with the shop where Mr. Ghia sits, other retail shops under the same banner also appeared to have similar scenes, with people continuously asking for their desired firecrackers when Local Samosa visited the spot ten days before Diwali. The bustling city scenes continued on the popular iconic road.
Among the same series of shops lies another small shop where Minesh N. Mehta, the General Secretary of Fireworks Dealers' Welfare Association for Mumbai and Thane, is seated. He believes that people are always enthusiastic about buying firecrackers, considering Diwali a "prominent" festival, and this year is no different from others, despite any curbs on burning them. As a matter of fact, he also mentions that burning firecrackers provides happiness to deprived masses as it is a "cheap entertainment source" for them. "The faces of disadvantaged people sparkle as the crackers light up the sky," he says, adding that if firecrackers were harmful to people in general, the government would consider a ban itself. According to him, except for Diwali, people are not much concerned about air pollution in Mumbai, which is evident from the number of cars on the roads every day.
The 'fire' journey of Mumbai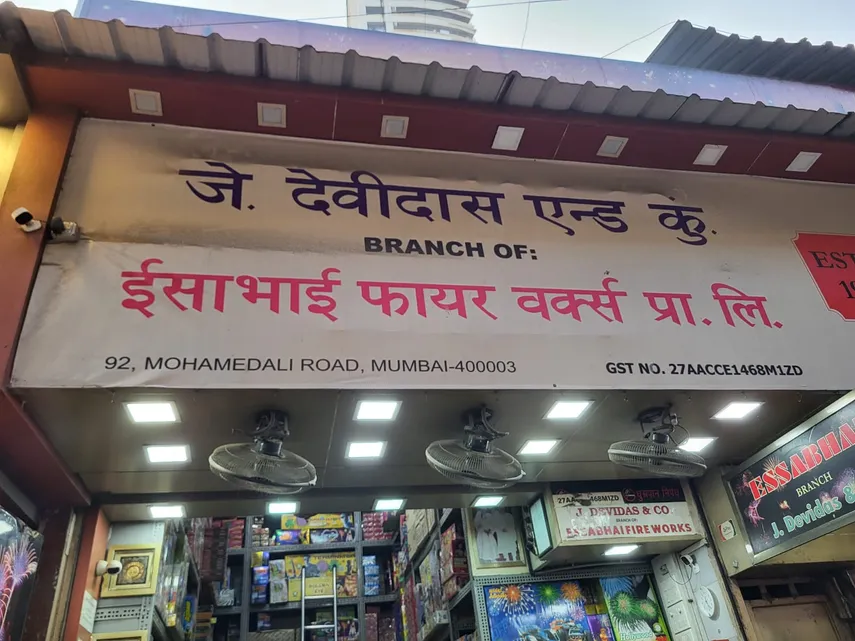 The shop where Minesh Mehta, the General Secretary of Fireworks Dealers' Welfare Association for Mumbai and Thane sits and manages the operations.
For now, it is only a relief that the retail sector of fireworks in Mumbai does not have to bear any loss this year, as even with Diwali at the doorstep, there has been no ban on the purchase and sale of firecrackers. However, what also remains consistent in Mumbai, as Mr. Mehta says from his 40 years of experience in the business, is the people's longing to buy crackers.
Just like Mr. Mehta, every second dealer in this lane has years of experience in handling businesses, and these businesses were originally started by the grandfather of the director of Essabhai Fireworks, Abdullah Ghia, before independence. This is a firm through which the city of dreams seems to have witnessed the journey of purchasing and selling firecrackers for more than 90 decades now. "There were hardly 10-12 varieties of crackers in total," Mr. Ghia recalls.
While the fourth generation of the enterprise is certain that the demand and purchase of firecrackers have never declined for many decades, he also states that retail shops have changed their preferences for items. His firm now procures only those items from manufacturers that customers demand. "Unlike before, nowadays, every company makes, at least, 200-250 items in crackers, and even these items have varieties in them," he says.
Changing preferences
Source Image used for representational purposes.
Discussing customer preferences, Mr. Ghia observes that sound crackers, which were once popular in the market, are now limited to occasions like Ganesh Chaturthi, and people mostly prefer aerial items. "We have seen this change in the last 10 years," he notes.
Adding to the discussion, Minesh Mehta mentions the current preference for "fancy items" among customers. "People are looking for items beyond conventional crackers like Sparklers, Flowerpots, etc., depending on their budgets, which range from Rs 50 to even 1,000 per piece," he explains.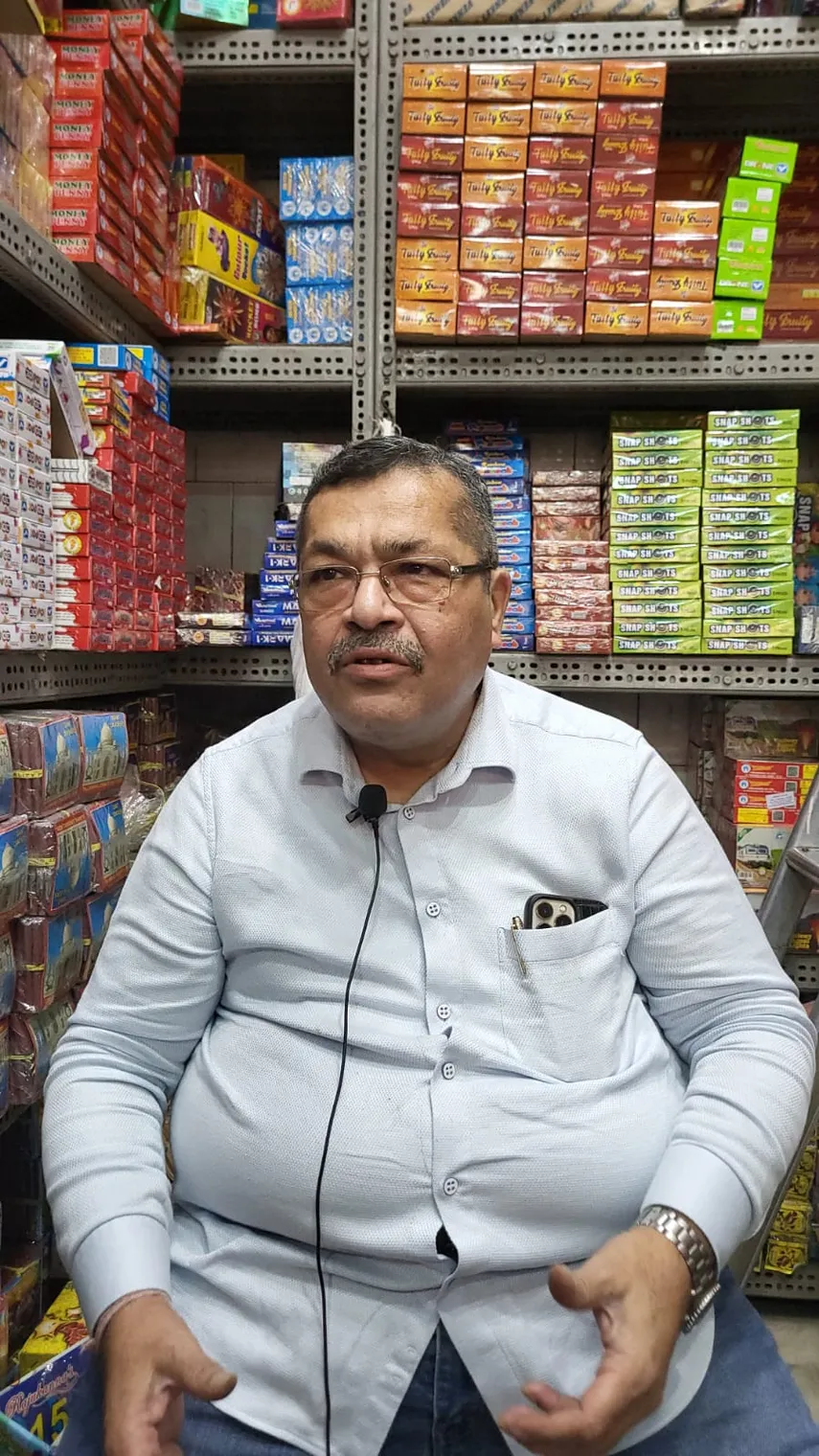 Minesh Mehta says that customers look for products beyond traditional crackers.
Behind the fireworks retail business
To meet the expectations and preferences of customers, retailers like Essabhai maintain a strict and static strategy, as Mr. Mehta discusses with Local Samosa amidst the noisy flock of customers at his shop's counter. "We make sure to select companies that produce more fancy items than conventional ones, providing us with better-quality products at reasonable rates," he says, adding that his shop has been dealing with some wholesalers for many years. In cases of short supply by certain companies, retailers like him turn to new manufacturers.
However, getting products is never a distress for retailers like Minesh Mehta, who states that there are more than 1,000 companies in Sivakasi, and stocks are never in short supply. Sivakasi, a city in Tamil Nadu, accounts for 95% of the fireworks manufactured in India, and as Mr. Mehta mentions, the remaining comes from other parts of the country. Supplies from companies in Sivakasi are a continuous and year-long exchange for retailers, as manufacturers have specified guidelines for storing explosives. "The companies keep dispatching them to dealers all across India as their items get ready," Mr. Mehta explains. "Our godowns only get closed for two days after Diwali because of this," he further adds.
Such exchanges throughout the year not only prepare retail owners for Diwali, but as Abdullah Ghia mentions, people also purchase fireworks for weddings, Christmas, and some communities even buy them for funerals. Mr. Mehta adds to this, recounting how he once encountered a person from Ratnagiri who bought crackers in bulk to scare monkeys from destroying his agricultural land. However, it is a fallacious argument to assume that retailers make enough sales for the entire year during Diwali. "People mistakenly think we generate sales throughout the year from Diwali alone," Mr. Mehta laments. Various dealers like him are involved in other seasonal businesses, some of which include selling Holi guns and colors during Holi or umbrellas during the monsoon.
The small hawkers on the lane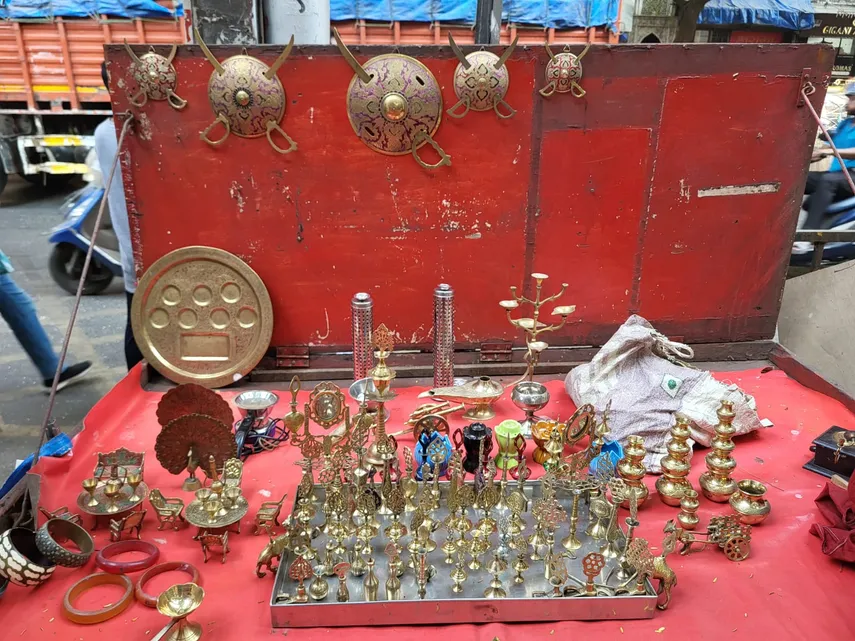 The regular pushcart of Mohammed Iqbal Ansari opposite the shops selling puja items.
When prominent retailers rely on seasonal businesses, footpath hawkers like Mohammed Iqbal Ansari, who sits right opposite Mr. Mehta's shop beside his small pushcart, never miss out on such a major festival like Diwali, anticipating good sales. Having been stationed here for 40 years since the 1970s, after establishing good terms with the shop owners, mostly Parsi businessmen, usually to sell Puja items, it is always Diwali that prompts him to set up a small separate pushcart of Diwali guns and small Diwali toys containing sound crackers for kids.
However, the experience for footpath sellers like Iqbal is not always positive during such peak seasons, as oftentimes, the pushcart is seized by the civic body's officials. "Yesterday (referring to a day before the interview), the municipality broke and took away a few items from my stall, and it took me a lot of effort to retrieve my belongings. I didn't even get any transportation back," says Iqbal, who must be in his 60s. Such incidents trouble Iqbal even more because it takes him not less than 2-3 hours to recover his belongings from the municipality officials and then return to his spot. In such cases, the cancellation and delay of local train services in Mumbai between October 25 to November 5, due to the work to operationalize the line between Khar and Goregaon, only added to the inconvenience for hawkers like him who come from distant places like Nalasopara, where he shifted almost 25 years ago after living for a long time in Jay Prakash Nagar, an area in Goregaon.
Mohammed Iqbal Ansari (right) dealing with a customer.
Nevertheless, it had only been four days since he set up this pushcart during Local Samosa's visit, specifically for Diwali after acquiring guns and small firecrackers from the Essabhai shops. While talking to Local Samosa, he mentioned that he had already sold a few guns. On the other hand, even small hawkers like Mohammed Iqbal are aware that people's purchasing capacity has improved compared to the two years spent in COVID-19. He is, therefore, looking forward to good sales this year. "Customers are buying things like before, so I hope they will buy bigger guns from me," he says, showing a big Diwali gun from his stall with a hearty laugh.
Despite such expectations, Mohammed Iqbal never forgets to compromise on his own sales just to see smiles on the faces of poor kids. Recently, he gave a gun worth Rs 40 at half the price to a child and talked about the story with immense gratification. Perhaps, irrespective of the size of the fireworks businesses here, it is in the air of this lane of Mohammed Ali Road to continue with everyday exchanges with a subconscious aim to spread smiles, especially among the underprivileged. Now, how much of it can actually be considered good for the air is another subject of dialogue.