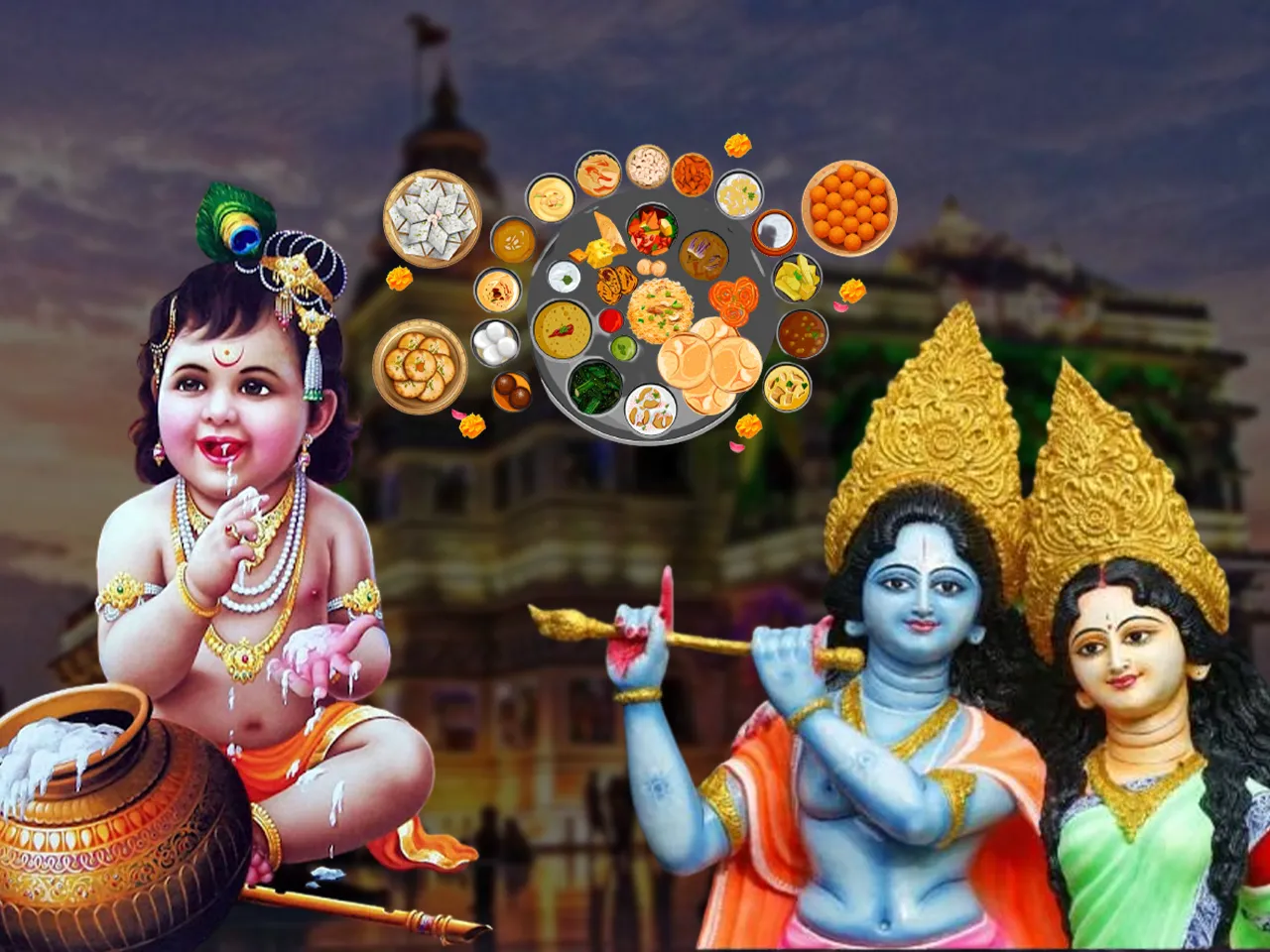 Janmashtami is the most beloved festival for the people who adore and worship Nand Lala, Murlidhar, Gopal, Kanha and the countless names Lord Krishna has. Let's look at the traditional way of celebrating Janmashtami in Mathura and Vrindavan.
The entire Madhuban and the forest of basil trees reverbs with the chants of Lord Krishna and is covered with love for the birth of this divine god. Well, Janmashtami is celebrated in many states of India but Uttar Pradesh is the heart of this occasion that beats with ardour. The residents and travel content creators shed light on the traditional ways of celebrating Janmashtami in Mathura and Vrindavan while interacting with Local Samosa.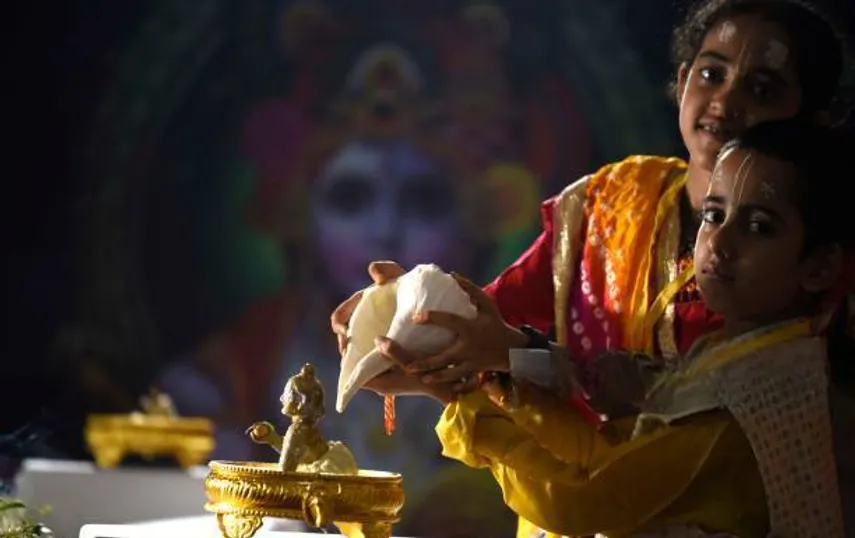 The preparations for the auspicious festival, which falls on Asthami (the eighth day of the Hindu Lunar Calendar) after Raksha Bandhan, begin a week prior. "The celebrations start in the Janmabhumi (land of birth) with a small idol of "Laddo Gopal" – the childhood name of lord Krishna placed in temples and houses," said Akshit Sharma, a resident and travel content creator of Mathura. There is a particular pose in which this idol gets crafted; seen crawling on two knees with one hand on the ground and the other hand in the air with a laddo (Indian sweet) in it.
Only Once in a Year
Laddo Gopal is placed in the sanctum and Pancha Abhishek (anointment) is done on the idol with Panchamrit  - a mixture of 5 things – milk, curd, honey, sugar, and ghee falling from all four udders of the Kam Dhenu Gai (a cow) at midnight 12, the time when lord Krishna was born. "No worship happens at night in any Hindu temples but Janmashtami is the only time when the gates are opened for worship at midnight," says Akshit.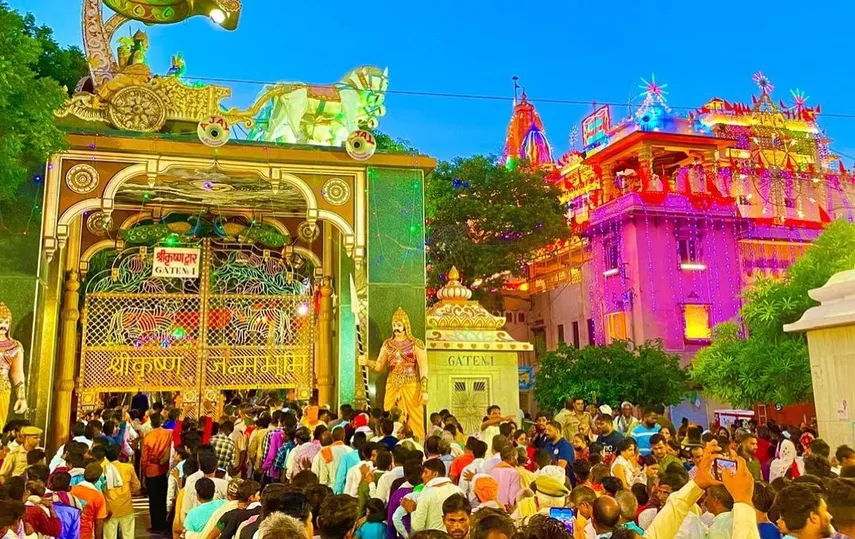 Once a year, a Mangala ceremony (literally translating to auspicious, but here meaning worship or aarti) is held for Bihari ji, another name for Lord Krishna, at the Banke Bihari Temple. This unique event occurs only once annually. An interesting theory explains why Mangala is conducted just once a year, as recounted by the residents of Mathura: 'It is believed that Bihari ji goes dancing in Nidhivan at night and is tired in the morning, hence he is not worshipped throughout the year, except on this day.' The Mangala ceremony takes place at 2 am, after which the temple doors are closed. They are reopened at 5:30 in the morning for devotees to worship," explained Vikram Singh, a resident of Vrindavan and a travel creator.
The Nandotsov and its Unique Traditions
The following day begins with the grandeur of Nandotsav, a festival celebrated by Nand Baba, the foster-father of Krishna. Nand Baba marked the occasion by donating 2 lakh cows out of the staggering 11 lakh cows he possessed after the birth of Krishna. During this festival, people dress up as Nand Baba and Yashodha Maiyyan, the foster-mother of Krishna, and engage in various rituals.
As a tradition, 'Lala ki Chichi' (the excrement of infant Lord Krishna) is symbolically sprinkled throughout the entire temple. It's important to note that this substance is not actually feces but a mixture of curd and turmeric," explains Akshit, describing some of the customs observed on this day. Additionally, toys are distributed as gifts or Prasad to people by those portraying Nand Baba during the festivities.
There is no particular dress code but people prefer wearing a pitambar or dhoti as it was liked by Kanha (another name for Krishna). "Small kids wear Krishna Dress which consists of a dhoti – specifically yellow, a crown with a peacock feather, a flute in hand, and a butter pot," said Vikram Singh.
After all these rituals, Thakur ji (Lord Krishna) is offered chappan bhog (56 food items). Akshit shares a very interesting story on why specifically 56 food items are served, "It is believed that when Lord Krishna lifted the Govardhan Parvat (mountain) with his little finger for seven days, his foster mother Yashodha offered him 8-course meal every day for a week, so 8-course meal into seven days turns out to be 56 and that is the reason why 56 Bhog are served during Janmashtami." Apart from the chappan bhog, makkhan mishri is one food item that is prepared in almost every household and temple as it was the favourite food of Gopal. 
Entire Mathura and Vrindavan are involved in the grand celebration but Gokul is the prominent place where there is a Nand Baba ka Mahal, the place where it all began. Vikram recommends visiting the Banke Bihari Ji, Radha Vallabh Ji, Radha Raman Ji temples in Vrindavan and Krishna Janma Bhumi, and Potra Kund in Mathura if you want to witness the vibe of the festival.