In a dilapidated dark room on the ground floor of a load-bearing house, a small bulb hangs from the ceiling. Here, 53-year-old potter Dhansukh Kamliya sits with his eyes popping out of his eyeglasses, fixated on the table in front of him. His hands are dipped in earthen clay, churning out diyas from the pottery wheel. A little farther from him, in the same room, is a designated space for his elder brother, who is also busy crafting diyas on a different pottery wheel.
After carving the diyas from the wheel, Kamliya places the raw ones in a large cane plate. His mother then takes them away to dry under the sunlight. This process is not only carried out throughout the day but also year-round in almost every house in Kumbharwada, a 19th-century human settlement in Asia's largest slum area, Dharavi, Mumbai.
The Kumbhars, meaning potters, settled in Kumbharwada between 1935 to 1940. Over time, they gained not only national but also international fame for their skill in making earthen utensils and items using eco-friendly ingredients and traditional methods.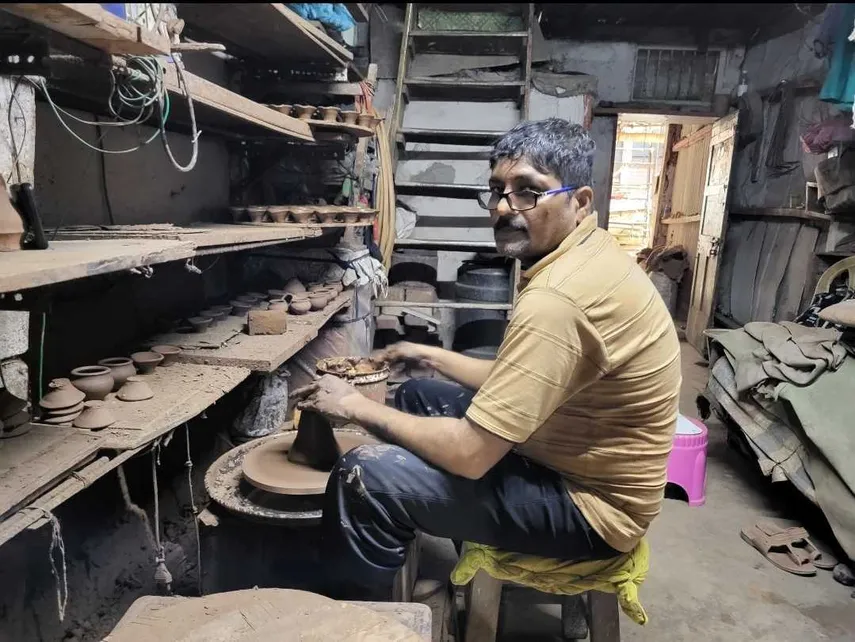 Dhansukh Kamliya says that the Kumbhar community has been promised developments a lot of time but those were never fulfilled.
Centuries later, most scenes in Kumbharwada remain unchanged. A large rustic gate, bearing the inscription 'Kumbharwada' in Dharavi, opens into narrow lanes, revealing various small hutments and cemented houses. The community's colony houses more than 100 furnaces. One such furnace stands just outside Kamliya's house, where thousands of earthen diyas and pots are kept after heating up, as observed during Local Samosa's recent visit.
Kamliya mentions, "It's not easy to access the furnace to obtain the finished diyas." Despite the challenges, he doesn't complain. However, he points out that the proximity of the furnace to his house results in smoke and pollution filling his home. "When multiple furnaces are fired simultaneously, one can hardly stand here for a second," he adds. Despite the difficulties, Kamliya, like the majority of Kumbhars, has adapted to the pollution and smoke to the extent that he states, "We can't sleep peacefully without experiencing this smoke.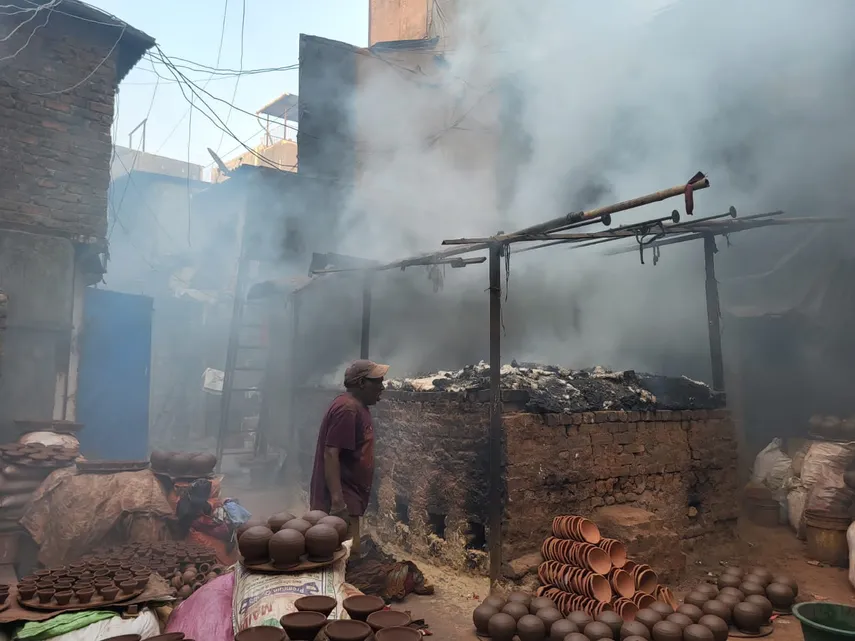 Smoke coming out of one of the furnaces in Kumbharwada.
One of the major reasons Kamliya expresses this sentiment is the lack of hope in government initiatives. "My grandfather used to say that Kumbharwada would be developed, but I am certain that my future generations will never witness this 'development.' Politicians have made promises to our community but never fulfilled them," he adds. Kamliya also notes that individuals with political motives have propagated "negativity" about Dharavi and its people, often citing the area's crime rate. Despite having no expectations, Kamliya mentions that if given the chance, he would demand subsidies from the government for the Kumbhars. "We are age-old traditional artisans; at the very least, the government can provide us with some assistance to help us function better," he laments.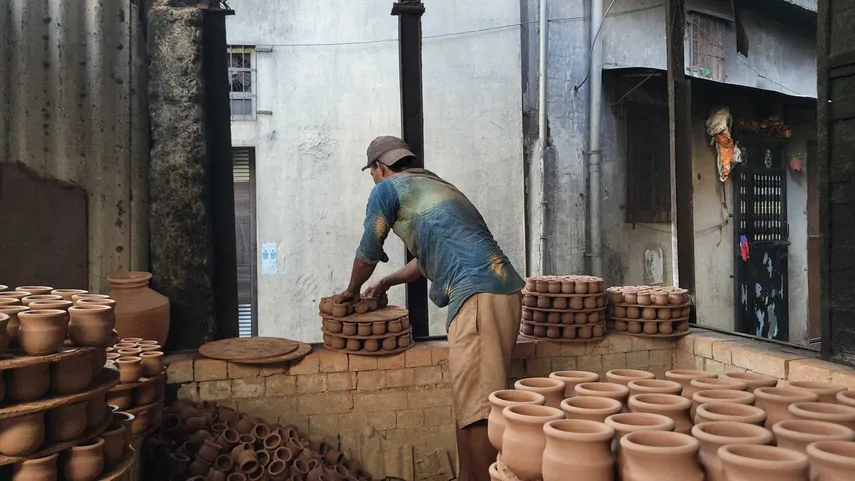 A worker collecting heated pots in Kumbharwada. 
With the absence of subsidies or help, what has exacerbated the problems for Kumbhars is the introduction of machinery in their work, causing many to lose their paid jobs. This, in turn, has led the potters to seek employment outside the traditional business. Even Dhansukh Kamliya had worked in a different industry but later lost his job. In such a situation, what turned out to be a lifeline for him was his family's traditional occupation of pottery, the techniques of which he had learned in his childhood from his grandfather.
However, to the dissatisfaction of this third-generation potter, younger members of his community might not have this option in their future. Kamliya notes that the youth is reluctant to be part of it, stating, "Neither do they like the smoke nor do they learn the techniques of pottery." Despite this, he takes pride in the fact that the new generation in his community is pursuing various well-paid jobs. A glimpse of this can be seen in the lanes of Kumbharwada, where younger kids, teenagers, and adults can be observed heading to their respective educational institutes.
Women, the load-bearers in Kumbharwada
Meenakshi Sawaniya leads a group of potters and artisans.
Amidst the change, however, the children of these potters are moving away from the traditional occupation of their parents' businesses, as mentioned by Meenakshi Sawaniya, a 49-year-old potter. "My children are always busy with their technological gadgets and do not show much interest in the business. But if they do not contribute well, how will I be able to fulfill their demands for money and resources with such low earnings?" Sawaniya remarks. Setting aside such complaints, Sawaniya, much like other women in Kumbharwada, strives to meet her children's requirements by working day in and day out. She has been working as a potter since she got married at the age of 14 and now, single-handedly, manages a group of potters and artisans.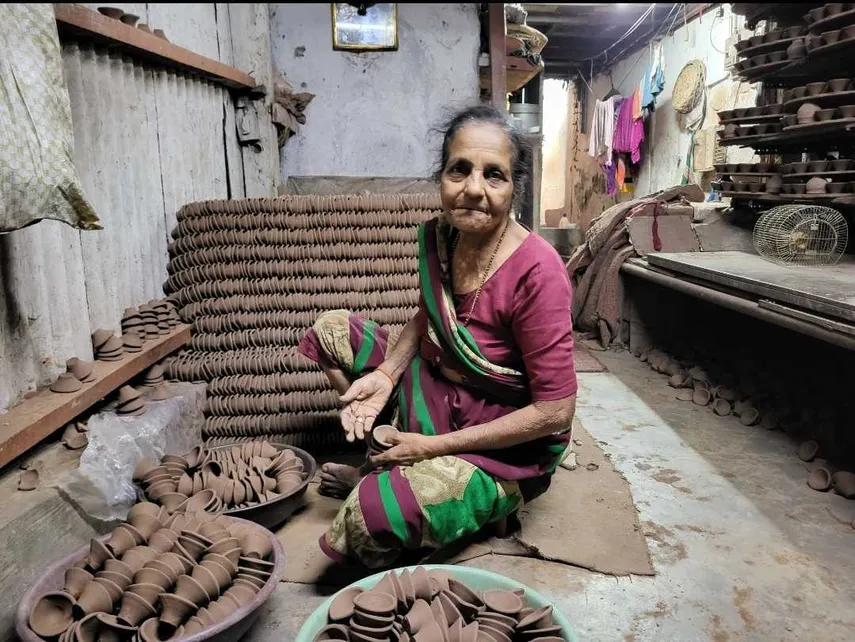 Jini Ben putting heated diyas in a row.
One of the evident hierarchies prevailing in Kumbharwada is the designation of work, with women constituting the majority of the workforce at every level involved in the process of making earthen items. Jini Ben, Kamliya's mother, wakes up early in the morning, completes her morning rituals, and then starts her work. This involves taking out cane plates full of raw diyas or utensils kept on the ground floor of the house and carrying them to various furnaces in Kumbharwada near her house.
While such movements continue throughout the day, Jini Ben, who is 82 years old, also has to ensure that those diyas are brought back to the house in the evening, all while dealing with medical problems in her knees. But if you ask her to sit, she might respond with, "It will worsen my knees if I sit."
As older women persist in carrying heavy loads of pots from place to place, the young and middle-aged women are predominantly engaged in even more laborious tasks beyond mere load-carrying. Pushpa Ranchor Sawaniya is another woman who spends hours without sitting straight. She feeds raw clay into a machine that, through a cylindrical hole, produces finished clay in a long cylindrical shape, later utilized for making various items, including diyas. In a dark, cemented room filled with clay and the machine, Sawaniya works extra hours during festive seasons like Diwali. "My son works outside the community. He advises me not to do it and not to exert myself, but this is my work," the 62-year-old remarks. On the other hand, to earn Rs. 2 for each diya she sells to wholesalers, Sawaniya has to either hire or deal with other workers and artists who, in turn, give the diyas their final touch.
For artists and designers
Suresh Gigabhai Tank says that his earnings are never enough to meet the requirements of his family.
Fortunately, potters like Sanwaniya do not have to look far to find designers, as Kumbharwada also houses several artists who work for the potters, selling the items directly to wholesalers, retailers, or the potters who, in turn, act as retailers themselves. Suresh Gigabhai Tank is one such artist who undertakes the task of coloring and designing the diyas for various potters and dealers. While he works until midnight during the Diwali season, his earnings are never sufficient for him to celebrate Diwali by fulfilling all the wishes of his family.
"Various potters have started their businesses from their homes, and some have even set up stalls on the roads, which reduces the amount of work we receive compared to before," Tank, 47, remarks. Moreover, artists like Tank, who earn per piece of the diya, also suffer due to breakage of earthen items during the design process or transportation. While Tank recognizes that starting his own business and selling the items could potentially yield higher earnings, the capital required holds him back.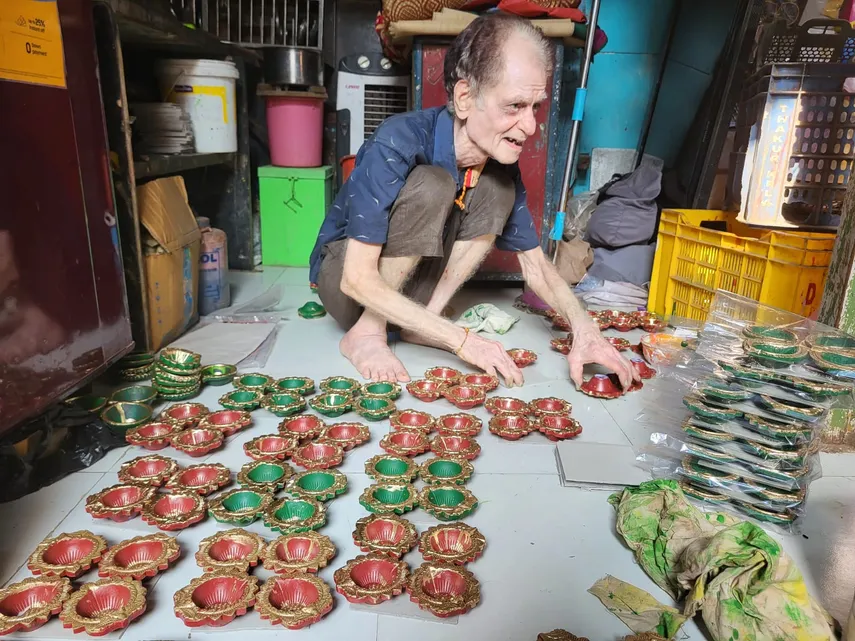 Girish Makwana started designing 5 years ago to continue his granddaughter's passion.
Similar is the situation for 72-year-old Girish Makwana, essentially a tailor, who began designing diyas and other earthen items to support his granddaughter's passion for them. Starting five years ago, he still encounters stiff competition from experienced artists and designers. "Their diyas are more beautiful, so shops prefer that. I am still learning to be better," he acknowledges. However, like his son and family, who moved out of Kumbharwada in search of better living conditions, Makwana does not wish to leave. He continues designing diyas for his livelihood, stating, "I cannot go outside Kumbharwada because there will be no work for me." He adds that living there brings him peace, and he wishes to keep designing diyas until his last breath.
Potters turning retailers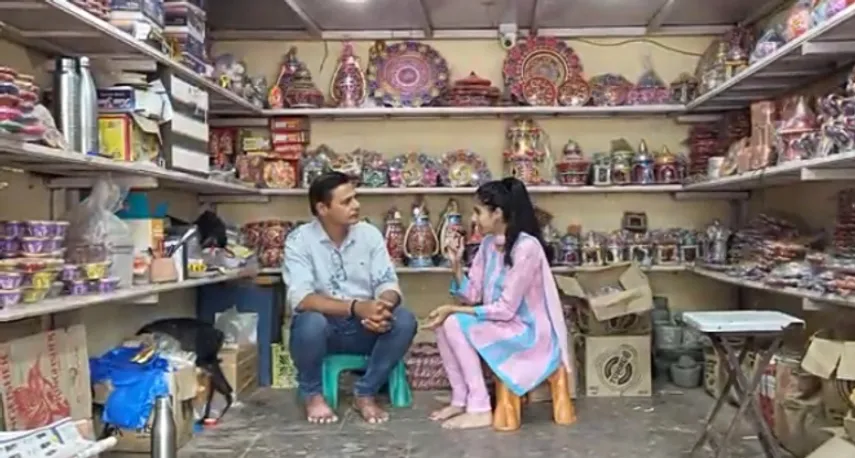 Mohan Nathu Jethva (left) sitting in his shop while talking to Local Samosa about his journey.
As a matter of fact, glimpses of Kumbhars are visible even outside this designated area, as many of them have become profitable dealers and retailers of earthen items. Mohan Nathu Jethva, whose shop is the first thing that comes into view on the right side of the main gate of Kumbharwada, is the third generation of potters from his family. However, his role has transformed from a potter to a retailer. While he learned pottery techniques from his family and used to sell earthen items from his house, it was in 2019 that he opened the shop here after experiencing good sales from the business over the last 10 years.
"We never used to get good profits earlier, but the situation has changed now, and we can consider some extra expenses beyond the regular ones from these sales," the 45-year-old, who collaborates with 10 artists, mentions.
Discussing the major reasons for this trend, Jhethva mentions that people have become more aware of the products, and they prefer buying local items like these. "We also keep adding new designs to attract people. For example, this year, we've incorporated different lace and stone works on various earthen items," he explains. Adding that introducing various varieties helps him satisfy customers.
On the other hand, Jhethva has also been handling requests from various clients and customers who have already asked him for special and unique designs. These designs are intended for the inauguration of the Ram Mandir in Ayodhya on January 22, 2024.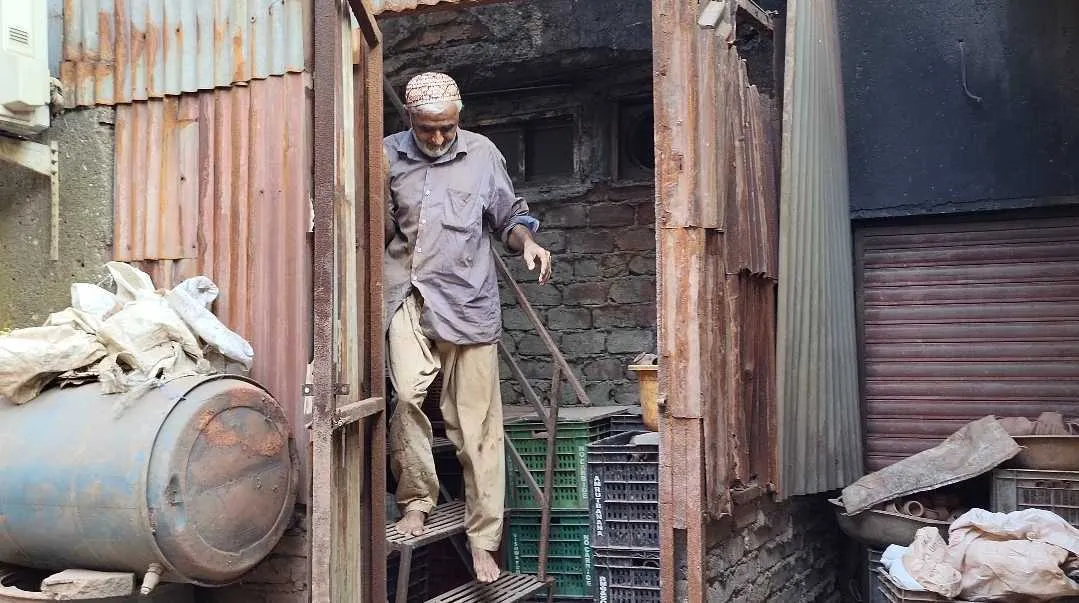 A potter coming out of his house to collect the heated diyas from a furnace.
However, even with good sales and profits, Jhethva states that his life, like any other Kumbhar, is one filled with struggle, from which he takes a break for five days after Diwali. The entire Kumbharwada considers the period after Diwali as a time for vacation, and many of them visit relatives living in other cities for leisure. But before that, there are strenuous efforts and arduous labor that they cannot escape, even if they desire to. Fortunately, or unfortunately, some of them have become accustomed enough not even to consider escaping, as they hope for anything but a better life.