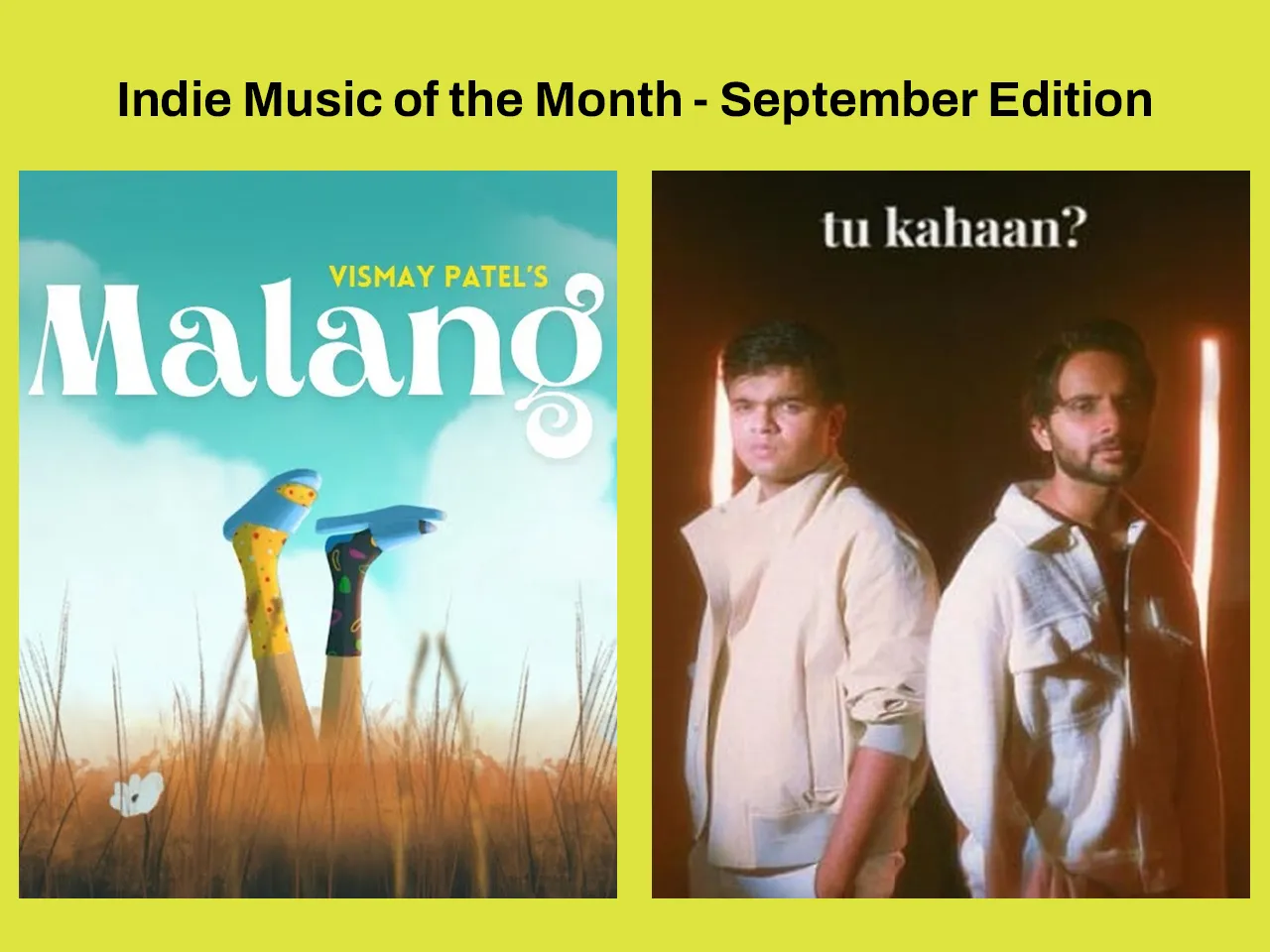 September witnessed some of the most soulful and hard-hitting releases by various artists. Here is a list of Indie music of the month for you to tune in. 
From soulful music to some rhythmic strings and from a great story to amazing visuals, many Indie songs were out this month. We have curated a list of renditions that can make it straight to your playlist. So, raise your hands for the artists who make their way to the Indie Music of the Month with their newly released songs in September.
1. Nadiya Bairi Bhayi by Madhubanti Bagchi & Nakul Chugh
Nadiya Bairi Bhayi is a thumri – a light classic song form of North India. Madhubanti Bagchi along with Nakul Chugh has tried to recreate the classical song giving it a spin. The song is about how a river, which was once a friend, has now turned into a foe. 
2. Malang by Vismay Patel 
Sometimes getting lost without any worry is what brings happiness. Vismay Patel, in his new rendition talks about breaking from the chains of grief and becoming carefree i.e. 'Malang.' In a world full of turmoils and muddles it is okay to forget the worries and live in the moment. 
3. Tum Jaise Ho by Utsavi Jha
Sometimes love is all about accepting the person the way they are and not the way we want. At times, we tend to lose the essence of love in the quest to find everything in one person. Tum Tum Jaise Ho by Utsavi is about recognizing love languages and not losing love in translation and expectations.
4. O Meri Jaan by Manan Chowdhry
Manan Chowdhry's latest release, 'O Meri Jaan' captures the essence of a timeless love story. This composition ranges from the initial spark of affection that sets hearts aglow to the profound ache of separation that tugs at the very soul. Through melodious notes and evocative verses, the song resonates with anyone who has ever experienced the depth of connection that transcends time and space.
5. Tu Kahaan by Somashu & The Rish
This song talks about the phase after break up. It tries to express why he feels lost and doubtful of himself after his partner left him. The person who was once with him has now become a stranger. Thoughts about his relationship start clouding his mind whether the love was real or not. This song is a collaboration between Somanshu and The Rish. 
6. Mohabbat ki Wajah by Samira Koppikar 
As it is said that love comes in an unexpected way, Samira tries to capture the same in her new song Mohabbat ki Wajah. All of a sudden, a special person enters your life and everything feels merrier. Love hits differently when you fall for it when it is least expected and the person becomes your reason to smile. 
7. Oh Meri Premika by Rahagir
How do you describe someone in words when you are in love with them? It is difficult for Rahagir as well as he pens down yet another raw and beautiful song. He adores someone but is unable to describe their beauty. The storytelling of this song is something that you will love because the singer compares the tales of his village with his lover. 
8. Ek Aisi Subah by DVK 
Ek Aisi Subah by DVK, aka Divyansh Kacholia, encapsulates the feeling of waking up next to the love of your life. Set against the backdrop of a tranquil Sunday morning, the song captures the essence of love in its purest form. With a unique fusion of upbeat melodies and heartfelt sentiments, 'Ek Aisi Subah' seeks to reignite the flames of affection.