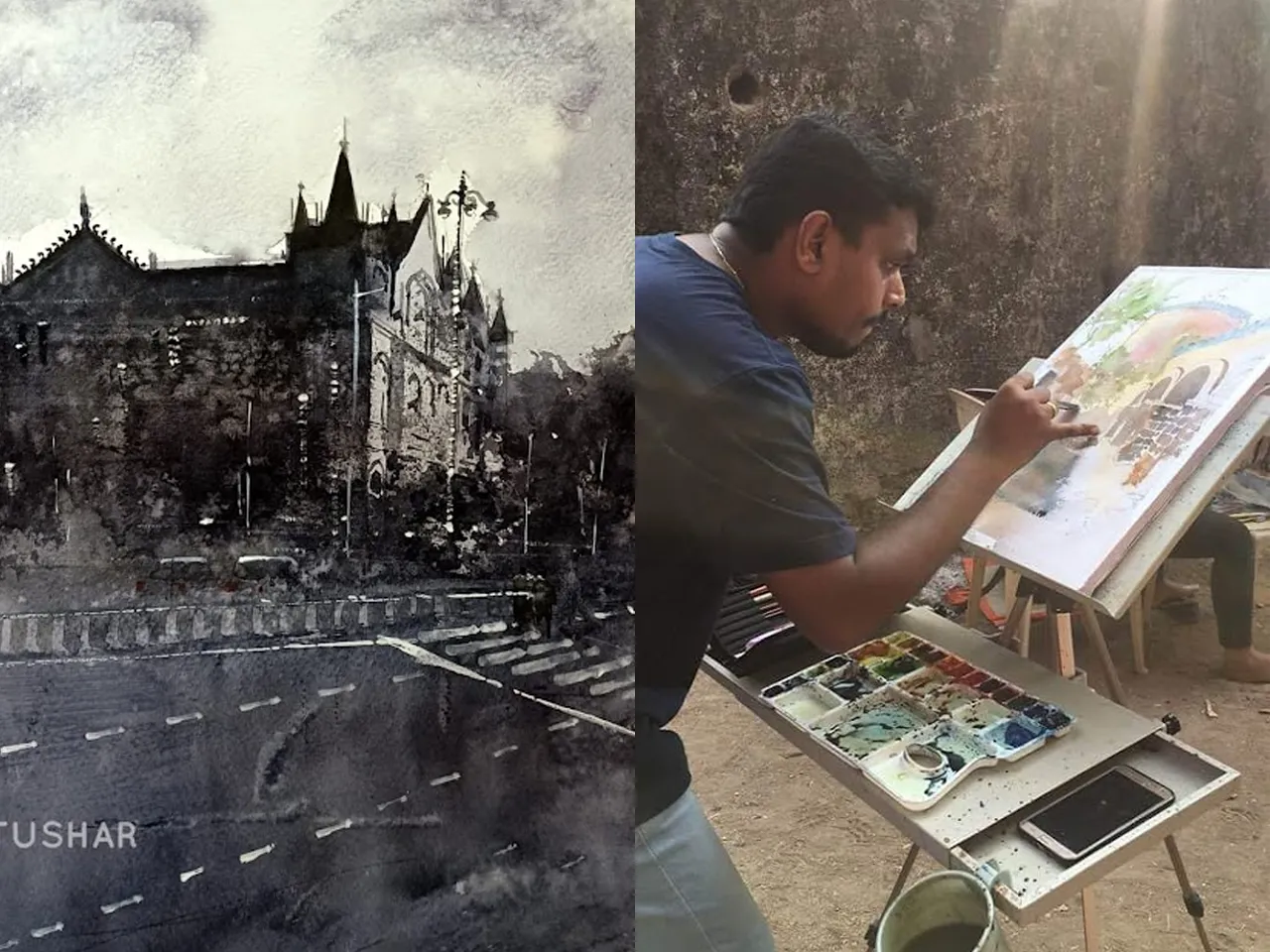 The landscape of Mumbai bestows upon its residents an amalgamation of various heritage buildings, cultural spots, and a glimpse into luxurious lifestyles. Yet, there is something immensely endearing about the city that often goes unnoticed. A quest to uncover this hidden charm led Tushar Shetty to create a series of paintings featuring elements such as slums and metros, which constitute more than half of this dream city. During one of the recent exhibitions at the popular Nehru Planetarium in Worli, Shetty presented a single, extensive display of his paintings titled 'Metroverse.' As he takes Local Samosa on a stroll through his work, the paintings depicting Mumbai's metros and Chawls come into view, while Shetty recounts his enduring desire to bring these aspects of the dream city to light.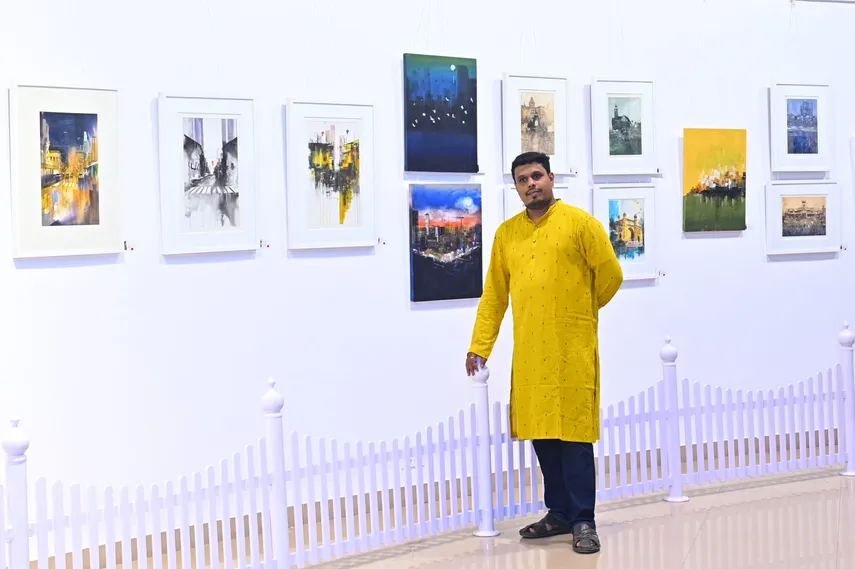 Tushar Shetty in front of the display of his painting series, 'Metroverse' at Nehru Planetarium in Worli
The idea of working on such a series began to take shape in Shetty's mind in 2012 when he was pursuing his post-graduate studies for his Master's in Urban and Regional Planning. The course ignited his interest in examining Mumbai from the perspective of its infrastructure. As a result, prior to 'Metroverse,' he created a series named 'Metaverse,' which depicted the "ready metaphors" for people to identify Mumbai, such as the popular Chhatrapati Shivaji Maharaj Terminus (CSMT station), Bandra station, or the Gateway Of India.
"The only drawback of this series was that it highlights the metaphors that people already know. I felt that now, it was important to inform people as to how these metaphors were born. So, I looked upon for the various versions of the city like roads, networks, bridges and more," he says adding that this theme is an ode to identifying different imageries like lights, traffic, signals, and hutments and that he looks at these as "versions".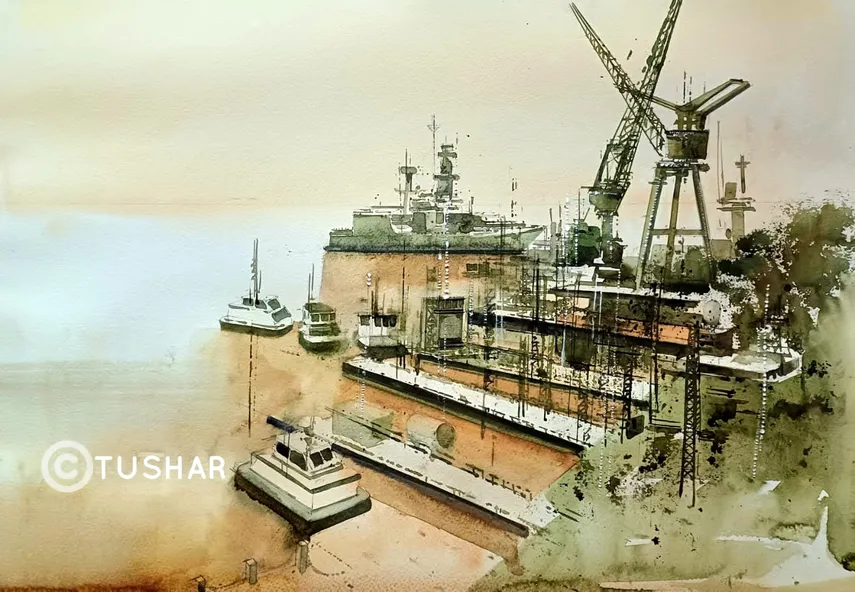 A painting from the series, 'Metroverse'.
But the architecture professor turned painter could only turn his dream into reality after leaving his former job to become a full-time painter—a challenging decision to make in a country that still struggles to provide ample opportunities for artists, regardless of their chosen art forms. Belonging to the architecture fraternity and, teaching satisfied Shetty and provided his livelihood, while painting had always been a side hobby and a supplementary source of income alongside his profession. However, juggling both roles was never easy. 

"Being a professor is very demanding a job as there are no fixed hours of being a professor. Sometimes, the students have their difficulties and they want to interact with the professors and we try our best to be available for them," he says adding that he, though, enjoyed his work, the calling for his passion helped him make a decision to leave his job since paintings required a lot of time.  "To be able to work on such paintings and series, more concentration and undivided time is required," he adds.
Art as a Bread-Earner?
As his time is not divided anymore, Shetty can now be seen dedicating his full time to painting the scenes of streets and various other landscapes of cities, currently, Goa. And, has he been able to make a livelihood out of just his painting; fortunately, the answer to this question is a 'yes'. But what goes behind making sales, Shetty says is all about being valid in the "market". "If a painter cannot reach out, or chooses not to reach to people, there would be very minor chances that painters would have some sales from the painting," he says. 
Detailing the only strategy to survive through paintings, Shetty, from his experiences says, "As an artist, it is constantly required to understand the 'taste of the market', to understand if the paintings are going to cater to the taste of the market, and if those also resonate with the artists' preferences. If these three are incompatible with each other, then the artist might have to work upon it," he says. "An artist is always hungry to work and exhibit it as well but not every time people resonate with the work and in the end, painters need to make a living out of their paintings if they choose to fully depend on that," he adds. However, what Shetty also believes about sustaining through the artwork is that if the painters have a subtle and good thought behind what they are trying to illustrate and they are able to express that through the paintings, they can surely make a living. "All it takes is the confidence and determination," he adds.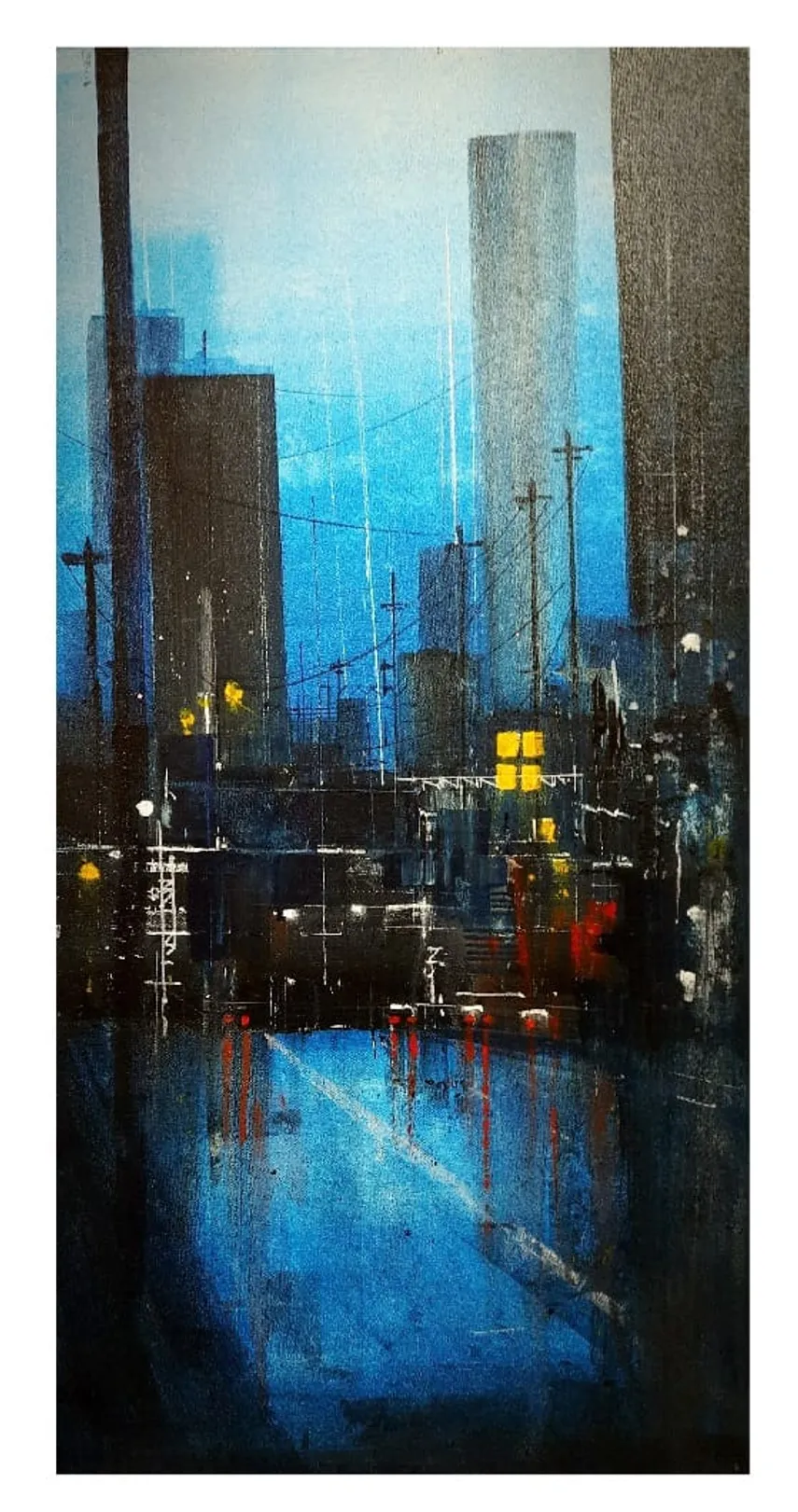 With the same thought in mind, Shetty has also traveled to the South coast of India to document the sea caves for the Indian Railways and has worked on over a hundred and fifty paintings of the sea, capturing its various moods. While he plans to rely solely on his art, he envisions a future filled with diverse explorations in the world of painting.  "I cannot predict about my future. If I set a benchmark, that would be a destination to reach and painting does not have a destination," he says. In such a case, what inspires him to go aimlessly is what he recites during the interview: "Khoj aur talash ke lajjit ki ab jo talaf lag gayi hai, ki dua bas ek hi karta hoon, ki manzil kabhi na aaye (For the addiction that I have got for exploring, I wish, that I never get a destination)."