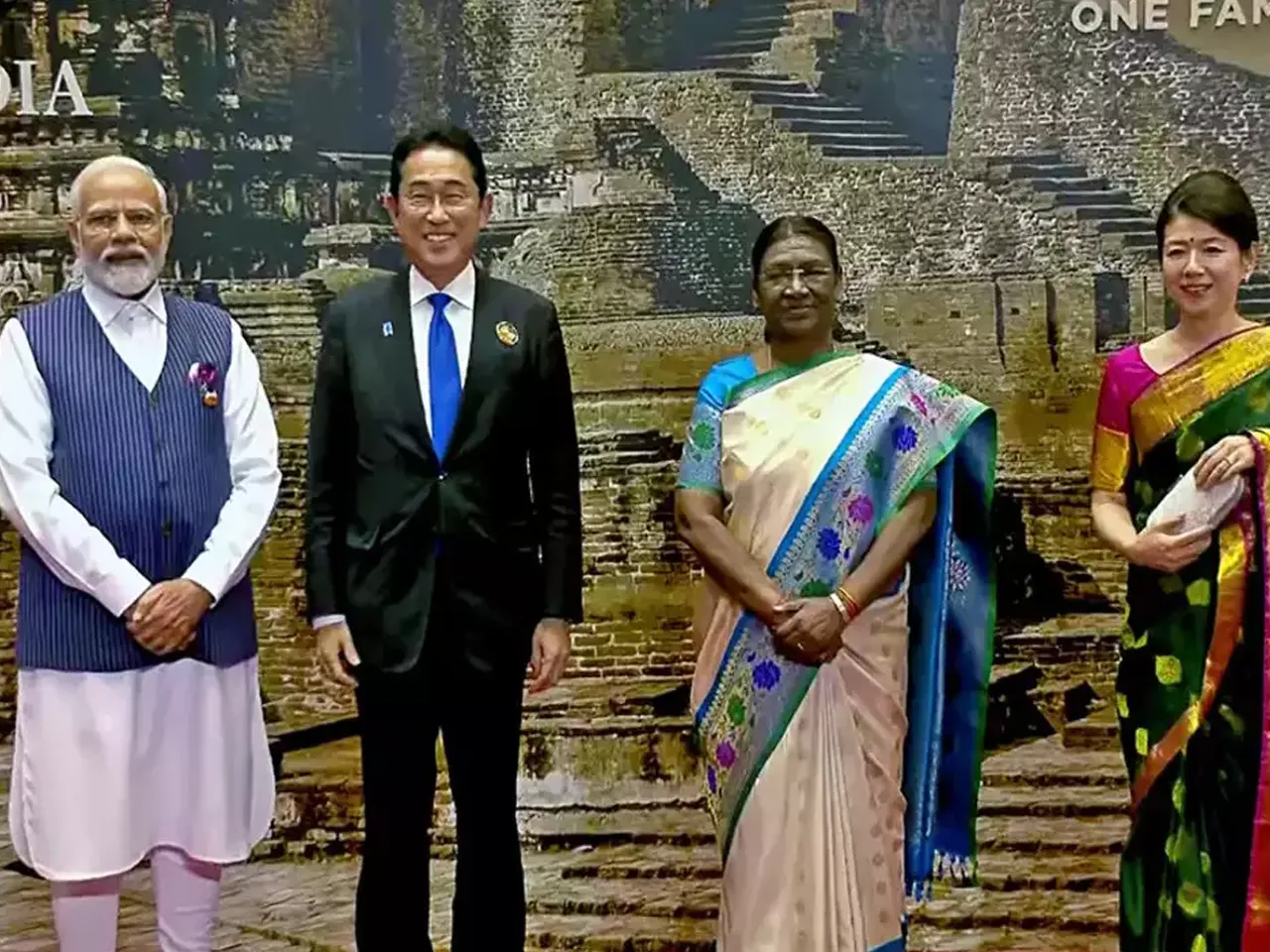 India hosted the 18th edition of the G 20 Summit in Delhi on the 9th and 10th of September and put up a great show of Indian elements from Sarees to Local Food. 
This year, the G 20 Summit in Delhi; themed "One Earth, One Family, One Future" saw an exemplary showcase of local elements at the event and even the world leaders were seen following the Indian culture. From desi cuisines with a fusion of videshi tadka to the elegance of religious temples and from smart gadgets of Indian brands to handloom sarees that graced the event. 
A Stay at Heritage 
Golden Haveli, along with the Haveli Dharampura in Chandni Chowk which is around 150 years old was restored for the summit and hosted guests from around 75 countries. 
The Chakra as a Backdrop 
The iconic Konark Sun Temple Wheel was placed as a backdrop at the G 20 summit where PM Modi greeted the world leaders and clicked pictures with them. "The Konark chakra is an architectural marvel illustrating the civilisational concepts of time, space, continuity and the future," said Dharmendra Pradhan, Minister of Education of India in his X post.

Odisha's magnificent culture and heritage finds a place of pride at #G20India.

The Konark chakra is an architectural marvel illustrating the civilisational concepts of time, space, continuity and the future.

PM @narendramodi explaining the significance of India's heritage and… pic.twitter.com/X4esZxsi3j

— Dharmendra Pradhan (@dpradhanbjp) September 9, 2023
Indian Fashion on the Show 
Akshata Murthy, the First Lady of the UK was seen wearing cotton sarees, kurta sets and hand-embroidered skirts on different occasions. Bangladesh's Prime Minister Sheikh Hasina embraced the Indian saree fashion with different handlooms like blush pink, chikankari-laden drapes, to pearl necklaces and crisp details. Other foreign leaders and Indian delegates brought the saree to the forefront in addition to Sheikh Hasina's collection. Yuko Kishida, the First Lady of Japan, and Kobita, the Prime Minister of Mauritius, were both dressed in neat white sarees. Prime Minister of Italy Giorgia Meloni wore a black kurta set with a traditional mauve draped around her shoulder and to accompany the look, she styled a black clutch, bangle and a ring. A surprise came in when Aman Gupta, CEO of Boat shared a picture of Rishi Sunak, the PM of the UK wearing Boat headphones. 
Food at Display 

President Draupadi Murmu hosted a grand dinner at the end of day 1 with all the delegates where there was a display of various cuisines. Various food items from different states of India like laas maas, rogan josh, Pindi chole, chicken Kholapuri, and chicken Chettinad were offered to the guests. As 2023 is the year of millets, millets found a special place on the menu with dishes like amaranth roti, a salad bar prepared with millets and a fusion of pad thai made with ragi.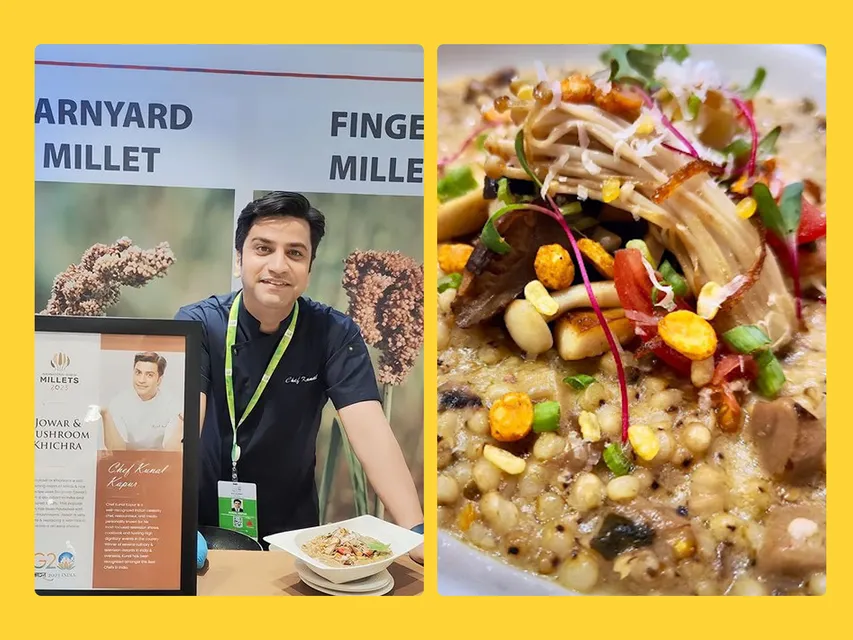 Chef Kunal gave the traditional meat-based meal Khichda a twist of millets with bajra and jowar and using locally cultivated mushrooms from Manesar, Haryana. The intention was to draw attention to the fresh ingredients grown nearby and reconnect the delegates with their Indian heritage. Chef Vaibhav Bhargava served 'no onion no garlic' Vietnamese food for Indian Delegates along with various other dishes on the platter. 
Craft Bazaar
There was a display of various arts and crafts from across India as a representation of 'One District, One Nation' and GI-tagged items at the Pragati Maidan. Gamosas from Assam bearing the G20 logo and the theme 'Vasudhaiva Kutumbakam' - One Earth, One Family, One Future' were exhibited. Silk sarees from Tamil Nadu. Madhubani Art from Bihar, Lac Bangles from Jaipur, and artwork from Kashmir found a spot at the Craft Bazaar.
India bid adieu to the delegates with a unique gift as a memento. A handmade artefact of brass in the shape of a lotus named 'Kamalam' made by artisans of Mahoba in Bundelkhand was presented to them as a token of love.