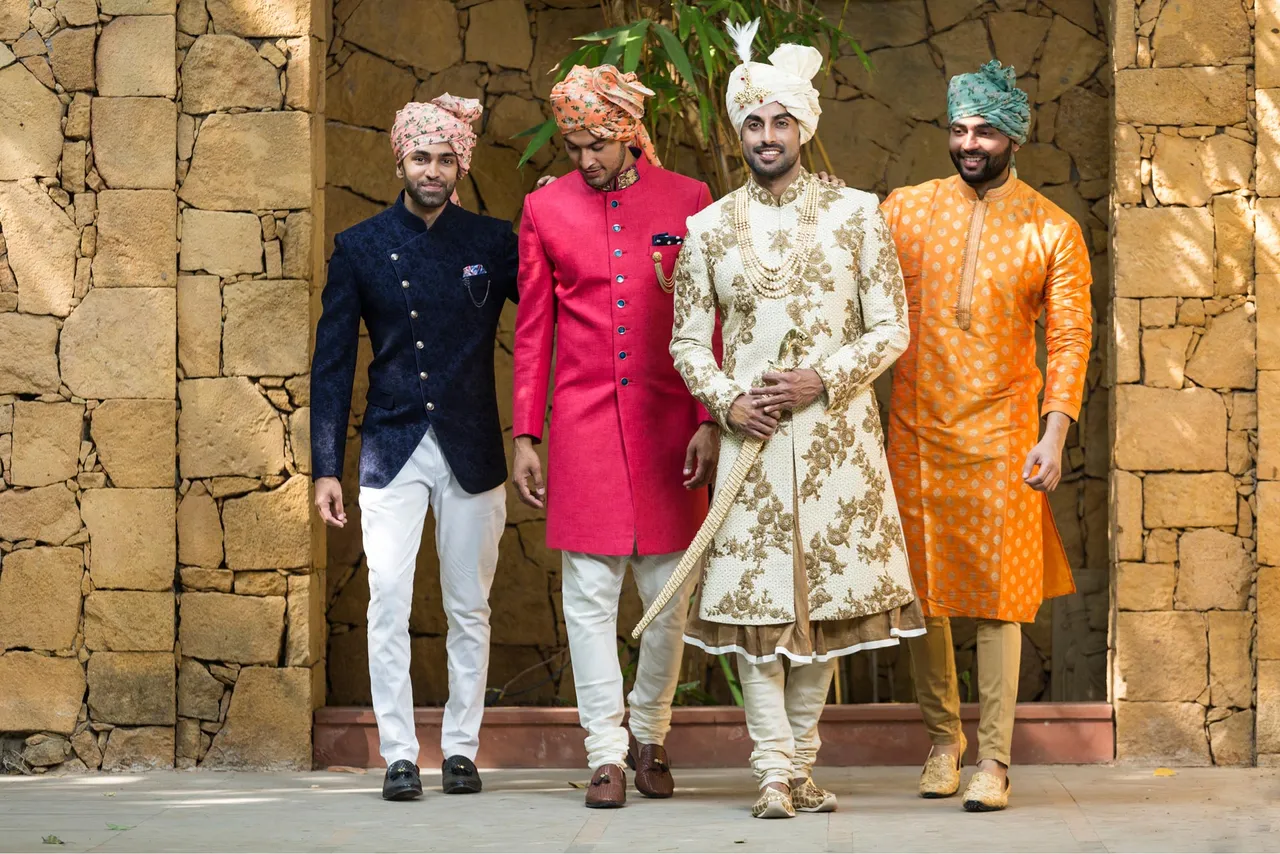 Delhi, a city with a rich heritage and diverse traditions, offers an excellent selection of groom wear. Find your perfect match in the bustling markets mentioned below.
Delhi's wedding wear reflects the city's dynamic fusion of cultures and fashion sensibilities, making it a treasure trove for anyone looking for the perfect wedding ensemble. Let's dive into a list of markets that a groom can explore for the big day. 
1. Chandni Chowk
With intricately designed sherwanis and classic kurta sets, this historic market is famous for its traditional wedding wear including sherwanis, kurta sets, and accessories. However, it is important to plan your visit as the area can be crowded, especially during the wedding season. Here you can find bridal suits from Rs.10,000 to Rs.50,000 or more for elaborate designs. 

Address: Chandni Chowk, Opp. Gurudwara Sisganj Sahib, New Delhi, Delhi 110006
2. Karol Bagh Market
Karol Bagh is a shopping hub. Fusing tradition with contemporary styles, Karol Bagh Market ensures that every groom can find an outfit that perfectly suits his taste and wedding theme and the range is Rs.15,000 to Rs.60,000 in your shopping spree. 
Address: 2109, Bank Street, Near Binarysoft Pvt. Ltd., Karol Bagh, Delhi 110005
3. South Extension Market
If you like designer clothes and expensive shops, South Extension will not disappoint. You will find a mix of traditional and contemporary styles from fine sherwanis, bandhgalas, and kurtas to finely tailored suits and tuxedos. Lajpat Nagar Market is known for affordable ethnic wear like sherwanis and kurtas. The range is known for its attention to detail, quality finish, and customization in the price range of Rs. 8,000 to Rs. 40,000. 
Address: South Ex Plaza-I, South Extension Part-II, New Delhi, South Extension, Delhi 110049
4. Shahpur jat Market
A trendy neighborhood with shops offering tailored and mixed wear. The stores here are well stocked with a variety of fabrics, embellishments, and accessories to help you create the perfect groom ensemble. Price range: Rs.20,000 to Rs.2,00,000. 
Address: 120 Sahpur Jat, Delhi
5. Rajouri Garden Market
With its vibrant atmosphere and busy streets, Rajouri Garden Market offers lots of tailoring and various wedding wear like sherwanis, suits, and accessories. The price range is pocket-friendly and ranges from Rs.12,000 to Rs.50,000. 
Address: Rajouri Garden Road, Near Neelkanth Jewelers, Block J, Rajouri Garden, Delhi 110027
6. Kamla Nagar Market
A budget problem? We got you. Known for budget-friendly ethnic wear, suitable for grooms with a tight budget. Here are some great options for groom wear and accessories who want to embrace the glory of an Indian wedding. The price range is usually between Rs.8,000 and Rs.30,000. 
Address: 12 F, Kamla Nagar (Near Spark Mall), Delhi
7. DLF Emporio
A luxury mall with high-quality designer stores where you can find a great collection of groom wear. The mall consists of shops of several well-known designers and expert stylists who will help you find or design the perfect bridal outfit that will make your wedding day truly special. The price range is usually quite high, more than 7 lakhs.
Address: 4, Nelson Mandela Road, Vasant Kunj Mall Road, New Delhi, Delhi 110070
8. Janpath Market
Located next to Connaught Place in central Delhi, this market is known for its diverse selection of clothing and accessories, including unique wedding wear. With patience and attention to detail, you can find the perfect groom's wardrobe that reflects the grandeur of Indian tradition in the price range of 20,000 to 80,000. 
Address: Janpath, New Delhi, Delhi 110001
 
If you want a wider and special selection of wedding dresses, you should check out the aforementioned markets, as they are known for a wider range of styles and prices of wedding dresses.