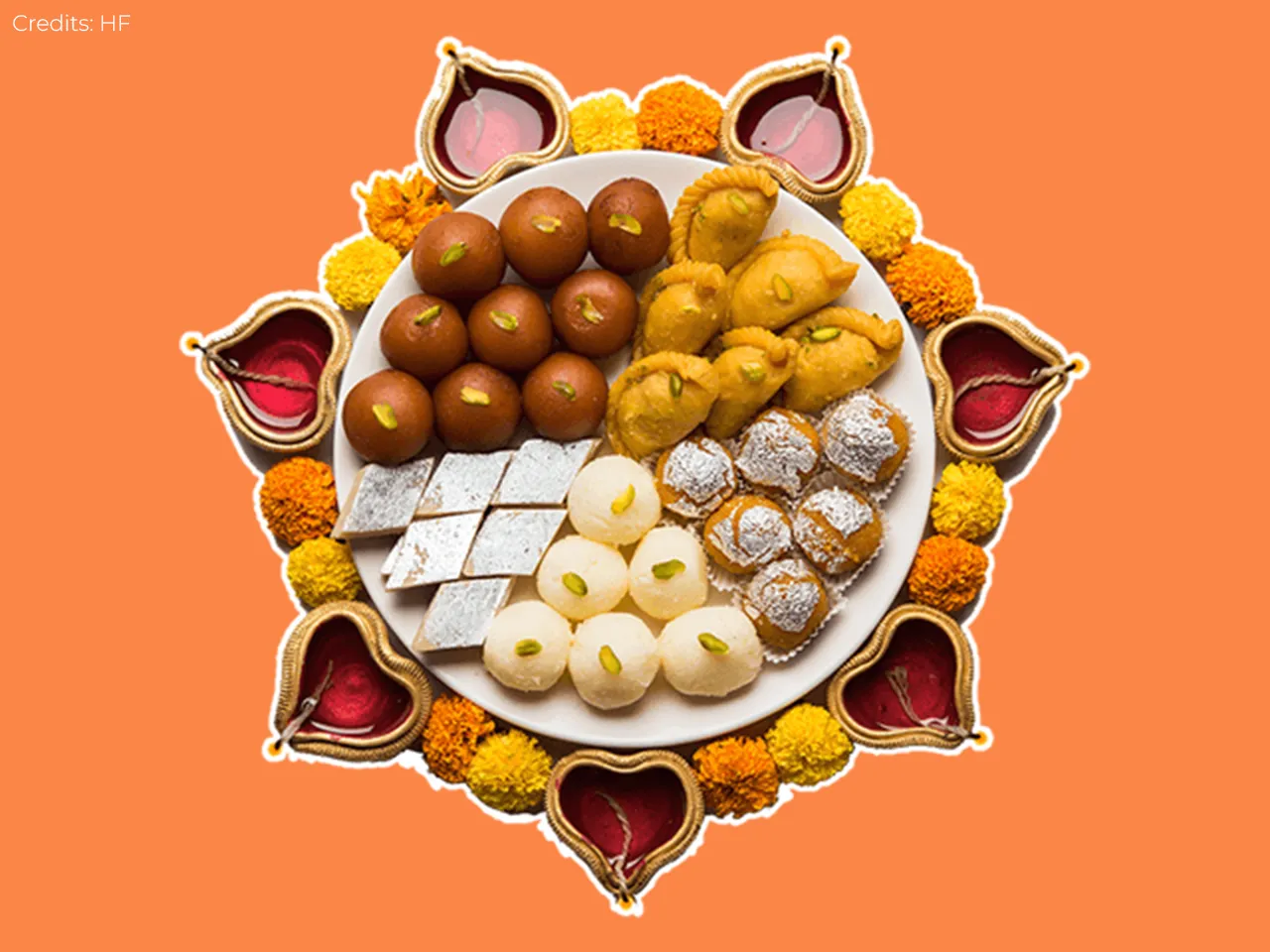 In the celebratory festival of Diwali, snacks, and sweets enhance the warmth of joy that Diwali brings. Friends and family unite on this auspicious occasion to welcome the positivity.
Experience these Diwali delicacies in the comfort of your house. In each bite, you will savour the taste and flavour of these delights. Savor the sweetness with this homemade mithai, from the kitchen to your soul. Here are some recipes to give your Diwali a homemade charm. 
1. Malpua
Malpua is a popular North Indian sweet enjoyed all over India. It is generally made like pancakes with batter made with flour, milk, and sugar. Check out Cook with Parul.
2. Raskadam
Raskadam is particularly famous in West Bengal. This is generally made with a combination of jaggery, coconut, and sesame seeds. Check out Soni kitchens.
3. Khaja 
This tasty delight is from Odisha, Bihar and Uttar Pradesh. It has a layered and crispy texture on the outside. Made with maida, ghee, and sugar, it also has a less sweet version. Check out Cook with Lubna.
4. Peda
Peda is a traditional sweet which is enjoyed during festivals and mostly popular in Uttar Pradesh but savoured around India. It is made with condensed milk and garnished with cardamon. Nuts are also used in them. Check out bharatzkitchen Hindi.
5. Pitha
Pitha is well known in the states of West Bengal, Bihar, Assam, Jharkhand, and Odisha. This is typically made like a rice cake and then deep-fried. Check out Sabnam's Kitchen.
6. Malai Laddoo 
This is a well-known North Indian sweet and gives normal laddoo a twist. Made with condensed milk, fresh cream, coconut, and nuts, this gives a creamy and rich texture to the sweet. Check out Masala Kitchen.
7. Soan Papdi 
Soan Papdi is a popular North Indian sweet. Though simple in its ingredients like besan, sugar, ghee, cardamon, and nuts, the unique texture is a melt in the mouth. Check out My Lockdown Rasoi.
8. Chhanar Payesh
This is made in Kolkata with the main ingredients- paneer, milk, and sugar. The creaminess of milk and the richness of paneer make every bite a delight. Check out Tanhir Paakshala. 
9. Rava Kesari
This a popular South Indian sweet. This is made with rava, sugar, ghee, and cardamom. It has a golden color and grainy texture which add to its deliciousness. Check out HomeCookingShow.
10. Adhirasam
Adhirasam is a traditional South Indian sweet but is mainly popular in Tamil Nadu. This is made from rice flour and jaggery, and ginger and cardamon are added for flavours. Check out Gita's Kitchen.