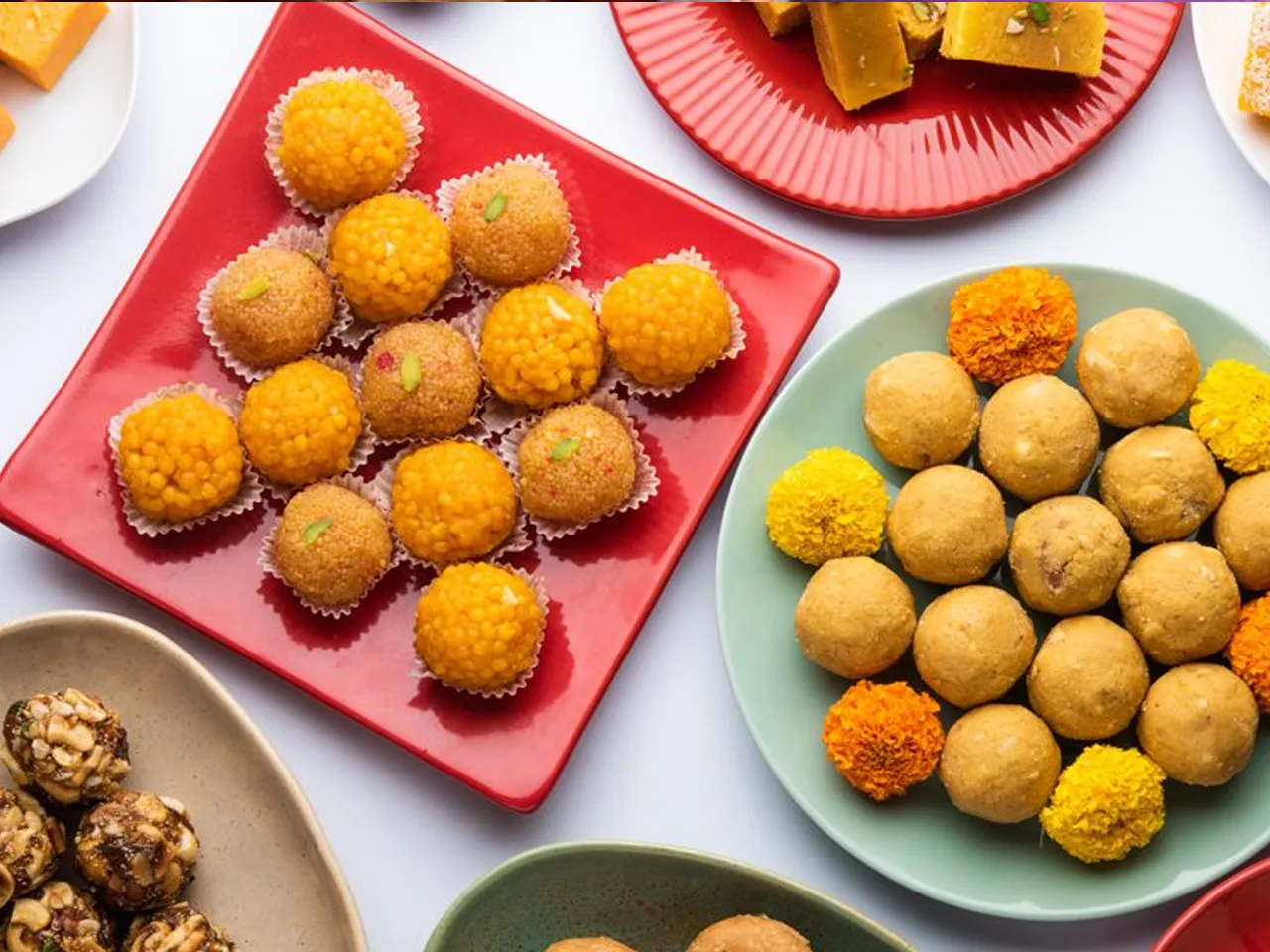 The festival of dancing and fasting is already here and if you are looking for sweet treats this season, here are a few homemade sweets for Navratri. 
Navratri is a Hindu festival celebrated with great fervour and devotion, and it often involves the preparation of a variety of homemade sweets and dishes to offer to the goddess Durga. If you want to prepare homemade sweets for Navratri, here's a step-by-step guide to making the process enjoyable and meaningful by Chef Preeti Tarte. 
1. Shahi Kachori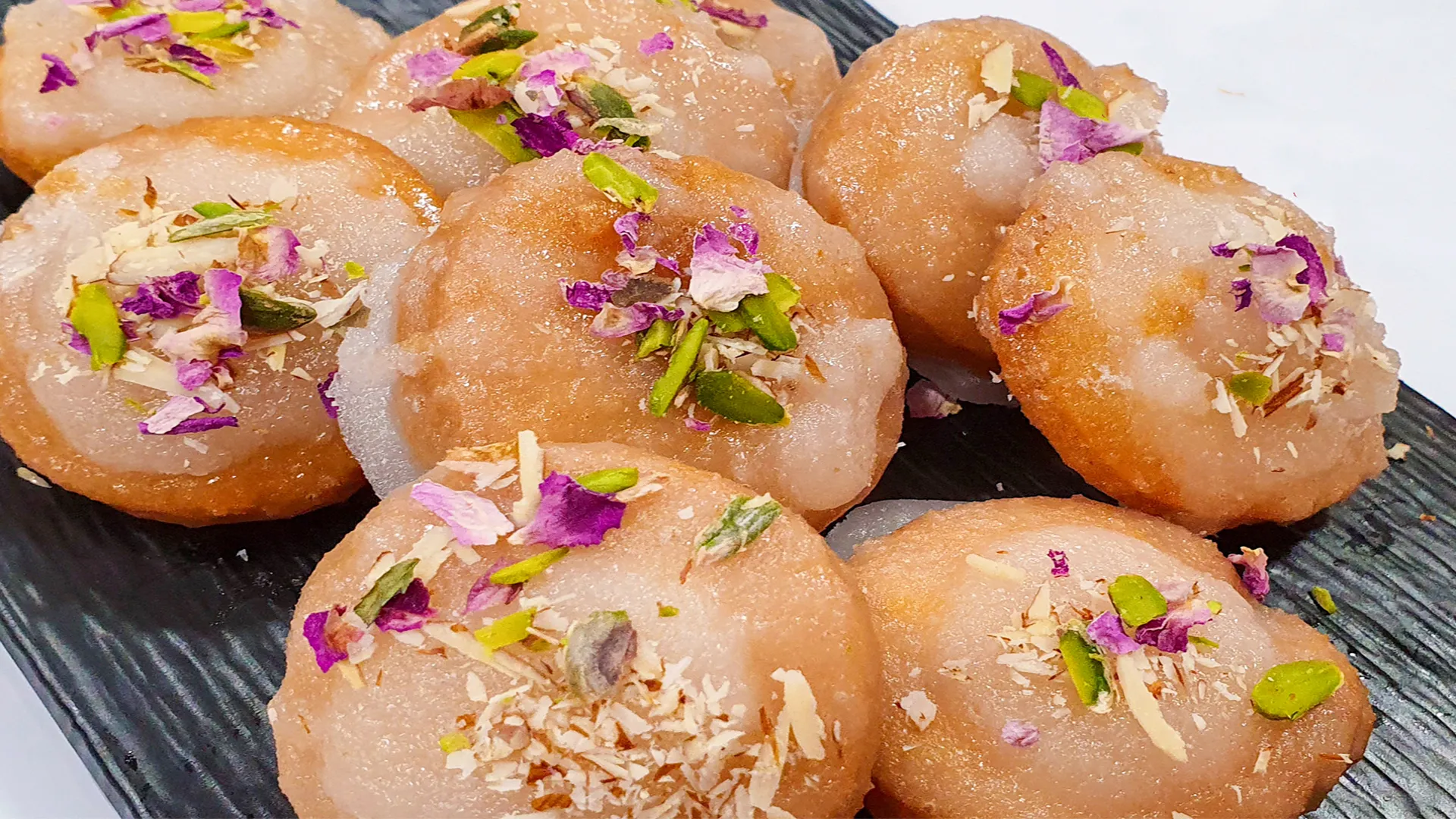 Ingredients
For Mawa khova
| | |
| --- | --- |
| Milk Powder | 1/2 cup |
| Ghee | 1 tbsp |
| Milk  | 1/2 cup  |
For Dough
| | |
| --- | --- |
| All-purpose flour / maida | 1 1/2 cup |
| Ghee | 2 tbsp |
| Pinch of salt | - |
| Water as needed  | - |
For Filling
Prepared milk powder khoya, cashews, pistachios, walnuts and almonds.
| | |
| --- | --- |
| Powdered sugar  | 1/2 cup |
| Cardamom  | 1/4 tsp |
For Sugar Syrup
| | |
| --- | --- |
| Sugar  | 1/2 cup  |
| Water  | 1/2 cup  |
Other ingredients: Ghee or oil for frying. Almonds and pistachios chopped for garnish.
Method
For instant mawa khova:
In a bowl, mix milk powder, ghee, and milk. Microwave it on high for 2 minutes.
Take out and mix well. Again microwave it for 2 minutes. Mix well. Instant mawa is ready. Let is cool down and keep it aside.
For the dough:
Mix all the ingredients in a mixing bowl.

Rub gently. 
Add water and knead into a smooth and soft dough. Cover it and keep it aside.
For the stuffing:
In a bowl, take instant mawa, crushed dry fruits, sugar, and cardamom powder.
Mix them very well.
Keep it aside.
For the sugar syrup:
Heat sugar and water. Let it boil until it has reached 1-string consistency.
Keep it aside. 
For making kachoris:
Divide the dough into 8 equal parts.
Take one dough ball, roll it, place 2 tablespoons of stuffing in the centre and bring the ends together.
Seal tightly. Press gently with your hands to make it a 3-inch circle.
Heat ghee or oil in a pan over medium heat. Drop the Mawa kachori in a medium hot oil.
Cook them over medium to low heat until slightly browned from both sides. Don't fry it in very hot oil. Remove them and let them cool.
Dip the kachori in the warm sugar syrup. Take it out on a plate.
Garnish them with chopped nuts.
2. Cracked Wheat Halwa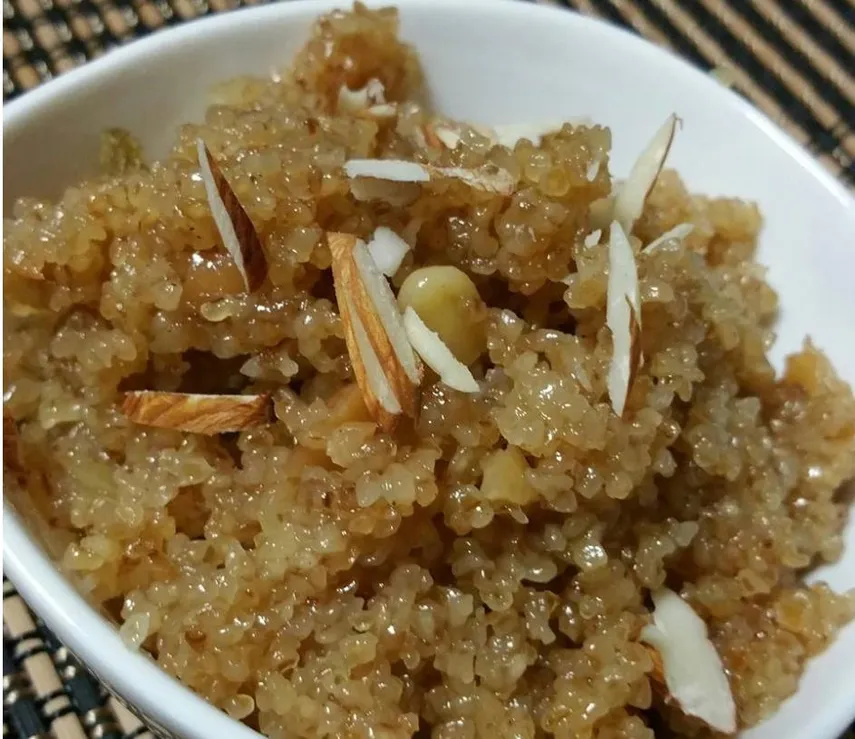 | | |
| --- | --- |
| Cracked wheat (Godhuma Rava) | 1 cup |
| Sugar  | 1 cup |
| Water | 3 cups |
| Cardamom  | 3 pods crushed |
| Ghee | 5 tsps or more if desired. |
| Few cashews and Raisins | - |
Method
In a pan add 2 tsp of ghee and cracked wheat. Slowly fry the cracked wheat till light brown and a nice aroma comes.
Now put 3 cups of water in the pan and bring it to a boil. Then reduce the heat add the cracked wheat and mix.
Close the lid and cook till the cracked wheat is completely done. It takes at least 12 minutes to cook on low-medium heat. 
Now add the sugar and combine till the sugar is melted. At this point, the halwa looks a little wet.
Add the cardamom powder, fried cashews and raisins and 2 tbsps of ghee. Combine till everything is nicely incorporated. 
Cook for another five to ten minutes till the moisture goes away and the halwa comes together.
3. Almond Ladoo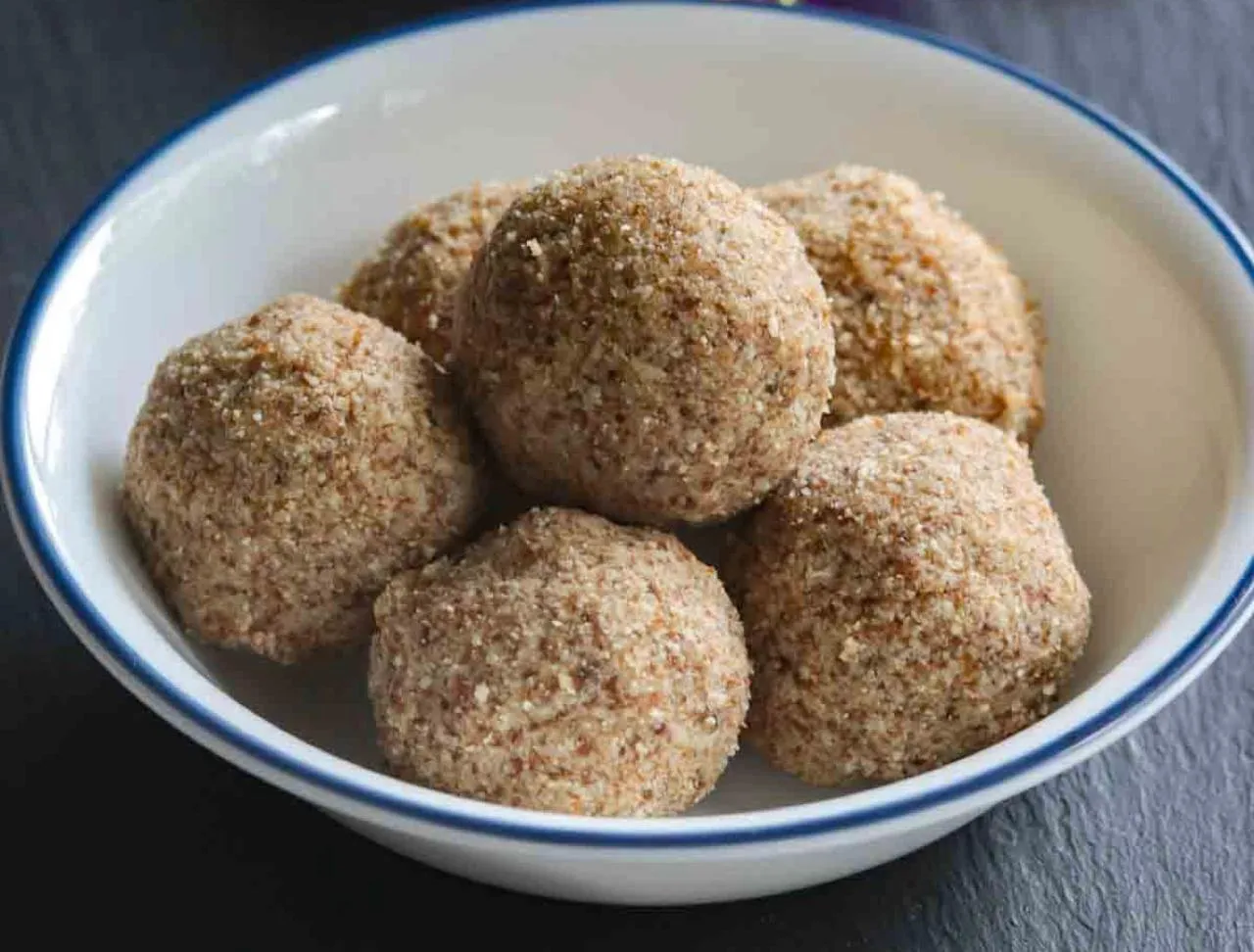 Ingredients
| | |
| --- | --- |
| Almond flour | 2 cups  |
| Powdered jaggery  | 2/3 cup |
| Ghee | 2 tsp |
| Cardamom | 3 nos. |
Method
Heat a pan on low flame and add the almond flour. Pan fry the flour for three minutes stirring often. (we are just looking for the flour to get warm, which will help in binding the ladoo).
Transfer the warm almond flour to a blender and add the powdered jaggery and cardamom.
Pulse the mixture a few times and add some ghee. At this point, you can taste for sweetness and add more if needed.
Run the blender again for a few seconds till the oil starts releasing from the almond powder and the mixture is coming together.
Take a small portion of the mixture and try forming a ladoo. If it doesn't break, it's the perfect consistency. If it is crumbling, pulse the mixture again.
Transfer the mixture and form ladoo. You can serve as it or roll them in some almond flour.