Founded by Chitresh Sinha in 2019, The Plated Project is on a mission to fight the hunger crisis in India. It is a profit-making brand that has donated
650,000+
meals and is collaborating with not just Indian but global artists, too.
After working in the corporate world for 7 years and nailing multiple social campaigns, Chitresh Sinha decided to finally start a never-ending campaign. He wasn't sure about the cause then, but after discussing it with his colleague and seeing an advertisement on Instagram, he knew where to begin. And, that's how the Plated Project was born.
Abhishansa Mathur was in an enlightening conversation with him about The Plated Project, his journey of becoming an entrepreneur from a corporate employee, juggling between two jobs, hunger, and more. Keep reading to read how it all unfolded.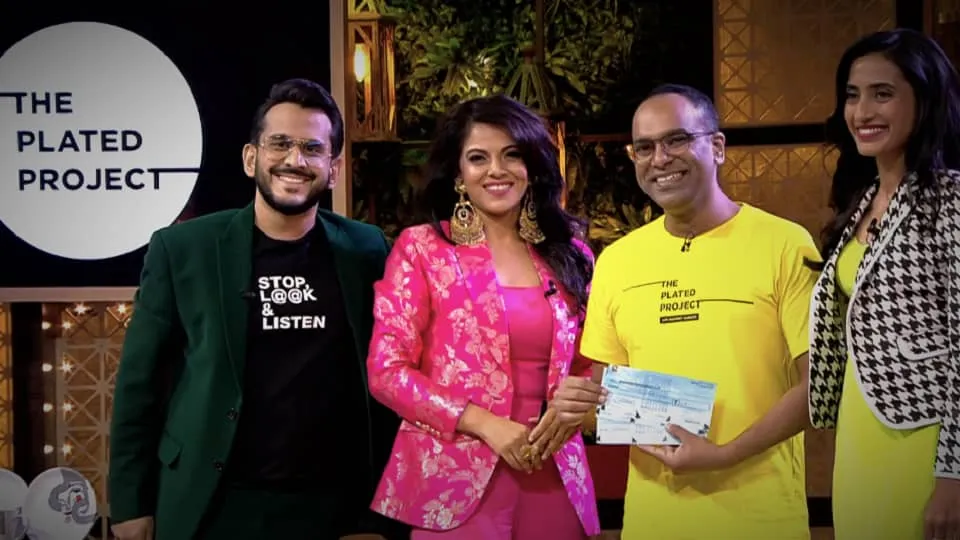 Can you walk us through your journey of starting The Plated Project?
I began my career in the corporate world, pursued engineering, and then transitioned to a branding job. Like many companies, we were involved in campaigns. However, I reached a point where these campaigns concluded, and it bothered me. I wanted these impactful campaigns to extend beyond their temporary existence and create real change. I discussed this with our company's founder, and he was on board. We decided to establish an innovation lab that would address behavior change issues, going beyond mere communication.
Subsequently, we launched our own intellectual property and chose to focus on Hunger as our primary cause. The decision stemmed from an Instagram advertisement I saw, stating that Hunger claims more lives annually than AIDS, terrorism, and malaria combined. After extensive brainstorming, we conceived the idea of connecting art and decor with hunger awareness. Art, often acquired for personal spaces, could serve as a catalyst for behavior change. The formal launch took us two years, and our initial project was entirely charity-driven.
My personal interest in art, its relatability, and the intriguing phenomenon of individuals paying substantial amounts for meaningful artworks further fueled my passion. This revelation later became the cornerstone of The Plated Project.
We initiated our project just four to five months before the lockdown. It was a rapid experiment. We hastily designed the website within 48 hours, collaborated with a few artists, and launched. Initial sales were scarce, but the level of interest we received was promising. This prompted us to commit wholeheartedly to the project.
We were about to launch a significant series when the lockdown abruptly disrupted our plans. In response, we pivoted our theme to focus on the plight of migrant workers during the lockdown. We coordinated with vendors, conducted remote production, and stored plates at a colleague's home. Fortuitously, we secured three corporate sponsors, raising Rs. 8.5 lakhs. Half of this amount was swiftly donated to Goonj, and we diligently addressed 2-3k emails daily. Our hard work paid off, as we eventually sold out. The timing and messaging were just right. The entirety of this project was dedicated to charitable causes.
How has your collaboration with artists like?
One thing we have consistently followed since the beginning is our curation model. We prioritize quality over quantity and consciously avoid categorizing artists as either 'upcoming' or 'established.' The sole criterion is whether viewers resonate with the emotional depth of their artwork. Our collections are deeply human in nature. Additionally, we steer clear of abstract art due to its diverse interpretations. We also consider the style of illustration and do not discriminate among artists. In fact, our top-selling artist was still in college when we launched, yet she generated more charitable contributions than some full-blown professional artists.
So, how did we connect with these artists? It all began on Instagram. We discovered their work, sent direct messages, and discussed our themes and how some of their pieces aligned with them. Subsequently, we licensed and launched their artwork. Later, we began introducing new themes and commissioned pieces from them. We have never asked these artists to provide their work for free. We openly communicate to our audience that we cover their fees along with production costs. We do not charge anything for ourselves but ensure that the artists are compensated.
You are also collaborating with Indian artists. Tell us about that a little.
We were focused on printing, so digital illustrators worked best for us. Even today, we collaborate with artists from 18 different countries. We have never been restricted by geography, but there was one collection called 'Past, Present, and Future' for which we aimed to represent traditional Indian art forms in a way that would be relevant to Gen Z. And hence, we decided that the composition would be created by a modern artist. Half of it would be digitally printed, and the other half would be hand-painted by artisans. By merging the art forms of the past with the artists of the present, we are creating for the future. This series has continued since then.
We launched it with Pichwai and continued with Gond. Every year, we select 1-2 traditional art forms and reimagine them. These pieces are exclusive and are often sold out because they are highly sought after. The artisans are compensated for their work, and since we have partnered with organizations like Creative Dignity, the money goes back to the artist community. This way, they earn revenue in two ways.
Share what goes behind ideating a collection.
When we launched it was an experiment. So it started with a vision that let's make art plates. But with time we realized that there was a need for more options because it was also restricting our themes so the first conscious thought was to go beyond plates and then we launched the dinner wear collection named "Anadi". It was inspired by stories of Gond which usually has trees in the middle and animals around it. We flipped the narrative! As the tree gives life why not approach it from the lens of what life evolves into? We told stories of Gond and different trees of life and that did well.
We later expanded it to 4 more collections. Now we are back to wall decor but this time there's a twist. The collection features wall decor pieces where one can create a custom frame and flip it to get a different art form. Every single art piece is linked to a social issue about hunger. So, the ethos has not changed and the focus is to launch new themes.
Our next project is about the festive gifting. It is the time when you celebrate things and want to enjoy with your loved ones. So, we don't want to be preachy, and thus linking it with an idea of what it means to connect with your loved ones while helping those who get ignored during festivals. For example, during Diwali, the pollution and noise affect the stray animals the most, and they also do not get anything to eat. So our entire series is about raising awareness of what hunger means to animals and how social issues are linked to them. Another collection is about the idea of home, and with that, we are giving charity to the homeless. So, we want to tell stories people want to get engaged with and will do festive gift boxes, candles, and more.
What have your collaborations with NGOs been like? Also, do you plan to go for product diversification?
Yes! We partnered with Tata Tea to celebrate India's 75 years of freedom. We created a collection that highlighted significant moments of freedom and pride from India's history. For every purchase, we ensured a brighter future for India by donating 75,000 meals to the Milan Foundation, which operates a boarding school for underprivileged girls.
In our festive sale, we're sponsoring NGOs that care for stray dogs. Our goal is to support various charities by covering their hunger relief costs. The message goes beyond dogs feeling hungry and touches on broader social issues related to their welfare.
Next month, we're launching a product connected to mental health. Our aim is to provide funds to those assisting individuals who've been abandoned due to their mental health conditions. We're introducing decor puzzles that can be quickly solved and displayed in your home. Why puzzles? They help you relax, encourage communication with your partner, and enhance concentration, similar to meditation. We're also expanding our range of plates and categories related to mental health to establish a strong connection between the product and our ethos. While we're not certain about its success, that's our intention.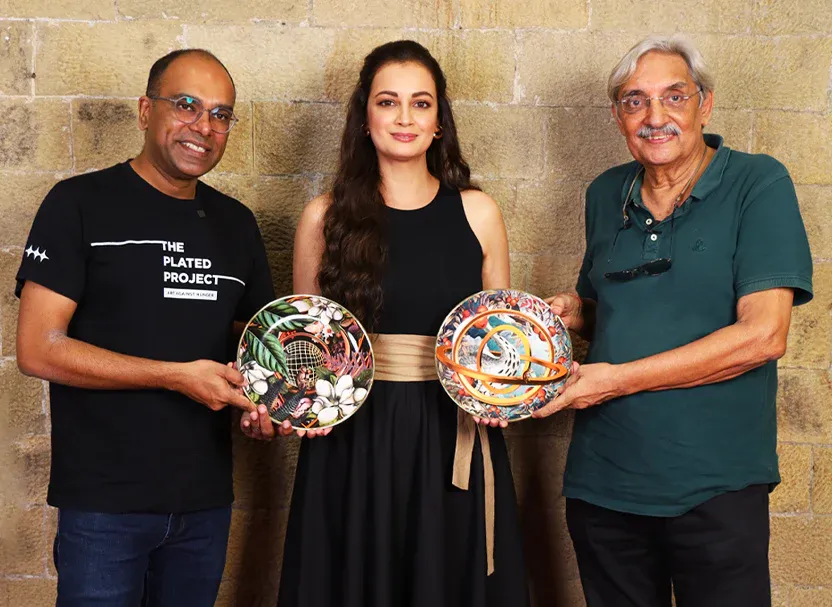 What are the three milestones for you after finding The Plated Project?
Our most significant milestone is that we've successfully completed our third year as a bootstrapped and profitable venture. Throughout this time, we've consistently donated 50% of our monthly profits to charity without compromising our growth. Another remarkable achievement is the fact that our founding team members are still actively contributing and have experienced substantial personal growth. Thirdly, we take pride in the recognition our work has garnered. Vendors from various countries are now familiar with our products, which is a source of great satisfaction.
And what have been the challenges?
We are more caught up in the challenge than feeling proud of ourselves. Every single day juggling between two jobs and a team that is fairly young, it's been a learning experience. Since we don't operate as a print-on-demand model, it becomes difficult at times. Getting used to the technical terms as well as dealing with them has also been a learning. For example, it is telling the gross margins which is the cost of goods sold subtracted from MRP. In a category like ours where we give artists a revenue share on every sale, how do I calculate gross margins?  So, these kinds of things take up a lot of time. The second is cash flow! In an inventory-heavy business, it's a huge task to figure out your lives (couldn't hear properly) when it comes to cash flow, vendors, and other people involved. Pricing things, merchandising, and other expenses, too were initially a task to understand. 
We are here to sell things however we have a social impact at the core of everything we do. So all of the products and narratives that we do are based on Social issues and we actually give a substantial amount to charity after each sale. But even after being so clear, a lot of people end up saying that it's a marketing technique, and it is to a certain extent but the point is that we are building an entire DNA on impact and that's not easy and superficial. After our launch, we initially divided 50% of the profit between us and the artists. But after 3-6 months we realized it wasn't fair. So what we have done is irrespective of our cost, and scale have a fixed amount we give to charity for each item sold and we tell people how many meals are they sponsoring after whatever they buy. 
There are months when we realize that there are 2 lacs that we have to pay for charity after which we will not have anything left. But that's what we have chosen to do now. 
How are you managing scaling up?
When we launched the series with Dia Mirza, the products were premium and 100% for charity. Within a month, we were able to contribute around 5-7 lacs. Now, as we scale up, we are determining our target revenue and allocating a fixed amount for charity for products that are not 100% charity.
What are your future plans?
We plan to scale up by offering a range of price points within our existing categories, as well as introducing new collections and expanding our offerings in those scalable categories.
Our focus for the next year will be on scaling up, with a particular emphasis on reinventing products in areas with significant market potential but limited innovation. We're also planning to collaborate extensively with charities. In the coming year, we have a significant online charity event featuring 6-7 artists, with a goal to raise 20-30 lacs.
Additionally, we aim to initiate engaging projects such as artist residencies to foster learning and experimentation. We're also looking to expand our presence on platforms like Amazon and niche third-party platforms such as Jodi and House of Things, where we can connect with the right audience.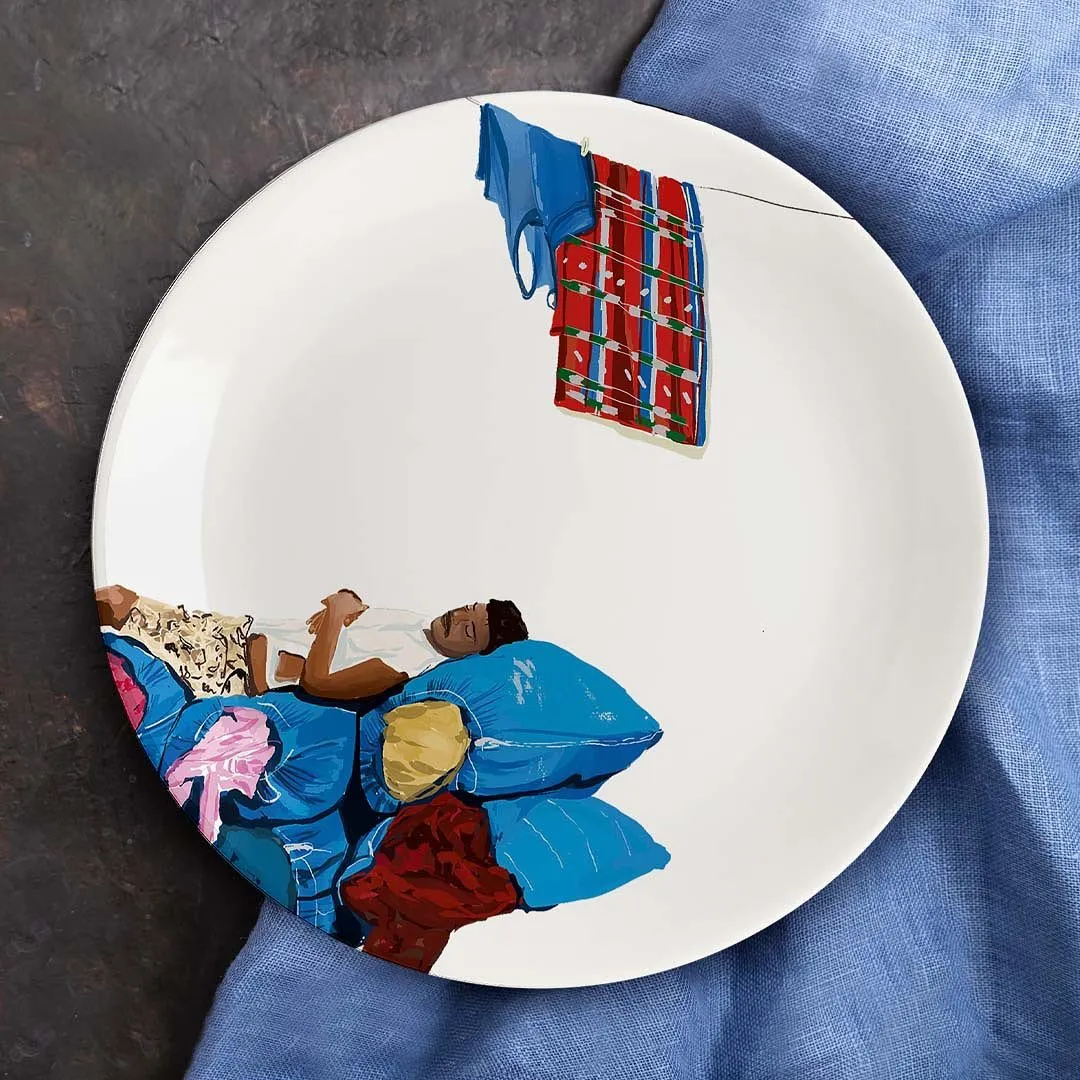 What is your growth strategy?
Our approach has always been storytelling first and we approach everybody from that perspective only. So, the Dia Mirza campaign, for example, wasn't about getting a celeb but was a very conscious decision that climate change is going to become one of the biggest issues including hunger and she really stands by that cause. We invested almost 6 months in building that collab from scratch. 
We also did Tata Tea because we wanted to talk to a different audience that wasn't aware of us. And, now we are launching with a very well-known interior designer. We are also doing a lot of organic push via our own social media handles because our community is the strongest asset we have. We invest a lot in storytelling visually and also do collaborations. However, the paid push is largely on the performance marketing but we are also trying to reduce it so that we can spend more on things like residency where there's a novelty factor.
What has been your learning from being a brand consultant to an entrepreneur?
I've come to realize several important things that I hadn't considered before. One of the key lessons is the allure of creativity, and how it can be a source of motivation. I've learned that having a great idea is just the tip of the iceberg, with 90% of the effort focused on bringing that idea to fruition.
When we hire, we prioritize the candidate's commitment to turning ideas into reality rather than simply looking at their resume or portfolio. It's about going beyond what's written on paper.
We prioritize the impact we can make, so if an idea lacks significant impact, we're willing to let it go, regardless of how appealing it may seem. Additionally, we've learned to trust established NGOs and existing ecosystems that are already making a difference in this cause, rather than trying to do everything ourselves.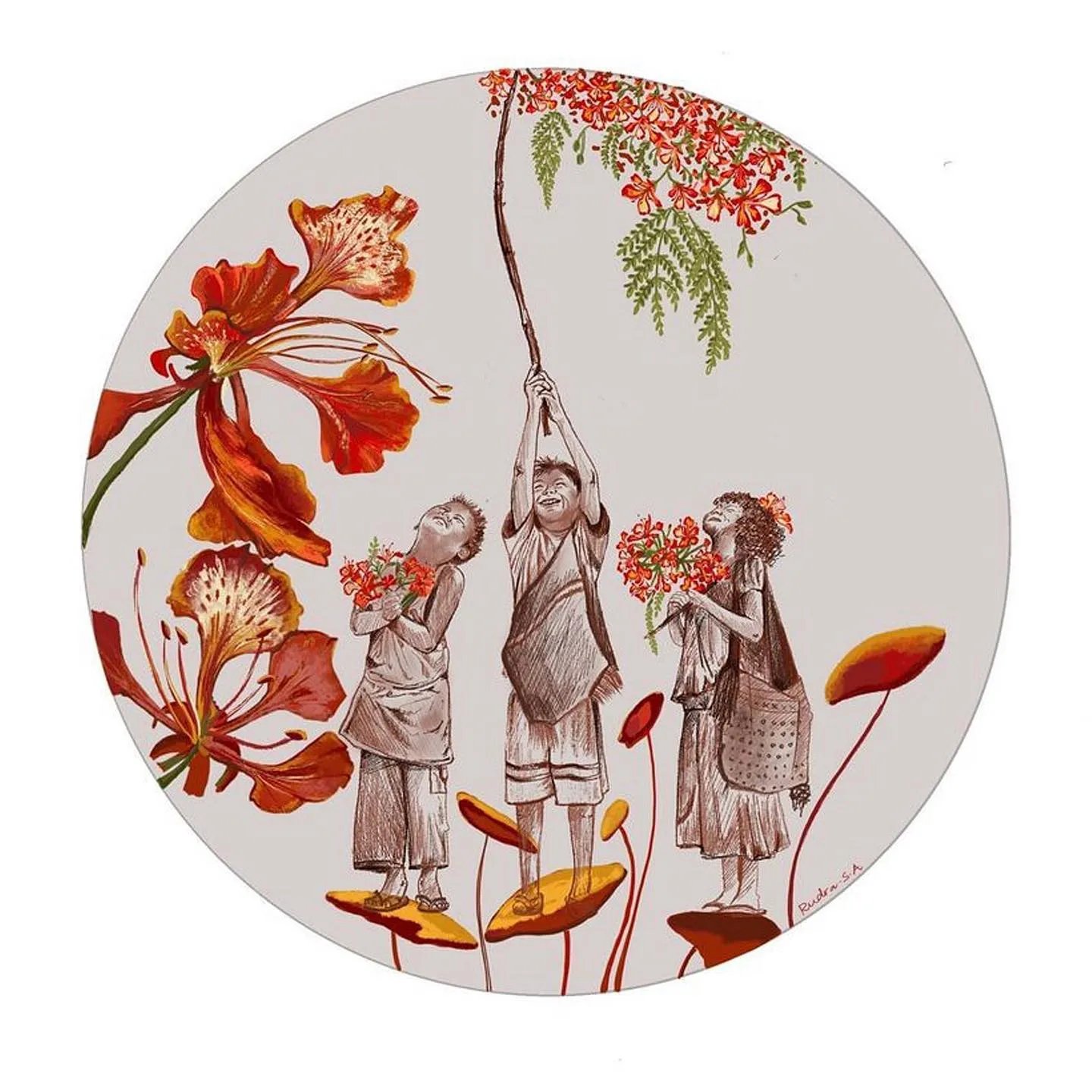 What would be your advice to someone who wants to start an initiative like yours?
Find a niche and don't assume that people will buy your products or associate with your brand solely because of the cause it supports. Approach it strategically. Create unique products that set you apart from the competition.
Your primary focus should be on the niche you choose to operate in. Your passion for the cause will help you make an impact, but don't approach it the other way around. Secondly, operate with a lean team until you're ready to scale up significantly. Start with interns, and only hire full-time staff when you see that it positively affects the long-term value proposition. Identify your core skills and build on them.
Founders favourites!
Favourite book: 1Q84 by Haruki Murakami.
Favourite Podcast: How I Built This by Guy Raz.
Favourite Movie: Momento!
Favourite Musicians: Ankur Tiwari, The National, and Jhon Mayer.
Favourite Food/Cuisine: Goan, Indo-Chinese, and Japanese
Favourite restaurants: Origami, O Pedro, and The Bombay Canteen in Mumbai. Local shacks in South Goa.
Favourite Indian destination: Goa and then Ladakh
Fitness regime: My daughter 💪😄