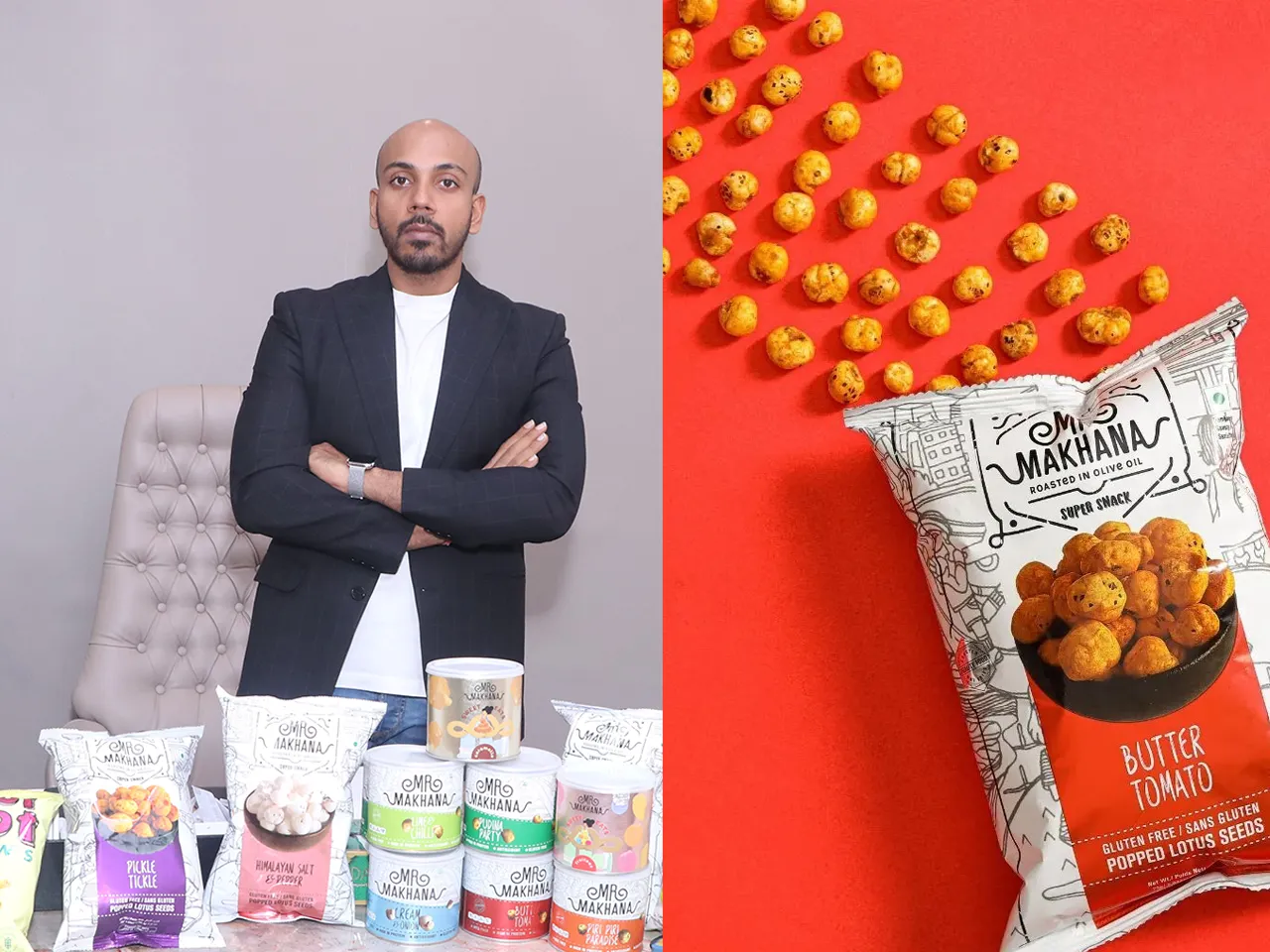 Rishabh Jain explored the world of hard-boiled candies, but realized the saturation in the market. After coming across Makhana and a way of making it tasty with some seasoning keeping the nutritional value intact, he founded Mr. Makhana in 2015 and today this brand has made a mark in the healthy snacking market. 
From not knowing what Makhana is to crafting innovative bhel recipes and curating a diverse selection of 10 delectable Makhana flavors, Rishabh Jain's journey with his brand, Mr. Makhana, is nothing short of remarkable. With distribution reaching beyond India's borders, including over 5 countries, and an exciting lineup of new flavors and snack options on the horizon, Rishabh's venture has surely made a way in the snacking market. 
Abhishansa Mathur engaged in an insightful conversation with Rishabh Jain, delving into his entrepreneurial journey of establishing Mr. Makhana, the challenges he encountered, his vision for the future, and a multitude of fascinating insights. Here's the excerpt of the interview below.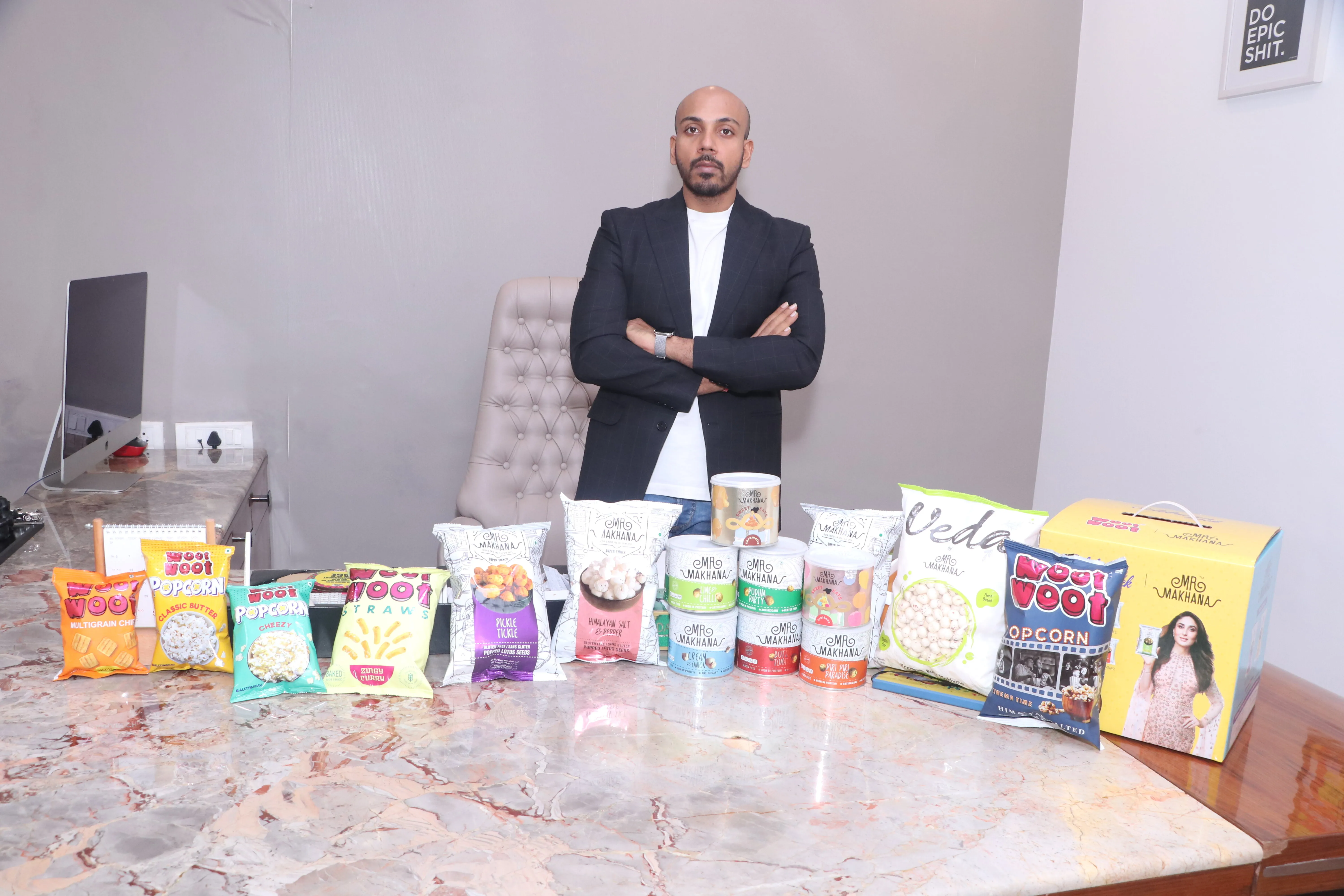 Can you walk us through your journey of starting Mr. Makhana?
After my education, I wanted to pursue something new. I initially started with hard-boiled candy. We secured a contract manufacturer for two years, and I attempted to establish it as a brand. However, I soon realized that breaking into this industry was challenging. It required a substantial investment, and there wasn't a unique selling proposition (USP) for the product since it was also being produced by local manufacturers. So, during those two years, I learned a great deal and went through the entire process of distribution, a practice I continue to this day. Eventually, I had to pivot because things weren't going well. So, I decided to explore other options.
When I came across makhana, I had never tasted it before, nor did I like it at the time. However, it was frequently served at my home, and my cook would add homemade spices to make it more appealing for my sister. It piqued my interest. I didn't even know it was called makhana until one day when I tried it, and the cook informed me that it was mixed with some spices at home. It tasted good, and it struck me that it was a healthy alternative to chips or other snacks while providing the same satisfaction. That's when the idea clicked for me, and we conducted extensive research and development at home. We procured spices from various seasoning companies, and we developed some ourselves.
After achieving the right texture and crunch, we launched around six flavors in our product line. From that point forward, we have been dedicated to it, and people have been loving our products.
What challenges did you have to face?
Raising awareness and educating the market about Makhana was initially a challenging task because it wasn't mainstream at that time. Therefore, getting it into stores was difficult. We had to invest a significant amount of money to persuade stores to carry the product because they didn't realize that Makhana could also be a popular snack. So, our focus was on encouraging people to give it a try. We had to conduct extensive educational marketing efforts and deploy numerous promoters.
Even though Makhana is primarily consumed in the northern part of India, when I launched my brand, I was surprised to learn that many people were hesitant to try it as a snack. However, once someone tries it, it significantly changes their perception of the product. Most of them told me that they had been eating it at home, but now, with flavors like cream and onion and peri-peri, it tastes even better.
So, we continued to educate the market in 2020, and this is something we still do because there are many parts of India where people are still unfamiliar with Makhana. We conduct a lot of sampling because unless people have tasted my product, there's no point in digital advertising or putting up billboards. Brand recognition is good, but having people try the product and understand what it really is matters the most.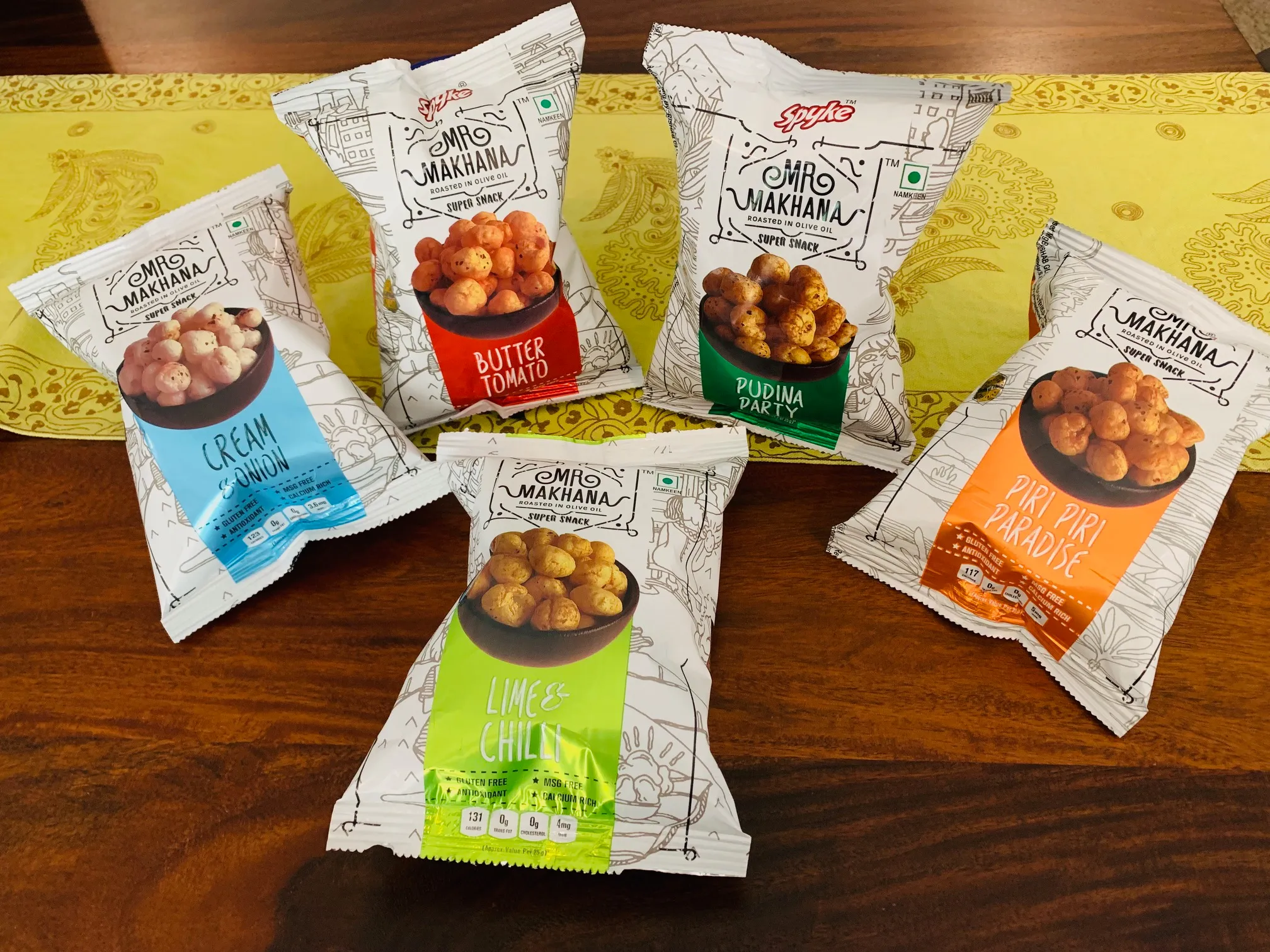 We decided to focus heavily on sampling and create a segment for healthy snacking. It was challenging because, in those days, there was no concept of healthy eating, and e-commerce platforms like BlinkIt and Swiggy Mini were not yet available. So, it was quite challenging for us to approach stores and convince them that our product was premium and akin to dry fruits, but you could enjoy it all day without compromising on taste.
Promoting a brand in the FMCG sector is also difficult due to budget limitations. We face multiple challenges, especially from companies that are newly funded and operate solely online, as they don't collaborate with offline aggregators. However, for a brand like mine, distribution is a challenge. Online platforms often cater to tier 1 cities, whereas the future lies in tier 2 and 3 cities. Therefore, our goal is to ensure our product is accessible to these areas as well.
Managing both offline and online aspects is challenging because e-commerce players claim that other brands offer more discounts, while offline stores tell us that we are providing more discounts to online platforms.
What do you think worked out for you?
During the COVID-19 pandemic, people became more health-conscious and sought healthier snack options. This led store owners to realize that Makhana would be a popular choice, as customers were increasingly requesting such snacks. Fortunately, we had our stocks ready, which allowed us to meet the demand immediately. As a result, our brand became the number one choice for customers. However, many other players entered the market, offering similar flavors and packaging over time. Nonetheless, we remained committed to maintaining the same high quality and continually improving the taste, packaging, and overall customer experience.
Today, we offer nearly 10 flavors to cater to both international and national palates. I was pleasantly surprised to see flavors like Pudina and Peri Peri gaining popularity in the international market. Customers abroad appreciate these flavors, and when I explain how Makhana is grown, they find it fascinating because the process is quite complex. They recognize the effort that goes into cultivating this product and appreciate it.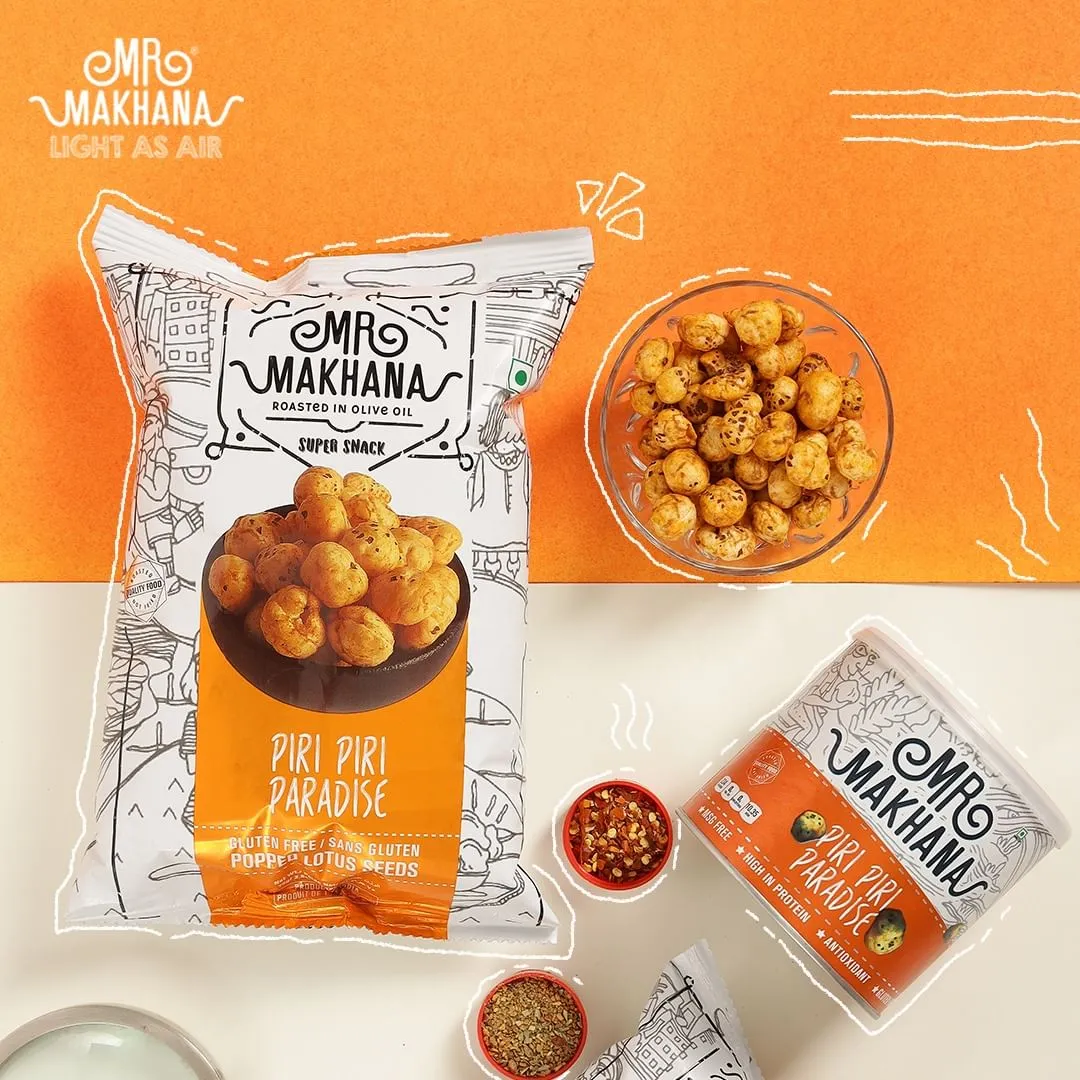 Can you tell us about the packaging a little?
We've adopted a very different approach to our packaging and invested significantly in design, which isn't always economically viable, especially for a snack brand.
We also aimed to depict the story of how Makhana is grown through our packaging. The packet features a doodle of the Makhana cultivation setting, using vibrant Pantone colors for a poppy yet simple look. We wanted our packaging to be highly appealing, and over the years, we've continued to develop it. The quality is exceptional and can withstand the demands of the Indian market without becoming soggy, thanks to our shift to more expensive materials. However, we consider this an ongoing effort and are always looking for ways to improve our packaging further.
What other products are you planning to launch?
Lately, we launched Mister Makhana Bhel, for which every ingredient, including the rice puffs, is manufactured in our factory. We aimed to make it a bit different, so we made a few changes. Instead of using a lot of fried products, we opted for baking. The Bhel includes multigrain chips, rice puffs, peanuts, and Makhana, all seasoned with spices and topped with chutney. You can adjust the taste to your liking, and it's straightforward to prepare. The box comes with a tissue, spoon, and chutney, and is priced at Rs. 70. Bhel was a concept product designed to demonstrate the various ways in which makhanas can be used.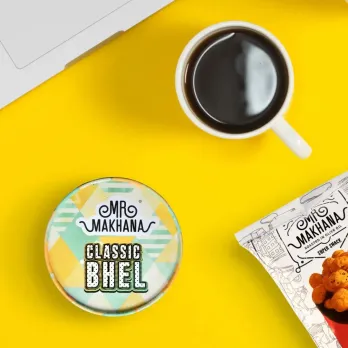 Currently, we are working on introducing sweeter flavors for the upcoming festive season, and this project is ongoing. In addition to this, we have numerous initiatives lined up. At the moment, our primary focus is to expand our distribution to cover all of India. We've received a positive response from the South Indian market, which required considerable efforts in educating consumers about our product. Furthermore, we are exporting to several countries as well.
How have you been spreading awareness, especially in the tier 2 and 3 cities?
What we do nowadays is digital advertising on social media platforms, as they have become very popular. We make our best efforts to educate people about the origins of our product and raise awareness that it's not machine-made but requires labor. Much of our content consists of informative posts and ads on social media. We have also partnered with local influencers who promote us through videos, explaining what Makhana is and its benefits.
We receive a lot of support from nutritionists and doctors. It offers numerous health benefits, making it suitable for older individuals, fitness enthusiasts, children, and everyone else.
Our marketing approach is highly consumer-centric, and we often participate in pop-up events. We take part in major exhibitions throughout India and have recently started hosting PAN India events, where we focus on allowing consumers to taste the product rather than extensive branding. This approach has been successful for us, and since our product is available in retail stores, finding it isn't challenging. In tier 1 cities, there's around an 80% chance that you'll find the product in stores nearby.
Our focus is primarily on distribution and is based on consumer demand. We also conduct in-store activities with a team of promoters working in and around the stores. Additionally, we use hoardings, bus shelters, and bus marketing to enhance brand recall.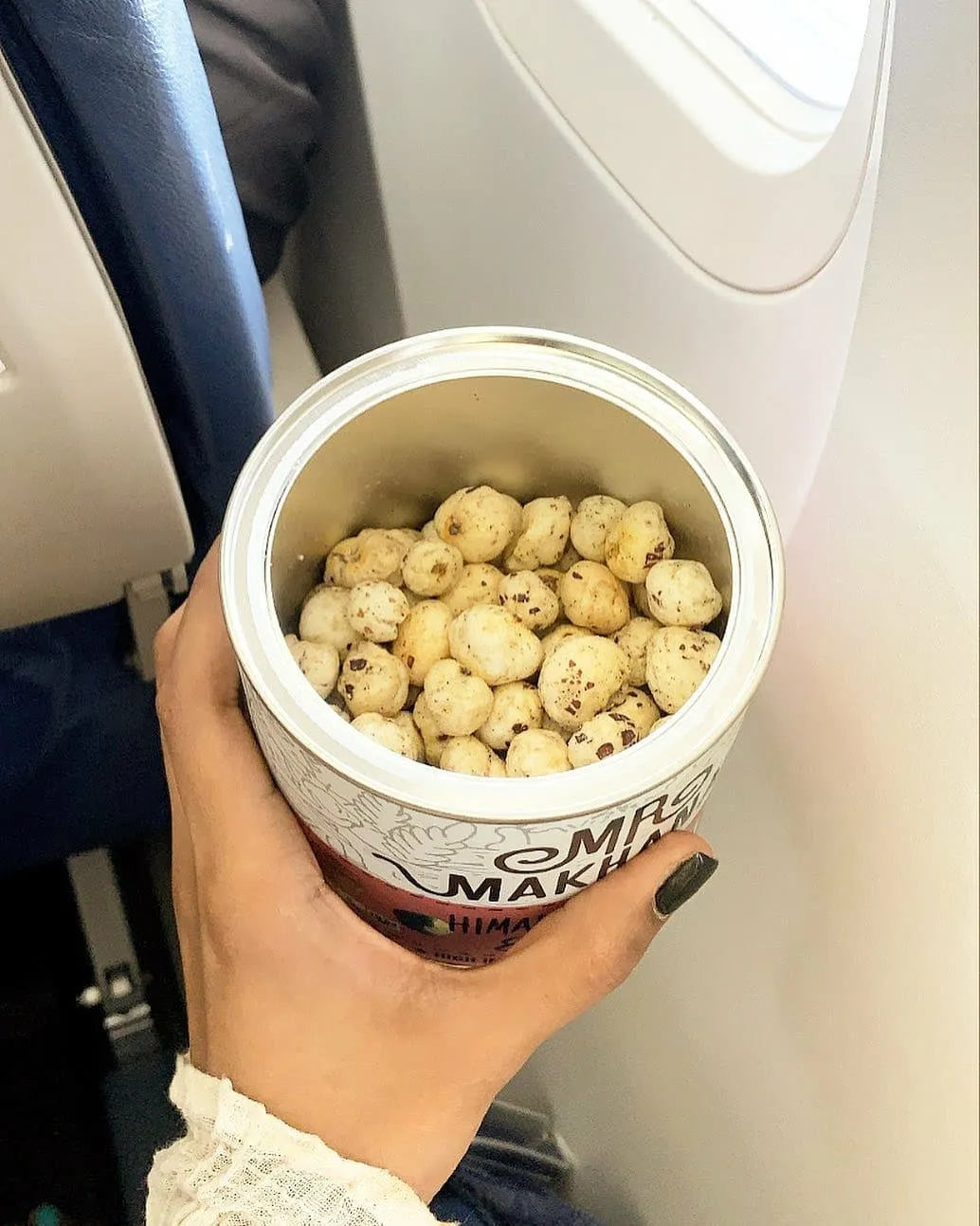 Future of the Makhana industry? 
It's going to be a significant development, as the Makhana board is also working on increasing Makhana yield and production in Bihar and other regions. We are actively involved in these efforts. Many machines are being developed to expedite the processing, which should help reduce costs. The raw Makhana market currently stands at nearly 100,000 tons, although it can vary annually due to weather conditions. Makhana farmers are often unsure of how much to cultivate and at what prices to sell, so we are collaborating with them to ensure a steady Makhana supply. The sector remains relatively unorganized at the lower end, but we anticipate significant growth in time.
Milestones that you are proud of?
Today, we are achieving a monthly production of 45 tons, marking one significant milestone. Another noteworthy achievement lies in our expansion into international markets, as evidenced by repeat orders from several foreign countries, including Oman for their SPAR Supermarket chain.
Future plans? 
Our goal is to establish two to three more facilities across India for snack production, ensuring logistical viability. We are excited about our Makhana product offerings and plan to venture into the ready-to-eat food sector, as we believe it will be the need of the hour in the next 2-3 years. Additionally, we are setting up distribution channels to introduce more products, including dry fruits and trail mixes. Given the competitive nature of this industry, we are committed to innovating and developing a unique selling proposition (USP) that will set us apart from the competition.
Quick Questions:
Your favorite book: Lala Company by Rajiv Gupta.
Your favourite podcast: Nikhil Kamath's podcast. I also like listening to political podcasts.
Your favourite food: Indian cuisine! Ghar ka khana is my all-time favourite and I like eating it like a thali where I have papad, achar, roti, sabzi, and salad.