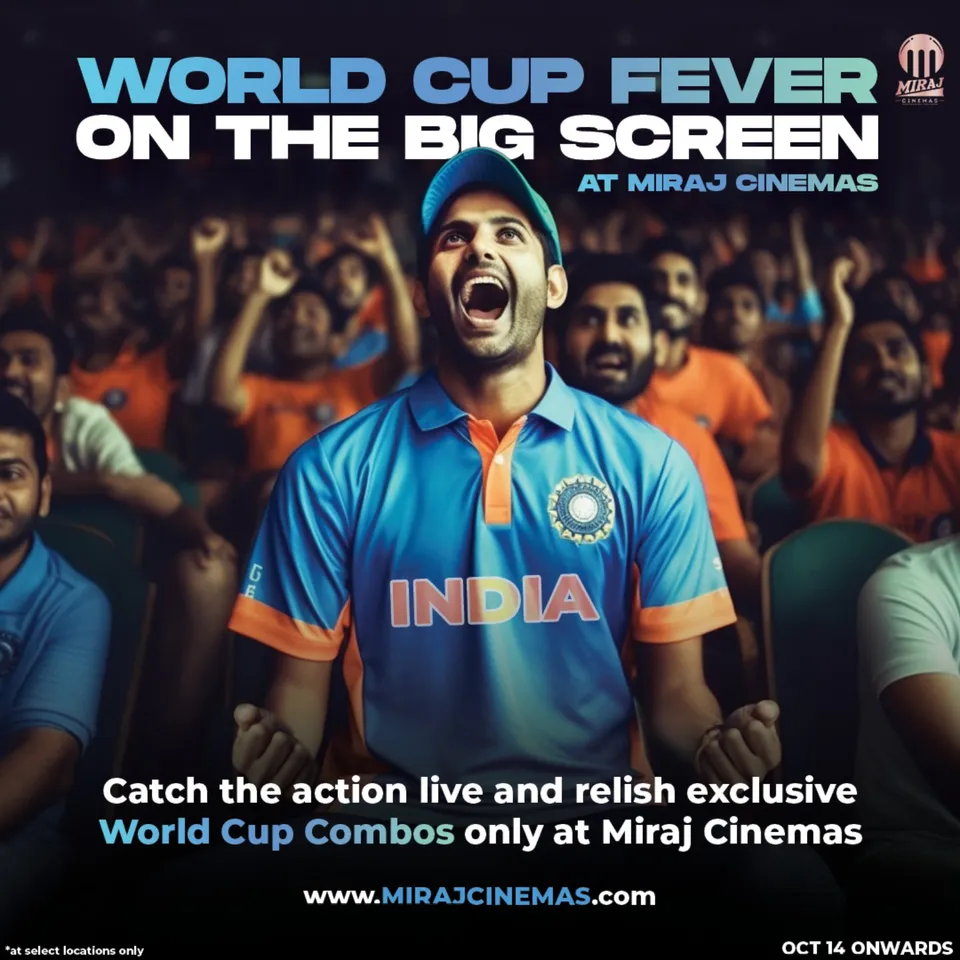 Experience the pulse of the stadium with the live screening of the World Cup matches at Miraj Cinemas, starting with the India vs Pakistan match this Saturday!
In an initiative aimed at offering people a stadium-like experience of watching cricket on the big screen, Miraj Cinemas is thrilled to announce the screening of World Cup matches across its 21 multiplexes in 16 cities across nine states starting with the India vs Pakistan ODI. While the World Cup has already kicked off, this much-anticipated clash will mark Miraj Cinemas' entry into the cricket spectacle, offering fans a larger-than-life experience from October 12 to November 12.
Stadium-Like Experience Across 16 Cities
The World Cup matches will be showcased at carefully selected cinemas in nine states, including Delhi, Noida, Ghaziabad, Mumbai, Thane, Kolkata, Ahmedabad, Jaipur, Jodhpur, Indore, Chandrapur, Sonipat, Akola, Amravati, Ranchi, Nathdwara, and Hissar. If the matches are not currently featured at your nearest Miraj Cinemas, rest assured that the Cinemas is committed to bringing them to you soon. 
"Picture this: the roar of the crowd, the tension in the air, and the thrill of the game, all on our cinema screens. It's the Kumbh Mela for all cricket lovers. Exclusive Food and Beverage combos have also been crafted for our patrons. This is not just about cricket; it's an initiative to offer alternative content to our audience," Mr. Amit Sharma, Managing Director, of Miraj Entertainment Limited said.
Don't miss the chance to witness the World Cup action at Miraj Cinemas. For more details, including screening schedules and ticket prices, follow our official handles on social media log in to their website,  or contact your nearest Miraj Cinemas box office.