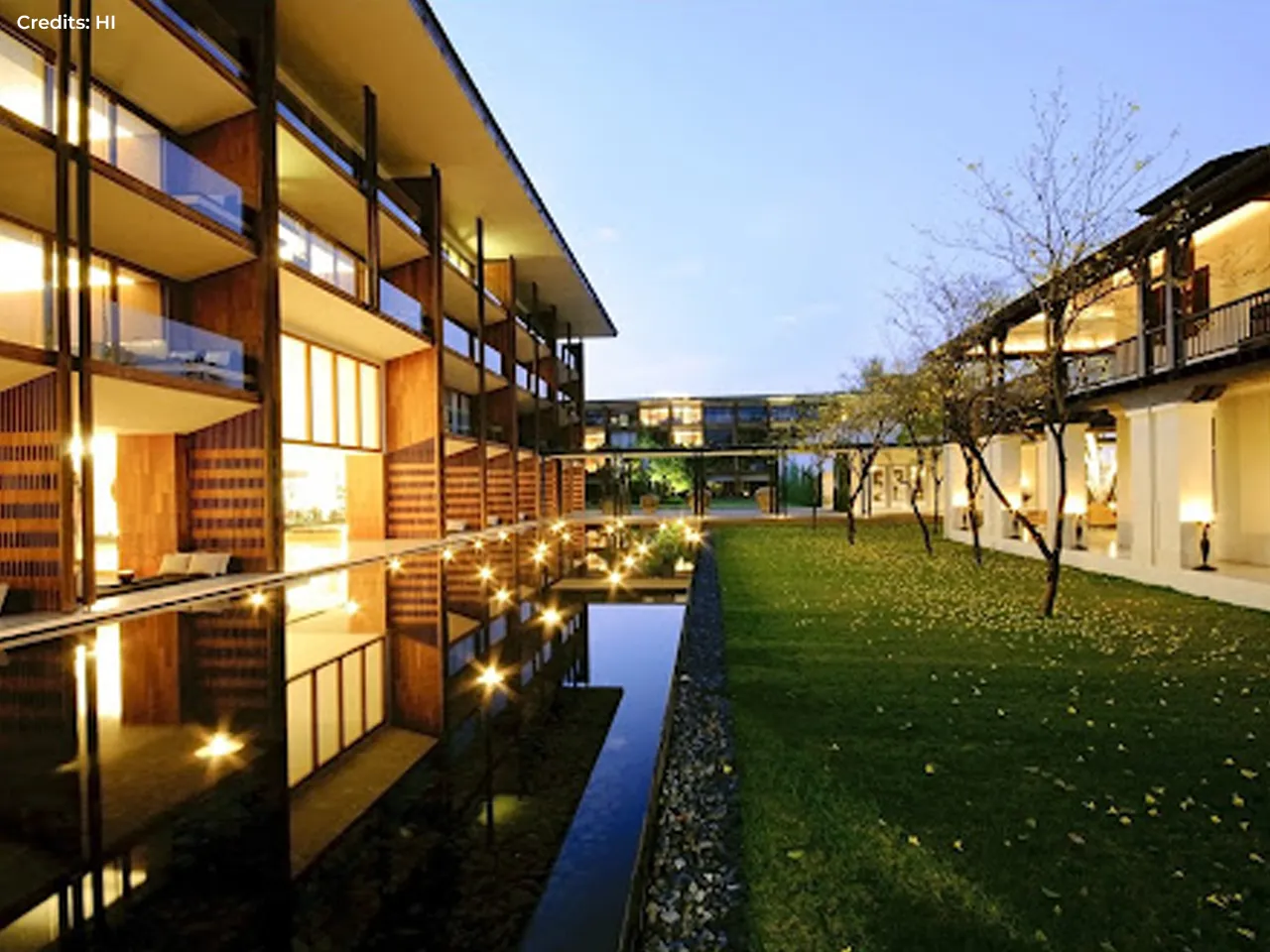 While glass bottling and filling plants are not a brand-new phenomenon for hospitality-driven properties, the cost efficiency of such plants can certainly pave the way for more properties to consider their installation. A. Vikram Joshe, the founder of Noida-based hydration solutions company WAE Ltd, has introduced a cost-efficient plant in this regard, distinguishing it from others. With a significant increase in tourism post-COVID-19, as noted in a recent report by UNWTO/ITF, carbon emissions from tourism are expected to rise by 25% by 2030, and energy consumption by hotels is projected to grow by 19% over the next decade. In such a climate, it is heartening to see the Indian hospitality sector embracing various sustainable practices, with start-ups catering to the best interests of hotels that are aiming to move towards sustainability.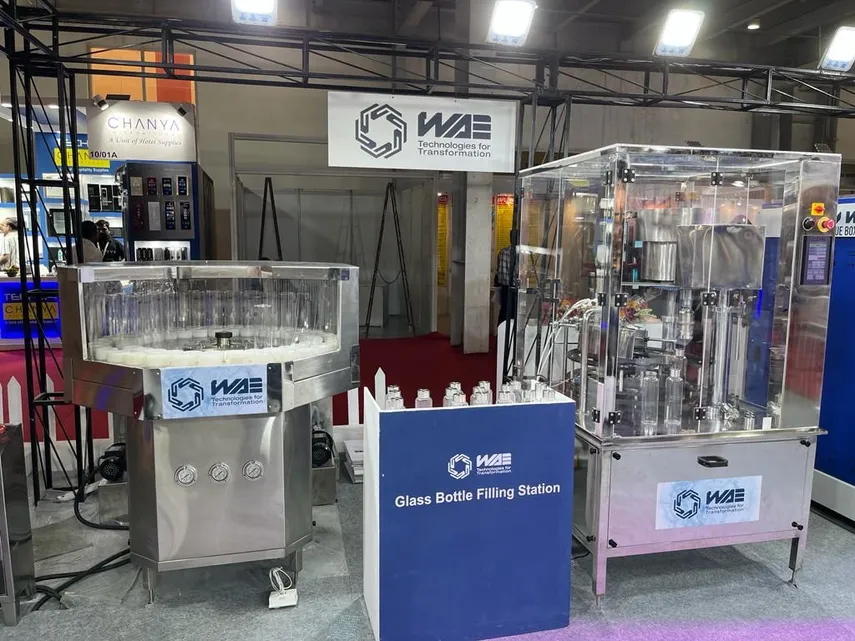 Glass Bottle Filling Plant by WAE
To address the issue of water wastage in hotels, WAE has launched a glass bottling filling plant that is certified by the Food Safety and Standards Authority of India (FSSAI). This plant fills purified water directly into reusable glass bottles within hotel premises, leading to a reduction in the carbon footprint generated by the hotels and saving millions of liters of water that are typically wasted by other bottling plants. "The hotels find these a better option because these plants do not take much space and are cost-efficient," Mr. Joshe says.
He explains how the plant operates: first, the bottling washing machine cleans the glasses, containers, etc., and then they are filled with water. Another crucial step in the plant's process is ensuring that contamination is eliminated before the bottles undergo printing and packaging. "It takes around a minute to fill a bottle," Mr. Joshe adds.
However, the reason for expanding on such an idea and innovating in an already saturated market for bottling filling plants is the fact that travelers are increasingly gravitating toward what Mr. Joshe likes to call "responsible tourism." "People have become conscious of how they travel and are seeking sustainable travel options, often choosing hotels that operate with sustainable practices. It is their desire for 'responsible luxury' that motivates hotels to adopt such plants," Mr. Joshe explains, emphasizing that the daily operations of hotels generate a substantial carbon footprint. "Even if a hotel with 100-150 rooms consumes 2,000 bottles a day, it adds up to around 60,000 bottles per month. This highlights the significant level of carbon footprint generated by just one bottle," he adds.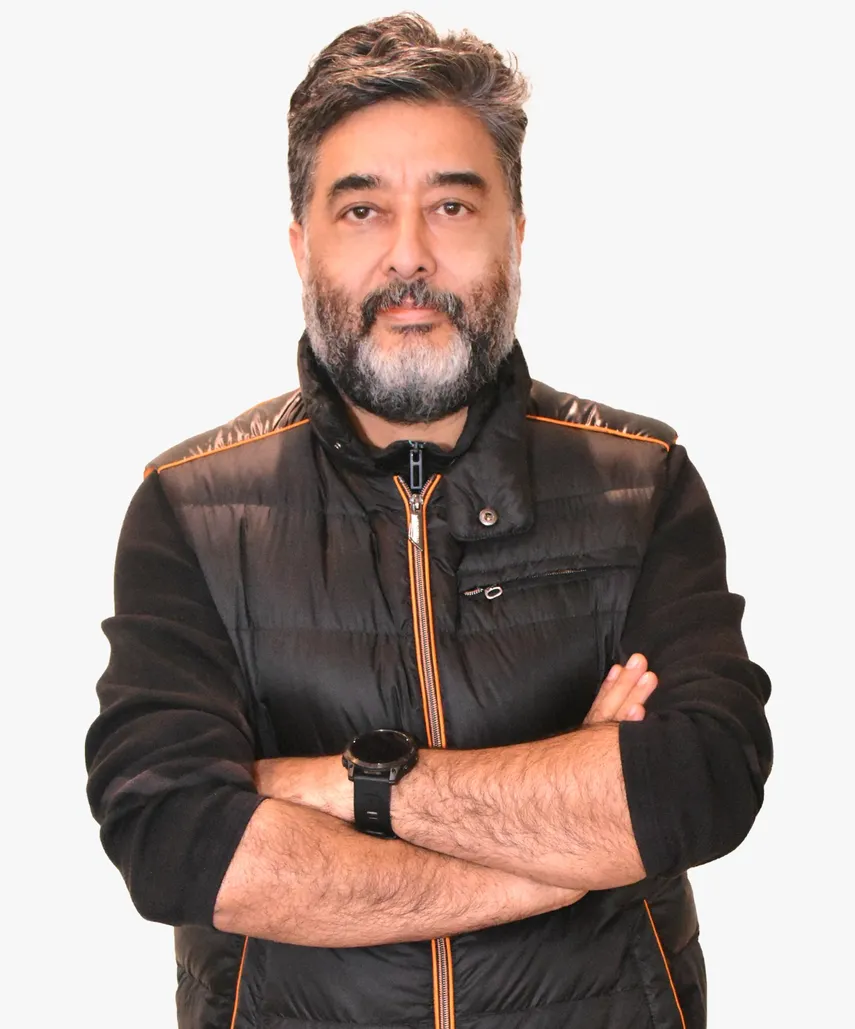 A. Vikram Joshe, founder of WAE Ltd.
The Mumbai branch of the Hilton Group, a global hospitality giant, has recently launched a bottling water filling plant by WAE at their Mumbai premises. They also attribute the choice of such sustainable alternatives to the growing consciousness among travelers. According to the 2022 Sustainable Travel Research Report released by Booking.com, 91 percent of Indian travelers confirmed that they intended to travel more sustainably in the coming 12 months, marking a 76 percent increase over the company's data from the previous year. Additionally, 68 percent of them cited recent news about climate change as influencing their decision to make more sustainable travel choices," says Sandeep Nalawade, the Chief Engineering Head at Hilton (Mumbai).
Taking this into consideration and as part of the 2030 goals set by the company four years ago under the banner of 'Travel with Purpose,' the giant has installed the plant. "The use of reusable glass water bottles will enhance the sustainable traveler experience and encourage travelers to prioritize sustainability during their journeys. This initiative will significantly reduce the environmental impact of plastic bottle waste, which poses a hazard to the ecosystem. By discontinuing the use of plastic drinking water bottles, millions of liters of water can be saved annually," the team explains. They also express their commitment to reducing waste by 50% by 2030. "It's crucial for luxury to be responsible through sustainability," the team emphasizes.
Meeting problems of solid waste generation by hotels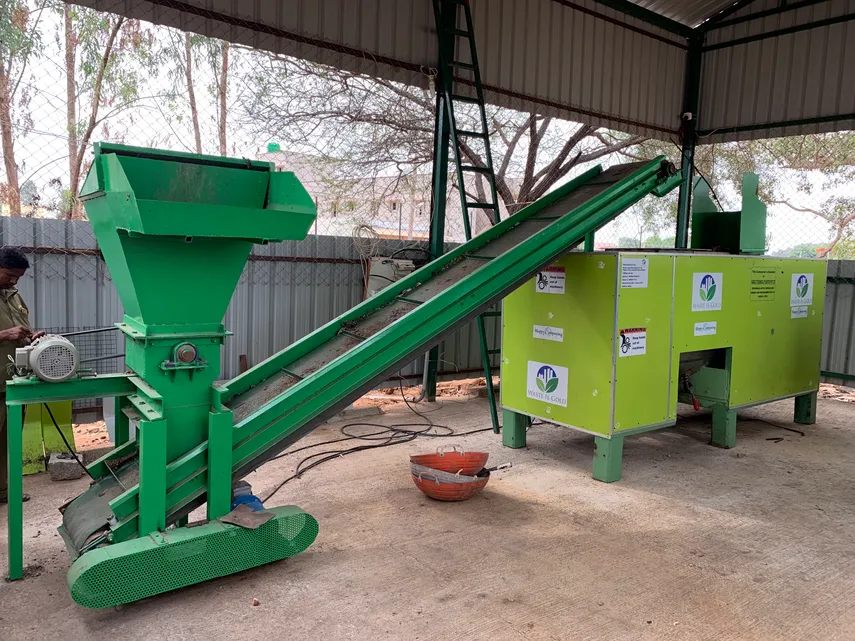 Organic Composter by Waste Is Gold Technologies
Besides water wastage, another issue that the hospitality sector grapples with is the generation of solid waste, which often ends up in landfills, either directly or indirectly. According to the International Tourism Partnership Report from 2008, a hotel produces nearly 1 kg of waste per night per guest. To address this challenge, a Bengaluru-based waste management company, Waste is Gold Technologies, collaborates with hotels to implement its Organic Waste Composter. This system can efficiently convert any quantity of organic waste into nutrient-rich compost within just 8 hours. "Hotels are among the major waste generators in every city, collectively accounting for 50-60% of the total waste produced. This is why we target them to help reduce their waste output," says Sandeep Tiwary, the founder of the company.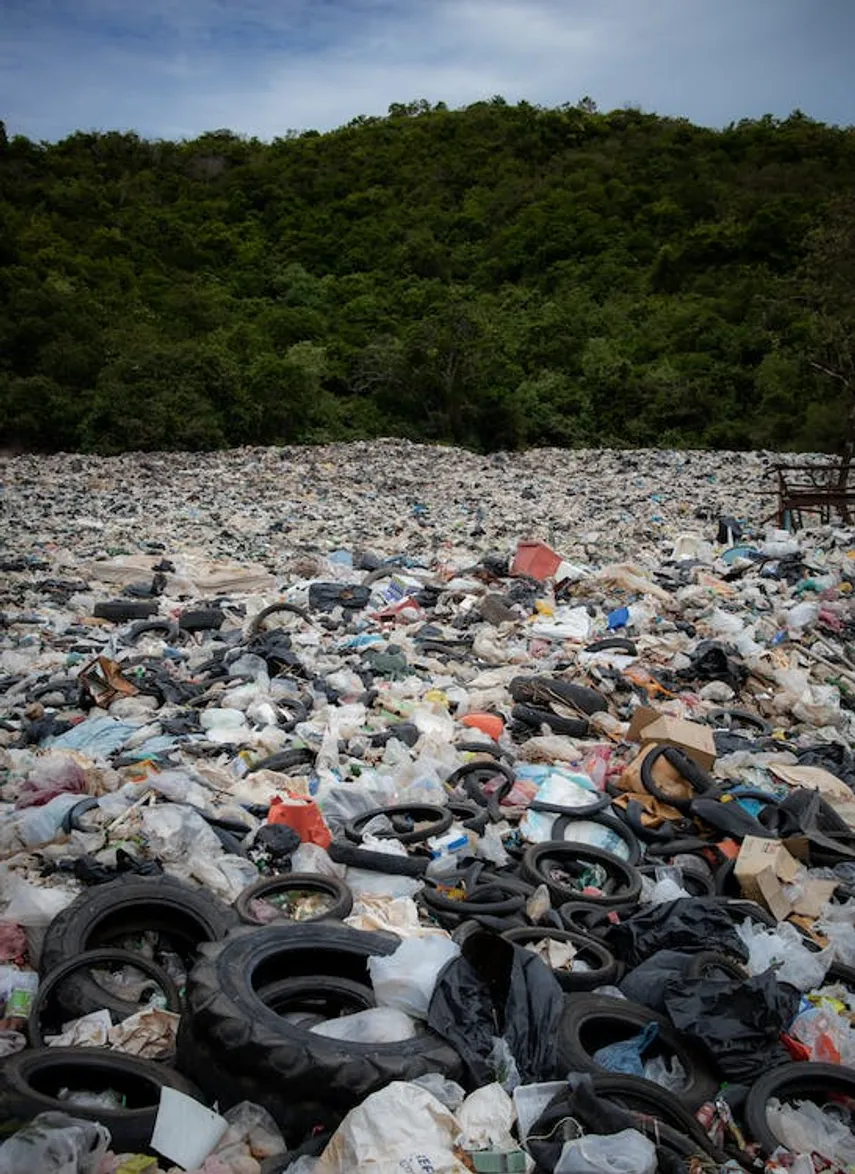 A hotel generates nearly 1kg of waste per night per guest, as per the International Tourism Partnership Report, 2008. This picture is used for representation purposes.
Having already worked with various hospitality chains throughout India, primarily in Mumbai, Pune, Delhi, Hyderabad, Chennai, and Bangalore, Waste is Gold Technologies employs a natural bio-mechanical process, utilizing its proprietary bacteria to decentralize various types of waste. This includes cooked food waste, bones, vegetable waste, tender coconut, horticulture waste, grass clippings, tissue paper, and more. "Our model is designed to reduce landfill usage by up to 90%, generate revenue from waste, and ultimately eliminate landfills in urban areas through an entirely natural process, resulting in zero harmful emissions and an exceptionally low carbon footprint," Mr. Tiwary explains.
Whether or not travelers directly recognize the installation of bottling filling plants or organic composters, there's no doubt that in an era of increasing sustainability awareness, they are more likely to consider properties that visibly adopt eco-friendly practices. Pallavi Jajodia's innovative edible cutlery is one such initiative that has already made a significant impact in restaurants and food outlets in Kolkata. In the year since its inception, Jajodia's company, Arva Innovations, has not lost a single client.
While every production activity within a restaurant contributes to the generation of a significant carbon footprint, the use of plastics, particularly in the form of straws, is notably high. Although many food outlets have replaced their plastic straws with paper alternatives, the latter also results in substantial waste. The introduction of edible straws in the restaurants and cafes of Kolkata is changing the way beverages are consumed. "As travelers become more conscious of their choices, this concept is gaining popularity, and it's gratifying to see hotels embracing such changes and customers adopting sustainable alternatives," says Ms. Jajodia.
That being said, Jajodia highlights that convincing all hotels to embrace such a change isn't easy, primarily due to the high cost involved. "One of the major challenges is the high cost of such products, which can sometimes pose a barrier for hotels," she explains. Additionally, the sourcing of various materials and maintaining hygiene standards takes time and increases costs, but they are actively working on addressing these issues to make the adoption feasible for more outlets. Nevertheless, the success of these edible straws has encouraged the company to consider releasing edible bowls and cups in the future, a preview of which the founder shared with Local Samosa.
After a prolonged hiatus brought on by the COVID-19 pandemic and subsequent lockdown, businesses and startups within the hospitality industry are undergoing rapid transformations and introducing innovative solutions. During this era of increasing emphasis on sustainability by both customers and these businesses, it will be intriguing to see what developments emerge next.