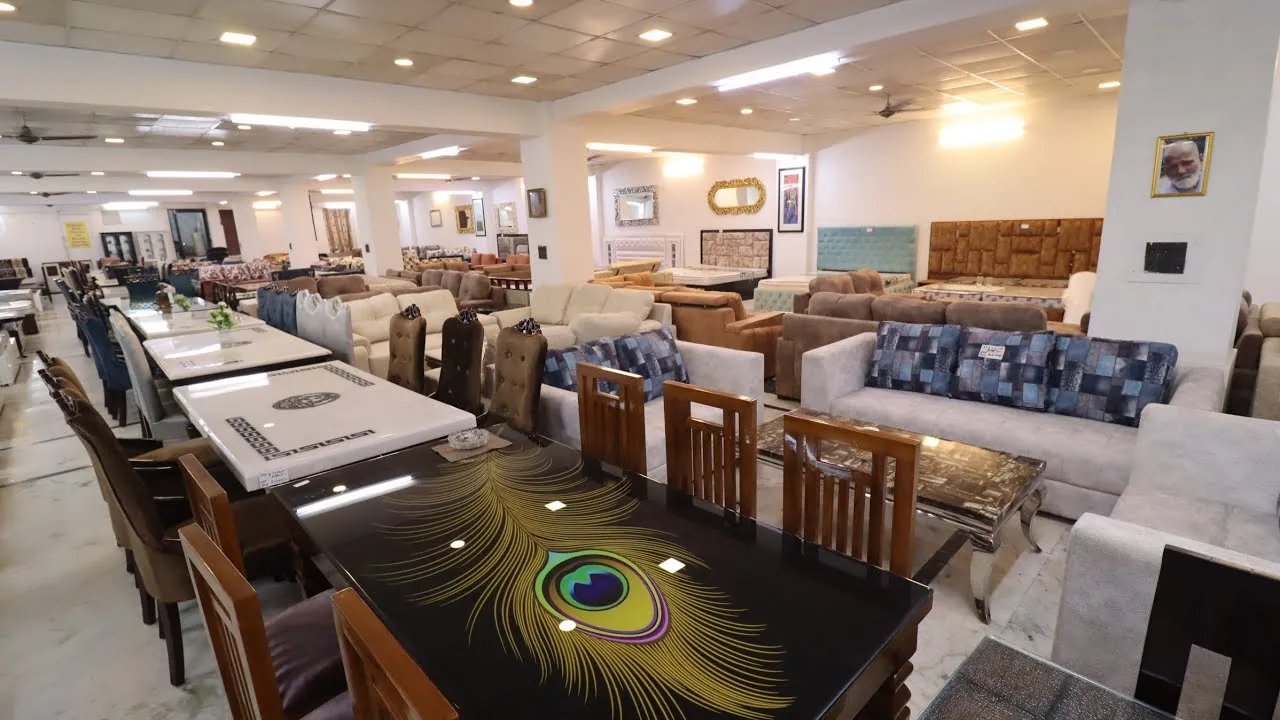 Delhi boasts a variety of furniture markets, each with its special charm.  Following is a list of furniture markets in Delhi where you will find some really good home furnishings.

Due to its unmatched variety, comfort, and craftsmanship, Delhi is considered the prime location for furniture shopping. In this fascinating metropolis, you will find a variety of furniture styles to suit any taste, from classic to contemporary. The artisans and craftsmen of Delhi are renowned for their expertise in ensuring that the furniture offered is not only diverse but also of high quality. Additionally, healthy competition among vendors often results in reasonable prices, making it a great place to find a deal. Whether you're looking for professional interior design advice or want a unique piece, Delhi's diversity and variety of offerings make it the best choice for furniture shopping. Check out the marketplace's large selection of designs and imaginative furniture hubs to spruce up your home.
1. Kirti Nagar Furniture Market
This is one of Delhi's biggest furniture markets and is renowned for having a wide variety of furniture shops that sell both traditional and modern pieces of furniture. Depending on the type and quality of furniture, prices might range from Rs. 10,000 to more than one Lakh. 
Address: Kirti Nagar, Delhi 110015
2. Amar Colony Furniture Market 
Situated in South Delhi, this market is well-known for its selection of inexpensive furniture, including wooden and steel pieces. Prices typically range from Rs.5,000 to Rs. 20,000, making it popular with college students and bargain hunters.
Address: Lajpat Nagar - 4, Delhi 110024
3. The Panchkuian Road Furniture Market
This market is renowned for its selection of antique and vintage furniture. It specializes in exquisite pieces, with prices starting at 20,000 rupees and reaching much higher for rare items. You'll find one-of-a-kind and classic pieces here.
Address: Bhai Vir Singh Marg, Sector 4, Gole Market, Delhi 110001
4. Karol Bagh Furniture Market
One of Delhi's most popular shopping districts, Karol Bagh, is home to several furniture stores that sell items in a range of designs and pricing points. Furniture can cost anywhere from Rs. 8,000 to Rs. 50,000 or more, depending on the design and material.
Address: Block 1, WEA, Karol Bagh, New Delhi Delhi, 110060
5. Lajpat Nagar Furniture Market
Another well-liked shopping district in South Delhi is Lajpat Nagar. There are many furniture retailers in this market, and they offer a variety of solutions for various price ranges. Prices range from Rs. 7,000 to Rs. 60,000 or more in this market, which offers a combination of mid-range and high-end furniture.
Address: K-20, Lajpat Nagar 2, Central Market, New Delhi – 110024
6. Sikanderpur Furniture Market, Gurgaon
This market is renowned for its high-end furniture and household goods. You can get furniture custom-made according to your requirements, with prices starting at Rs.10,000 and rising dramatically depending on the details.
Address: Sikanderpur, Sector 24, Gurugram, Haryana 122002
7. Banjara Market, Gurugram
This market located in Gurugram, is generally owned by small-scale craftsmen and artisans. You can find anything and everything here at very reasonable prices with a bit of bargaining. It can be said that this is the hub to get a 360 makeover to your space. The price starts from Rs. 2000 to Rs. 20,000 here.
Address: Near Bptp Astaire, Sector 70A, Gurugram, Haryana
8. Dilli Haat
Although not just a furniture market, you may get distinctive and handcrafted furniture products from several Indian regions here. This hub offers a variety of furniture selections, ranging in price from Rs. 6,000 to Rs. 40,000 or more.
Address: Sri Aurobindo Marg, Laxmi Bai Nagar, New Delhi, Delhi 110023
Keep in mind that bargaining is common in these markets, so be prepared to negotiate prices. Additionally, it's a good idea to visit multiple shops to compare prices and quality before making a purchase.