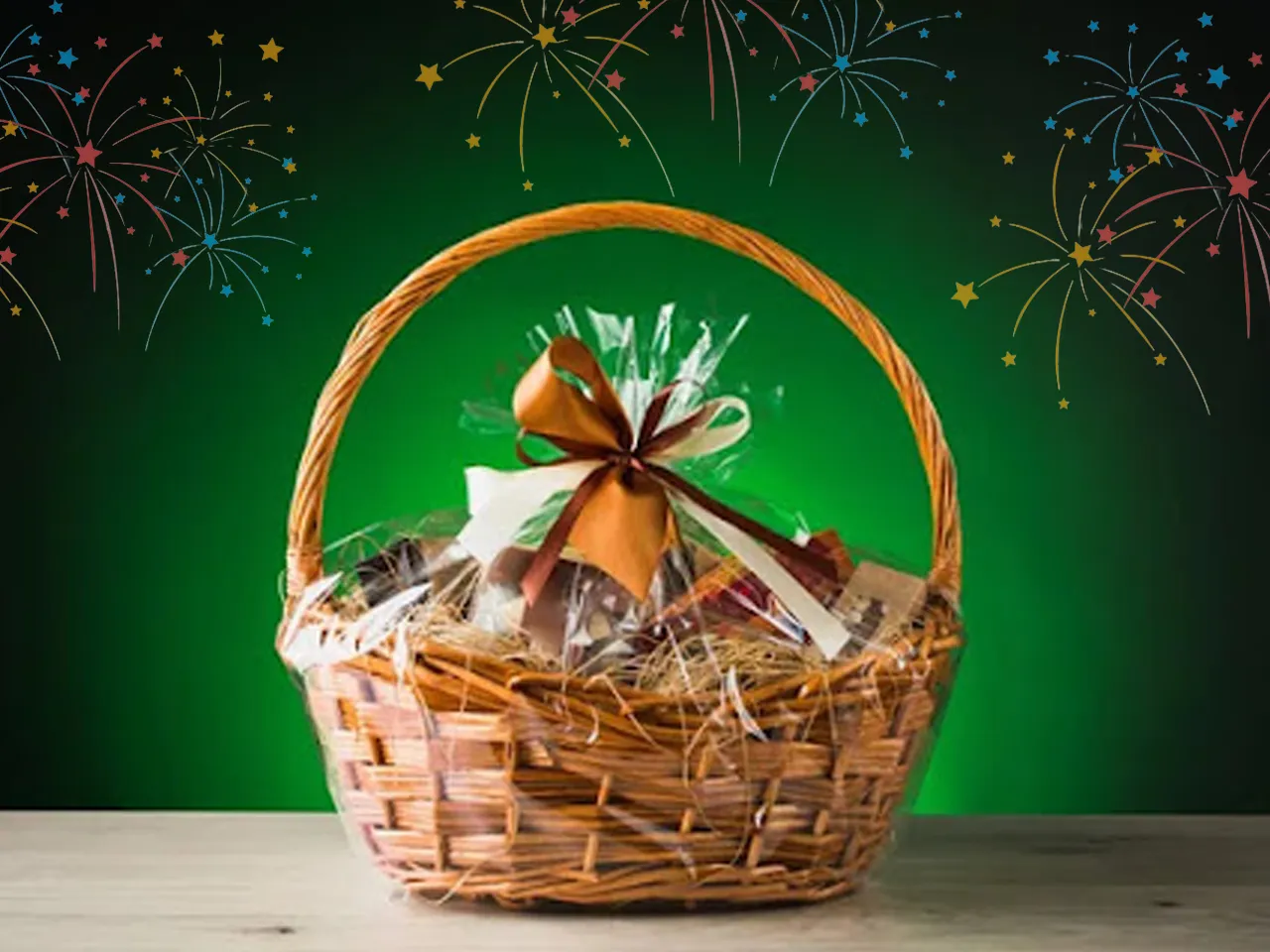 It takes a little bit of effort to bring a wide smile to the faces of our loved ones. This festivity we make your job even easier with some Diwali hamper ideas for your friends, families or employees.
A mix of emotions and a set of goodies is all you need to surprise someone during the festivities. We have curated a list of Diwali hamper ideas for different personalities which include, beauty, beverages, home decor, skincare, dinnerware and of course Diwali essentials. 
1. Eco-Friendly Hampers from Bombay Greens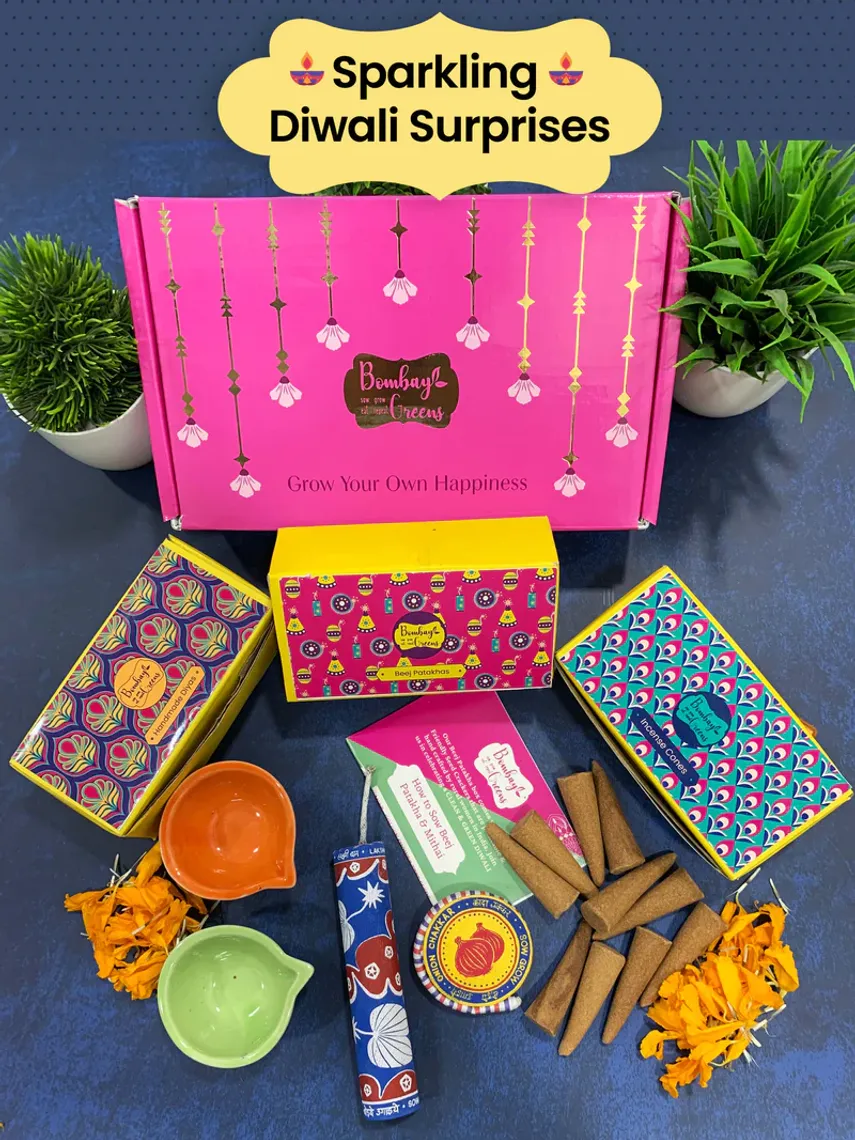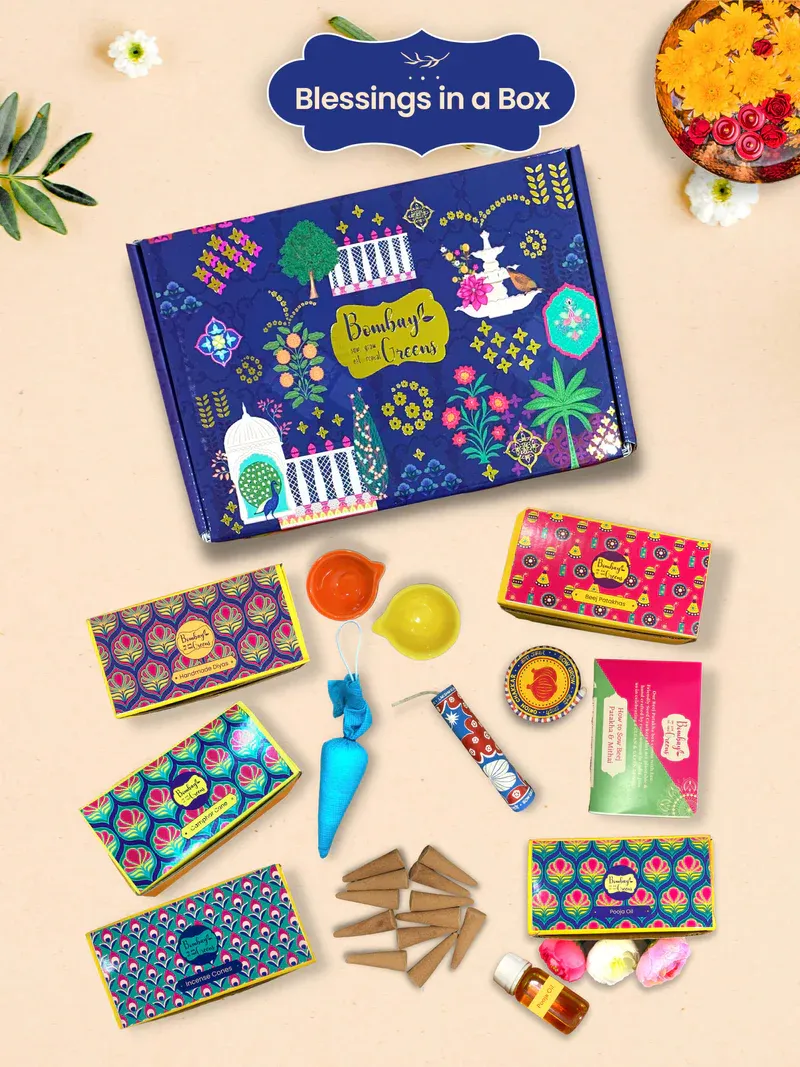 Let's celebrate a conscious Diwali this year and encourage others to do so with eco-friendly gift hampers. This hamper from Bombay Greens can be a good find for environment enthusiasts who also like to celebrate the festival in a traditional way. The 3-in-1 Plantable Seed Crackers Hamper contains a set of 2 ceramic handmade diyas by rural artisans, a box of fragrant dhoop batti (incense cones), a decorative gold foil box and a plantable beej patakhas box which contains 2 plantable crackers made by rural women. And if you have someone who loves performing puja during festivities, the 5-in-1 Diwali Puja Kit containing 1 pooja oil (sandalwood & kesar fragrance), 2 handmade ceramic diyas, 1 camphor cone, fragrant incense cones pack, decorative gold foil box, and 2 plantable beej patakhas. 
2. Hair and Skin Care Hamper from Clensta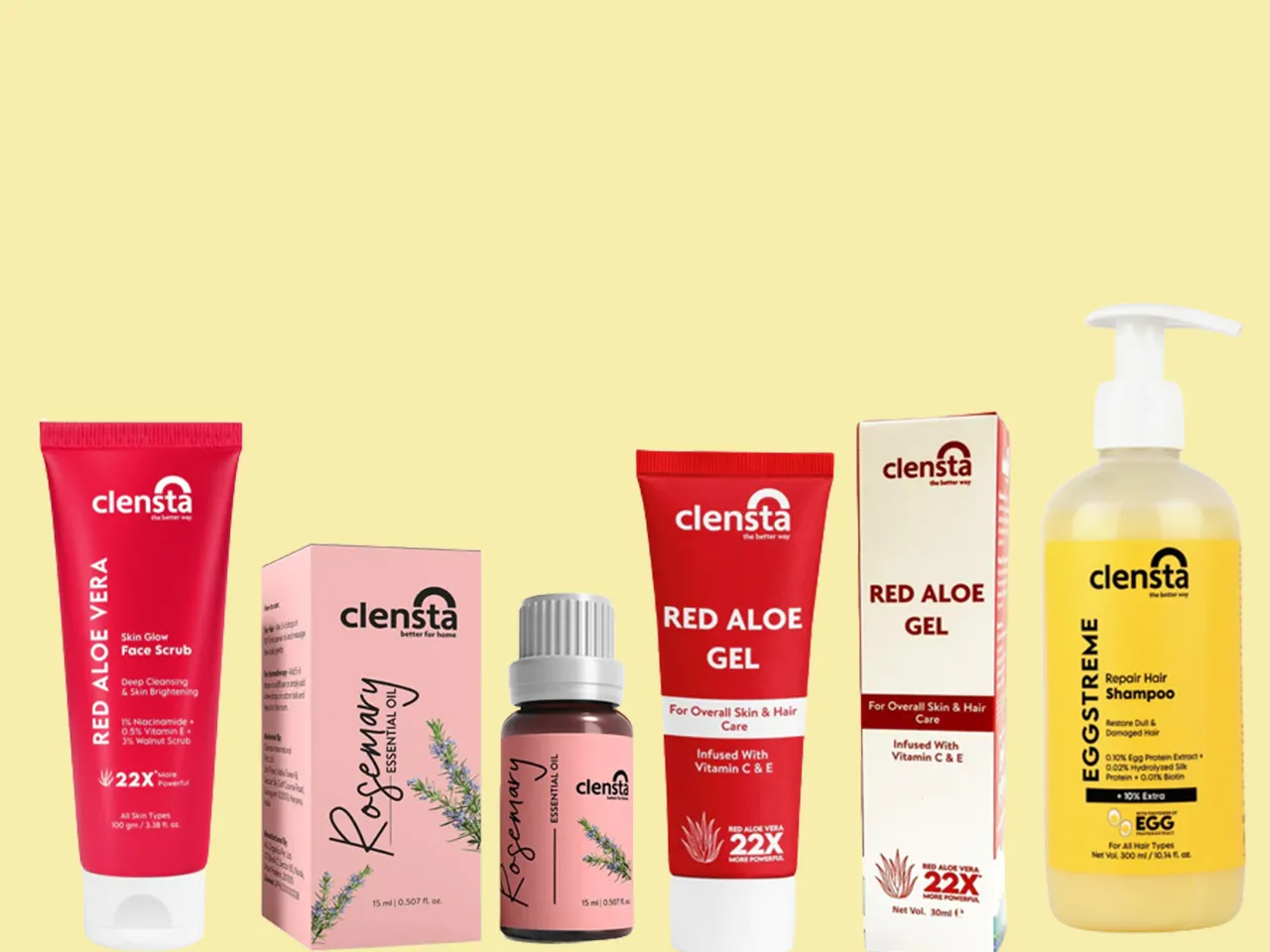 Grooming is one of the favourite parts of everyone during Diwali and what better than a skincare and haircare hamper for that? Cleansta has curated a thoughtful list of eggstreme repair hair shampoo and eggstreme repair hair conditioner for hair care, rosemary essential oil for personal care, and skin glow face scrub for skin care. You can also explore the red aloe vera multi-purpose gel which can be used for both skin and hair care purposes. 
3. Make-up Hamper from SUGAR Cosmetics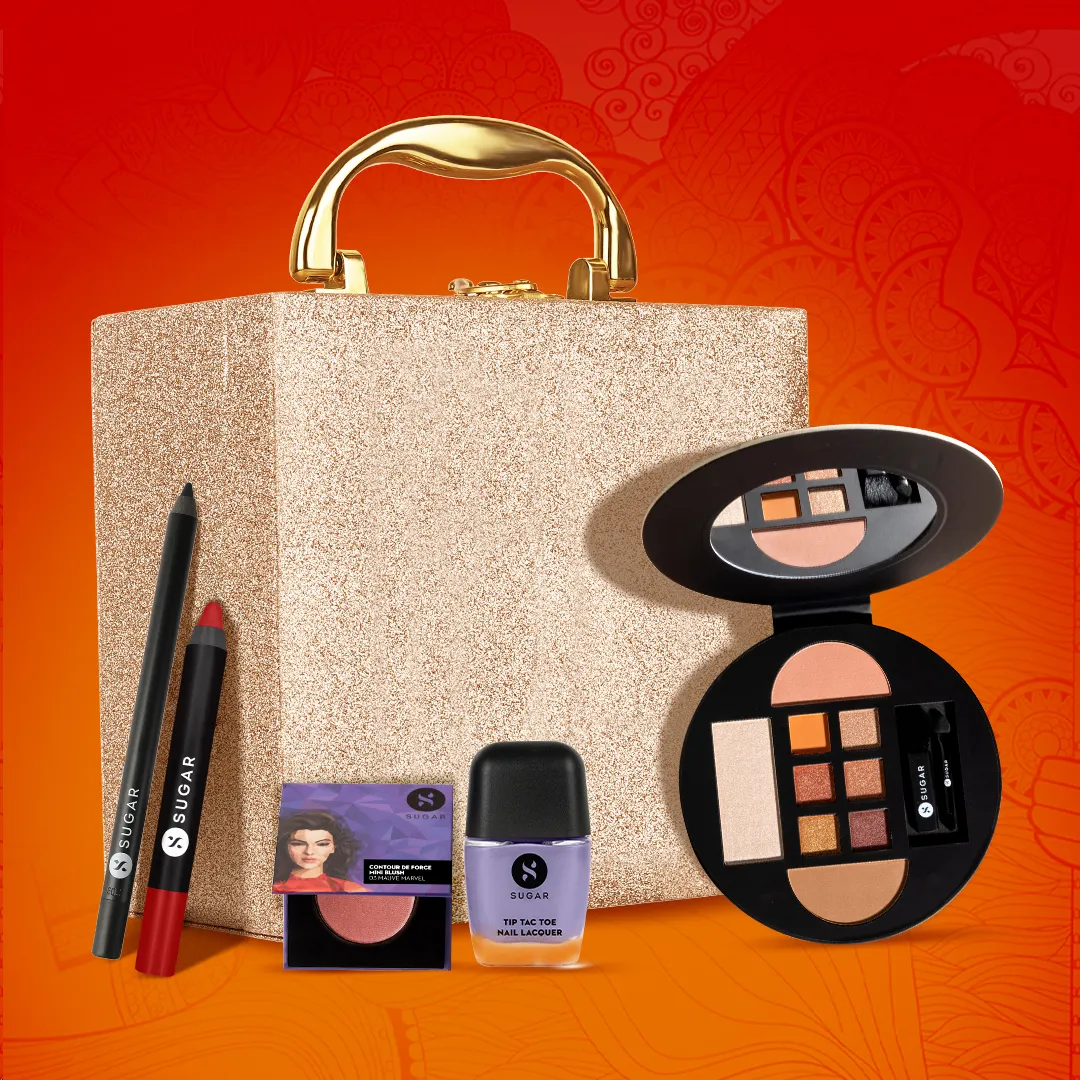 After some grooming, it's time for glowing and what better than a touch of make-up for a radiant Diwali? Get your complete make-up hamper from SUGAR Cosmetics and gift it to someone who is fond of it. From tip tac toe nail lacquer for a salon-worthy manicure at home to heavy-duty kohl for a bold eye look and from contour de force mini blush for light blush to matte as hell crayon lipstick and contour de force eyes and face palette with a mix of eyeshadows, blush, bronzer and highlighter this pack has it all.  
4. Decor and Fragrance Hamper from The Gift Studio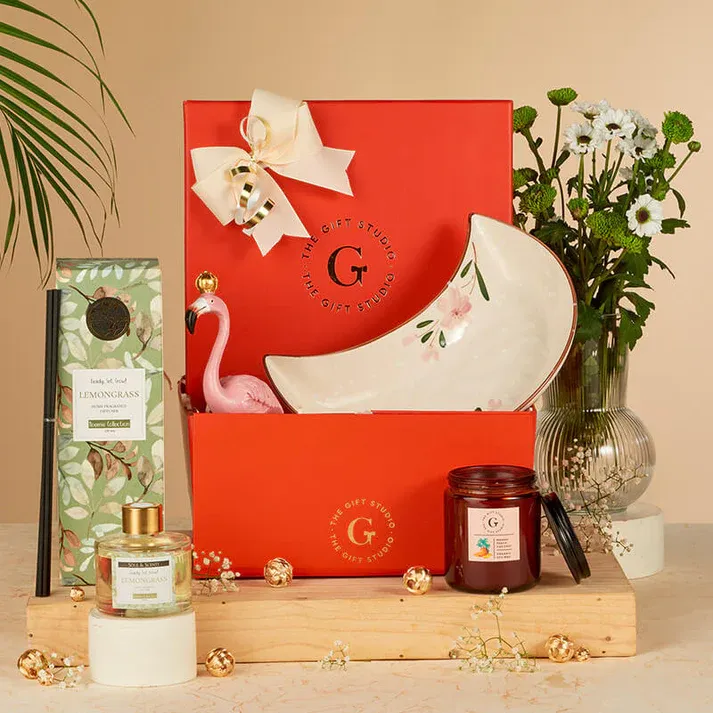 Spread the aroma and decorate your home with an elegant piece of decor this Diwali. This Love and Lunar Hamper from The Gift Studio is here to spread the vibe of the festivity with Sakura moon plate, Royal Queen flamingo decor to grace your home, a lemongrass reed diffuser offering a sweet scent, and an amber jar candle for a luminous setting. Get this hamper for your own home or gift it to someone this festivity. 

5. Dinner Set from Borosil 
Food and festivities are synonyms of each other. Gift an Indian household a new dinner set and you are set for a wide smile on their face. The Larah by Borosil Ora gold dinner set looks elegant with its simple yet beautiful design on the edges perfect for a special occasion. The set contains 6 full plates, 6 quarter plates, 12 veg bowls, 6 soup bowls, 2 serving bowls (8"), and 1 rice plate and is lightweight, microwave and dishwasher safe, making it a convenient daily use option.
6. Skincare Hamper from Chicnutrix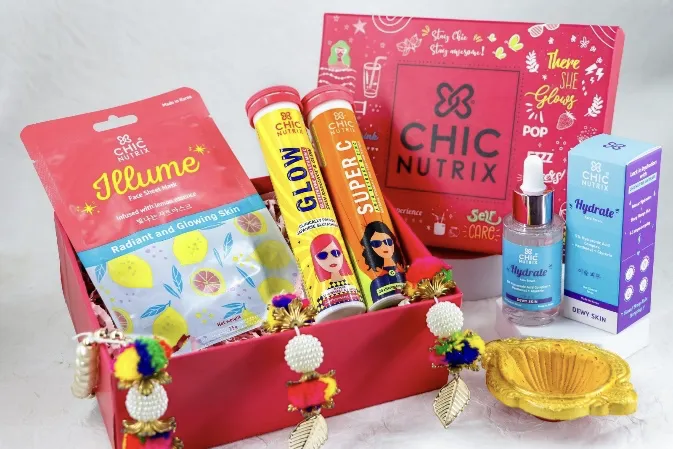 With everyone's calendars filling up fast with card parties and Diwali gatherings, give your friends and family the ultimate gift of a healthy glow with Chicnutrix. This skincare hamper has gifting options including Chicnutrix Glow for radiant skin, Chicnutrix Super C for acne-free and clear skin, Chicnutrix Illume sheet mask Enriched with lemon essence extracts rich in Vitamin C, and Chicnutrix hydrate Serum for smooth, supple, and dewy skin. 

7. Snacking Gift Hamper from Snackible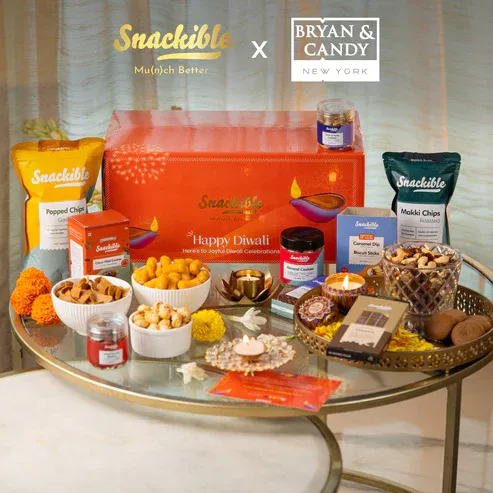 Who doesn't love to munch during the festivities? A well-crafted snack hamper can be the best gift for a foodie. Here is your chance to grab the Dil Se Diwali Gift Hamper from Snackible. This contains various items like Baked Pizza Sticks with a Jalapeno Dip, Baked Kachori, Bombay Chaat Makhana, Almond Cookies, Sriracha Quinoa Puffs, Nacho Cheese Jowar Puffs, Garlic Bread Popped Chips, Herbs and Cheese Chickpea Puffs, Peri Peri Ragi Chips, Choco Filled Cookies, Choco Filled Cookies, Roasted Makki chips, a Scented Candle from Bryan & Candy and many more sweet and savoury options. To add a little bit of more sweet indulgence you can also check out the Healthy Chocolate Box featuring Milk, Dark, Roasted Almond, Caramel and Rice Crispies Chocolates made with no refined sugar. 
8. Diwali Bliss Box from Shangri - La Eros New Delhi
A mix of every element makes a perfect Diwali, isn't it? Check out this box by Shangri-La Eros New Delhi that has everything to make your Diwali celebrations a complete one. The Diwali Bliss Box is an elegant treasure chest with a charming Ganesh Ji idol, a scented candle, chocolates, dry cake, cashews, Nutella, and almonds, embodying Diwali's sweetness and blessings.

9. Box of Assorted Chocolates from Ziaho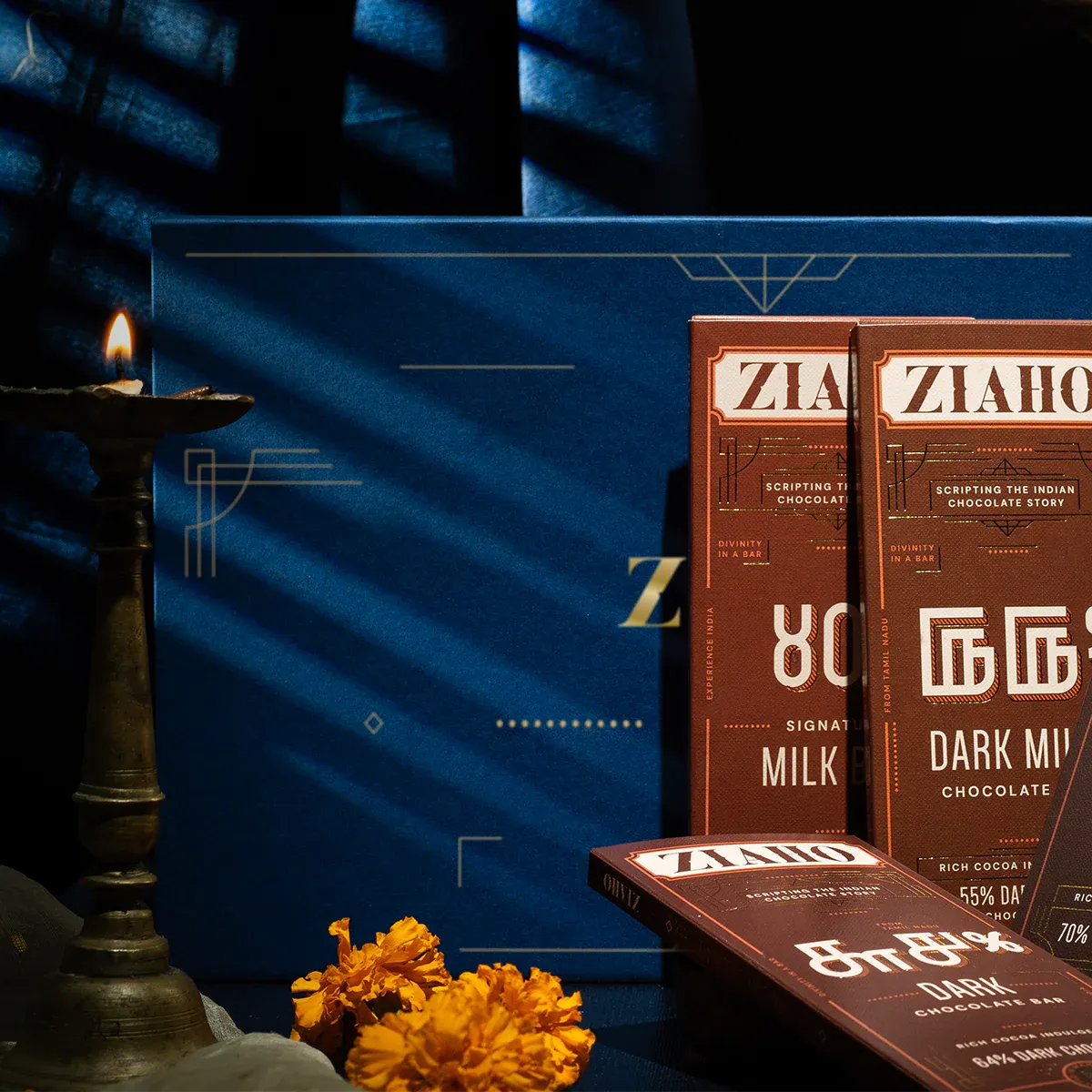 If having a burst of flavoured chocolate is someone's thing, how can we miss giving them a fine mix of chocolates this Diwali? This assorted box of chocolates from Ziaho is a perfect find with 70% 3 Berry, 70% Jaggery Plan, 64% Pistachio and Desert Salt, 40% Milk and Hazelnuts, 55% Dark Milk Mango Chilli and White Strawberry and Strawberry chocolates for the ones who love some bitter and some mild flavours with a twist. 
10. Mille Diwali Gift Box by Slurrp Farm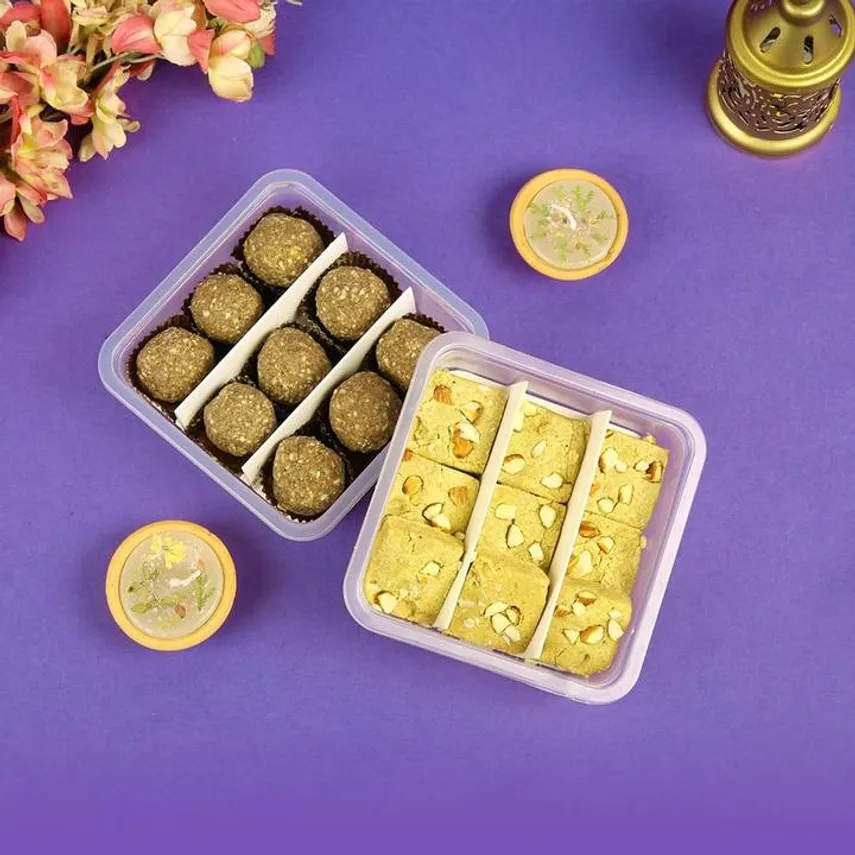 Who does not crave amazing meetha during the festivities and if it's Diwali, it becomes a must! But now, you don't have to go far as this Mille Diwali Gift Box by Slurrp Farm contains Millet Panjari Ladoo made with Jowar, Jaggery, Almonds, Cashew and Jowar And Oats Barfi made with Jowar flour, oats flour, desi ghee, jaggery, almonds and cardamom powder. So, this gift box, which is exclusively available in Delhi is sure to meet your sweet cravings! When are you getting it for yourself and your loved ones? 
11. Baklava Gift Hamper from Khubani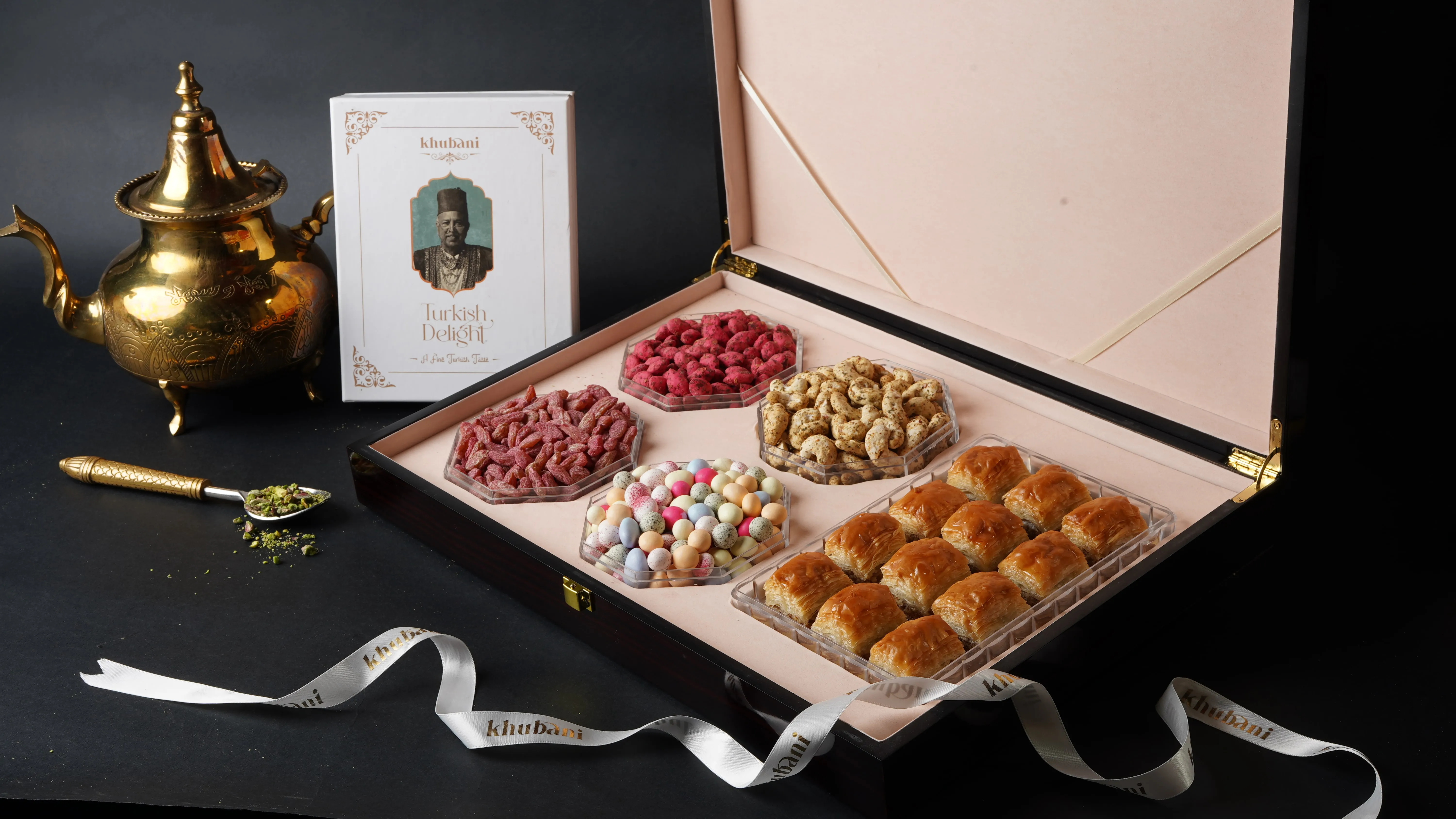 How about gifting a touch of foreign sweetness with traditional elements this Diwali? This beautifully crafted gift set offers a fusion of Turkish indulgence and the spirits of Diwali. The Khubani Hampers come with a mix of Baklava and dry fruits that can make up for an irresistible present to your guests or loved ones. You can buy the curations from their social media handle.
12. Body Spray & Lipstick Combo from Avon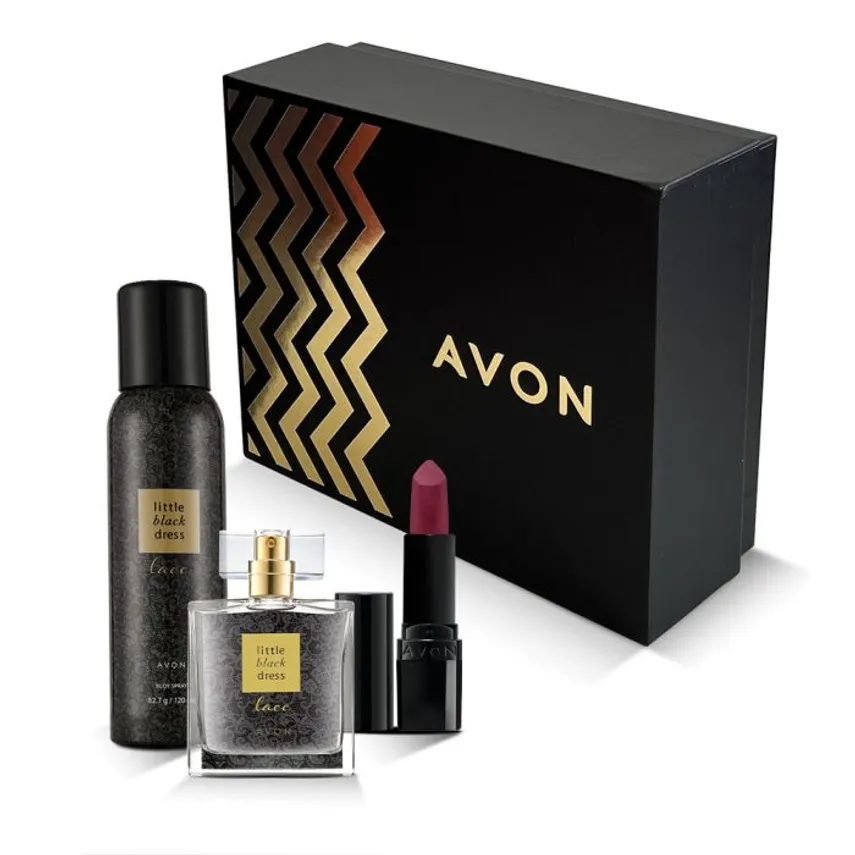 The Lace Elegance Beauty Bundle from Avon can amp up anybody's mood for Diwali. Get this combo of fragrances and lipstick that comes with Little Black Dress Lace EDP, Ultra Perfectly Matte Lipstick with berry blast shade, and Little Black Dress Lace Body Spray. Get these on and your festive look is complete. 
13. Masking and Essential kits form The Tribe Concept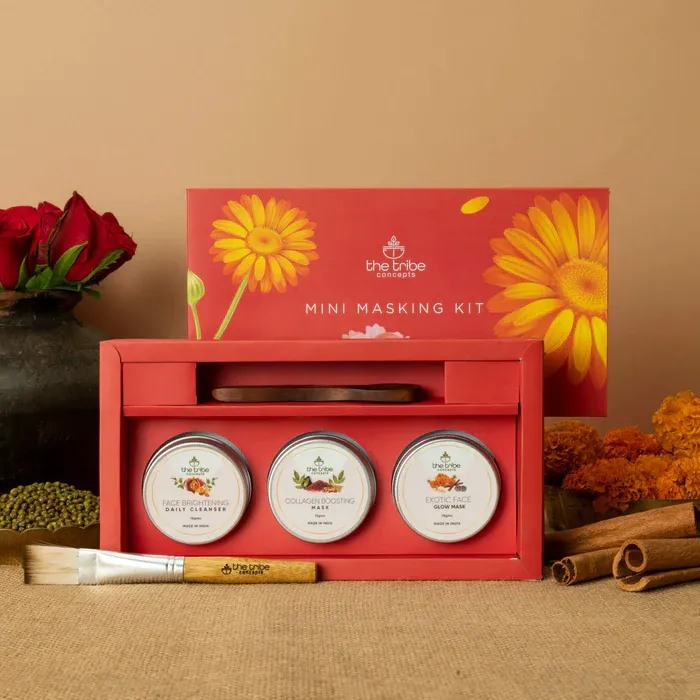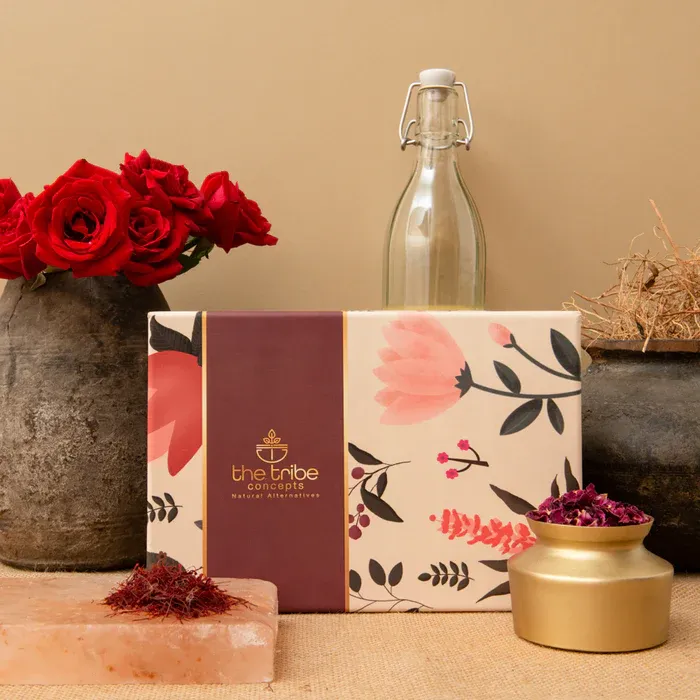 For the love of self-care, we have found the perfect gift from The Tribe Concepts. The Mini Masking Kit includes three ayurvedic masks, the Collagen Mask harnesses the potency of Himalayan Shilajit and Saffron to enhance the skin's natural collagen, the Glow Mask, enriched with Marigold and Chironji, contributes to achieving illuminated skin while reducing pigmentation and the Brightening Mask, infused with Sandalwood and Rose petals, aids in minimising pores and providing balanced hydration. The Niyama Essential Box comes with 24k Kumkumadi Thailam, the Face Brightening Daily Cleanser, Ubtan Body Cleanser, a sample of Root Strengthening and Conditioning Hair Mask and a complimentary Coconut Bowl.

14.  Festival of Lights Box Collection from Alchemy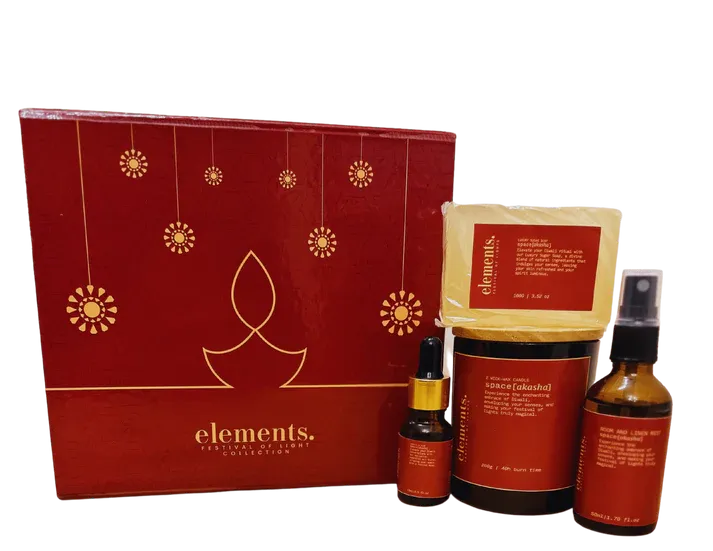 Experience the essence of Diwali with the exclusive Festival of Lights Box Collection from Alchemy, meticulously curated to enhance your celebrations. This limited edition collection features the opulence of Sandalwood Oil, the floral allure of Jasmine Oil, the exotic charm of Champaca Oil, the enchanting Frangipani Oil, and the refreshing Petitgrain Oil. It can be an all-round gift for your dear ones.