Looking to light up your home with some unique diyas, this Diwali? How about the brass diyas by Zwende or the hanging diyas by Vedansh Craft? Keep scrolling for distinct diya ideas! 
1. Terracotta Diyas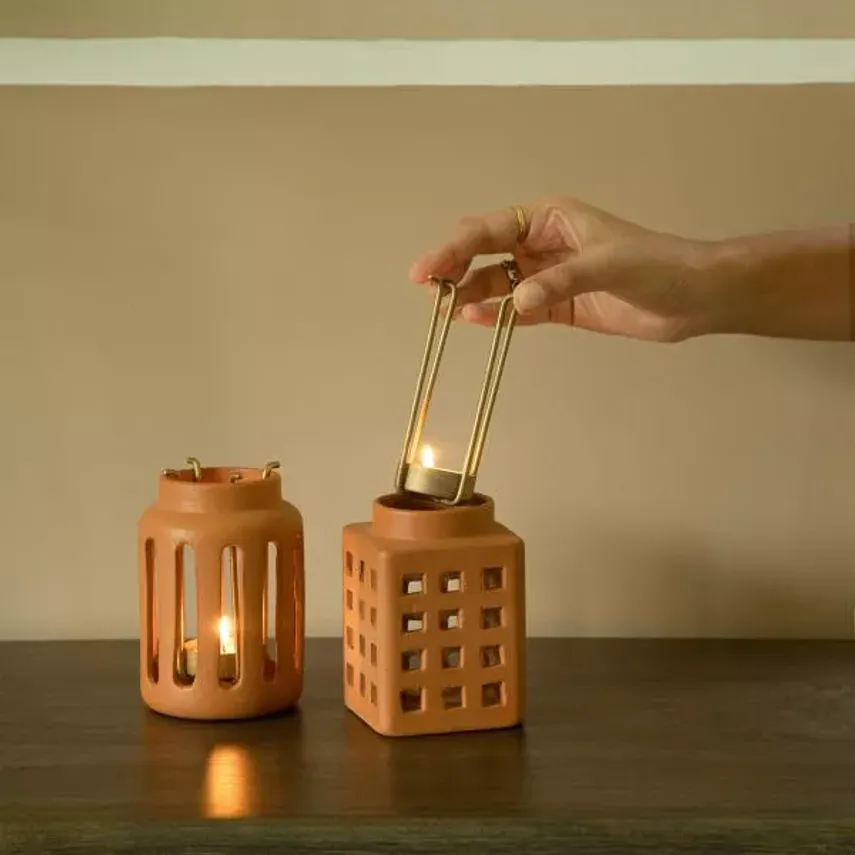 These days, along with lighting earthen diyas bought from the local vendors, now we have Terracotta diyas in which clay is sculpted into different designs. They take more space but the intricately sculpted designs are refreshing to look at.
Terracotta Diyas By Elementary
If you have enough space to let your diyas exude their lights, be sure to check out the Terracotta Diyas By Elementary. These handcrafted terracotta lamps are made from cow manure and are eco-friendly, so you'll find it easy to dispose of them and so will the environment. They are also quite durable, and you can use one lamp five to six times before disposing of it. Apart from this, their decorative design is sure to catch your guests' attention.
2. Decorative Diyas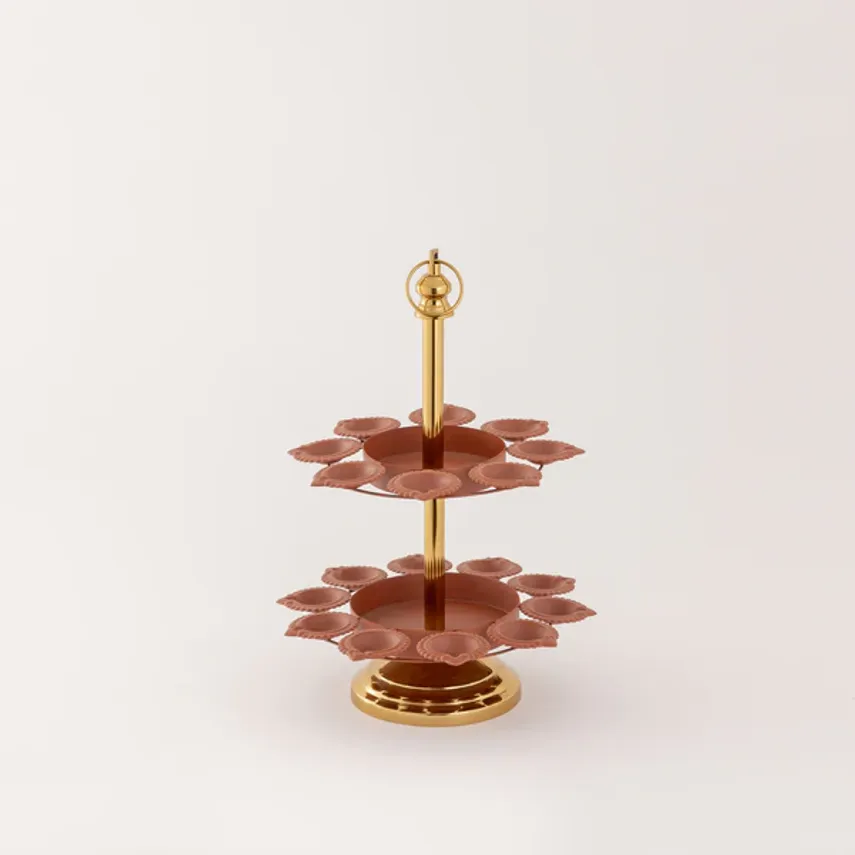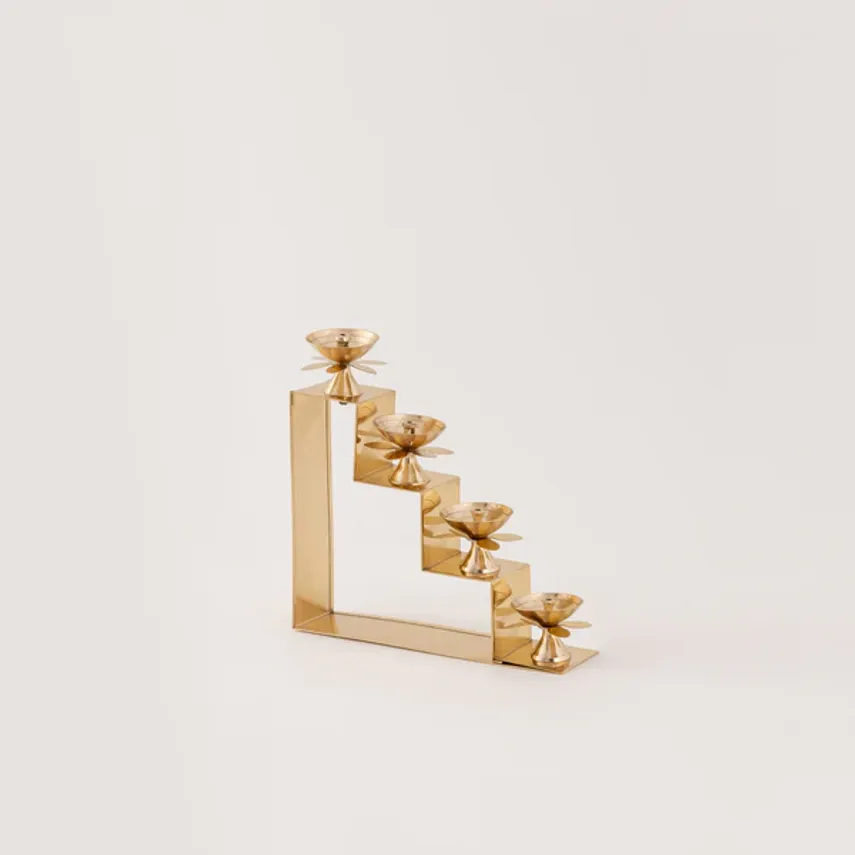 Decorative diyas can work as an elegant showpiece as well as illuminate the space during the festivities. You can place them near your door, in the balcony or any corner of the house and they will add to the artful element. 
Decorative Diyas from Indecrafts
Stair diyas can be an appealing choice for the decorative diyas. This unique piece from Indecrafts is a testament to aesthetics and utility. It is made of brass and comes in various dimensions that can be fit according to the space available. Another addition to the decorative diyas can be a 2-tier diya from Indecrafts. Made with a mixture of metal and terracotta, making it an appealing option for any Diwali decor. It also comes with a hook that can be hung on the wall or simply placed on the floor.
3. Hanging Diyas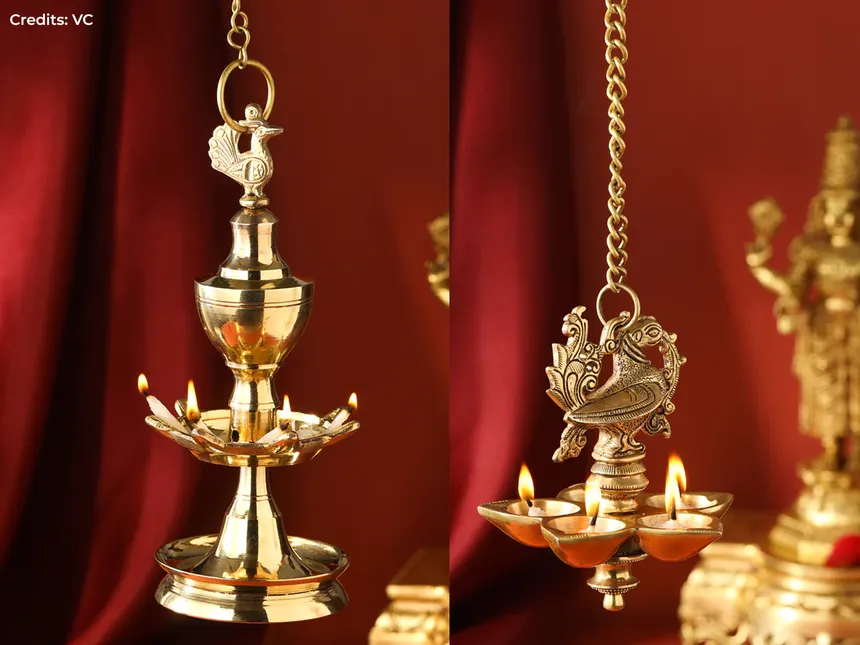 With the types of hanging diyas in the market these days, we don't have to keep our diyas on the floor anymore. The hanging diya can be attached to the wall by a nail or hung on the ceiling by a hook.
Hanging Diyas by Vedansh Craft
Out of space on the floor to light up your diyas? Explore a large selection of decorative hanging diyas from Vedansh Craft that you can hang on your ceiling with a hook. You also don't have to worry about them coming under your feet.. One product to check out would be the Brass Peacock Five Petal Diya. Another good option is the Brass Hanging Kamal Deep. Apart from saving space, these diyas also come with exquisite designs around those glittering flames which are sure to leave your guests admiring.
4. Luxury Decorative Diyas
Nowadays, you'll also find diyas made with brass and silver which are carved into decorative designs. Though they can be a bit expensive, they might be worth the investment if you are looking for something exotic that becomes the centre of attention. They brighten up the room and look good doing it too.
Ashta Laxmi Diya By Exotic Art India
The special thing about Ashta Laxmi Diya by Exotic Art India is that it is a 16-inch Diya which has the 8 forms of Goddess Laxmi carved on it. You will be lighting your diya in the middle of the carvings. Be sure to check these out to give your living rooms a luxurious luminance.
5. Water Sensor Diyas
Ever seen a diya flame that is lit with water? Surprising, but true. But wait there's a catch. These are not actual flames but LED lights that look similar to oil flames and have a sensor attached to them that activates the lights when you pour water into the diya. Also, E-Diyas seem to look so very similar to earthen diyas, that you won't be able to tell the difference.
Water Sensor Diyas by Cots and Cuddles
Check out the water sensor diyas from Cots and Cuddles. These LED-powered diyas light up and start flickering when you pour water into them. They also seem to have a good battery life, as you can use them for a long time before the batteries wear out.
6. 3D Diyas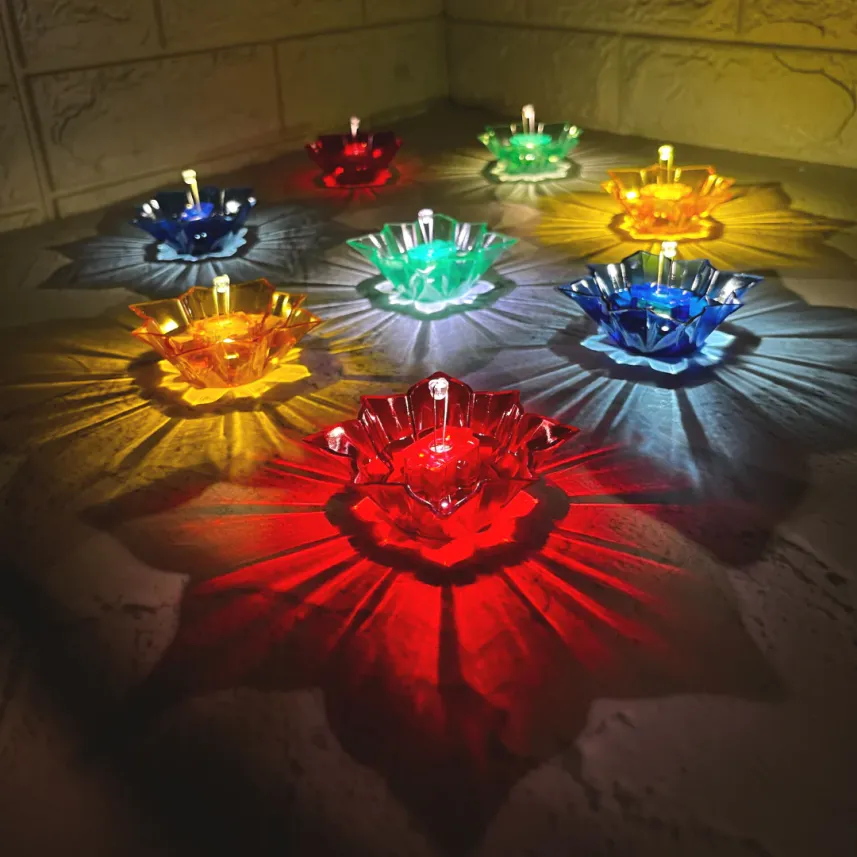 3D diyas are LED diyas that reflect light through the glass surrounding them. The result is a beautiful pattern that you can see around the diya.
Reflection LED Diyas By Chronos Lights
When you light these reflection diyas by Chronos Lights, you'll see a beautiful reflection emitted around them. Being powered by LED lights, they are smokeless and flameless. The perk of LED diyas is that they don't come with the risk of oil or flame spilling out. 
7. Earthen Diyas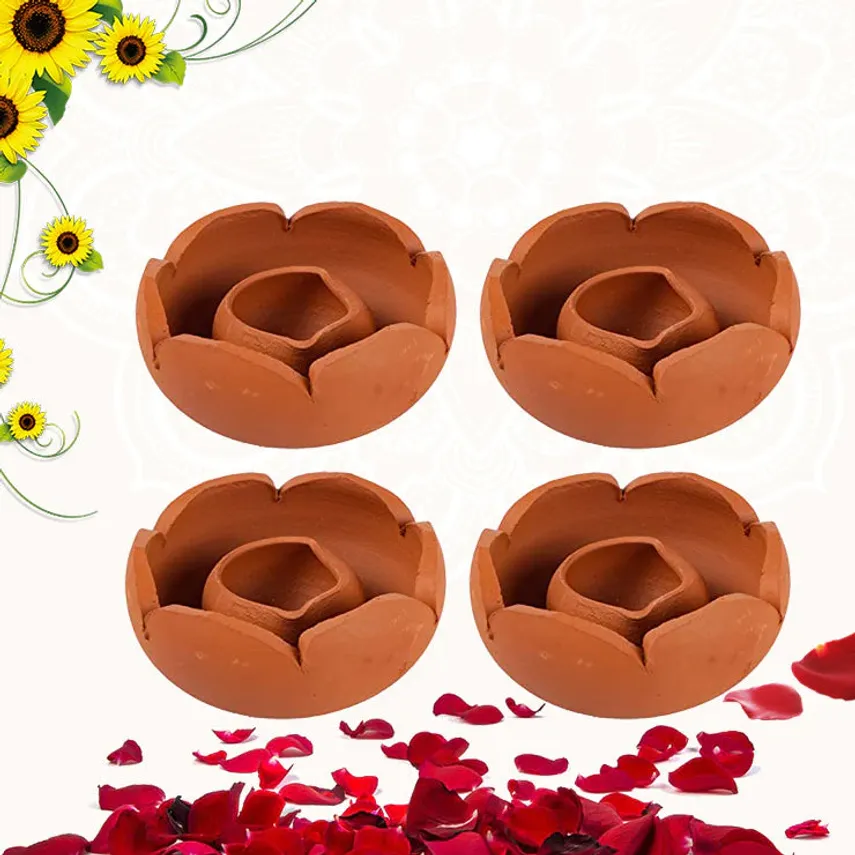 Earthen diyas have been used for centuries in our tradition to celebrate festivals or while praying to god. They are made with clay and emit warm and glowing light from them which is said to be auspicious.
Earthen Diyas By Village Decor
Ah, nothing can replace the charm and vibe of the good old Earthen Diyas… This year get your earthen lotus diyas from the Village decor. These diyas are eco-friendly and durable, so they won't break easily even if they fall from your hands. They are also easy to clean as easy as washing them under the tap.
8. Diyas with lid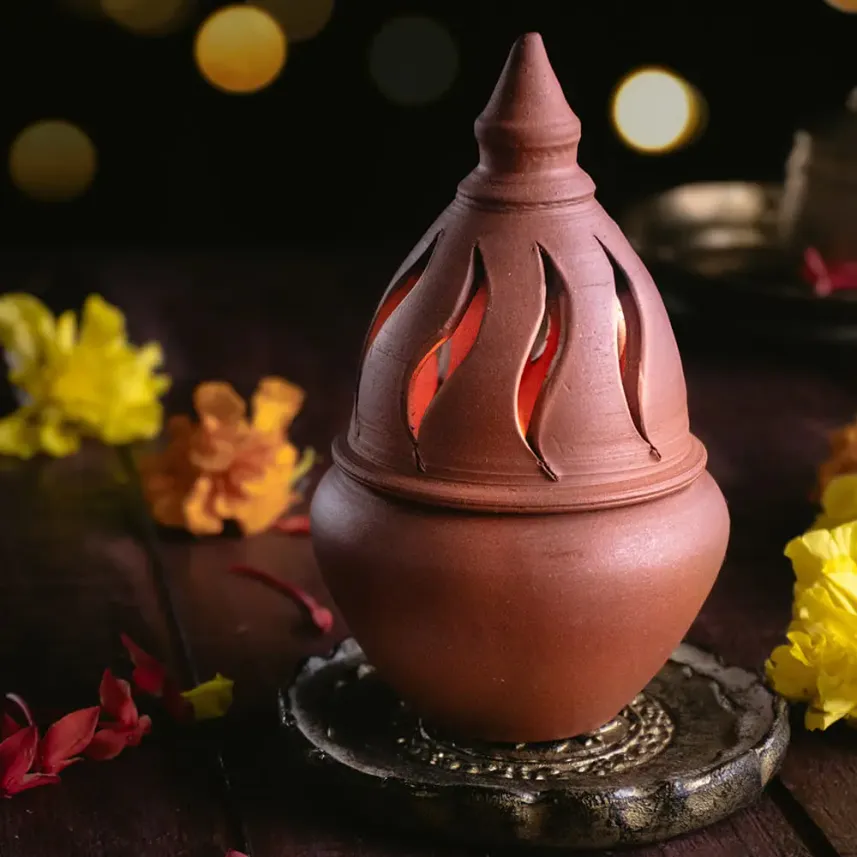 Diyas with lids on top reduce the chance of oil spilling out or the flame coming in contact with objects around it. The trade-off here is that the flame may not be visible, but you can see the light, and the design of the diya makes up for it. 
Angithi Diyas by Amalfie Ceramics
These homemade Angithi diyas by Amalfie ceramics come with lids. They not only reduce the risk of flame or oil leaking or dripping but also give a pleasing effect to your eyes.
9. Metal Diyas
Earlier such diyas were used in temples and religious ceremonies, but now you can get them for your home, plus the minimalist designs suit the homely vibe perfectly. These Diyas are made with metals like copper and brass and similar to earthen diyas, they need to be filled with oil.
Copper Diyas By Zwende
Want to check out another eye-catching option? The Copper diyas by Zwende offer much more shelf life and durability than traditional earthen diyas as they are made with copper. You might also like the golden shine of the metal when you light up a flame in it.