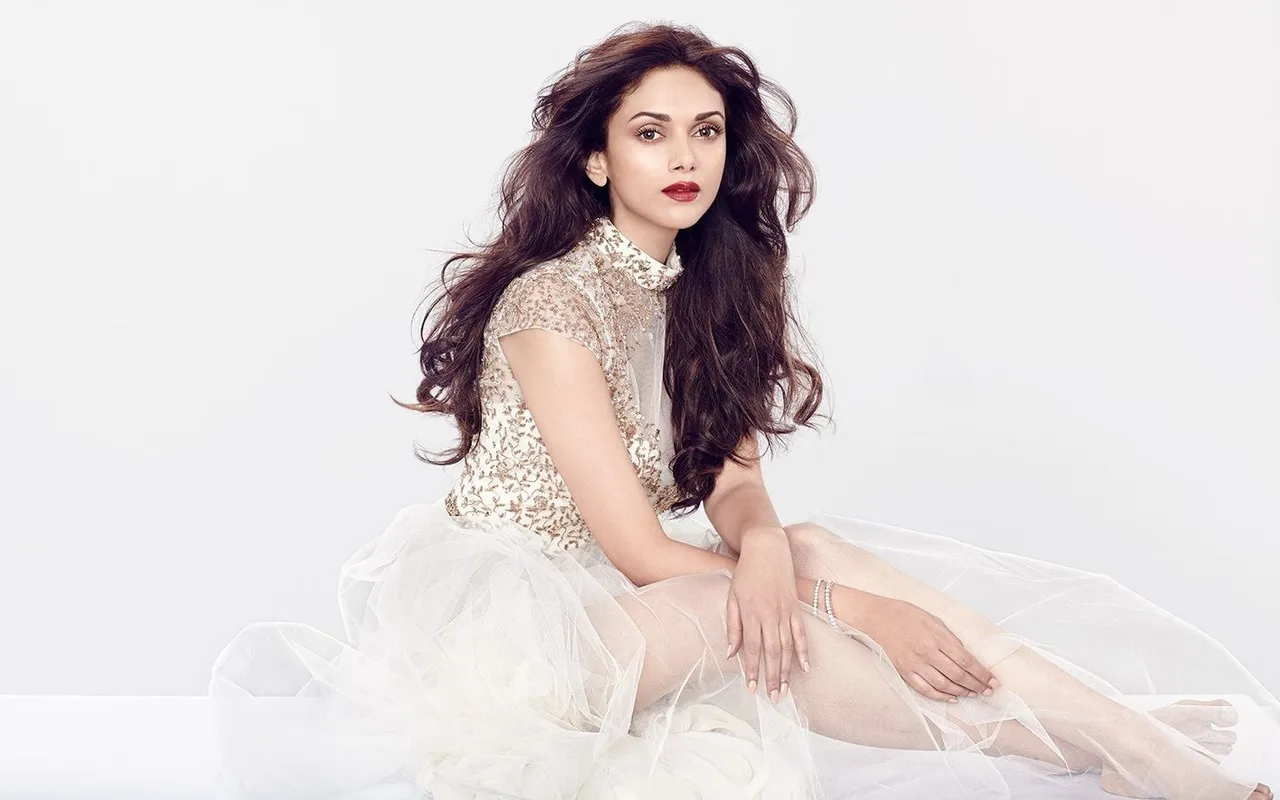 We are captivated by the elegance and grace of Aditi Rao Hydari and her remarkable sense of style. As we celebrate her birthday, let's be awestruck by her choice of these homegrown brands.
Aditi Rao Hyadri is known for her elegant and versatile style, often wearing a mix of traditional and contemporary Indian brands. Her royal lineage is visible in her elegant choices and going extra to add Indian details to her looks. Here we look at some of the most classy looks and brands adding to her beauty.  
1. Shehla Chatoor
A glance through Rao Hydari's shoots would make you feel her grace and elegance. This piece worn by her for the cover shoot of a magazine is a beautiful piece adorned with shiny golden and silver beads that add to her beauty. One can't miss out on the golden tiera that makes her look like a queen. 
2. Gopi Vaid Designs
Saree, a timeless piece worn by a timeless beauty. We can't take our eyes off the sunshine yellow, organza saree with beautiful mirror work and subtle sequins embroidery between colourful threads. The bun and her ethereal beauty have got us all awestruck. Do check out Gopi Vaid for your next saree look. 
3. Ritu Kumar
Ritu Kumar is a well-known designer celebrated for her traditional designs infused with modern-contemporary elements. One particular piece has caught our attention—a combination of a short blazer and a Ghaghra, which is not commonly seen. The blazer is adorned with intricate golden beadwork, and the skirt features beautiful patterns and a broad border that demands a second look.
4.

Punit Balana
A white anarkali with black thread work can be your new everyday look just like Aditi Rao. She is famous for her simplistic Indian wear and what can go wrong with an Anarkali suit and jhumkas. Get that desi look by shopping from Punit Balana and don't forget to add bindi to complete your look. 
5. JJ Valaya
We are just blown by the fact that how can someone look simple yet stand out of the crowd, Aditi Rao does it so well. The details on the skirt are hard to miss and easy to add to the cart. Also, did you notice pockets? A ghaghra with pockets, yeah you saw it right. What else do we girls need? 
6. S&N by Shantnu Nikhil
Well hello there boss lady! A monochrome look for your everyday officewear but not black, blue, white, or grey is a blessing. Add a little colour to your boring work life by wearing a statement outfit and stand out from the crowd. Pair it with classy jewellery or a watch to complete your look.
7. Gauri & Nainika
Are you scared to experiment with colours like green? This look by Aditi Rao will clear all your doubts. One shoulder green and black flared jumpsuit, how experimental can one be with an everyday look and carry it so well? Check out Gauri & Nainika who understands today's customer's choices and won't disappoint you. 
8. Raw Mango
Wow! She sure does look like a princess of the royalties. A plain golden Ghaghra Choli with minimal golden jewellery yet so stunning. If you are not someone who is into heavy designs and likes to keep it minimalistic, maybe you found your next wedding fit. Check out Raw Mango for more such fits.
9. Picchika by Urvashi Sethi
You can never go either with florals or sarees, even if you mix them up and who can show it better than Aditi Rao herself? A beautiful choker and grace and you are all ready for your event. A white net saree with orange flowers is all we need to upgrade our saree collection. Am I right or am I right?
So which one of these fits are you bringing home and restyling for your next reel?