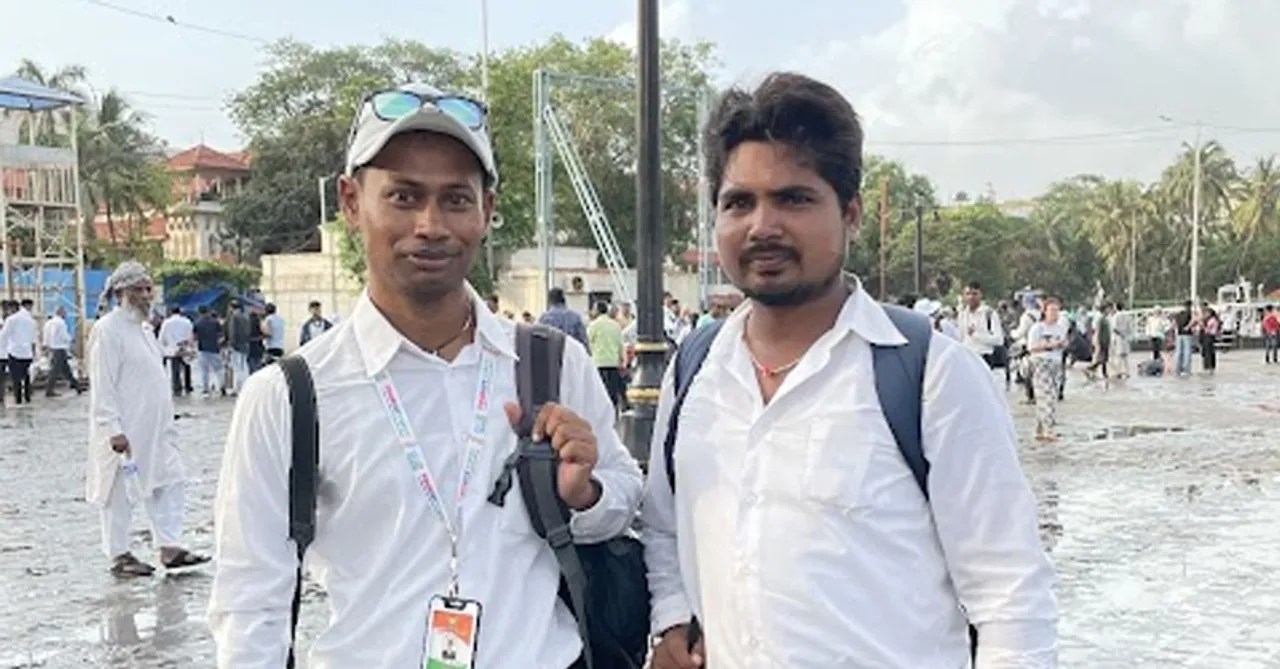 "One day, a woman fainted due to the heat, but as we saw it, we helped her and also informed the police," says Tarun Chaudhary, 34, one of the photographers at the Gateway of India. After clearing the security check as one proceeds to witness the grandeur of the heritage monument, the Gateway of India, a few captivating glimpses come into sight: the magnificent architecture of the Gateway, the charisma of the Taj Mahal Palace hotel on the right and the infinite sea behind the Gateway. But much before one comes to the proximity of any of these, a coterie of photographers, wearing white shirts and black pants surround from all sides alluring for camera-driven clicks by showing the albums and the colourful pictures of people in it. While it is easy to take them as just photographers, surprisingly, they are much more than their profession but a helping hand to the police and the security establishing the safety of the locals and tourists alike.
Chaudhary, who has been working as a photographer for the last 14 years, and is called the "young leader" of photographers by his mates, unfortunately, comes across various such incidents that lead him to leave his work, just for the safety of the people who come to visit this tourist spot in Colaba, Mumbai. Very recently, a child was separated from his family in the humongous crowd and Chaudhary was the first to report this to the police stationed nearby, following which the police could make the announcement seeking his guardian. As we spoke to Chaudhary, he also narrated another incident that took place a few days back when a tourist came to the spot and started crying upon losing his bag and money. It was Chaudhary and a few other photographers — some of who also gathered to present the testimony of the same to us — who gave the tourist some money so that he could survive.
Additionally, the photographers are so well apprised of all the safety gear and types of equipment kept in and around the Gateway of India that last year, in monsoon, when a lady slipped off to the water in front of the Taj Hotel, Chaudhary says, one of the senior photographers himself took the safety ropes and jumped into the water to save her. "By the time, one of us informed the police, the senior photographer had already rescued her," he says with pride.
As easy as it is to think that the same is done out of kindness and humanity it is much more than that for the photographers working at the Gateway. While the lenses of their cameras capture tourists before this architecture, the lenses of their eyes are always conscious. "All of us keep checking the surroundings and report to the police for anything suspicious," Chaudhary says. Not only do the photographers like him do this as part of their duty, but as he claims, they are also trained to do the same. "The first thing that is taught to us by the Mumbai Port Authority is that it is our duty to look for the well-being of the tourists coming here. We are also asked to keep an eye on anything suspicious like a disowned bag and inform the police," Chaudhary says.
Speaking on the beefed-up security, Chaudhary says that the Taj attacks in 2008 were antecedent to the increase in the number of photographers at the Gateway from 50 to almost 150 a day. Currently, the photographers like Chaudhary are trained so well that they can easily identify the boats that are not regular for the Gateway port. "We check people entering from the security gates and also watch over the boats and inform the officials if there is any suspicion," he says adding, "What happens afterwards is not our concern as we complete our duty of informing them."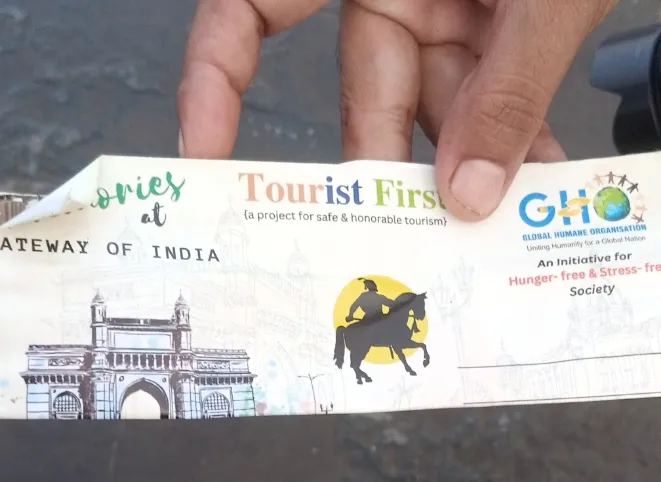 Other than the Mumbai Port Authority and Maharashtra Tourism Development Corporation, which issue official ID cards to these photographers since 2014, there are initiatives like 'Tourist First', which aims to inculcate a sense of responsibility towards the tourists among the photographers. "We are not that educated, so, a lot of people don't want to indulge in conversations with us. Hence, they (volunteers at 'Tourist First' also teach us how to talk to tourists in a better way," Chaudhary says. 
Amid duties, plights continue over time
In return to the unofficial duties performed by photographers like Chaudhary, a series of challenges await them when they get back to their profession, that is, clicking photos. Chaudhary, who had come to Mumbai on the recommendations of his neighbours in Bihar's Madhubani — from where belong many photographers working at the Gateway for at least 30-40 years — although, manages to earn enough to support himself and his family back home but oftentimes, has to deal with the ruthlessness of the tourists. "People show us their expensive phones and ask why they should get us to click their pictures," he laments but laughs the next moment as he says, "I think the mobile companies should not give good-quality cameras in the phones."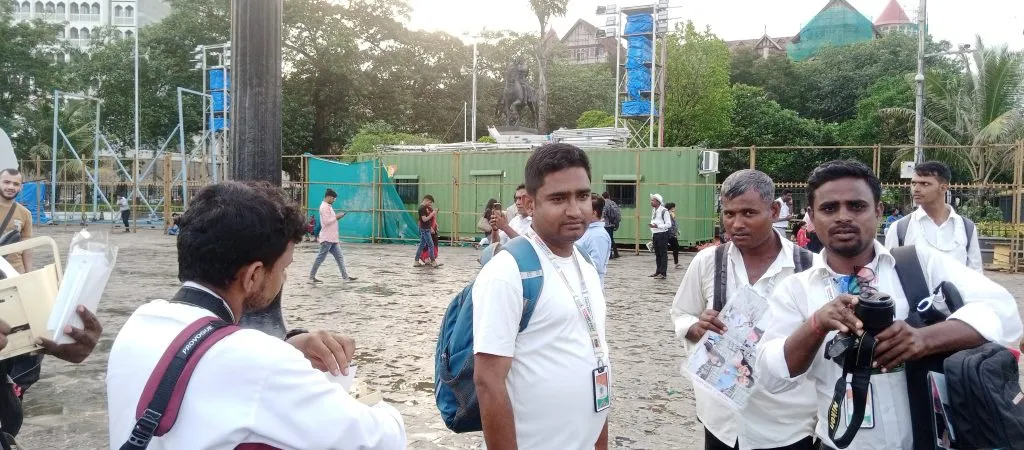 Chaudhary points it to be the time between 2010 to 2012 when the usage of phones increased and started impacting their livelihood, by almost 50% as he says, "We have seen a big difference due to the popularity of phones as the deals have tumbled for us", says Chaudhary. So, in the coming times when the advancement in technology might affect their business even more, does he have a backup plan for his family? "I don't have a backup plan as I have always been doing this and not sure how to survive if it is not this," he says.
However, what photographers like Chaudhary are sure of is their common determination to give their children, "a better life" and enroll them in private schools. Chaudhary is even ready to work for two more hours at the Gateway for the same. As a matter of fact, Chaudhary, who is part of 'Akhil Bhartiya Kewat Kalyan Samiti', the name of an initiative based in Madhubani where 'Kewat' signifies his caste, aims at encouraging rural women to get an education. "I am also financially supporting my wife so that she can be educated enough to get a job and even if not, at least help our son with his studies. It is very important for women to be educated and work but, sadly, people on our side (his native place) don't think the same way," he says.
Nevertheless, back at his workplace, which is Gateway, a lot of problems persist including the one that comes with the major season of the dream city, monsoons. Due to incessant rains, Chaudhary has to spend between Rs 2,000 to Rs 5,000 every year as his camera malfunctions upon being exposed to rain. "Recently, I have spent 3,500 on it," he says. But more than that, Chaudhary has to worry about getting work and he has observed how the winds of change have also changed the way people want to get clicked here, at this tourist destination. He knows that locals of Mumbai never become his customers but also knows that he has to be acquainted with how tourists desire to get photos clicked nowadays. "Previously, people would like the Taj or the Gateway to be visible more but now, they want themselves in the frame more," he says showing the change in the style of photos from his album. Thus, for him, the game is to hit the right nerves so that he can make sure he earns well before calling it a day.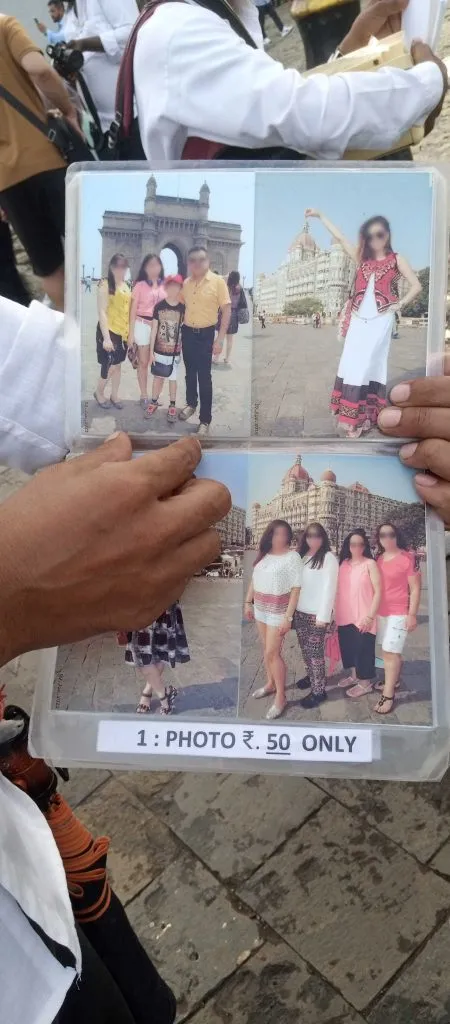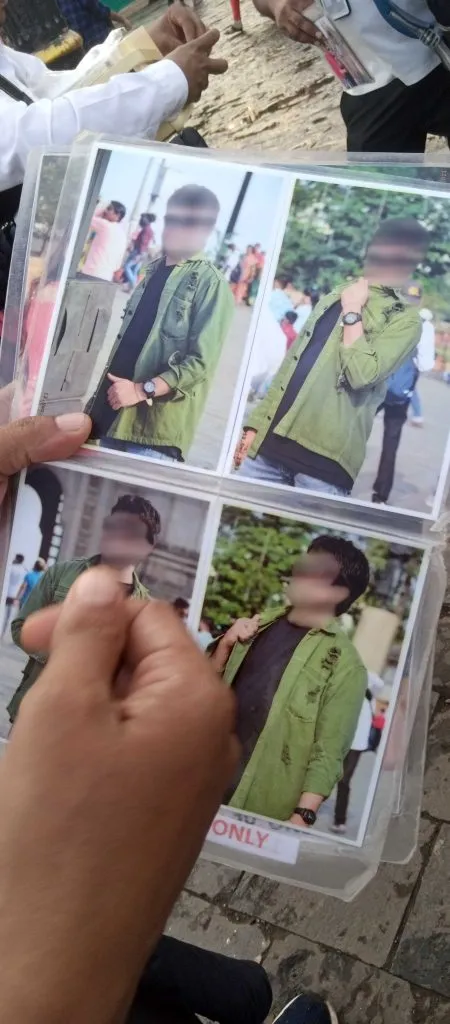 While a few of the photographers at the Gateway come from far-flung corners to be able to live in flats that come affordable to them only in the suburbs, many prefer to live close to the spot and live in chawls sharing it with others. Like Chaudhary, who lives in a nearby chawl and usually works between 7 a.m. to 8 p.m., even Ram Chaudhary, another native of Madhubani, Bihar has been working here for quite a long time now and on his coming to Mumbai, says, innocently, "Jab Obama aaye the tab hum bhi aaye the (We had come here in 2010, the year U.S. former president Barak Obama came to India)." However, despite working for these years, he has been facing some common challenges to date. What has changed is the price per photo, from Rs. 30 to Rs. 50, that too, only from the past few months.
As the charge for one photo is Rs, 50 now and one photo is free for every 10 photos, Ram makes sure to tell his customers the price in advance. However, he, oftentimes, has to face brawls on the price. "I tell the cost beforehand but after seeing the pictures, they (tourists) tell me that those are not good and refuse to pay for it," he says adding that not only does it waste their time but also leads to unnecessary disputes. "Customers do not pay for all the photos that I take if they don't like them which proves to be a great loss for me," he adds. Not only this but many a time, the customers also complain to the police about the photographers asking for their due money, Ram says.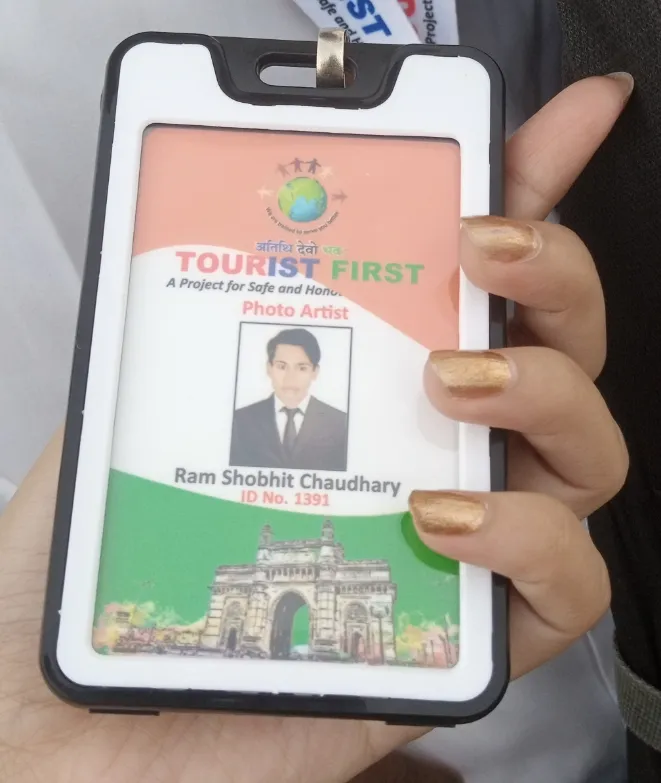 But this is not the only absurdity thrown at the photographers by the tourists. Some of them also turn out to be asking Ram if he can mediate for girls. Despite all the odds, Ram still makes sure to earn around Rs. 2,000 per day and proudly told us that he already had earned Rs. 1500 by the time we spoke before dusk. Including the house rent for a shared chawl and expenses on food, Ram manages to only spend 5,000 out of his total income and saves the rest. On asking why, he says, "I am saving money to buy a house and for my marriage." But he is now, not solely dependent on the photography at Gateway. As he has recently graduated, he is also on the lookout for a new job.
While it is still easy for photographers like Ram, who is extremely vocal, to entice tourists to get photos clicked from their cameras, the problem lies with the ones who are not-so-talkative photographers like Mukesh Das. After coming to Mumbai from Muzaffarpur, Bihar to earn money ten years back, he started selling toys at the Gateway. However, taking help from the already existing photographers here, he also chose to enter this work and bought a second-hand camera from a local market near the then Victoria Terminus, like all other photographers, and hence began his journey as a photographer at the Gateway. Interestingly, these photographers learn the technicalities of the camera from each other and so did Das but only if that was enough.
The act of attracting tourists for photos, however, is not easy, for him because it involves talking and communicating enough to convert tourists into customers and Das does not seem to be well fluent in the same. Although he was one of the photographers who we met right after entering from the security check, it seemed hard for him to find the customers throughout the time we conversed with other photographers. Perhaps that could be the reason, he only earns around 1,000 to 1,200 a day, much less compared to what Tarun and Ram Chaudhary earn. Out of the same, he spends 2,000 for the rent of the chawl that he shares with 6-7 people, even if other expenses are excluded. Moreover, Das is aware of the fact that sometimes, his fellow photographers also convince customers for extra money, due to persuasive communication which he cannot do. In such times, his only recourse is the Gateway of India Photographers Union. "If someone does this, the union imposes a fine on them so that they get a lesson and other photographers are not affected," he says.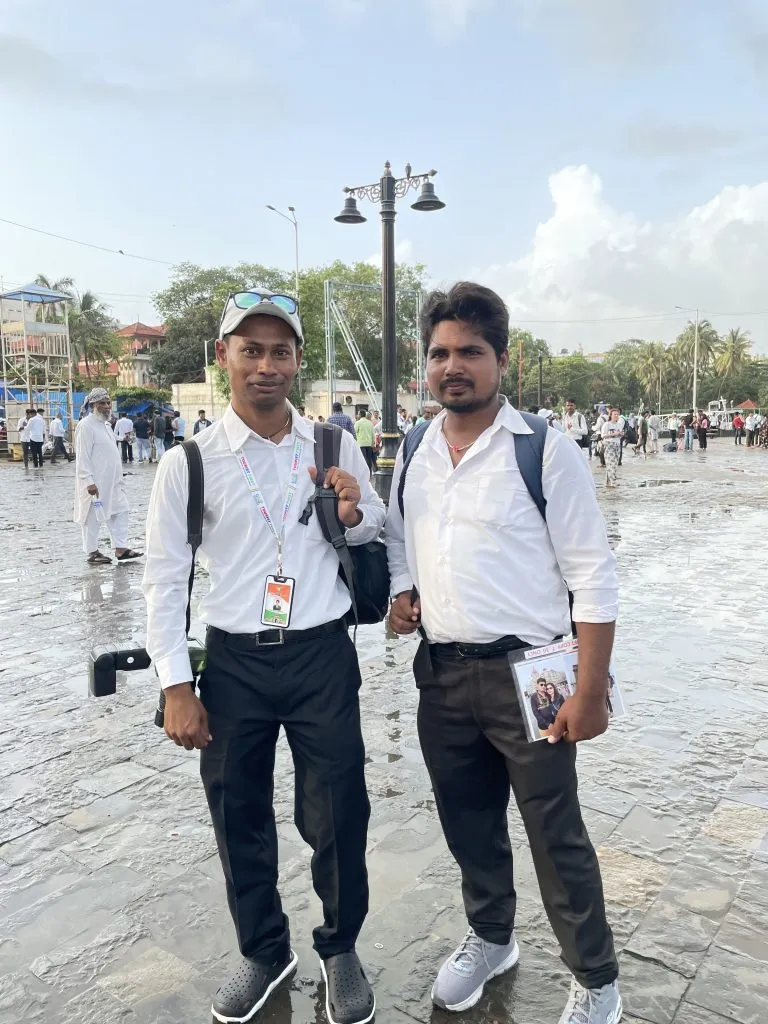 In any case, Das has recently returned from his native town after a long break and is now ready to get back to work. He has gone through another interview at the MPO's office to obtain the photographer's identity card. In the meantime, he has already received his new uniform: a white shirt and black pants. Except for the one hour that he reserves for himself between 2 p.m. and 3 p.m., one would find him standing under the sun like the other photographers, trying to entice customers in his own way – less talking yet more firmness in delivering good-quality photos against the backdrop of Mumbai's landmark monument.
For more such stories follow Local Samosa on  Facebook,  Instagram,  Twitter, and Telegram.