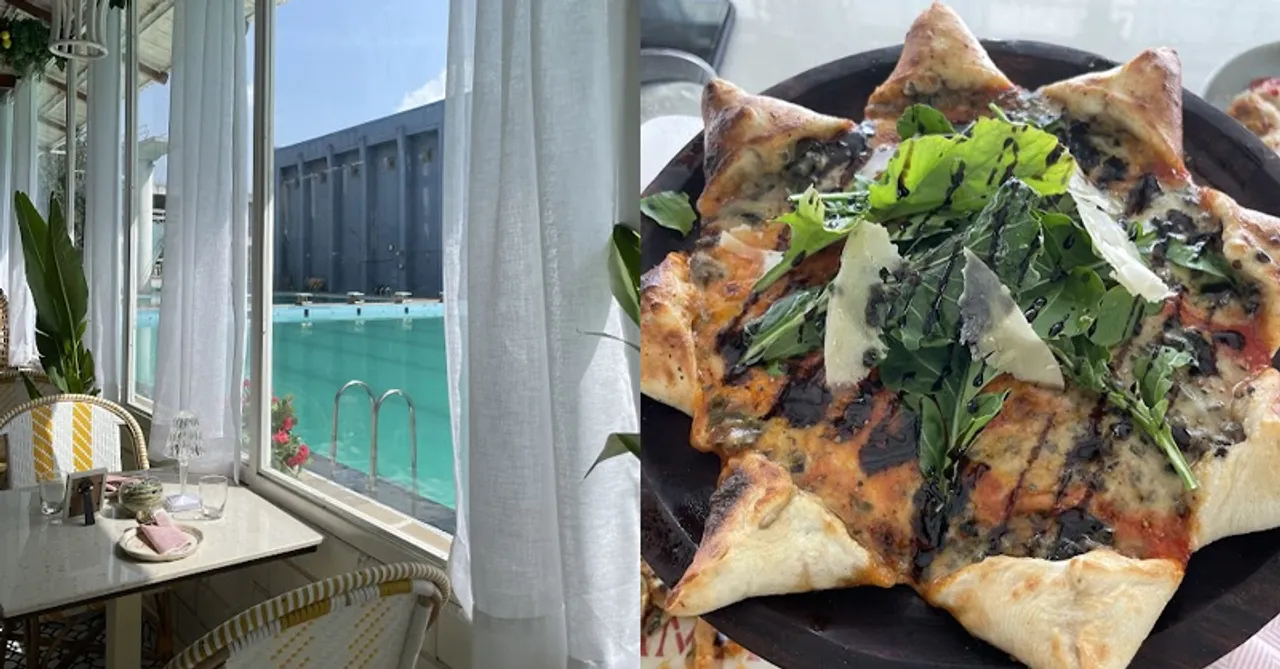 Located inside The Thane Club, ViVi Italian Bar & Kitchen is a remodeled version of a former restaurant at the same place offering a gamut of Italian cuisine.
Very close to the Eastern Express Highway and strolling around the Raheja Garden in Thane, we hit a spirited and vibrant place for our lunch as we stopped by ViVi Italian Bar & Kitchen in Thane — a lighter-shade space right by the pool serving plenty of options in Italian dishes and drinks that together helped us thrive our afternoon.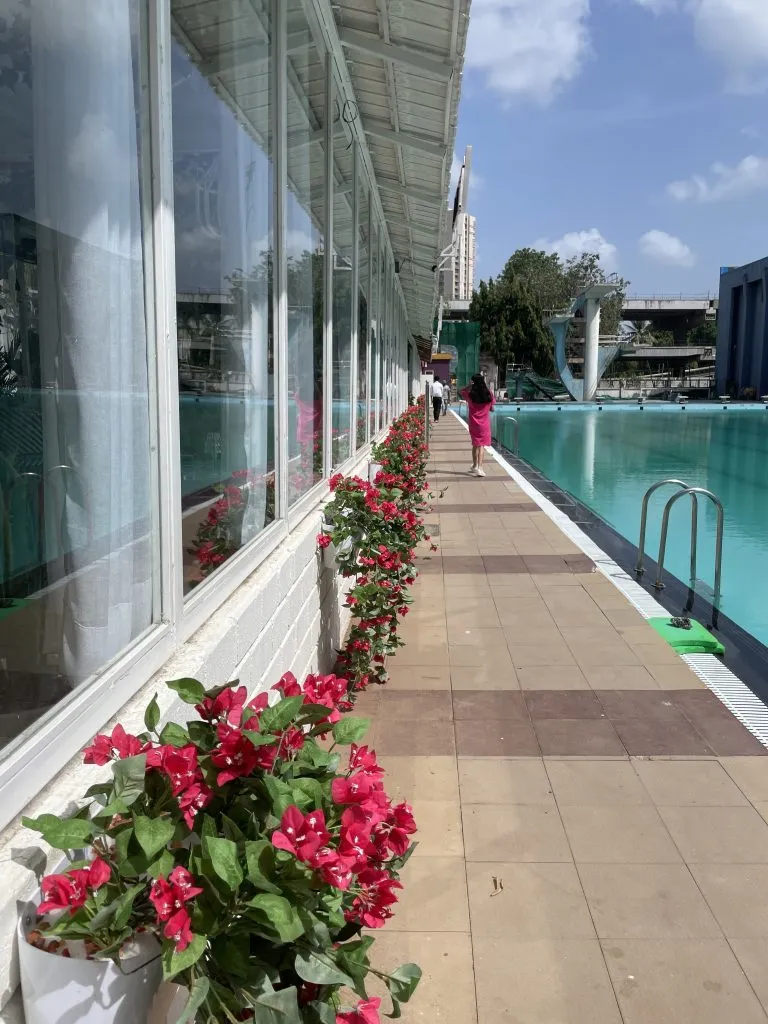 Located inside The Thane Club, a recreational space for various activities and sports — one of which also includes swimming —  ViVi falls at the left of the Olympic-sized racing pool made for the activity. A beautiful aisle of red flowers forms the passage between the pool and the boundary of the restaurant through which we entered the restaurant to find it decked up with a small chandelier, artificial greenery and flowers with the round lattice with creepers in the front for a person to sit, or to get captured!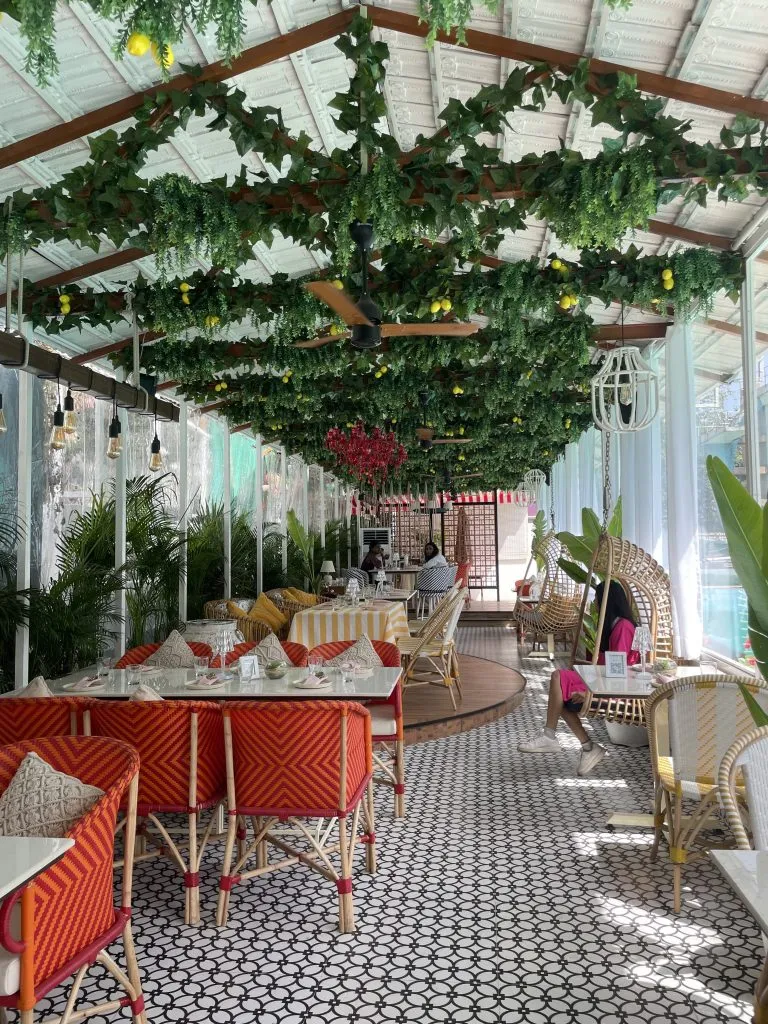 The white-coloured space sufficiently included two seating rows including colourful chairs and marble tables, with the right side also featuring cane swings by the pool that can be glanced through the glass walls with white curtains. While the restaurant also makes place for original plants kept inside, what comes as an enticing attribute is the replicas of a few antique items like erstwhile typewriters, telephones along with a few quirky portraits kept on lean tables saying lines like, "eat your spaghetti, to forget to your regretti!" And if this was not enough, the staff in their white and black attires are enough to give you an Italy-in-Thane spirit.
Satisfying cravings for Italian cuisine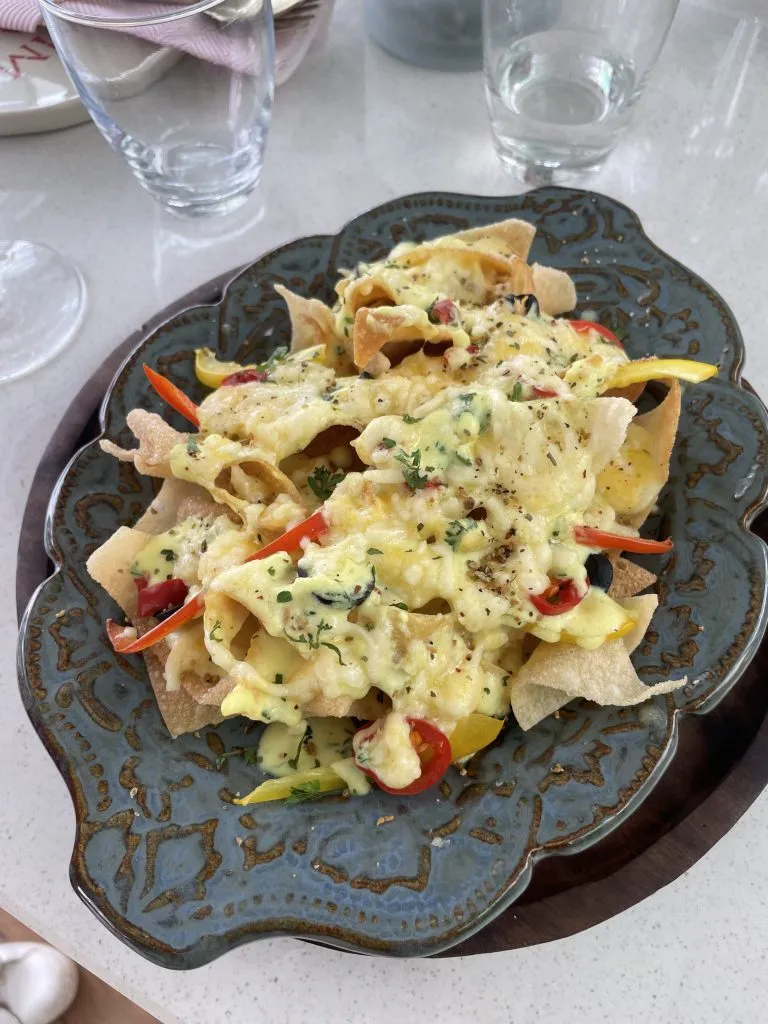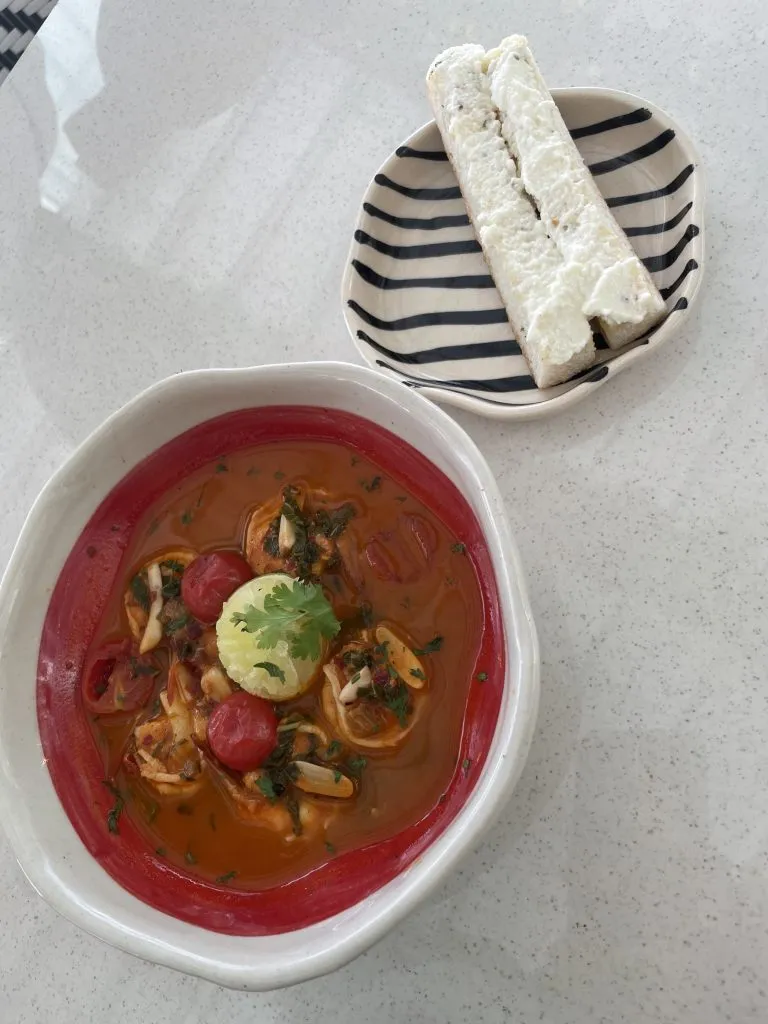 Talking about the food at ViVi, the menu here explores a good deal of options in various categories out of which we ordered Italian Nachos made in alfredo sauce with black olives, cherry tomato, fresh basils, and bell peppers in the crispy wonton wrappers. The crispiness and mozzarella turned out to be on point for us to enjoy the dish and then, we furthered to Gamberri alla Busara. This popular dish that finds its origin in the northeastern city of Italy, Venice, is cooked with a few major ingredients like cherry tomato sauce, garlic, onion, chillies and dry white wine and is also served with ricotta toast. However, contrary to the rich, thick and flavourful taste of the dish, the one served failed in maintaining these three attributes for us and became a bitter pill to swallow.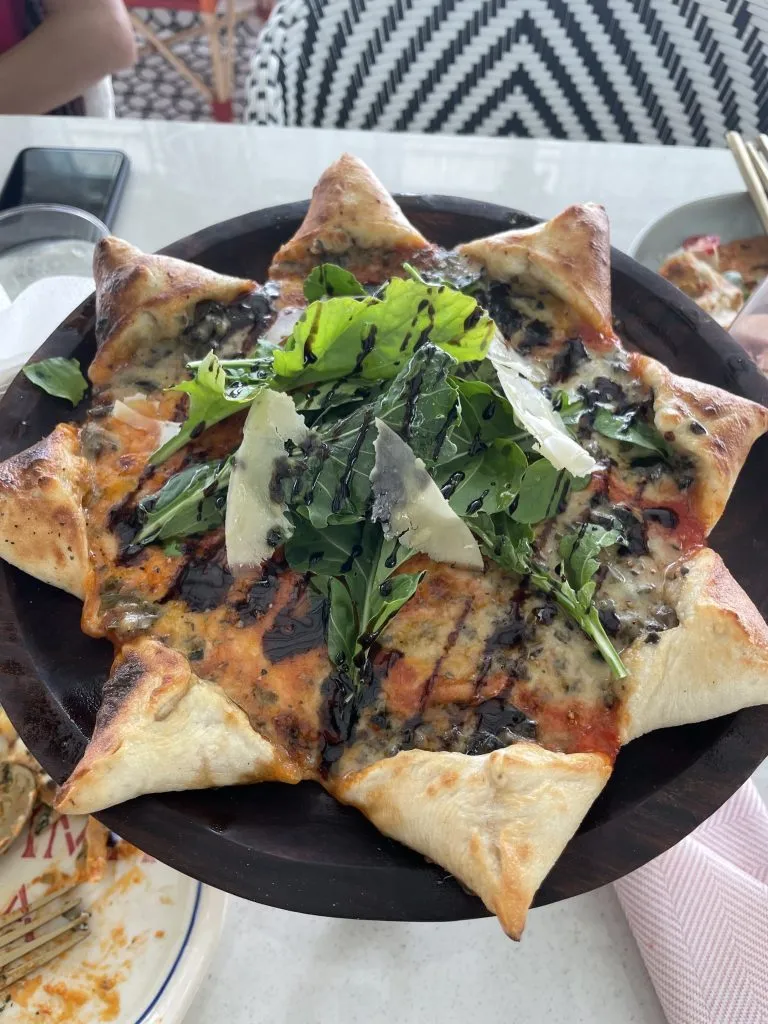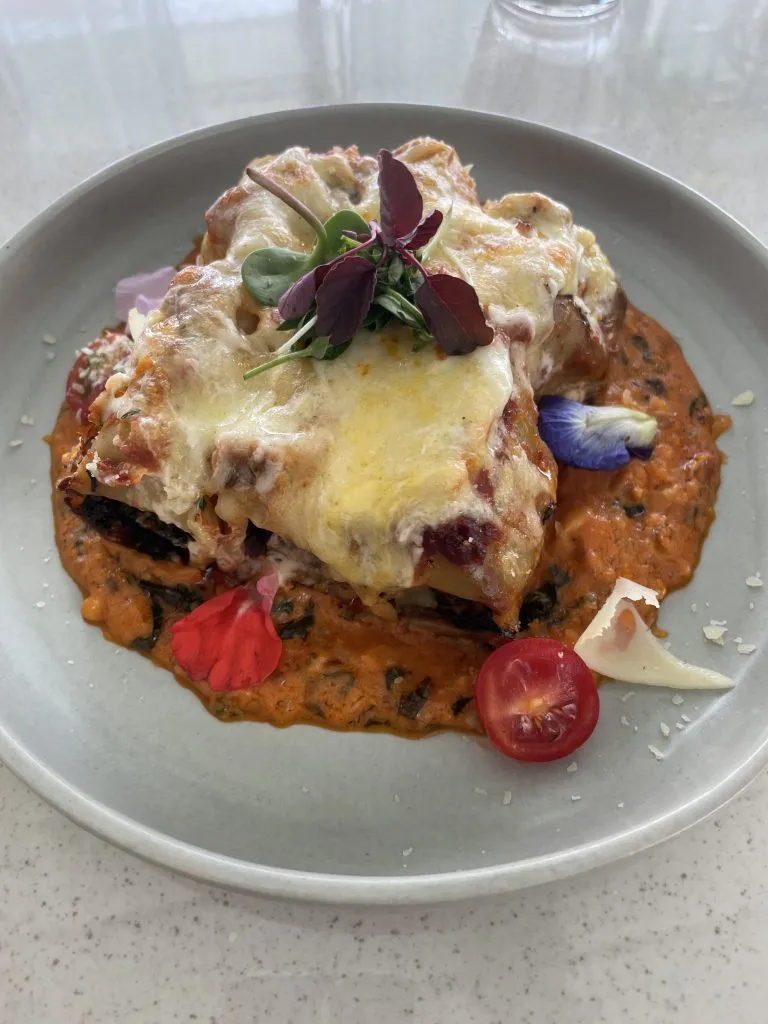 To spice up our taste and the frame of mind, hence, we opted for the summer essentials in the form of a few drinks and to our content, they turned out to be good picks. Be it the Flamingo Fizz, a drink with fresh grapes shaken with guava juice and garnished with pomegranate or the white wine, the drinks were the perfect hint we were looking for that afternoon. Quaffing a few drinks helped us welcome two other dishes for the day; of which one was the ViVi special Stella - a star-shaped pizza with the crust filled with ricotta, feta, arugula, balsamic drizzle and shaved parmesan. With its savoury sweet gesture, the pizza turned out to be well-baked and a culinary adventure for us. Moving on, we put our hands on the Cannelloni Florentina, filled with spinach, mushroom, and cream cheese. Baked in tomato sauce, mozzarella and alfredo, this did not only look appealing but also came out as a flavour explosion for us and that's how we got on a guilty pleasure too!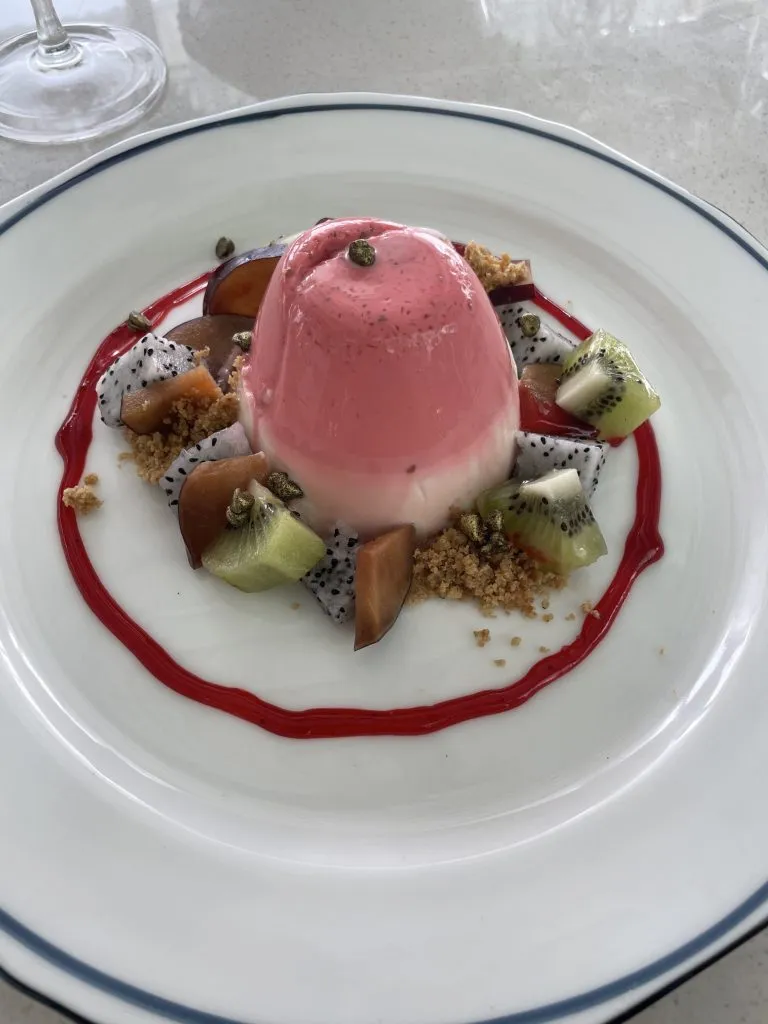 Not to be forgotten that we called it a day with Raspberry Panna Cotta, made with cooked cream, and mixed with gelatin powder and vanilla extract embellished with edible flowers that, as much expected turned out to be soft and also topped with fruits cuts like kiwi from all around to spice it up.
While ViVi houses much gracious staff, an experimental young chef and an enticing location to enjoy the food in the central suburbs of Mumbai, one of its major limitations lies in the infrastructure that lacks air conditioning making it a hard time for one to spend an afternoon under sun like it happened in our scenario until we got the place close to the tower A.C. kept on just one side for the entire restaurant. Moreover, even though ViVi makes its best endeavour to offer a diversified food options, not always does the taste match your tongue. Having said that, it can surely be believed that this newly-modified restaurant inside Thane Club might be working on its infrastructure and the quality of food in the coming times, if it is to captivate eye balls, as we saw a lot of developments taking place during our visit. Meanwhile, the residents of Thane and nearby can still visit the place for a meet-up with their loved ones if they share a common tooth for decent Italian cuisine.
For more such stories follow Local Samosa on Facebook, Instagram, Twitter, and Telegram.