With the cold breeze and windy atmosphere all around, weddings too have been filled with the colours of winter. So, check out these looks for weddings in winter and get ready to slay!
While we all usually love to attend the weddings of our loved ones, it is weddings in winter that become our cause to worry. A common reason for that is to keep up with styles and fashion and protect ourselves from the cold waves of winter. But that should not be your cause to worry anymore! We conversed with two fashion creators about looks for weddings in winter. Check out what these fashion enthusiasts are saying and take a chill pill- but not literally.
Kapil Kumar's ideas of layering and suits are the key to winter styling
What works best for winter is layering and suits for most people and Kapil Kumar, a fashion content creator from Delhi has made sure to keep those in his wardrobe for this wedding season in winter.
Red wine tint for the celebration time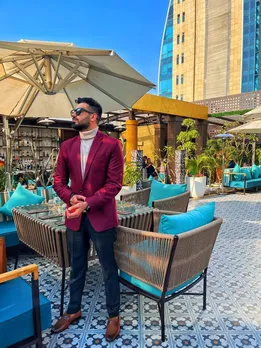 Keeping up with the mood of celebrations at the weddings, Kapil Kumar experimented with the combination of a pop red wine blazer which is custom-tailored by a local shop in Delhi. He further preferred to put on a cream turtle neck from Mast & Harbour and black trousers from Blackberry Men's. To give it a contrast, he put on brown shoes from Louis Philippe and sunglasses from John Jacobs.
Adding some green freshness to the festive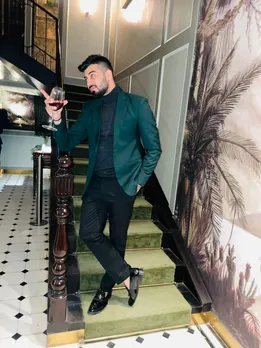 Kumar has added a tint of calmness and freshness to wedding celebrations by putting on the bottle green blazer from Raymonds. It has given it the best contrast with the all-black look including the turtleneck from Monte Carlo, trousers from Dennison and shoes from Invictus. All we have to say is, "wow"!
Going for grace in the grey season
What is better than wearing grey in the grey weather to match ourselves with the vibes? But did you know that you could also wear the shade at a wedding? Well, learn from Kapil Kumar! He wore a white turtleneck from Chkokko which he paired with a blazer by Study by Janak, black trousers from Park Avenue and shoes by Red Chief.
Perfect modern wedding vibes with the bow
We believe that a bow makes for a perfect add-on for the wedding and this winter season, Kumar has made sure to use it with enough layerings. But what captures our attention the most is the dark navy coloured suit that gives the best novel and elegant look. While he put on the shirt and tux from Blackberry men's, he added the bow from Tossido and shoes by Red Tape!
Double-breasted suit for winter weddings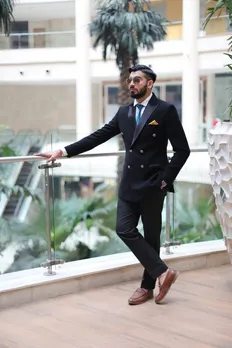 For the fifth look, Kapil Kumar has gone all contemporary with the double-breasted suit from a store called, 'Insta Designs' located in Lajpat Nagar, Delhi. He has put on a shirt from the same brand while a tie from Tossido and tan brown shoes from Louis Philippe. The contrasting colours of the shirt, suit and tie make for one of the best outfits for colourful wedding festivities.
Tanvi Jain on three things that need to be talked about while dressing for winter weddings
Another fashion enthusiast, Tanvi Chordia Jain, who hails from Pune, goes into details while talking about dressing during weddings. With a few styles that she finds amazing to wear in winter at weddings, she explains necessary hacks one by one.
'Add the warmth in the silhouette itself'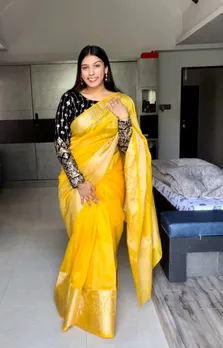 "We all love backless blouses, but when designed in the right way, even full-sleeved blouses are equally or sometimes even more statement," Jain says. She styled the yellow-coloured saree from Zal Benaras and a blouse, custom-made of full length. She further says, "Cape blouses over lehengas are in too and as long as you stay warm, your confidence isn't going anywhere!"
'Drape smartly'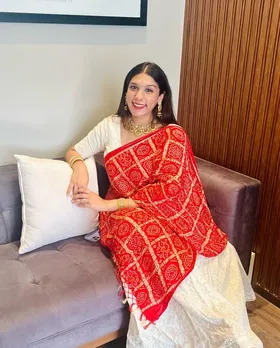 According to Jain, a narrow pleated drape can leave your shoulders and arms exposed to too much cold. Hence, she suggests going for "flowing-royal drapes that cover at least one shoulder". Aligning with the same, she wore a Chikankari lehenga with a Bandhani dupatta from a local store in Rajasthan. To complete the look, she wore jewellery from Ranka Jewellers, Pune.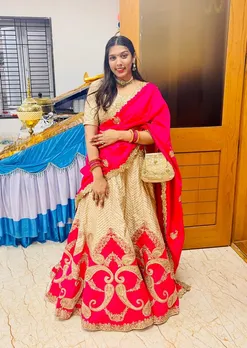 Following the same rule, she also styled a lehenga from Gandhi sarees and took the dupatta in the same style. Moreover, she chose to go with a contrasting colour for the jewellery green that she bought from Gandhi jewellers, Pune. "This way, you give yourself some warmth and look like a Queen too!" she adds.
Layers and yet stylish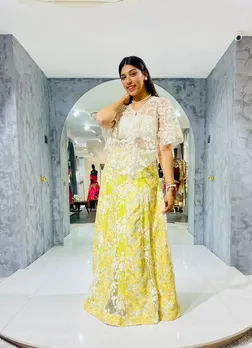 For another look, Tanvi Jain has mixed the festive cheer with the yellow colour in her outfit from Dhagasutra, Pune. She, chose a white cami top layered with an embroidered cape with a dainty bead detail near the neck and a yellow semi-flared lehenga skirt to keep it "young and fuss-free". Keeping the look minimal, she opted for simple and elegant jewellery.
As Jain further talks about the styles and tips for winter, she throws some light on the fabrics chosen and says that one should choose the fabrics wisely. "Velvet suits and blouses are a win-win this season. And if velvet is too mainstream for you, thick silk or Benarasi saree would do the job too," she says.
Along with this, she also says that it is important to "accessorise wisely. "A classic Pashmina shawl is the most loved and the best way to keep the royal glam quotient up along with staying warm. However, another steal tip that I swear by is choosing footwear that's closed - like Juttis. Open feet expose us to most cold so keeping my feet warm always helps me keep shivers at bay," she adds.
For more such stories, follow Local Samosa on  Facebook,  Instagram,  Twitter, and Telegram.