Wedding bells are ringing and the season is just around the corner! Check out these Budget bridal wear shops in Mumbai and find your perfect fit!
Selecting the perfect wear for your special day can be a challenge. You want to look and feel the best in every wedding picture. Being on a budget and still slaying the day with your dress is possible! Check out these shops in Mumbai for the ideal Budget bridal wear!
1. Knot by Kavya
Knot by Kavya is a boutique store that specializes in budget Bridal wear and wedding collections. The retail venture has an extensive variety of Bridal wear to choose from. The products range from heavy and light Lehengas to Indo-Western and ethnic wear. The outlet even provides sarees, and customers can check out sample pieces before placing their order. The bridal lehenga ranges start from 40,000 Rs. going up to 2,00,000 Rs. for royal outfits.
Where: Bandra West
Starting Price: 40k Rs.
Contact: +919819117005, +918850019272
2. Dress4Less The Rental Boutique
Dress4Less is a rental boutique based in Thane specializing in bridal wear. Their designs focus on contemporary aesthetics with Indian craftsmanship. The outfits at the boutique can be purchased off the rack with customization available as per preference. The boutique claims to provide Bridal wear made from high-quality materials and with designs given by Brides. Clothes are even available for the groom based on prior orders.
Where: Ghodbunder Road, Thane West
Starting Price: Rs.10,000
Contact: +919819819195, +919687289999
3. Jiya by Veer Design Studio
Launched by Manish Chotrani in 2004, Jiya by Veer Design Studio is an exclusive bridal haven for new-age brides and grooms. The fashion retail and wholesale boutique specialize in Indian bridal and pret collection. The brand has designs ranging from trending indo-western styles to traditional occasion wear. The brand boasts different bridal wear from bridal lehenga, Indo-western wear, trousseau anarkalis, and more! The multi-chain store is located in Mumbai, Delhi, Hyderabad, Pune, Bangalore, Chennai, Surat, Chandigarh, and Ahmedabad.
Where: Santacruz East
Starting Price: 12k Rs.
Contact: +91 9820191911
4. Chamee and Palak
Chamee and Palak is a design label specializing in high-quality and inexpensive bridal wear. The company is started by localpreneurs Chamee and Palak, both coming from CA and having MBA backgrounds. The store offers custom-made bridal apparel ranging from lehengas to gowns, Anarkali, sarees, and more. Their online store displays wardrobes inspired by celebrity closets and a thriving collection of lehenga and pret designs.
Where: Mumbai Central
Starting Price: 40k Rs.
Contact: 9324342369, +919930782891
5. Jaypore
Jaypore is a multi-ethnic wear label specializing in bride and groom's clothing. Their bridal lehenga collection displays modern ethnic and chic fashion that stays true to your fashion trends. Apart from lehengas, Jaypore has a wide collection of lehengas, Kurtis, Sarees, Palazzos, and much more! Jaypore showcases a range of exclusive brand clothing and a collection from reputed designers such as Ritu Kumar, Smriti Gupta, and Shades of India, among many others.
Where: Turner Road, Bandra West
Starting Price: 35k Rs.
Contact: 07305297673
6. Warp n Weft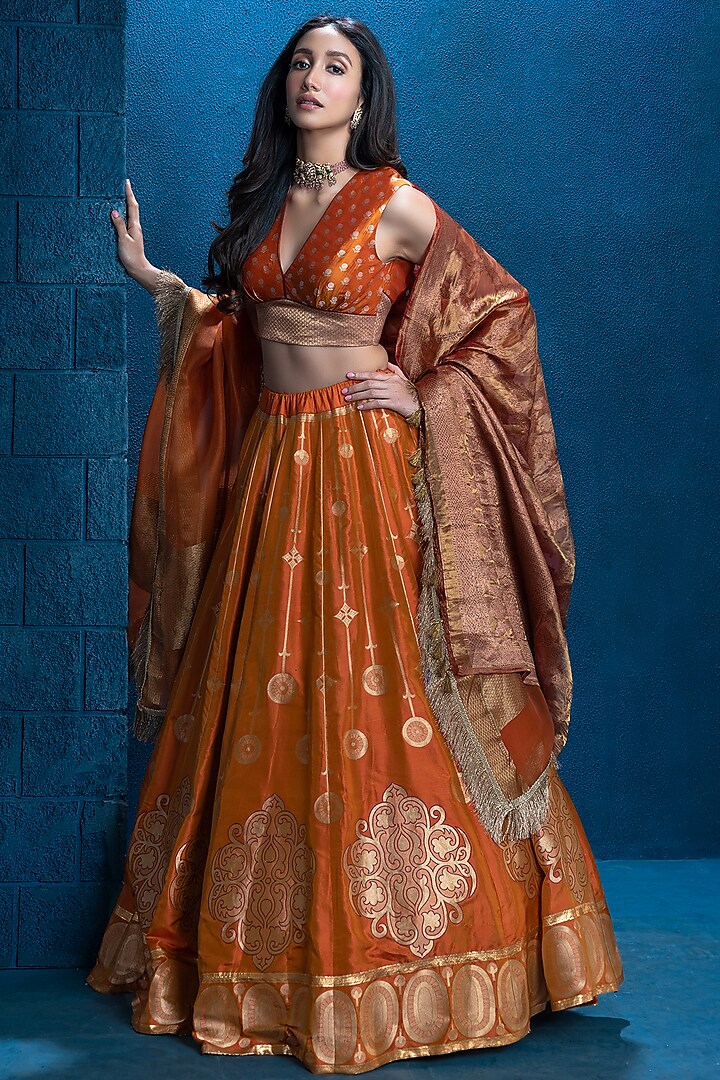 Warp n Weft is a bridal boutique that has expertise in embroidered luxurious silk sarees and wedding wear. They combine conventional motifs with modern fittings as per the requirements. Warp n Weft believes in not compromising on style and is open to custom-made suggestions.
Where: Marine Lines
Starting Price: 16k Rs.
Contact: 09820781817
7. Doree
Doree is everything an urban bride would need. The boutique uses contemporary designs with minimalist cuts and colours matching the latest trends and vibes. Doree displays lehengas and bridal wear ready to be bought off the shelf and custom orders as per preference.
Where: Malad West
Starting Price: 12k Rs.
Contact: 07045582038
8. KALKI fashion
Following the simple yet aesthetic vibe, KALKI fashion designs bridal wear for every wedding aesthetic. KALKI specializes in georgette, chiffon, and silk brocade patterns, and their gallery is filled with attractive designs. Budget-friendly lehengas, sarees, and gowns can be found at the store; alterations and customizations are as per customer preference.
Where: Santacruz West
Starting Price: 40k Rs.
Contact: 022-48900416
9. Ella
Ella believes in following trends each wedding season, and it resonates with their product line. The shop houses a variety of bridal wear lehengas, sarees, blouse pieces, and much more! The bridal wear is available for pocket-friendly prices, and the shop is open for custom design suggestions and alterations.
Where: Ville Parle
Starting Price: 10k Rs.
Contact: 09821666678
For more such stories follow Local Samosa on Facebook, Instagram, Twitter, and Telegram
Comments
comments