Preparing sushi is an art itself, and requires fresh ingredients with exceptional wrapping skills. Check out these must-visit places in Mumbai to try out exclusively prepared Sushi.
Are you one of those people who occasionally crave a good plate of well-prepared sushi rolls? Getting the right quantity of freshly prepared, and rolled-to-perfection Sushi is a task. Finding the next spot for a sushi break can be difficult, and that's where we help you! Check out these must-visit places in Mumbai if you crave Sushi more than anything else!
1. Jia Oriental Kitchen
Located close to Colaba causeway Market, Jia Oriental Kitchen is an authentic Asian cuisine diner. The restaurant specializes in Asian, Cantonese, Japanese, and Thai delicacies. One of the major talking points at Jia is their freshly prepared Sushis. Their vast range of menu offers both vegetarian and non-vegetarian sushis, and a must-recommend is their Jia Special Rolls. Their sushis pair up well with soya sauce, although the wasabi offered is not so spicy and tolerable to each taste bud.
Where: Near Colaba Causeway, Mumbai
When: 11:30 am – 3:30 pm, 7 pm – 11:30 pm
2. All Saints
If you crave tempura Sushis, All Saints in Khar is your next place to binge eat! Their Avocado Tempura Rolls are worth giving a try, with the rice being chewy and avocado tempura being cooked to perfection. Apart from Sushis, All Saints is also known for their delectable food and mocktails, along with a serene and aesthetic dining area.
Where: Plot – 757, Swami Vivekananda Rd, Khar, Khar West, Mumbai.
When: 12noon – 12noon
3. Pa Pa Ya
If Sushi screams comfort food vibes to you, Pa Pa Ya is surely worth a visit! Ranging with varied options of Sushis to try, Pa Pa Ya in Lower Parel gives you Sushis, which are perfectly chewy and crispy. A must-try would be their Vegetable maki, with the Sushi being tangy with a burst of flavour from the dried spinach topping. Apart from Sushis, you can try out their dimsums, desserts, and beer-battered tacos that will fill up your tummies with good food and happiness.
Where: Level 3, Palladium Mall, Senapati Bapat Marg, Lower Parel, Mumbai.
When: 11:30 am – 1 am
4. Kofuku
Kofuku is a no-brainer if you love Asian cuisine and everything about Japanese food and culture. Set in an ambience that gives you perfect Sakura Hanami vibes, Kofuku in Powai is popular for its sushis, dumplings, and ramen. A must-try at Kofuku is their crispy avocado rolls prepared with avocado, shiitake mushroom, and cucumber with a proper crunch of panko. The cabana-styled restaurant is popular for its dumplings and jajangmyeon (black bean) noodles.
Where: Kailas Banquet hall, Kailas Industrial Estate, HMPL Surya Nagar, Vikhroli West, Powai, Mumbai.
When: 12 pm to 3 pm / 6.30 pm to 11.30 pm
5. Kyma
Kyma in BKC has a Sushi and Sake menu, and we are all up for grabs! The restaurant is not only aesthetic, but the Sushi sure sets the taste bar high. A must-try for non-veg lovers is the Gunmun roll, made with shitake, asparagus, tempura, with avocado inside, and a seared salmon on top with onion ponzu and caviar. A good option for vegetarians is the Peri Peri corn sushi, perfectly spicy and filled with goodness.
Where: Plot C-66, One, G Block BKC, Bandra Kurla Complex, Bandra East, Mumbai.
When: 12 pm to 1.30 am
6. Yazu
Yazu Pan Asian Supper Club is a casual resto-dining restaurant with an exclusive Sushi menu you surely should not miss out on! If you are in the mood for some authentic Japanese food, Yazu is your place to be, as the restaurant serves a wide variety of uramakis, Nigiri, sashimi, Carpaccio, and much more! A must-try on the menu has to be the smoked salmon wrapped into nori seaweed sheets and rice with cucumber. The smoked salmon is seared to perfection, and the rice and cucumber makes your meal a little bit more refreshing.
Where: 9 Raheja classic, near Infinity Mall Andheri West, Mumbai.
When: 12noon – 4:30pm, 7pm – 1am
7. Tokyo Treat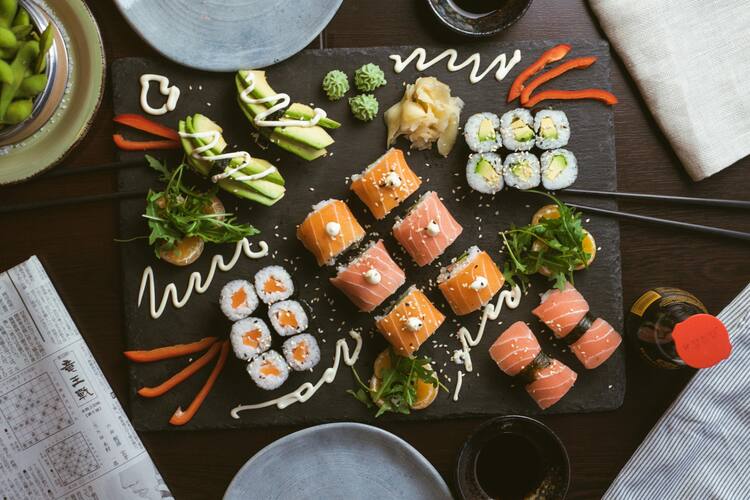 An undiscovered gem of the city, Tokyo Treat is an authentic restaurant for Asian cuisine and Sushi platters. Starting as a small establishment, Tokyo Treat now has 2 branches in Lower Parel and Tardeo. They host a variety of Sushis ranging from non-veg platters to seafood delights and Veg rolls. The quantity justifies the price, and the taste leaves you wanting more! The Asian cuisine hub is just a 2-minute walk from Lower Parel station and has limited seating, so make sure you grab a place on time!
Where: Near Lower Parel Station/ Tardeo
When: 11:30 am- 12 am
8. The Bandra Sushiholic
Do you get a sudden urge for Sushi in the middle of the night? Curate your Sushi boxes at Bandra Sushiholic, which remains open until midnight! You can easily find classic Nigiri, tempura, Nori rolls prepared fresh right at this small shop in Khar. The prices remain affordable for 2 people, and the taste stands authentic to Japanese cuisine.
Where: Road No. 3, Ram Krishna Nagar Shop No. 5 Spenta Apartment, Khar
When: 11 am-4 am
9. Shizusan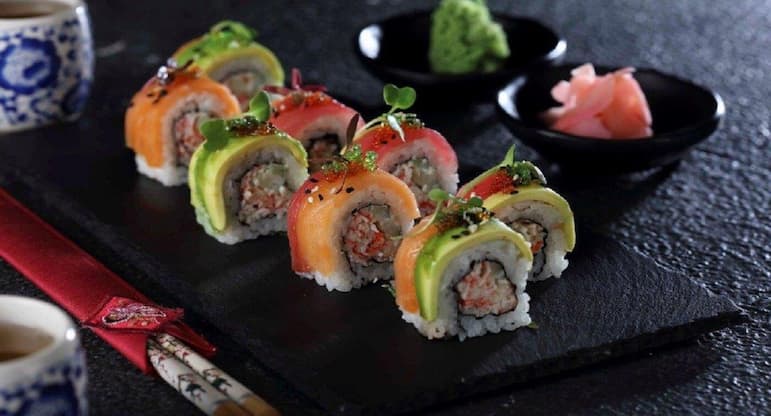 Shizusan is an Oriental Asian cuisine restaurant best known for its Thai and Japanese delicacies. Shizusan serves authentically prepared Sushis with spicy wasabi and soy to give it company. The quantity is reasonable for the price offered, and the restaurant offers customers a wide spread of Sushi options to choose from.
Where: Next to Lifestyle High Street Phoenix Mall, Lower Parel
When: 11 am- 11 pm
10. Wasabi by Morimoto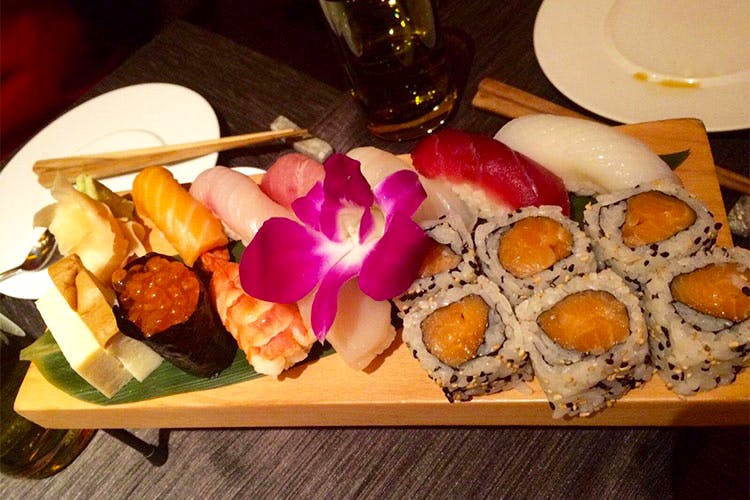 Wasabi by Morimoto is an upscaled Japanese dining room inside the Taj Mahal Palace in Colaba. The premium Asian restaurant serves delicately prepared Sushis that are priced at a higher rate but prepared with authentic ingredients. The restaurant was also recognized by San Pelligrino as one of Asia's 50 Best Restaurants in 2018. The restaurant claims the ingredients, including seafood and Wasabi, are flown down from Japan.
Where: The Taj Mahal Palace, Apollo Bandar, Colaba
When: 12:30 pm- 2:45 pm, 7 pm- 11:45 pm
11. Sushi and More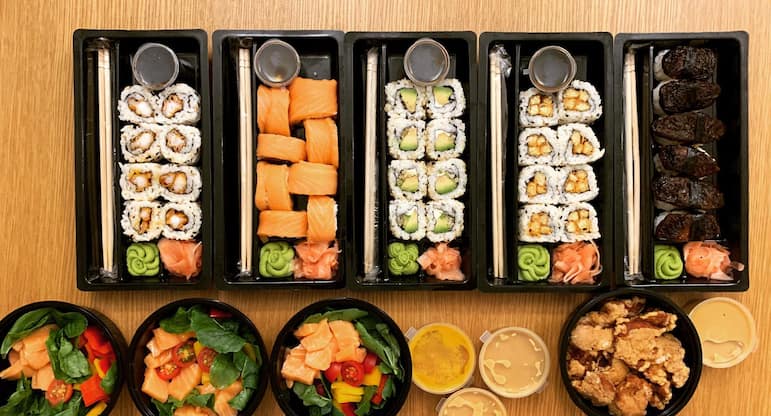 Sushi and More is a small takeaway joint in Juhu that prepares exclusive Sushi boxes. The Sushi platters range from simple avocado rolls to double salmon nigiri rolls and more! Apart from Sushi boxes, the shop also serves salads and bento boxes. Bento boxes are a mix of Japanese delicacies like sticky rice, sushi, veggies, and salad. As per online reviews, the most popular dishes are Asparagus Tempura and Salmon Sushi Rolls.
Where: Jukarwadi, Juhu
When: 11 am- 11 pm
For more such stories follow Local Samosa on Facebook, Instagram, Twitter, and Telegram.
Comments
comments