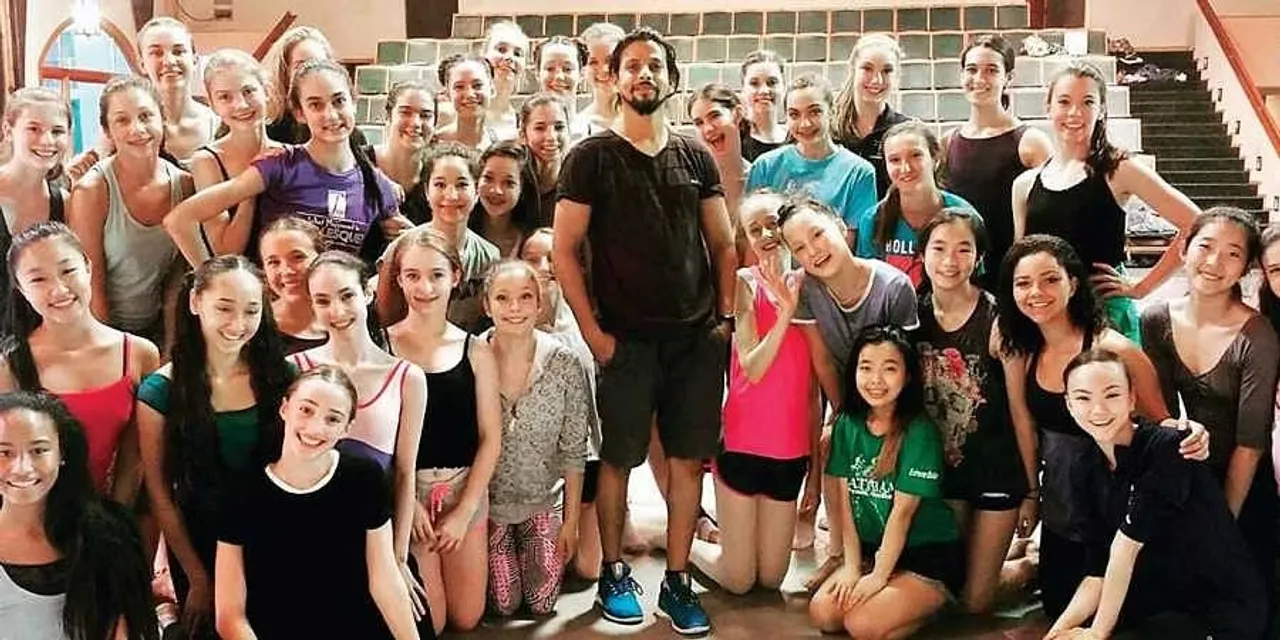 Hailing from Udaipur, Bharat Verma has worked with Farhan Akhtar, AR Rahman, and Adnan Sami and has innovated and integrated props such as sticks, paper, stools, chairs, and even the Indian kitchen items to create Rhythm in the form of dance.
Body percussion is pretty popular in western countries and is the art of striking the body to produce various types of sounds. The artist usually claps their hands, taps their fingers, and rhythmically uses different props. It is a very happy and energetic type of dancing, we'd say. However, this art form is rare in India, but then there's Bharat Verma, the country's first Body percussionist, and has been training several aspirants in New York for the last few years. He is also the founder of the first Body Percussion academy in Mumbai and is on a mission to make this art form popular.
" It is a very niche art form; therefore, people are unaware of it, and also because it is hard to beat yourself to create rhythm. However, I hope to see this art form going forward, and that more people will take it up", said Bharat.
Connected to mental wellness
Well, not just a fun and energetic dance form, Body Percussion is also connected to your mental well-being. It is about striking your body on different parts and creating rhythm and is even connected to mental health and is like meditation.
"This is because our entire nervous system is connected to our palms in some way. When we clap, it provides many benefits to the mind since one must concentrate and create rhythm with the beating. Footwork is an equally important aspect of body percussion. It can be done sitting, standing, or moving around, " explained Bharat, who prefers to move around a lot since it looks attractive and helps exercise the body.
Anybody can do percussion
Bharat Verma, who always had an immense interest in dancing and choreography, was introduced to percussion in Udaipur when he was in touch with a music company called Vanaver Caravan. "We began an exchange of learning wherein I taught them Rajasthani folk, and they taught me contemporary dancing, and that's how I was exposed to body percussion," he mentioned. After this, he kept practicing until he reached a point where he started teaching the same to others. In 2019, Bharat did a fusion on body percussion with A R Rahman and Adnan Sami on a reality show. He has also worked on a few Bollywood films and aided actors like Farhan Akhtar, Deepak Dobriyal, and Gippi Grewal.
"I have performed and worked in New York a lot and teach body percussion, Rajasthani folk dance, and Bollywood dance. I have also launched Bharat's Body show courses that have a total of 4 modules. Each module is for six months. Practicing for even 15 mins a day would be enough", he further told Local Samosa.
Before ending this fun conversation, Bharat helped us with one of his signature steps which goes like 121 121 121 121, 1-2 1-2, 121 121 121 121, 1. " This can be used in various ways, like crossing a right arm over left and left over right. We can use it as a combination of arms and thighs. The steps cause a surge in blood circulation, which gives a rush of energy once it is done", he concluded.
For more such stories follow Local Samosa on Facebook,  Instagram,  Twitter, and Telegram.