Based in Vadodara, Gujarat, Kamya Patel is a fashion enthusiast who is sharing some eye-catching styling ideas along with these three Diwali looks that have made us go 'wow'!
As one of the great Indian festivals is knocking on our doors, it's time you get ready at your best to rock the floor during the festive day. Diwali is a festival where not only do people wear the trends but also initiate new ones and flaunt their fashion statements with pride. Hence, if you have not yet decided on your outfits and styles, just have a look at these three Diwali looks by the fashion creator from Vadodara, Gujarat, Kamya Patel! Let's also check her styling ideas that are likely to make you stand out from the crowd!
Swirl it this Diwali!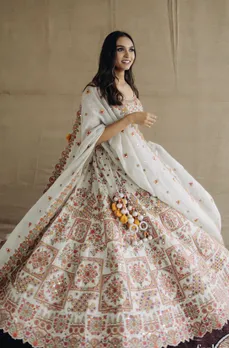 One of the most favourable choices for people is, no doubt, lehengas! Hence, for the first look, Patel has styled a light grey lehenga with intricate Kutchi embroidery from Sequinze India. "Belonging to the state of Gujarat, known for its Kutchi embroidery characterized by the use of bright colours, mirrors, and intricate designs, the basic idea was to represent one of the signature handicrafts of my home state," she says.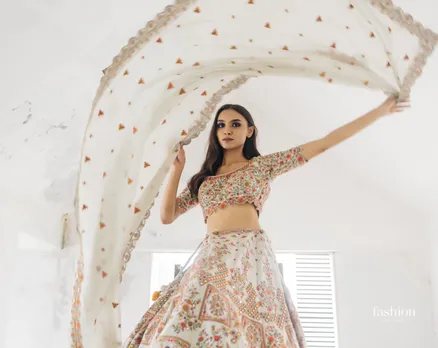 Further, Patel has tried to balance out the colourful detailings of the outfit, by keeping the makeup and hairstyling minimal while eliminating the use of accessories. "This can be a perfect look for Diwali or New Year's day when you want to dress a bit extra while keeping the overall look subdued," she adds.
Co-ord sets to follow the trend!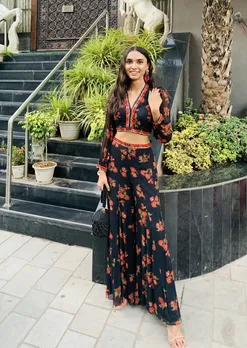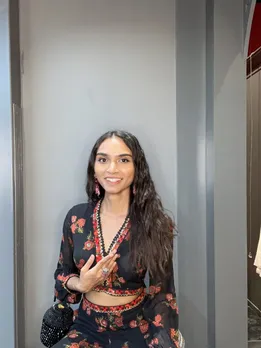 Patel says that co-ord sets have been in trend for quite some time now. "From being easy-to-wear and stylish to holding the potential of styling it multiple ways, these pieces hold the power to essentially double up your wardrobe," she says.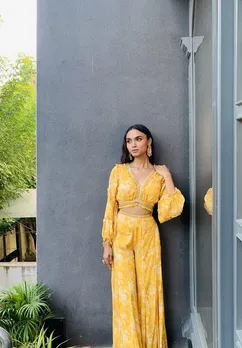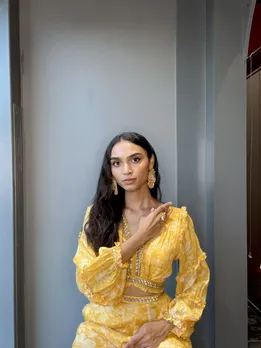 Hence, for the second look, Patel has styled co-ord sets with a floral pattern by Basil Leaf. Not only the pattern but even the work on the co-ord set spread a mix of ethnic and contemporary vibes for Diwali. Moreover, Patel has paired it up with matching heavy earrings from D'oro to complement the overall look. "It can be a perfect look on the auspicious day of Diwali," she says.
Indo-western look, a perfect combo!
Kamya Patel is of the view that satin sarees have always been her best friend. "From sculpting your body shape to adding that extra edge to your look, they have always been an epitome of class," she says. However, Patel adds, "Draping a saree and getting that perfect fall isn't everyone's cup of tea. Also, it is a time-consuming process that further adds to the task."
But what's the solution to this problem? Well, to cater to these issues, Patel has styled a ready-to-wear stretch satin saree from Ria-Sia Stores, Vadodara. She paired it up with a black crop top. "Using the blouse made it look only traditional, so, I used a crop top instead of the blouse," she says.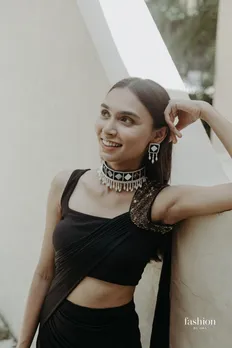 The festiveness of the look is enhanced by pairing it up with beautiful, upcycled, and handcrafted accessories in black and white by Ae Ri Sakhi, as Patel says. Gone are the days when black was not preferred for festivities. It can be a perfect modern-festive look now!
Done reading? So, let us know which one of these three Diwali looks you are going to try this Diwali in the comment section below!
For more such stories follow Local Samosa on Facebook, Instagram, Twitter, and Telegram