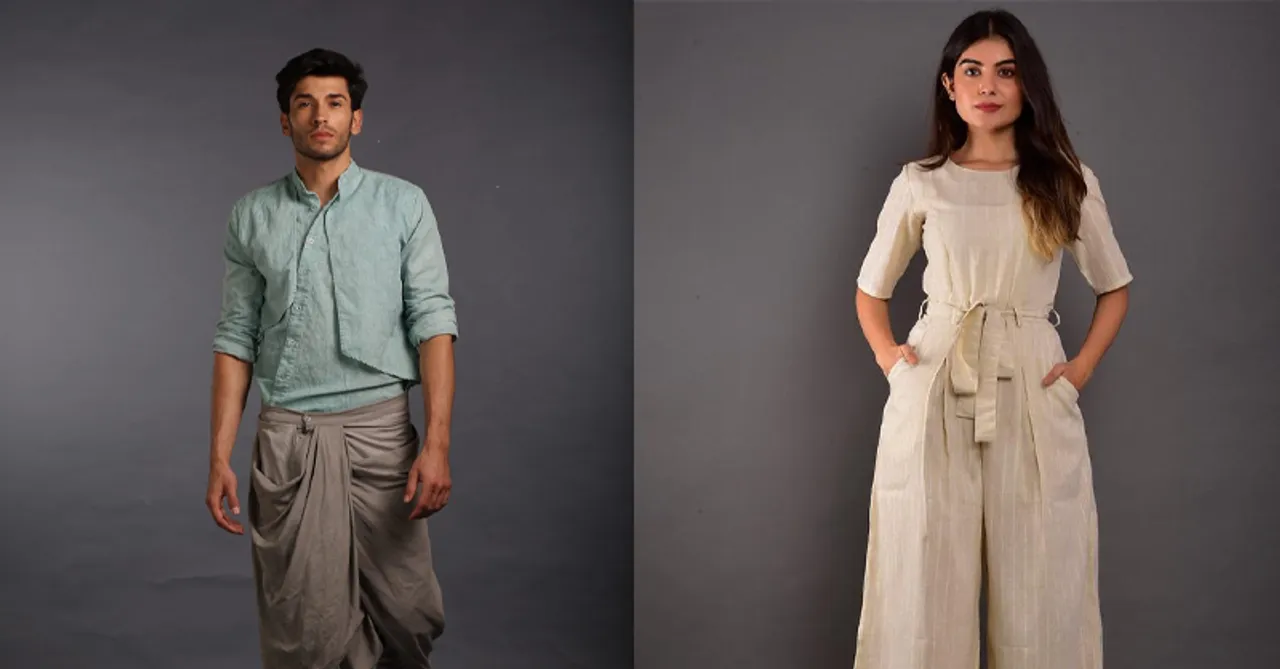 If you are looking for something that is pretty, stylish, and easy breezy, check these brands that are offering some really cool cotton clothes and go all comfy.
A cotton dress is the best! If you also agree with that and prefer simple cotton outfits over other fabrics, here is a list of brands that have a fantastic collection of cotton clothes that will keep your fashion game up and comfy at the same time.
1. A Cotton Saree by Tjori
Tjori is one of those few brands that will always impress you with its rustic and earthy collection. This brand has something for everyone. From apparel to jewellery to home décor to wellness products, Tjori is one of our favourites when it comes to minimalism. Get your hands on this gorgeous cotton saree, and flaunt your pallu!
2. A cotton Jumpsuit from Gulabi Dori
Jumpsuits are one of the trendiest outfits, and if you can find one in Cotton, then what else do you even need? This beige jumpsuit with a cute straw hat will look great on you. The colour makes it great for casual cafe hopping or sitting on your balcony while reading your favourite book and posing!
3. An organic cotton Kurta from Nicobar
Kurta alert, gentlemen! Cotton Kurta is never going to go out of style. Pair it up with a white Lungi, traditional Dhoti, or just simply wear your comfy Pajamas, this look is perfect for summer! Get some awesome cotton Kurtas online from Nicobar because their collection is pretty good.
4. A cotton Shirt from Selected Homme
A basic cotton t-shirt is always a big yes and can be paired with anything, a pant, a pajama, or even a skirt! If you are up for some stripes, this cool blue and white striped shirt would be a great option for you. Get your hands on this from Selected Homme and complete this look with a cool bucket hat and glasses, especially on your vacations.
5. A cotton Dress from Chidiya
Kapraaha has a classy collection when it comes to ethnic and western outfits. This cute and sophisticated Hand-dyed & Handprinted dress is perfect for you to sit and pose in your home garden, balcony or for a Sunday brunch. Tie your hair in a pony, and let your body breathe with this soothing green colour!
6. A comfy cotton Kaftan from Kessa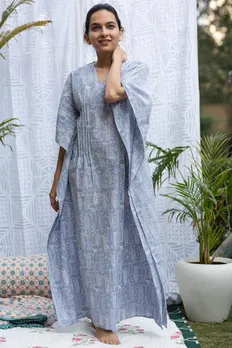 Kaftans are one of the most comfortable outfits ever made, and this blue one is a perfect regal loungewear. The salty blue tone makes it awesome for afternoons, and the soft material makes it an outfit you can wear all day. P.S.: We love this fishy design.
7. Elegant dresses from Pause
If you are looking for cute and minimalistic tops, this brand would be just right for you. The options they have when it comes to cotton dresses, pants, jackets, and tops will bring a smile to your face, while the colours and patterns will keep your eyes comfortable. They also have a fantastic menswear collection which is equally great.
8. A simple Cotton Kurta Palazzo Set from ZnxForever
ZnxForever is another excellent option if you are looking for cotton clothes, ethnic wear, and Kurta Palazzo sets. This basic cotton Kurta Set is a great pick for everyday wear, and if you plan to wear something in pairs, this is a good choice. The light colour, and the not-so-flary kurta make it a must-buy for hot weather!
9. A White cotton Chikan Kari Kurta Set and saree from Noorkari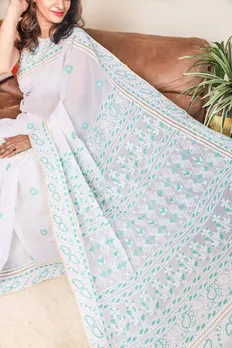 White is evergreen, and so are the Chikankari kurtas and sarees. Perfect for daily wear, these two have our hearts, and we love the needlecraft embroidery on them. If you are also a fan of white and as it never goes out of style, check what Noorkari has in store for you because we are absolutely in love with what they offer.
For more such stories follow Local Samosa on Facebook,  Instagram,  Twitter  and Telegram