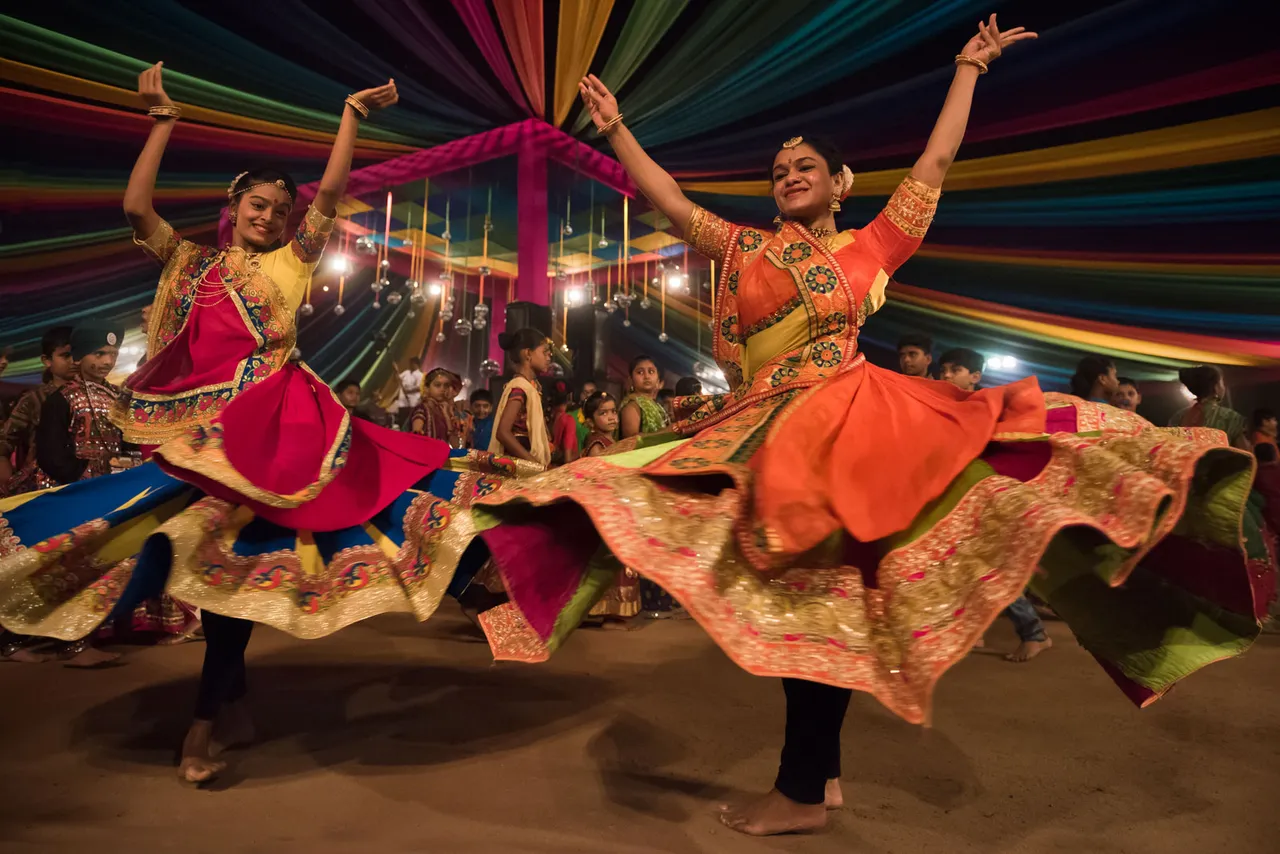 With Navratri festivities starting, the shopping spree is here! Get your Navratri essentials sorted with these markets in Delhi!
Navrati season brings colors, music, and a vibe that leaves you mesmerized. The 9-day festive season demands preparation and essentials that make your celebration brighter. Leave the trouble of sorting your shopping troubles as we bring to you markets for all your Navratri essential shopping in Delhi!
For Clothing
1. Sadar Bazar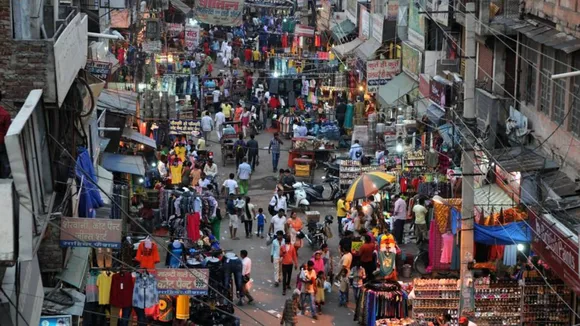 When we think about clothing, we first think of a budget and then about the perfect fit. Sadar Bazar in Delhi is the perfect wholesale market to get fashionable Navratri outfits like Chanya Choli, Ghagras, jackets, and more at a negotiable price. Scout the market, and you may be able to find intricate Bandhani designs and local artisanal-woven clothes making your Navratri brighter!
2. Karol Bagh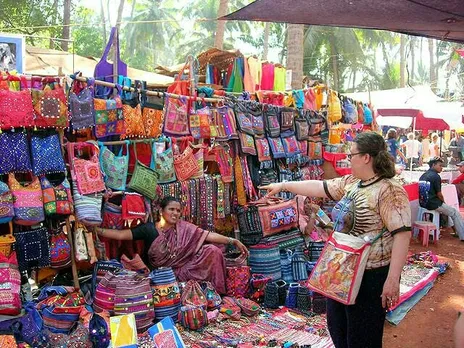 Another place of paradise for shoppers in Delhi is the Karol Bagh market. The market starts with shops selling clothing, footwear, and other essentials on either side. As you proceed further into the market, you are bound to get lost in the vastness this market has to offer. During Navratri, the market is filled with customers wanting to get their hands on the best designer clothes, bags, belts, jewellery, and more stuff the market has to offer.
3. Lajpat Nagar
Another famous market for Navratri essential shopping in Delhi is Lajpat Nagar. With shops lined up selling not just clothes but shoes, accessories, and more, the Lajpat Nagar market is also budget-friendly! The market gives you a list of fashionable designer Jackets, Chanya Choli, Ghagras, Payals, and more, so you don't miss out on the best stuff.
For Pooja Essentials
1. Dilli Haat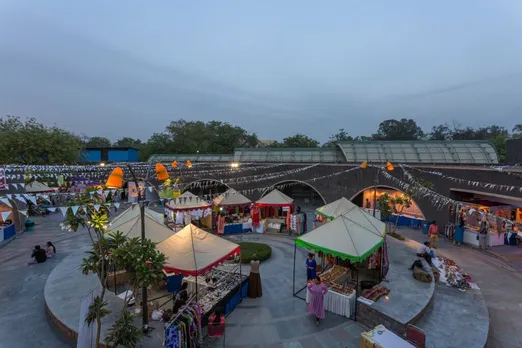 Made exclusively with a rustic design, thatched roofs, small business shops, and a whole vintage vibe, Dilli Haat is the best place to buy Pooja essentials for Navratri in Delhi. Dilli Haat offers unique decorative and Pooja items that are ideal for a classy Navratri celebration. You can find artificial garlands, lamps, temple ornaments, offerings, and more. The starting price of lamps and lights at the market is Rs. 100 and above, depending on the size and range.
2. Chandni Chowk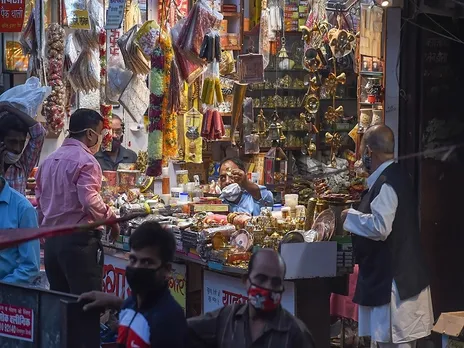 Chandni Chowk is a popular street Market in Delhi offering everything you need. And when we say everything, it sells Pooja essentials along with decorative items, artifacts, handicrafts, and much more! The price stays negotiable at the market and differs from each seller. The starting price for a Pooja Thali at Chandni chowk would be Rs. 150 and above.
3. Phool Mandi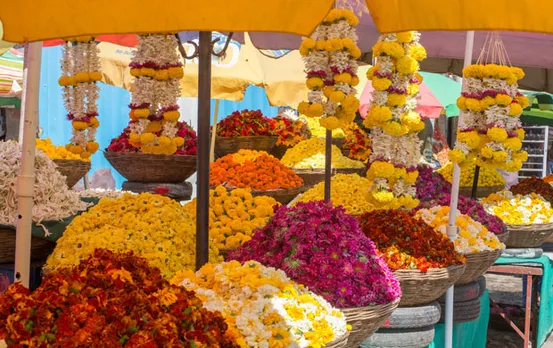 Looking for fresh flowers in Delhi for your Navratri Pooja? Why waste time searching for shops when you can head to Phool Mandi! The market sells flowers from India and across the globe, including Holland and Asia. Phool Mandi also has Pooja essential shops lined up that offer you everything required, with a starting price for Pooja Kit at Rs. 150.
For Sweets
1. Chaina Ram Sindhi Confectioners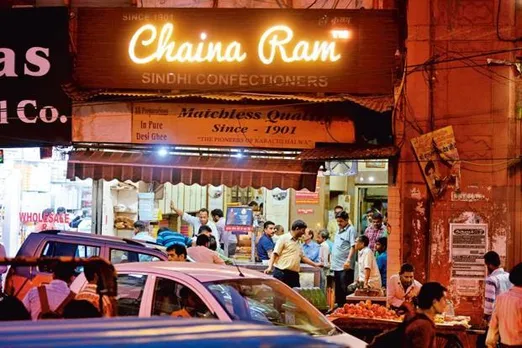 We spoke about the famous Chandni Chowk market, but how can we miss out on Chaina Ram Sindhi Confectioners? Any Delhite would understand the popularity of Chaina Ram Sindhi Confectioners as it is one of the oldest running sweet shops in Delhi. Chaina Ram Sindhi Confectioners offers sweets, including Pista Burfi, Jalebi, Makkhan Choora, Kalakand, Karachi Halwa, and much more!
Where: Fatehpuri Chowk, Chandni Chowk
2. Shiv Mishthan Bhandar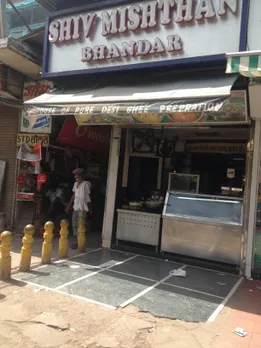 Being one of the oldest Sweet shops in the capital city, Shiv Mishthan Bhandar serves Navratri sweet thalis during this season. Not only is the shop famous for sweets like Jalebi, Rabdi, and Kalakand, but it is also popular for its vegetarian food options. You can also get your hands on fresh Samosas, Kachoris, and other food options that are in demand throughout the day.
Where: Chandni Chowk Rd, Kucha Ghasiram, New Delhi
3. Bengali Sweet Centre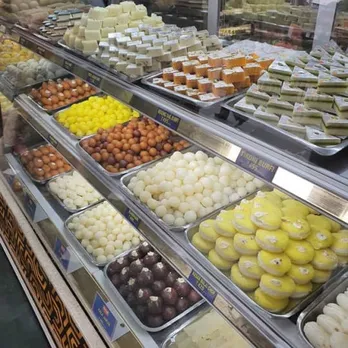 As the name suggests, Bengal Sweet Centre is another popular shop in Delhi selling authentic Bengali sweets. The sweet shop claims to prepare its sweets in pure ghee, and they also specialize in street food delicacies. Fresh Mishti Doi, Kalakand, and Gulab Jamun can be found at this popular sweet joint, and they also offer assorted sweet boxes.
Where: Block D, South Extension I, New Delhi
For more such stories follow Local Samosa on Facebook,  Instagram,  Twitter, and Telegram.