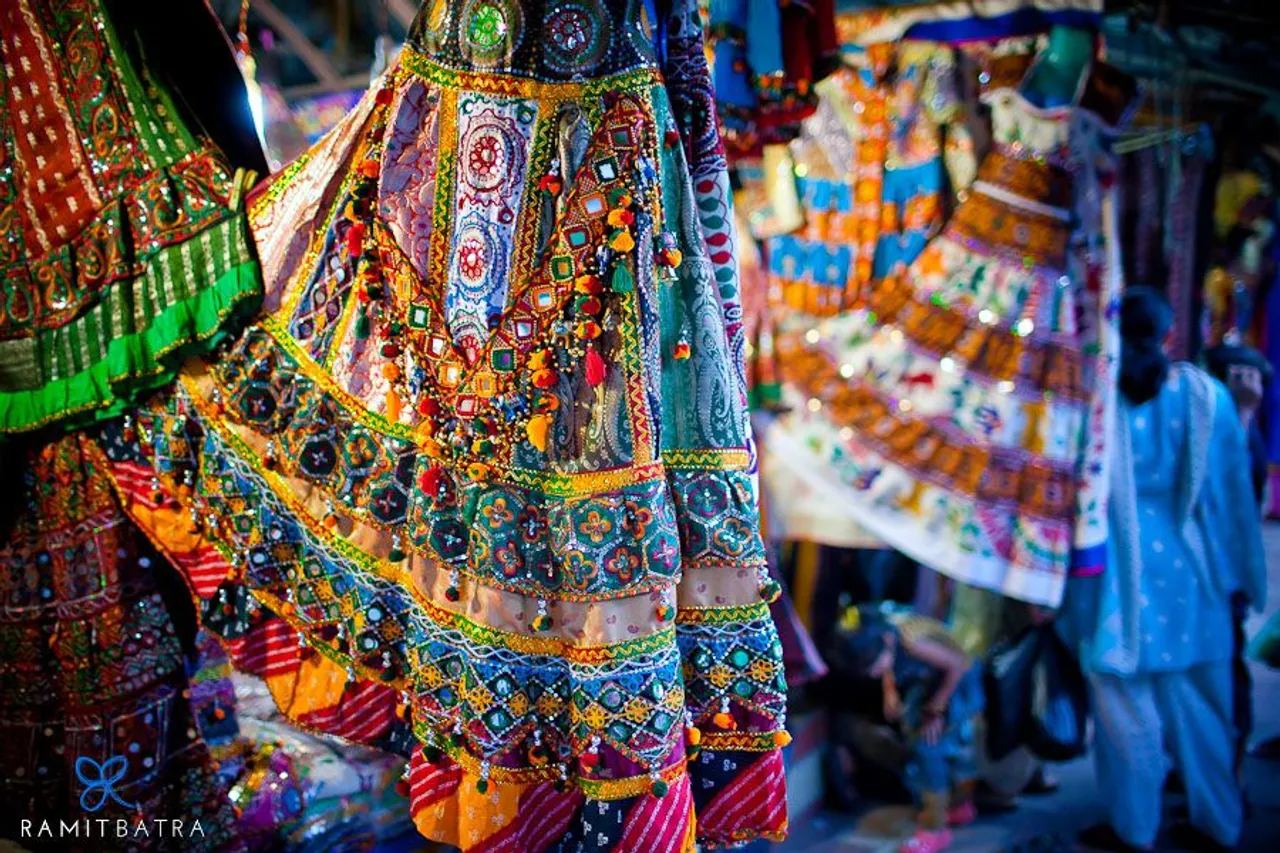 The festive season has started, and Navratri is here! This year get your Navratri essentials sorted in Mumbai with these markets to check out!
Navratri season and the 9 auspicious days are here! While all the Garba tunes, fun, and frolic make you go "aye hallo", the festival comes with a list of essentials. To make your festive shopping easier than ever, check out these markets in Mumbai for all your Navratri essentials to be sorted!
For Clothing
Navratri brings a specific type of clothing that makes the festival shimmer and glitter with joy! 9 days of Navratri demand nine different colours, and a dress that matches your vibe. We bring you a list of markets to check out in Mumbai, where you can find your perfect fit for the season!
1. Mittal Arts, Malad West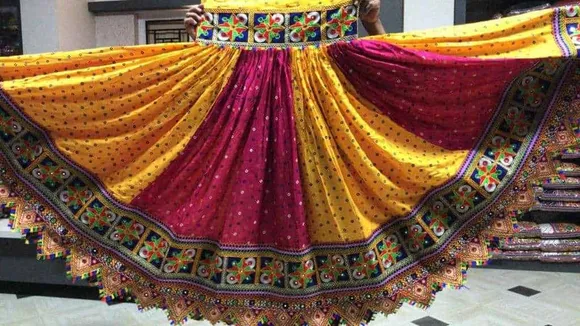 If you know Malad, you, of course, know the famous Malad Market. Located just across the corner from Sai Baba Temple, Mittal Arts has designer jackets, chaniya choli, ghagra, and suit pieces, especially for Navratri. The jackets have a starting price of around Rs. 400 but can vary with designs and styles. Mittal Arts also has Navratri clothing for kids that are identical to adult clothing designs.
Where: Malad Market, Malad West
2. Traditional Touch, Borivali West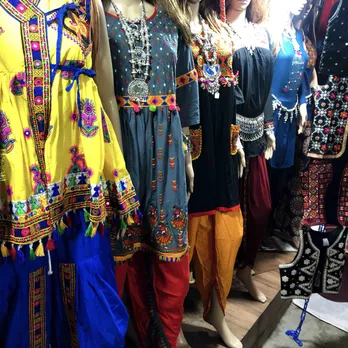 Traditional Touch is another shop for Navratri clothing essentials in Mumbai. With two separate shops for Men and Women's clothing, Traditional Touch has a collection ranging from handwoven and bandhani outfits. They also bring in new designs each year, with colors ranging across nine days of the festivities. The shop has Ghagra, Chaniya Choli, Coatie, and much more, making your Navratri clothes shopping easier than ever. Prices for Ghagras start at around Rs. 1000 and above.
Where: Swami Vivekananda Road, Borivali West
3. Rabaran Gavthi Collection, Ghatkopar East
Rabaran Gavthi Collection is a shop that operates especially during the Navratri season. The shop is filled with eager customers waiting to grab their favourite design during Navratri. Located at the shopping junction in Ghatkopar, M.G Road, the shop has a wide collection of Navratri Ghagras, Jackets, Kurtis, and more! Starting price of a bandhani jacket would be around Rs. 450 and above.
Where: M.G Road, Ghatkopar East
For Pooja Essentials
1. Crawford Market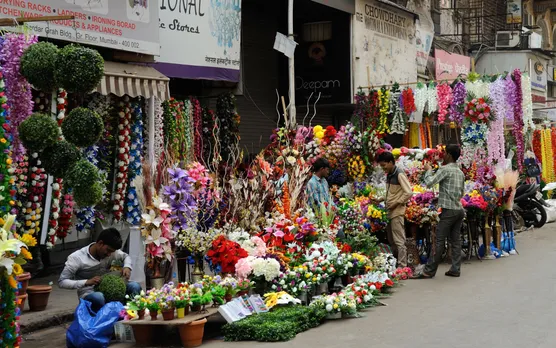 Being one of the popular markets in Mumbai, Crawford Market has a range of shops selling essential pooja samagri. In Crawford Market, you can easily find Pooja Kits that consist of all the essentials like Cotton wicks, Silver pooja items, Diya, puja thali, and much more. The market also has artificial flowers and decorations for pooja preparations.
2. Dadar Market
Dadar market is one of the oldest and most popular Navratri pooja essentials markets in Mumbai. The market has fresh florists, Diya and pooja shops, decorative stalls, and more. The market is lined with shops selling Navratri Pooja Thalis, fruits, sweets, and much more that complete your Navratri preparations.
3. Thakur Village, Kandivali East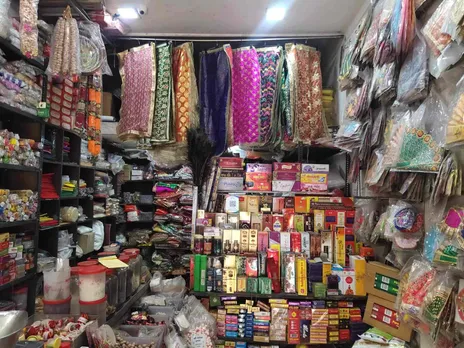 Thakur Village market in Kandivali East is a hotspot for shoppers during the festive season. The market is lined with stores selling authentic pooja Samagri essentials for Navratri. Some shops in the market even sell Navratri thalis and lamps during these nine days of celebration.
For Sweets
1. Ghasitaram Halwai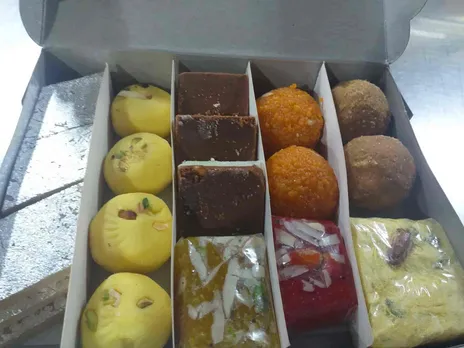 Ghasitaram Halwai prepares fresh sweets and delicacies for the Navratri season. The sweet shop is popular for its fresh Jalebis and extensive variety of snacks to choose from. The festive season brings a lot of customers, so make sure you reach the shop on time for the freshest sweets.
Where: Pannalal Terrace, Lamington Road, Grant Road
2. Shri Krishna Sweets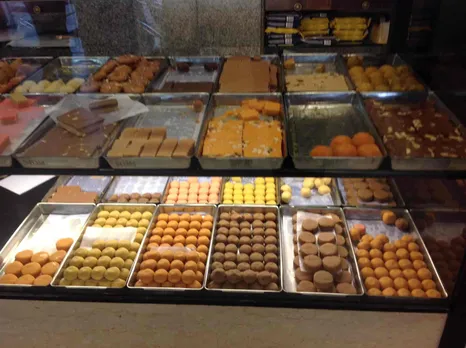 Shri Krishna Sweets is not just popular for their Mysore Pak but also for their Jalebis, Halwas, and other sweet delectables. The sweet shop prepares sweets for the Navratri season and even offers sweet hampers for gifting. Grab a spot early in the morning and get fresh sweets for your Pooja celebrations.
Where: NG Acharya Marg, Govandi Road, Chembur
3. Jhama Sweets
From fresh Rasmalai, and hot crispy Jalebi, to assorted sweet boxes, Jhama Sweets prepares Navratri sweets for every sweet tooth. The sweet shop in Chembur has been around for a long time now and is famous for its wide range of sweets. During Navratri, the shop sells sweets and collection boxes that are convenient for gifting and for Pooja.
Where: Sion Trombay Road, Chembur
For more such stories follow Local Samosa on Facebook,  Instagram,  Twitter, and Telegram.