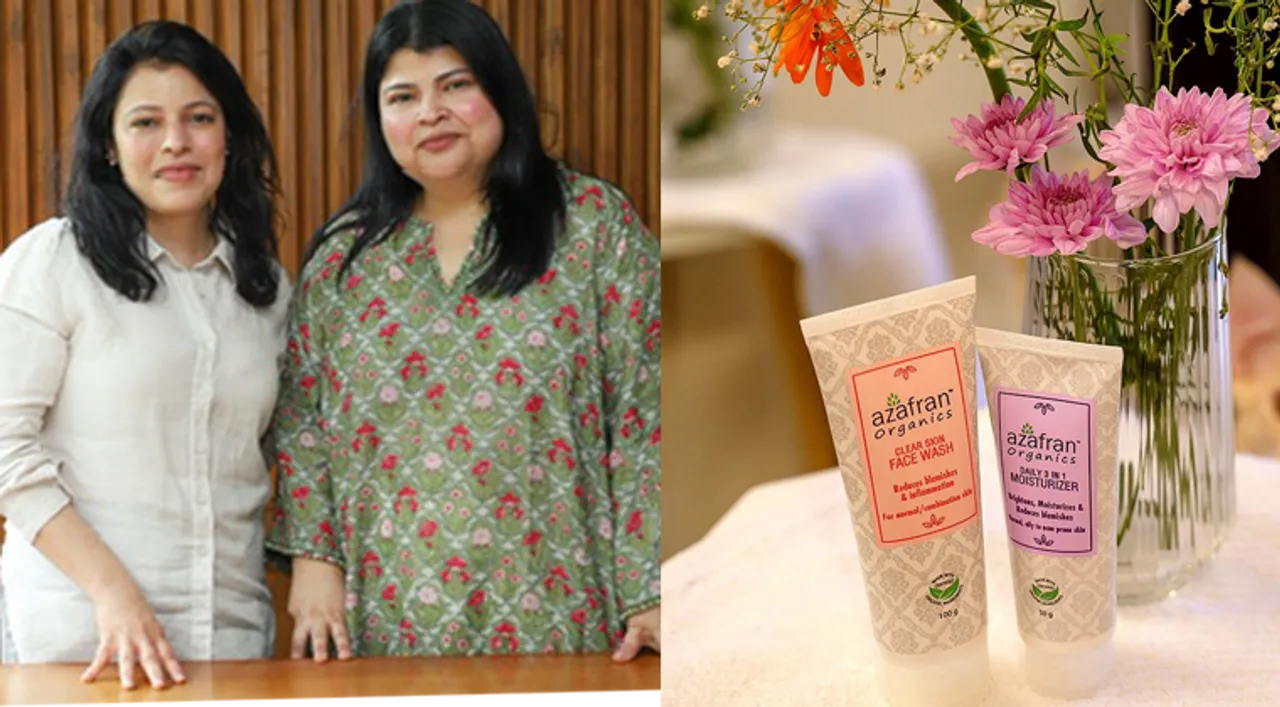 Established in 2007, Azafran offers organic products ranging from beauty products, skincare, food, home essentials, health, nutrition, and more. 
Pioneering as the first brand to bring ECOCERT-certified skincare products to India in 2010, Azafran was founded by the sister duo Mansi and Aditi Vyas, who, since their childhood, had a passion for quality skincare and wanted to bring the same to the Indian markets.
Mansi has a background of MBA in Marketing from Switzerland. She started working for Dishman Pharmaceuticals and Chemicals,  her father's company. During the same time, Mansi, along with her sister Aditi, also established Azafran in 2007. "We were partly managing both Azafran and Dishman for a while. But then, for the last 15 years, our focus has solely been on Azafran," mentioned Mansi.
With the top-of-the-line manufacturing facility established in one of the villages near their hometown Ahmedabad, both Vyas sisters founded Azafran as a skincare company but later evolved themselves into an FMCG company catering to various categories. Aditi handles the manufacturing and B2B channel for Azafran; on the other hand, Mansi looks after sales and marketing for the brand.
Story of starting: switching from father's business to Azafran
Mansi and Aditi were always very passionate about skincare and cosmetics from childhood when they lived overseas. They have grown up trying various foreign brands. "We were passionate about skincare, and we could never find such good products in India. So we thought there was a huge gap in the Indian market because anybody who wanted quality skincare had to buy from outside India or ask someone to bring it. So we thought to come up with the same quality that these international brands were offering but with a decent price range because women of all categories should be able to afford good quality skin and makeup.", says Mansi. 
She claims that nobody wants to put a layer of chemicals on their face just because they want to buy cheaper, so everybody deserves good quality products. 
Awareness
In 2007, the Vyas sisters started farming on their land, as procuring organic ingredients wasn't easy back at that time. They had a huge land where they initiated organic farming. It took them three years to convert the land for organic produce and get an Ecocert. Their first step was to make the ingredients organic and then aimed to process essential oils, cold-pressed oil, with their CO2 extraction unit, and then verified the trading of organic oils. "Later, we came out with a skincare range. The first range that came out and became popular was eco-certified but was in the market for a very short time as the products were a bit expensive for the masses.", said Mansi. 
They did a lot of R&D and put out a few units just to test the market, but later pulled them back, as the products ranged between Rs. 1,000 – Rs. 2,000, which was back in 2009. "We returned to the drawing board and came out with the current range. The quality of the new range is excellent now that of an international level product, but still affordable. They made a lot of trial and error in terms of price and ingredients, and now the price starts from Rs. 300. " It has not been easy, and it's still a constant challenge to convince people to buy our products. I feel continuous education is where we find the biggest challenge.", she further added.
Standing Out
Mansi believes that no other company in India has as many categories as Azafran caters to, as they have six different categories and are working on creating more. "For us, everything is under the same roof. Everything happens in-house, from packaging, sourcing, manufacturing, researching, stability, quality control, and analysis. Nothing is outsourced at all. And I don't think any skincare or FMGC company in India is currently doing it," Vyas mentioned.  
FMCG Trends Coming Up
Mansi suggests a growth in the homecare segment, and it is becoming cleaner and greener. "Our laundry has become a top seller. Initially, people used to compare us with leading and mainstream brands, but now they understand the importance of clean detergents.", states Mansi. Currently, Azafran is the only company in India with organic crayons, which is also a growing category. "I've talked to many people who are scared of buying crayons for their babies as they put them in their mouths. So, organic stationary products for babies will also grow. People don't think twice before investing for their kids," she further added.
Mansi addresses that Indian manufacturers can give the same quality that's of international level, but people have this notion that if it's made in India, it's not that good. Azafran Innovacion sells its products on a global e-commerce site. Their bestsellers are crayons and soaps, and they are doing pretty well and are accepted by international customers as well.
In the future, Azafran Innovacion plans to open kiosks in malls across India, modern trade, and e-commerce for the next five years.
For more such stories follow Local Samosa on Facebook, Instagram, Twitter, and Telegram.