Bappa season is here, and so are the festivities! But why not make the festivities even more joyful and healthy with sustainable Ganpati idols? We bring you a list of brands that provide sustainable Ganesh idols for a sustainable and eco-friendly celebration!
One of the most awaited 11 auspicious days of the year is here, Bappa is here! Garlands have been arranged, mandaps have been set, sweets have been prepared, and decorations are all set to light up. But instead of choosing an idol that harms the environment, let's switch it up this year! We bring you a list of brands that provide you with eco-friendly and sustainable Ganesh idols online to make your celebration prosperous, even for the environment!
1. Nursery Live
Nursery Live is an eco-friendly brand that provides all things gardening and garden kits. The brand has come up with eco-friendly seed Ganeshas that can be immersed in a pot. After Visarjan, these Ganesh idols dissolve in 7-10 days and germinate into a beautiful plant! The brand also provides exclusive Ganesh idol kits with Eco-friendly Sustainable Ganpati and gardening tools online to help make it perfect for the celebration!
2. EcoMorya
Ever heard of Eco-friendly Paper Ganpati? EcoMorya is here for you! The brand provides a fantastic range of beautiful handmade paper Ganpati online that are sustainable and easy to dissolve. EcoMorya specializes in Eco-friendly Ganpatis and provides some of the best-designed idols during peak season. So make sure you book your one on time!
3. Eco Shree Ganesha Arts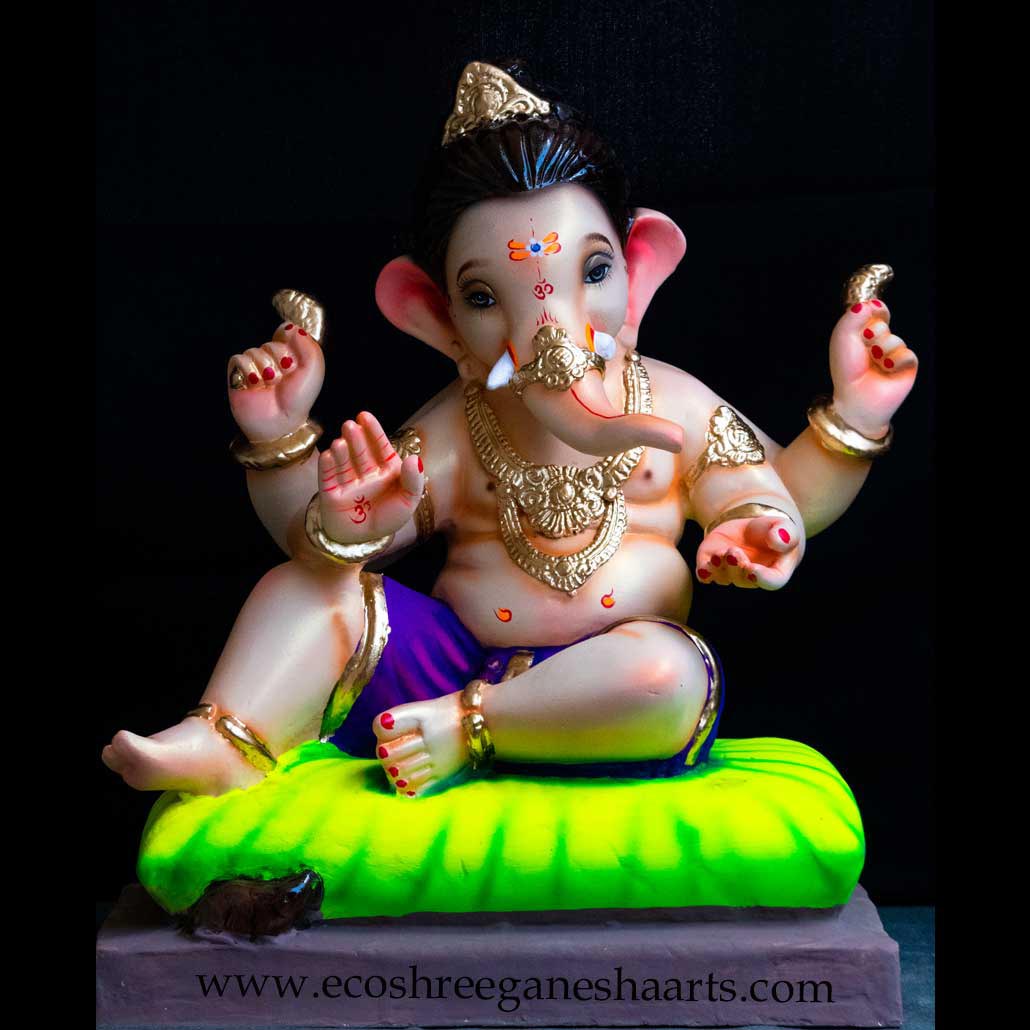 We found you paper Ganpati, and we even found you Green Ganpati made from organic mud and clay. Then we have Eco Shree Ganesha Arts, which provides both! The brand has an extensive range of Ganpati idols made from Paper and Green soluble clay. The brand aims to promote green living, and all the eco-friendly paper idols are crafted from paper mache and dye painted with natural colors. The green Ganesha completely disintegrates in water and leaves behind a seed that flourishes into a plant. Check out Eco Shree Ganesha Arts and choose your Sustainable Ganpati Idol Online now.
4. Go Green Ganesha
Go Green Ganesha has a wide selection of Eco-friendly Ganeshas, and the brand provides three different types of Eco-friendly idols, i.e., Plant, Clay, and Paper Ganesha. The Plant Ganesha is from red soil and can be used for planting after visarjan. The clay Ganesha is created from river clay, namely Shadu Mitti, painted with non-toxic colors. The last product range is the Paper Ganesh idols made from paper mache and uses non-toxic colours. Check out Go Green Ganesha and get awestruck with the variety of idols the brand has to offer!
5. Majha Morya
Majha Morya believes in the notion that "humanity still exists." The Navi Mumbai-based brand hails for its Eco-friendly range of Ganpatis, handmade with delicate detailing. The brand aims to provide the best quality, eco-friendly, Sustainable Ganpati at a reasonable price online and with a variety you cannot miss checking out. With custom murti sizes and multi-colour idols to choose from, check out Majha Morya and select your next eco-friendly Ganesh idol!
6. Eco-Friendly Ganpati
The name defines the brand itself! Eco-Friendly Ganesha is a small business set up on Instagram that takes orders online on their website as per demand and provides some of the best sustainable and eco-friendly Ganpati idols. These Ganesh idols are handmade, good for the environment, and made by locals! Need we say more?
7. Tree Ganesha
Meet the brand that introduced Ganesha idols with seed back in 2015! Tree Ganesha is a popular online brand for sustainable Ganpati idols, and the brand assures guaranteed eco-friendly products. Various celebrities have also endorsed Tree Ganesha, namely Ritesh Deshmukh, Hrithik Roshan, Dia Mirza, Richa Chadda, and more! Being a trusted and reliable brand, Tree Ganesha offers quality. The brand also offers a 15% discount on idol and decoration combinations. That's a steal deal!
8. Eco Carts
Are you planning on a simple yet sustainable Ganesh Chaturthi Celebration? Eco Carts is here for you, with compact size sustainable Ganpati idol online made from red soil, fertilizers, and seeds. The idols are compact in size and easily dissolve in water. The brand believes in "Uniting the vibrant festival of Ganesh Chaturthi along with the need-of-the-hour environment wellness."
9. Ashirwad Kala Kendra
Being a small business that operates entirely through its social media handle, Ashirwad Kala Kendra is a local brand originating from Titwala, Maharashtra. The Kendra works in designing interior decor and, during the festive season, provides some of the best Eco-friendly clay Ganesh idols. Also known as "Godambe's Ganesh," the brand operates entirely on Instagram and is open to taking orders as per their preferred design.
For more such stories follow Local Samosa on Facebook, Instagram, Twitter, and Telegram
Comments
comments