Amala Akkineni & Shikha Goel graced the launch of SustainKart, an all-under-one-roof store that will offer a wide assortment of sustainable products.
SustainKart, India's 1st e-commerce marketplace for sustainable products, launched its maiden flagship store at Jubilee Hills, Hyderabad, today in the presence of chief guests Amala Akkineni (Indian actress & animal welfare activist) & Shikha Goel, IPS – Director of the Telangana Anti-Corruption Bureau. The 3000-square-foot store will offer customers sustainable solutions to everyday needs and encourage them to embrace a nature-friendly sustainable lifestyle. As part of its upcoming growth plans, SustainKart aims to launch 20 additional flagship stores and outlets in malls and airports across South India in the coming quarter.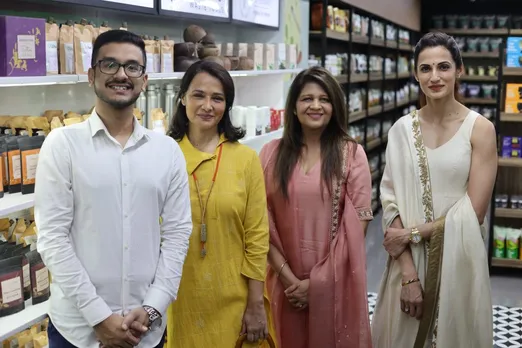 With the mantra "All things sustainable under one roof", SustainKart focuses on providing a comfortable, waste-free, and healthier environment for future generations by transforming households with conscious, eco-friendly products. The store will comprise a variety of products from brands such as Urban Kissan, Tribe Concepts, Bhoomitra, Renadu Millets, Flyberry, FromVedas, and CocoSutra, among others, reassuring consumers to find sustainable alternatives for every need.
Expressing his delight at the first offline store launch, Kanthi Dutt, Founder & CEO of SustainKart, said, "The majority of people are unaware of the sustainable alternatives. Researching and purchasing sustainable items from the present hybrid supermarket is time-consuming and stressful. Our mission is to create accessible locations across the country where customers can easily avail sustainable choices for all their daily needs and inspire people to embrace sustainable lifestyles."
"Sustainability has always been an integral part of my life. I have always wanted to create that change and make that impact through any endeavors towards sustainability. Today marks an important day as we took that step to launch the 1st retail store of SustainKart, post its online launch in January 2021. We have been able to multiply our customer reach in this little over 1.5 years and ensured that the bigger global impact is received through maximized sustainable practices", added Ms. Shilpa Reddy, Co-founder & CFO, SustainKart. 
Chief guest, Sustainability Activist, and Actress Amala Akkineni, "SustainKart is a momentous, timely initiative, conceptualized and championed by Shilpa Reddy and Kanthi Dutt. After the online platform launch, they plan to launch retail stores with all things sustainable under one roof. I am delighted to see the work SustainKart is doing and look forward to seeing it grow exponentially to a 100-store chain soon."
SustainKart works around its vision to reduce environmental damage and global pollution by fostering sustainable, environmentally-conscious habits and changing the spending patterns of Indians on their lifestyle goods.
For more such stories follow Local Samosa on Facebook, Instagram, Twitter, and Telegram.