July 29th marks World Tiger Day to raise demands and awareness about protecting this gorgeous carnivorous animal that is still globally listed as 'Endangered' on the International Union for the Conservation of Nature (IUCN) Red List of Threatened Species. To know how India is tackling this issue and what's been the progress so far, Local Samosa decided to speak to a few experts from this field, and here's what they told us.
T for Tiger and T for threatened with extinction! When Anish Andheria, CEO and president of Wildlife Conservation Trust, told us that recently three countries that once used to have tigers in their forests had lost all of them, we knew this conversation would be a reality check. This one sentence felt like a bullet for someone like us, who has always adored tigers and has been awe-struck by their charisma.
Further, when we read that in 2004, officials of Indian tiger projects discovered that in reserves like Rajasthan's Sariska, Madhya Pradesh's Panna, and West Bengal's Buxa, there were no tigers left, we couldn't help but sigh. Just like most Indians, this fact check came as a big shock. But then there's more to it, and that's why keep reading to know more about tiger conservation in India and how we as a country are working towards it. But before that let's do a quick recap.
A jump into the stripped history of tiger hunting:
"India has always been a stronghold for tigers. The forests up until the late 1900s were extensive. During colonial rule, hunting was introduced as a sport. A lot of wildlife was hunted down, with a special focus on tigers. Between 1875 and 1925, nearly 1,50,000 tigers were killed. The British even kept a price tag on tigers. They converted a lot of pristine forests into tea and coffee estates, said Anish Andheria."
Dr. Sanjay Kumar Shukla, an IFS officer, and a member secretary at the central zoo authority mentioned that at the beginning of the 19th century, India had close to 40,000 tigers. But after all this killing and hunting, we were left with only 1,400 tigers by 1973. According to him, even this figure is not accurate. "We are not sure of this estimation because the technique which was used wasn't right. The numbers were based simply on just the pugmarks. However, the launch of the Wildlife Protection Act in 1972, and Project Tiger in 1973, gave tiger conservation a systematic start, and people started taking it seriously", added Dr. Sanjay Shukla.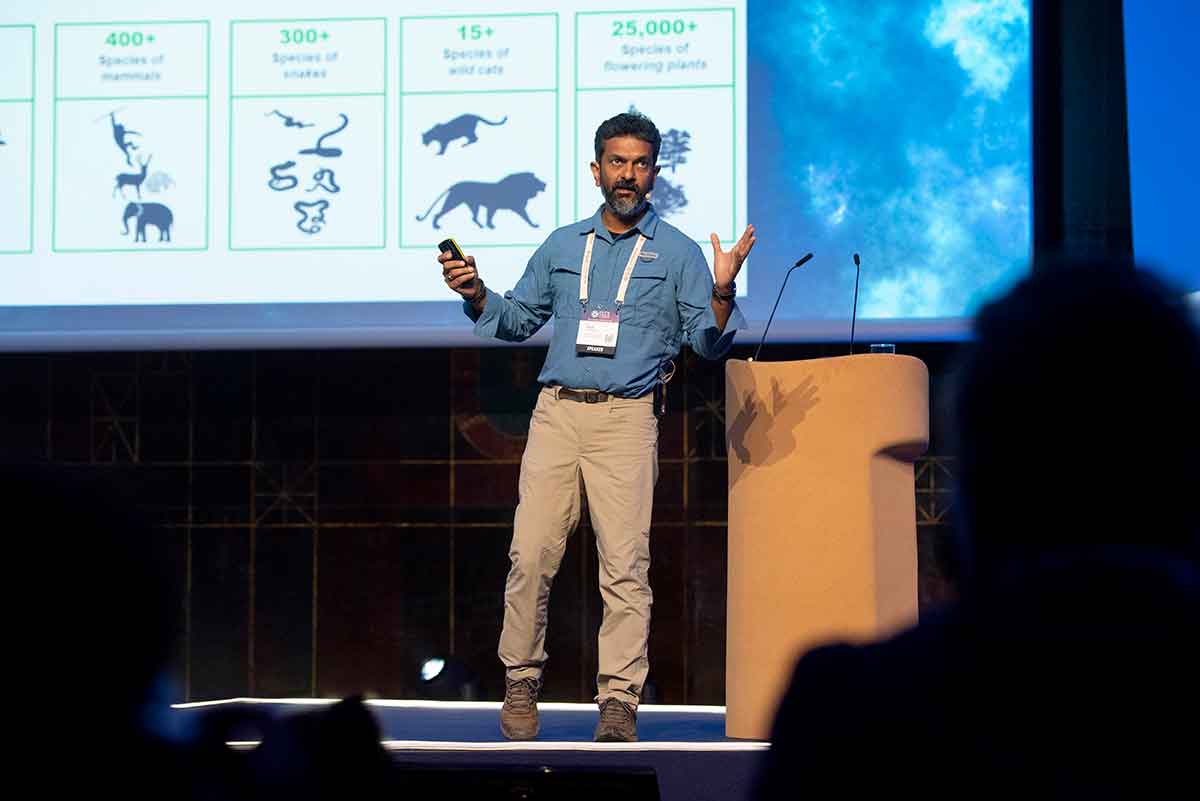 From 40,000 to just a thousand
After both these projects, people were hopeful as they saw cubs and breeding tigresses around. They thought the situation was finally getting better. But in 1995, a racket was founded, trading tiger skins in Tibet for their annual Horse festival. It left everybody in a shock, and the need for conservation felt even more necessary. "It was a festival ritual where the adult man would wear a robe made with the tiger skin. Every robe would require 2-3 tigers, and every such festival would involve 100-150 people. So you can imagine the number of tigers that were killed. Since India, compared to other countries, had more tigers then, it was assumed that a lot of tiger skins came from India. So after this incident, people became more conscious and improved protections in the reserves", said Mr. Andheria.
After this, many measures were taken for tiger conservation, and finally, in 2006, India started to estimate tiger density in a very scientific manner. Unlike the previous method of counting the pugmarks, camera trapping was used to know the tiger density this time. "The authorities identified each and every tiger from its stripe because every tiger has a different pattern. But when the estimation came out, the number was just 1,411," he added.
According to Dr. Shukla, one task force was constituted by the then PM that made it mandatory to have an estimate of tigers across the country every four years. We now have the 5th cycle of the tiger estimation, and the data is being processed. There has been a growth of tigers across the country, and I think we are doing good", he said.
India currently has around a third of the global tiger population
But unlike the earlier times, the current scenario gives hope. The credit goes to the government for establishing various tiger reserves across the country, nonprofit organizations that are working relentlessly, and everybody else working towards sustaining the tigers. Mr. Amish Mathur is one such tiger enthusiast who is associated with a trust that works for the tigers' betterment and provides support to the forest staff members. "I have been in the hospitality industry for the last 25 years, but the passion still remains with jungle and tigers. It's been 14 years that I've been visiting the forests of India, especially Ranthambore, and have seen 78 tigers to date", he told Local Samosa.
We currently have around the third of the global population of tigers, which speaks a lot about the efforts that our authorities and people like Amish Mathur are making. There are currently 52 tiger reserves in India, and according to the last tiger estimation, the total number of tigers in 2018 was 2,967. "If you see the growth overall, it comes close to 7% annually, and it's a good indication. The population has increased not just in the protected areas but also outside of that. So the next step is to protect these vulnerable areas", added Dr. Shukla.
Ongoing challenges and the future
With the current scenario and growth, one can say that the future is bright. But with increasing linear projects like the construction of railways and roads in the forests and corridors, Industrialization, mining, and habitat loss, we still have a long way to go. "We have 52 tiger reserves in India, and they occupy just 2.5% of the land, so why can't we use the rest of the space for these projects? Even if you include the corridors, it would still be 15-20% of India's overall land, " mentioned Mr. Andheria.
Another challenge is the demand for fuel wood while hunting is also an issue as tigers are constantly being poached for their body parts. Forest fire is also a problem, and most of them are caused by humans. There's indeed a lot to do, and we were glad to hear that our authorities are up for it. "We are taking ecological corridors with different tiger populations, so there's a flow of genes. It will ensure the long-term survival of the species. For linear projects, like highways and railways, the Wildlife Institute of India (WII) has developed guidelines where we either have subways or elevated corridors to ensure the free movement of tigers and other animals without any threat of accident or getting killed", explained Dr. Shukla.
But it's not just the tigers who are suffering!
When industrialization happens, the entire ecosystem of the targetted forest gets shattered. Mr. Mathur feels that the communities living side the woods or near them also suffer a lot. He believes that these local communities are the real custodians of the forests, and if a project is happening, they should be given employment. "These people actually live inside the jungle and know the tigers well. Instead of asking them to leave, the government must provide them with employment and involve them in tiger conservation projects", he said.
"If a tiger doesn't want you to see it, you'll never see it"
It's also pretty messed up that a lot of people believe that tigers are dangerous creatures and love hunting humans. But the reality is quite different. "It's fascinating to see how an animal so powerful is actually afraid of humans. I love how it gets blended into the surrounding. You'll never see it if it doesn't want you to see it. People get scared because they lack knowledge because honestly, tigers really don't care about us at all", said Mr. Andheria.
Dr. Shukla also believes the same and feels if you can read the signs, you'll never be in danger. According to him, a tiger will always be the first to change its path as soon as it sees a human being. "It's a shy animal and prefers to avoid us," he said. For Mr. Amish, seeing tigers has always been a pleasure, and he feels they are far more intelligent than we are. "For them, we are not part of the food chain. They will not attack unless they perceive you as harm", he added.
How can a common man help?
If just like us, you are also thinking about how one can help in tiger conservation and what can be done from our end, our conservationists have some simple and feasible ways. Anish Andheria suggests working on our lifestyle and carbon footprints. "Don't violate the rule of nature. Shoot with the camera and not guns. Have a lifestyle that is more environmentally friendly. Your lifestyle needs to be energy efficient, and then you'll automatically have a positive impact on the wildlife", he added.
Mr. Amish Mathur suggests participating in the annual tiger census and volunteering for organizations working towards tiger conservation. "Take parts in activities, talk to corporates around you and urge them to do more CSR. We need more staff and so volunteer if you can. During summers, the government of India also conducts census programs that entitle you to be inside the forests for two days, count these animals and photograph them. So there's definitely a lot a common man can do", he suggested.
For more such stories follow Local Samosa on Facebook, Instagram, Twitter, and Telegram.
Comments
comments