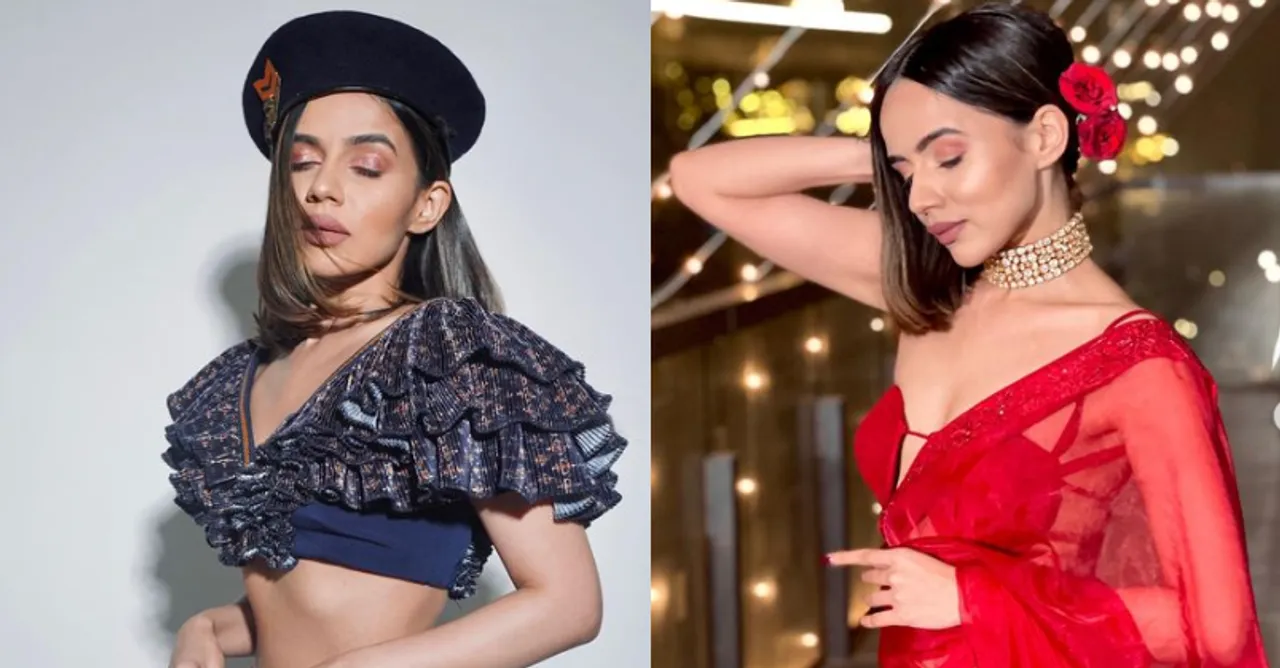 We are obsessed with the way Komal Pandey styles her outfits and that's why, we decided to curate a list of brands that she has worn to give you a dose of style.
Komal Pandey very well knows how to turn heads with her creative style and fabulous outfits. She is one of the most popular fashion influencers in India, and is definitely a styling whiz. Her fashion sense is a hot mix of elegance, boldness, and femininity and her twist. She loves pairing, layering, and doing everything possible to make her attire look great. But what are the brands that she loves the most? Well, here's a list of the same if you want to ace your looks just like her.
1. Shyamal & Bhumika
We are in love with this embellished Shyamal & Bhumika Lehenga, and Komal looks like a queen in it! The soft-coloured embroidery detail on the lehenga makes it perfect for a summer wedding. The sheer dupatta with border details just adds more elegance to the look. Komal added her own touch to the outfit by pairing it with a Jacquemus bag, roses in the hair, and neutral lips.
2. Shop Mulmul
This delicate blush pink lehenga with intricate lace detailing and fine needlework from Shop Mulmul is giving us Indian fairy princess vibes. It is the flawless outfit for a bridesmaid for a summer wedding or any festival because the colour, the net, and the lace make it stand out! Komal donned this lehenga for Holi and she paired it with matte dark lips and the roses strike again. It is a very cute look and if you are here for it, check other such outfits on Shop Mulmul.
3. Saaksha & Kinni
Komal looks stunning in this exquisite lehenga set by Saaksha & Kinni that features a statement print. The printed satin bustier with keyhole detailing is such a versatile piece in itself that can be paired with many different styles. Saaksha & Kinni has some of the most beautiful Indo-western outfits that can be a great addition to your wardrobe!
4. Sunaina Khera
This metallic custom-made set by Sunaina Khera is such a vibe, especially when everyone is obsessed with Euphoria! Komal captioned this picture as 'Rani Mukherjee from Shava Shava meets Euphoria' and that is a perfect way to describe it. This definitely looks like something Maddie would rock and Komal is officially the Indian Maddie now! Sunaina Khera is extremely talented as proven by this look and all of her collections are enchanting!
5. Shantanu & Nikhil
Komal looks like a dazling star in this Shantanu & Nikhil ensemble! This blue unconventional set with harness and ruffle details is screaming high fashion. Shantanu & Nikhil are known for their unique couture pieces for men and women. They have different collections with vast styles, from casual chic to power outfits. They have something for everyone, and we love how they pair Indian traditional elements into high fashion abstract looks.
6. Label Ankita Jain
There is nothing better than a good saree to hike up your confidence because it is the best way to achieve an effortlessly elegant look! Komal looks like a goddess in this red organza saree with hand embellished borders and pallu. She paired this saree with red georgette Viruschka top and it works beautifully! Ankita Jain has gorgeous western and Indian pieces that would make for a great addition to a fashionista's collection and so just like Komal, you can also check them for gorgeous sarees.
7. Roze by Saya
Komal looks ethereal in this captivating white cotton Mahajabeen Kurta set with delicate lacework. This outfit is the definition of graceful and timelessness. All of Roze's collection is out of this world exquisite. They create elegant traditional Indian ensembles with lace detailing with touches of fine and delicate embroidery. Their pieces are comfortable and breathable and they look amazing, which makes them perfect for special occasions!
8. Madison
Power suits are a girl's best friend, and an embellished black power suit by Madison is love! Komal looks super fierce in this cool embellished Blazer and it's making her look just so powerful. Madison has amazing collections with different styles, from relaxed causal pieces to wild party animal looks.
For more such stories follow Local Samosa on  Facebook,  Instagram,  Twitter, and Telegram.