Planning a food date with someone special or craving a hearty brunch with your friends, Smoke House Deli is a great place for that. The decor is Insta-worthy while the food is delicious enough to satiate your hunger pangs!
Good food is definitely a vibe, but a good ambience, quirky decor, and courteous staff take the dining experience to another level, and that's what the Colaba outlet of Smoke House Deli has to offer. This cafe has a beautiful interior where you can spot some greens, quirky decor elements, Insta-worthy wall art, a snack section, and obviously some heavenly food. We recently enjoyed a hearty meal at Smoke House Deli in Colaba, and here's what we loved biting the most.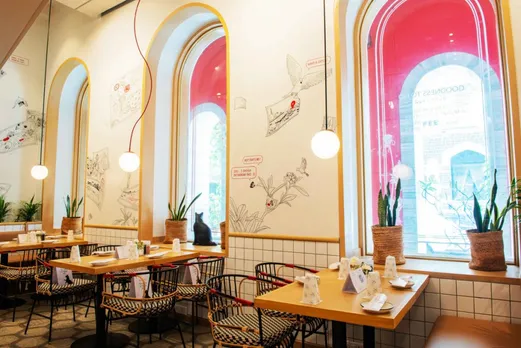 A cheesy affair!
Right from breakfast to small plates, platters, mains, beverages, and drinks, Smoke House Deli is all about good European and Italian cuisine. The portions are good and have great flavours that would make you want to come back here. We kept it hot and cheesy with a plate of Smoke House Truffle Mac & Cheese. It was one of the cheesiest Mac & Cheese we've tried, and loved how perfectly it was done. A spoon of this with a slice of Classic Margherita Pizza was nothing but pure bliss. If you are here, not trying their Pizzas would be a big miss. These two from their Main Food section did satiate our cheese cravings, so thumbs up for that.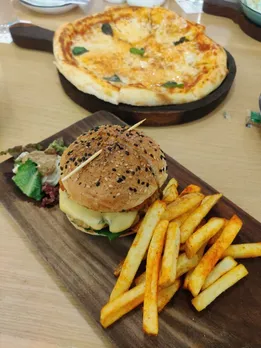 If you are on a seafood diet
Well, if you like your salmon to get melt in your mouth, we'll suggest you go ahead with their epic Honey Soy Glazed crispy skin salmon. This dish featured a huge piece of salmon accompanied by mashed potatoes and baked broccoli. We just couldn't stop eating it as this trio was bursting with flavours. The creamy mashed potatoes and melt-in-mouth salmon with a hint of soy glaze were definitely a treat, and we are going to Smoke House Deli for that again.
But if you are in a mood to keep it crunchy and filling, then we suggest you dig in their Beer Battered Fish & Chips. The texture was worth doing an ASMR, and we loved how crispy on the outside and fluffy on the inside it was. The best part? It didn't even feel like it was fried, and we simply loved it. Extra points to Smoke House Deli for the quality they offer when it comes to fries and chips, and it wouldn't be wrong to say it was all made fresh.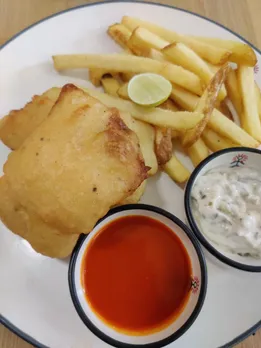 Well, if you are not full and want something meatilicious, we recommend going through their burger menu. We ordered the Smoked chicken & oregano burger, and damn, it was juicy. The thick ground chicken patty with enough cheese and onion rings made it a bite to remember and is something we'll suggest you try. In between, we sipped on iced cappuccino and hot chocolate and ended our meal with their signature handmade ice creams.
In a nutshell, Smoke House Deli is perfect for big bites, hungry bellies, and a good time.
Where: Smoke house deli, Ground Floor Hotel Diplomat, Whitehouse, 26, B K Boman Behram Marg, Apollo Bandar, Colaba, Mumbai.
When: 9 am–12:30 am
Price for two: Rs.1,500 for two.
For more such stories follow Local Samosa on  Facebook,  Instagram,  Twitter, and Telegram.