Check out some of the most picturesque locations in India from Imtiaz Ali movies that can be a perfect addition to your travel bucket list!
Imtiaz Ali is one of the most gifted directors in the Bollywood industry and his storytelling is beyond beautiful. The way he showcases any character's emotions and the story around them to create masterpieces is nothing but pure talent. We certainly are a fan of Imitiaz Ali and his movies because they are way too beautiful, especially the locations. From Jab We Met to Highway and more, his films have featured some of the most gorgeous locations in India, and so we decided to make a list of them for you to give you your travel destination.
1. Spiti Valley, Himachal Pradesh in Highway
We are in love with this brilliant movie and especially the captivating shooting locations. We loved every second of this masterpiece right from the acting to its cinematography. The song Maahi Ve was shot at the beautiful Spiti Valley and the beauty of the place was at par with the song itself. This location is where Veera and Mahabir start falling for each other, and Veera starts being herself.
2. Dal Lake, Kashmir in Rockstar
Rockstar is definitely a must-watch, and the songs from this movie were mesmerizing. The way Imtiaz Ali linked the emotions of his characters with the songs was brilliant. We could literally feel how utterly broken Jordan was without Heer in the song Nadaan Parinday. Rockstar introduced us to many beautiful locations, but the scene where Jordan and Heer recreate the iconic Shammi Kapoor and Sharmila Tagore's Kashmir Ki Kali Yeh Chand Sa Roshan Chehra will always remain on top because it was awesome.
3. Rohtang La, Himachal Pradesh in Jab We Met
Who wouldn't love to dance uninhibited like Geet in Yeh Ishq Haaye song? We certainly would love to and the perfect place for that would without a doubt be the Rohtang mountain pass where this song was shot. This location was so incredibly beautiful and we totally get Geet's inspiration to dance here. The iconic song Yeh Ishq Haaye was filmed here and the bubbliness of Geet added to the beauty of this place. We cannot get over how Aditya looks at her in this song, wasn't that just so cute?
4. Chandanwari, Jammu & Kashmir in Laila Majnu
Imtiaz Ali's Laila Majnu was tragic yet beautiful just like the original story, which was written by Nizami Ganjavi. There is something about unrequitted love in the mortal world only to be fulfilled in a world beyond this one, and that is the theme of Laila Majnu. Imtiaz Ali chose a brilliant location to depict the final phase of Majnu's love and his poetic descent into madness. The song Hafiz Hafiz was shot here, and they couldn't have chosen a better location because it was perfect.
5. Old Fort, Delhi in Love Aaj Kal
Love Aaj Kal was an iconic movie, and the way Imtiaz directed this movie was nothing short of extraordinary. There are many ways to interpret this movie, but the only thing that remains common in all is love through the ages, from Veer and Harleen's love story to Jai and Meera's love story. The Old Fort was where Veer and Harleen used to meet and we love the connection Meera had with this place.
6. Chitkul, in Himachal Pradesh in Love Aaj Kal 2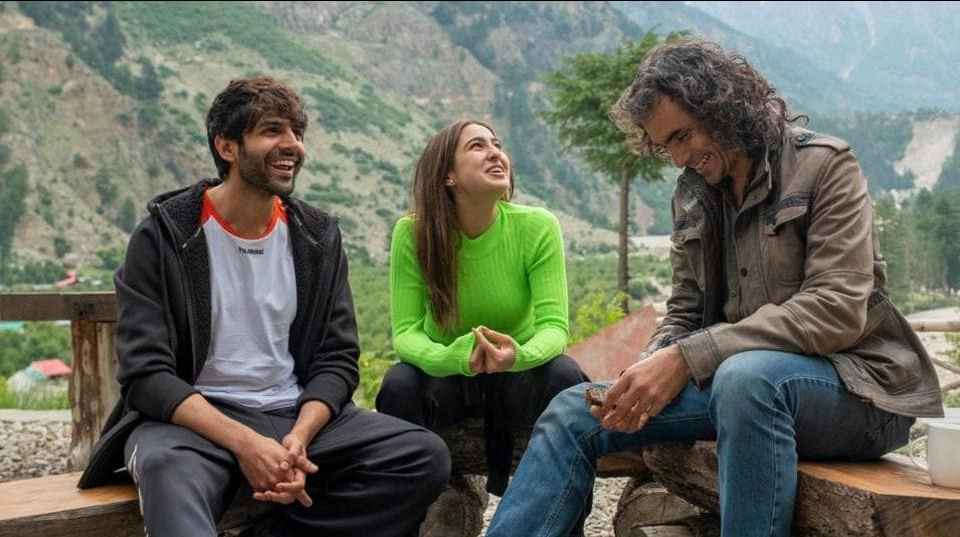 It seems that Himachal is among Imtiaz Ali's favourite locations, as in most of his movies, he manages to find a gorgeous location in this beautiful state. Looking at this picture we definitely can understand the hold Himachal has on Imtiaz, look how breathtakingly beautiful Chitkul is. The song Mehrama was shot here, and it seemed like the inner turmoil in Veer was being reflected in the valley of this place. Imtiaz's ability to merge a character's emotions and location is unreal.
7. Social Hauz Khas, Delhi in Tamasha
This iconic location is unforgettable due to this heartbreaking scene and the incredibly beautiful song Agar Tum Saath Ho by Arijit paired with Imtiaz's sheer talent. We cannot forget how brilliant of a job Deepika and Ranbir did in this scene, considering that many of the moments were actually improvised. Social is a cafe in Delhi where the post-break-up scene of Ved and Tara was shot, and yes it still makes us cry, sometimes.
8. Jalandhar, Punjab in Jab Harry Met Sejal
Anushka Sharma and SRK starter Jab Harry Met Sejal was an entertaining movie and the locations and its songs were spectacular. The outspoken Sejal on a hunt for a ring with Harry, a self-described playboy tour guide, was a solid synopsis. We loved the locations, especially with the songs. The last song of the movie was shot in Jalandhar, Punjab, because that's where Harry was from, and it did leave us in a good mood.
Feature Image Source
For more such stories follow Local Samosa on Facebook, Instagram, Twitter, and Telegram.
Comments
comments