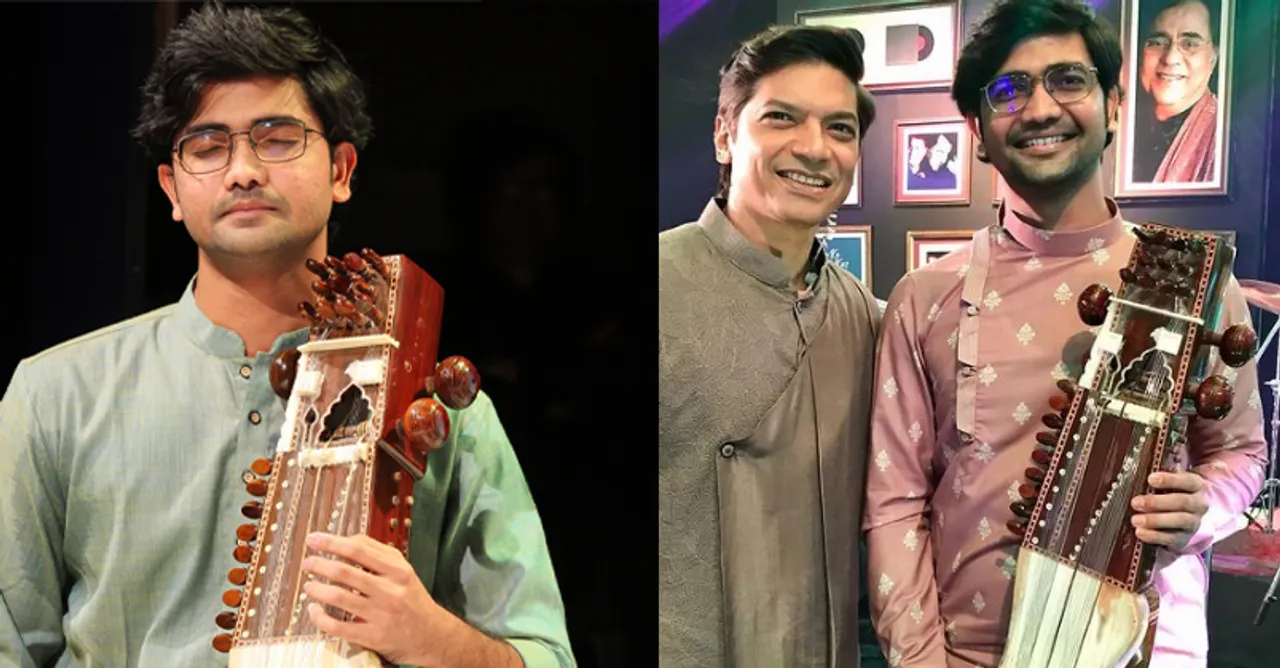 Gujarat's youngest Sarangi player, Vanraj Shastri, has a list of achievements that is long and worth applauding. He has worked with Salim-Sulaiman, played in popular films like Hum Do Hamare Do, Seekh, and was even featured in one of the videos of 'Playing 4 Change'.
Vanraj Shastri is bringing the soulful traditional musical instrument Sarangi to life. He is Gujarat's one of the youngest Sarangi players as well as a singer who has worked with musical legends like Shankar Mahadevan, Ustad Zakir Hussain, and Salim - Sulaiman. He had even opened the Ahmedabad tour of popular International singer Bryan Adams. With a beautiful smile on his face, whenever he plays Sarangi, it creates nothing but pure magic!
"I was lucky to be born into a musical family, so with my parents' support, I decided to be a Sarangi player and singer and pursued it full time. Though it was a very tough decision as sarangi players
mostly come from a tradition of sarangi playing in their families, and they take forward the sarangi legacy, established by their ancestors. In my case, I was the first person who started learning without any tradition of playing it in the family", told Vanraj to Local Samosa.
Tabla at 8 and Sarangi at 13!
His musical journey began at the very young age of just 8, as he was fascinated to see his father, Dr. Narendra Shastri, who is also a singer and teacher, perform live on stage. Later on, he started learning Indian classical vocals and Tabla in his school, and that musical training phase of Vanraj's childhood showed him a way to walk on this musical path.
"When I heard Sarangi for the first time, I was fascinated with its sound from the very first impression. I think I can express my emotions, thoughts, and feelings through this beautiful instrument. It is also called the closest instrument to the human voice. I was 13 when I started learning Sarangi and feel lucky to have been trained under the guidance of Sarangi maestro and my Guru Late Pandit Dhruba Ghosh", he further added.
Opening up the tour for Bryan Adams!
There are millions of people who love Bryan Adams, and attending his tour is a die-hard wish of many. But Vanraj was lucky enough to open for his musical concert in Ahmedabad. "It was like a dream come true for me to perform just before the world-renowned celebrity singer, Bryan Adams. The opening band, Rushil and Abi came from the UK to perform, and they invited me to join, and that's how I got it", said Vanraj.
He was also featured in a worldwide collaboration of Playing 4 Change's song "Love" with other talented artists from different parts of the world. (Playing 4 change is a multimedia music project that features musicians and singers from across the globe). The list of his fabulous work includes some bigger names like Ustadh Zakir Hussain as well as popular films like Hum Do Hamare Do, Seekh, Gujarati series, "Vitthal Teedi", and much more.
"Having played in these films has increased my responsibility as a musician. It feels amazing when your work is appreciated by musicians like Sachin - Jigar and Kedar - Bhargav! SEEKH is a spiritual track that has been sung by Shankar Mahadevan and I played Sarangi in it. It is a project I will always cherish. Also, performing a Sarangi solo at the "BARSI" of Ustad Allarakha Khan Saab organized by the tabla maestro Ustad Zakir Hussain in Mumbai, is something that will always be special. As a child, I used to see Ustad Zakir Hussain in his iconic ad "Waah Taaj" on TV, and later I grew up listening to his music, and I can say that you'll never find someone who is not a fan of his Tabla", he added.
Challenges and the future of Sarangi
Now that Vanraj has become a professional sarangi player and is working with people like Salim-Sulaiman and more renowned musicians, we wonder what are the challenges he faces now? " Being a professional musician, every day you have to perform with different musicians from different cultures, genres, backgrounds, and different mindsets. In my early days, it was a little tough. But then, it's a process and with experience, you learn it, and so did I", he added.
Talking about how he sees the growth of the instrument, Sarangi, in the future, he said it's getting popular. And the credit goes to the advent of social media. "Sarangi is coming back to the scene. Many people are learning it worldwide. I have 10 students learning from me in India and abroad, both online and offline. Also, there are other artists too who are teaching and spreading awareness about this instrument. But still, it will take some time when Sarangi will become as popular as Flute or Tabla", he concluded.
Vanraj will soon be featured as the lead Sarangi player in an instrumental piece by the Budapest symphony orchestra recorded at Yashraj Studio, and we can't wait to hear him!
For more such stories follow Local Samosa on Facebook,  Instagram,  Twitter, and Telegram.