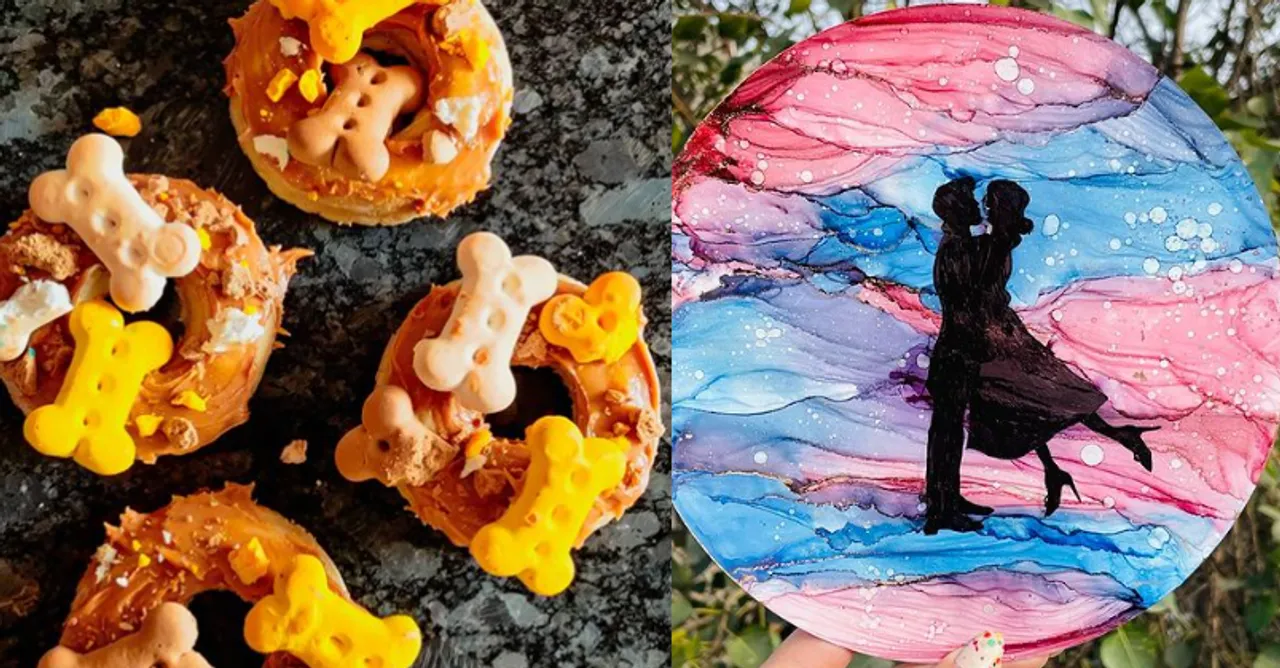 Local Samosa is back with the weekly list of workshops to help you utilize your time in the best possible way. Sign up for any of these upcoming online workshops and make the most out of your spare time.
Explore these interesting online workshops and pick the one that suits you the best. Bake cookies for your pets, paint something nice, or draw a fusion mandala! Keep reading, as there's a lot that you can do this week with these upcoming online workshops.
1. Watercolour workshops by Surbhi
If painting is your hobby and you love floral patterns, enroll in this workshop and paint some beautiful flowers. Surbhi paints watercolour florals and landscapes, and she is a pro at it. Learn to paint more flawlessly with her in this workshop.
When: 22nd May
DM for details.
2. Pet Baking workshops by Snuggle Treats
Treat your fur babies with some sugary delights and bake cookies and donuts for them. Snuggle Treats is a Pune-based pet bakery and they make fun things for the four-legged buddies around. They are conducting this workshop for all the pet parents out there next week and if you have a fur baby at home, we'll suggest you check this.
When: 22nd May
DM for details.
3. Bridal Illustration workshop by Saili Sonar
Saili is a fashion designer and illustrator and her Insta feed has some marvelous illustrations of ethnic wear. If you love sketching and outfits, do enroll in this workshop as it teaches you everything about bridal lehenga illustrations and their detailing.
When: 16th, 17th, 18th May
DM for more details.
4. 1 Point Perspective Workshop by Rooftop
Pencil sketching is beautiful and if you are also into it, you should learn 1 point perspective drawing, which is about creating on a 2D plane while using one point in the distance from where everything in the drawing sets out. Make your drawing more wonderful and enroll in this online workshop.
When:  17th to 19th May
DM for more details.
4. Landscape drawing workshop by Magical Pallette
Varsha is an artist and her work is mostly inspired by nature and wildlife. She works on acrylic, watercolour, gouache as well as colour pencils and we are simply in love with her drawings. Next week she is conducting an online workshop on how to paint a waterfall landscape where you'll learn about blending and how to make the drawing featured in the post. Hurry up and enroll.
When: 22nd May
DM for details.
5. Mandala workshop by Sujatha Ram
Mandalas are pretty, aren't they? They are so much fun to make and once you know how to do it right, you'll be able to make masterpieces. Learn this beautiful artform from Sujatha Ram, who's a preschool teacher and a fabulous mandala artist, and add a new skill to your list.
When: 28th May
DM for more details.
6. Alcohol ink workshops by Bhavya Jain
Bhavya Jain is an Alcohol ink and Resin artist, and she will be teaching 7 different techniques on different surfaces (clock, coasters, synthetic sheets). This workshop is suitable for beginners as well as those who already know about alcohol ink. The kits will also be delivered to your doorsteps. So, enroll and paint something nice.
When: 27th and 28th May
DM for details.
For more such stories follow Local Samosa on Facebook,  Instagram,  Twitter, and Telegram.